The Orient Bambino is a popular watch, but is it worth the hype? We aim to answer that question. Here's our review of the 36mm Bambino.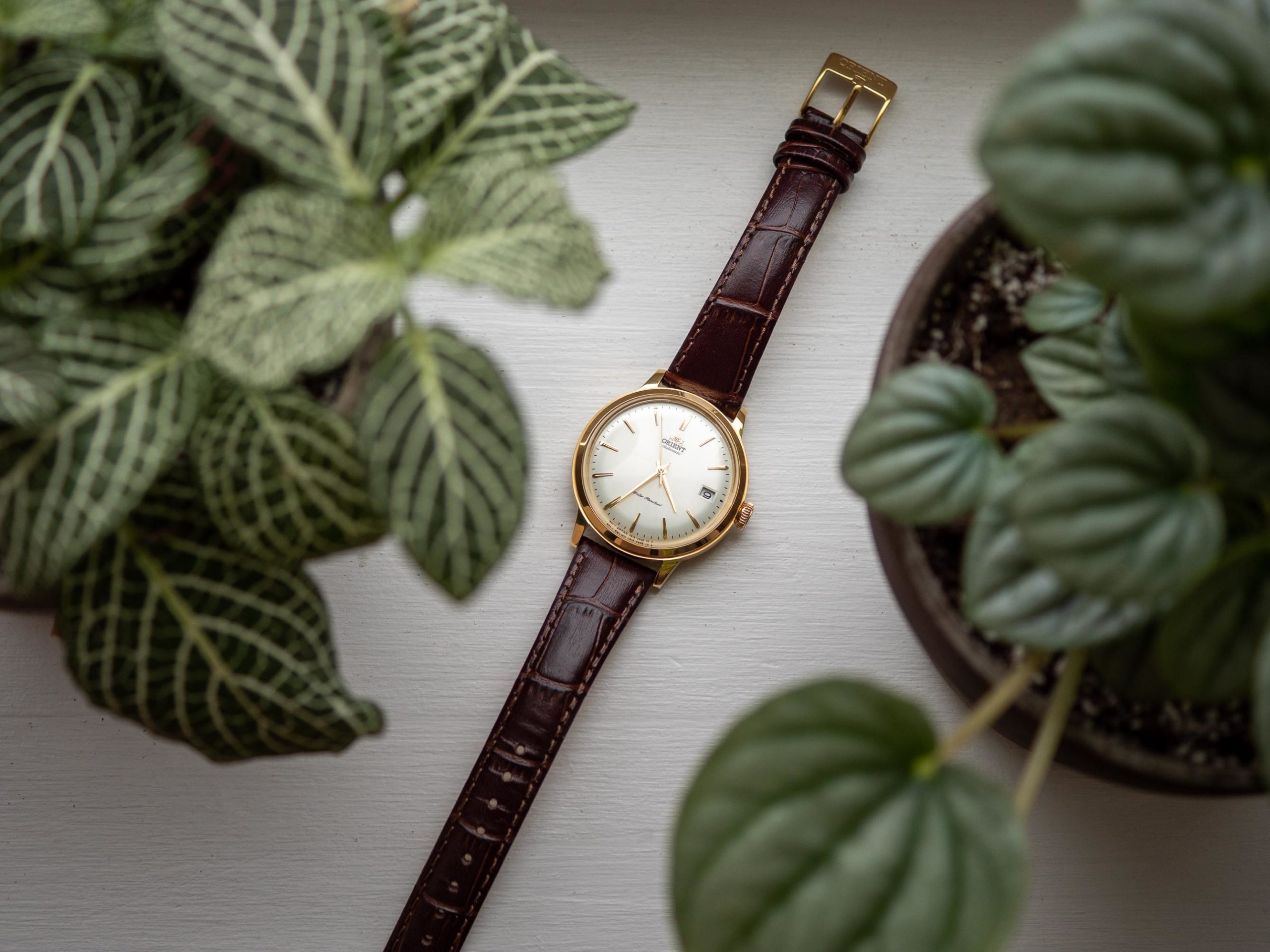 When most watch enthusiasts think of the Orient Bambino, the words "crowd pleaser" or "fan favorite" might come to mind.
And while the watch hasn't quite hit cult-classic status yet, it does have an ever-growing, wildly passionate sect of followers singing its praises (okay, maybe that's the definition of "cult classic").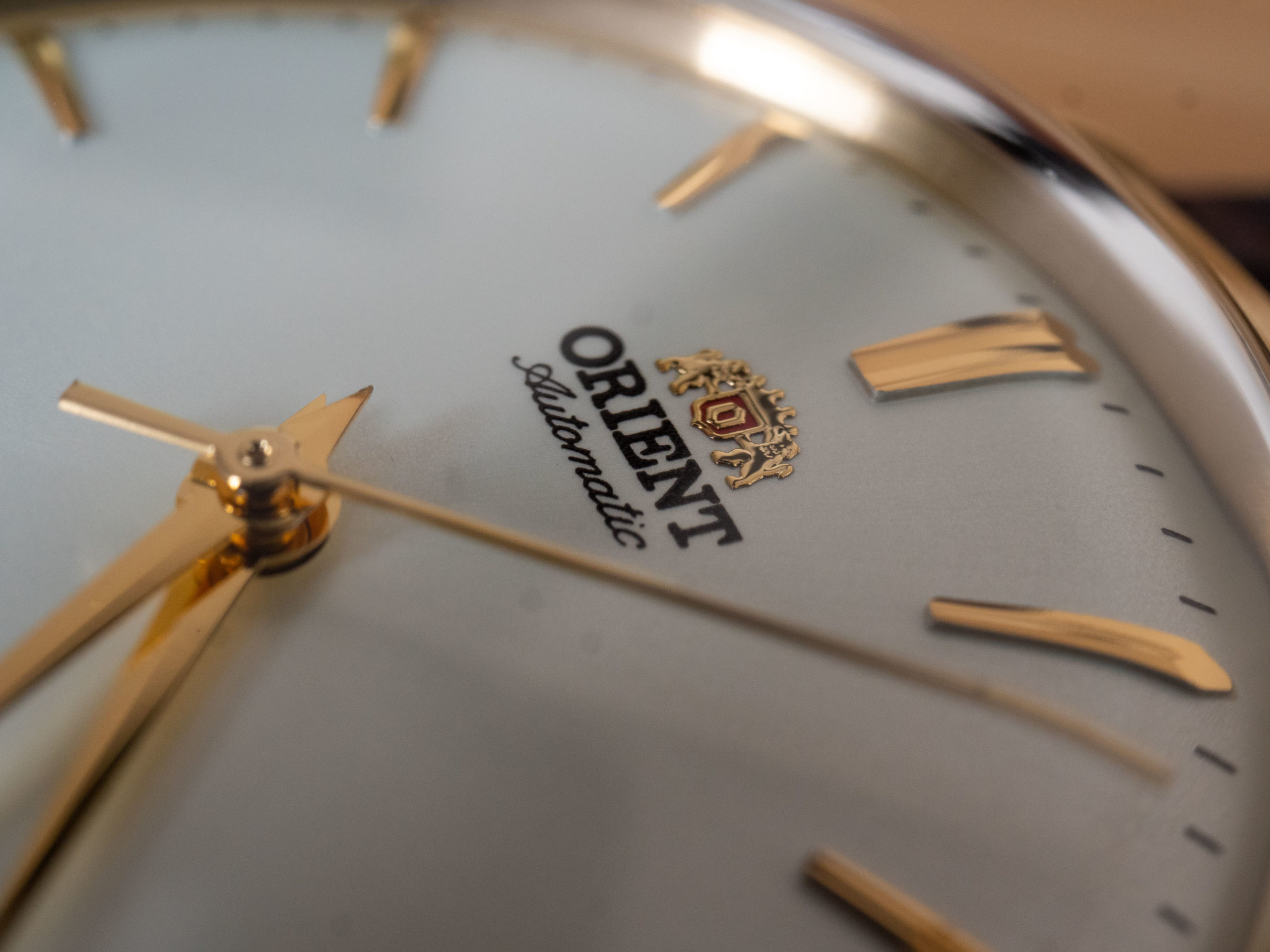 But what about its smaller counterpart? Is it any good? Let's take a look at this timepiece with this Orient Bambino 36mm Review.
Obviously, the 36mm is a smaller watch, and some retailers even market it as the "ladies Bambino." But realistically, the Orient Ref. RA-AC0011S10A is the quintessential embodiment of a unisex watch, and its proportions might be just what some guys with smaller wrists are looking for.
Orient: The Company
While Orient is a large watch producer, it doesn't have the same recognition stateside as some of its contemporaries. Enthusiasts get it, but those outside of the watch world don't know the name.
Before we dive into the Orient Bambino 36mm Review, let's take a look at the company history.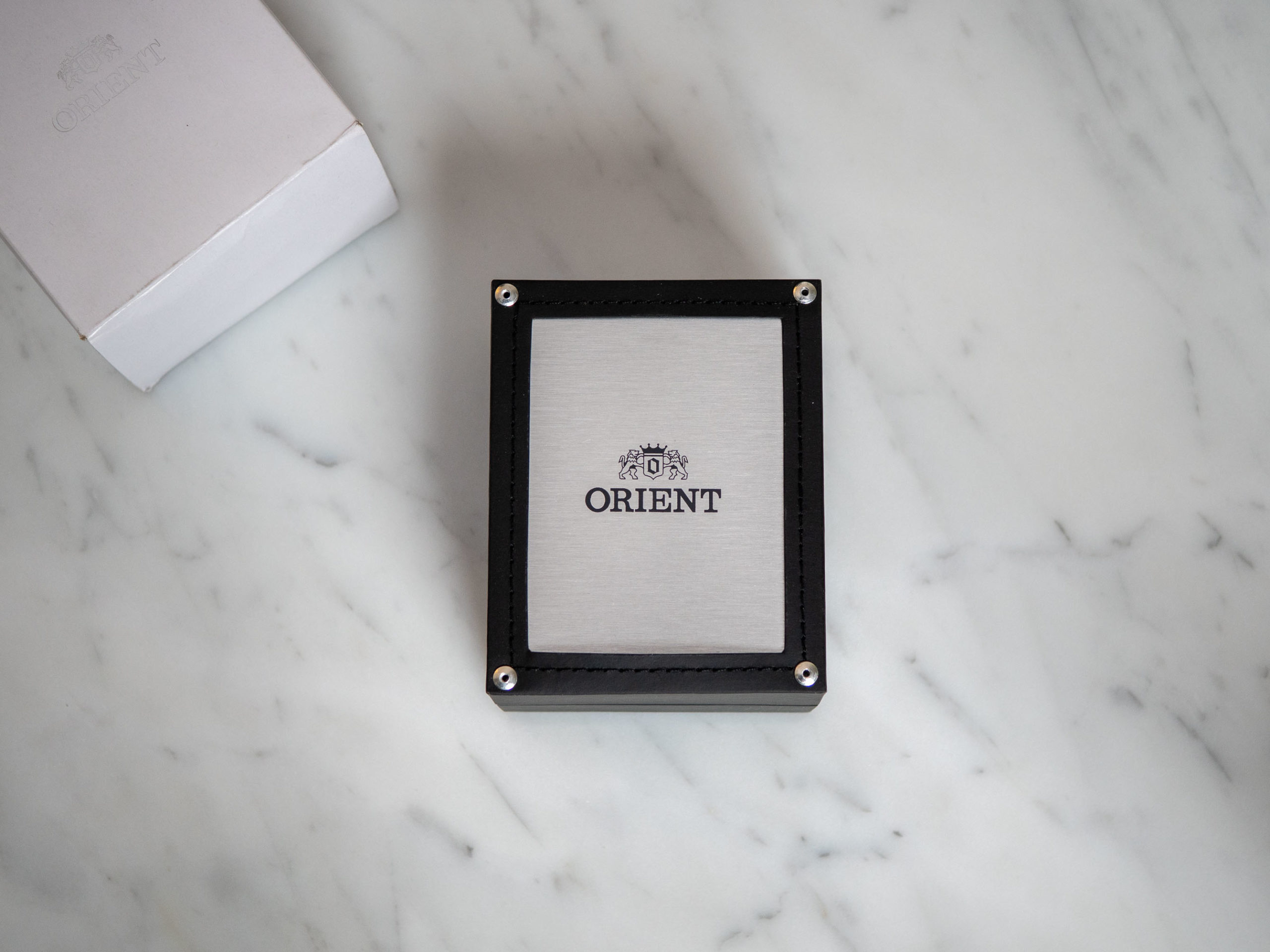 While Orient did live a past life, the brand we know today originated in 1950 in Japan. In the wake of the economic downturn in Japan after WWII, Shogoro Yoshida started the company, producing watches under the name "Tama Keiki" in the city of Hino.
The company's goal in design was to produce quality watches that the average person would be able to afford.
By 1951, Tama Keiki changed its name to Orient Watch Company and began producing the Orient Star, with more models to come soon thereafter. And, almost right away, Orient Watch Company began marketing its timepieces overseas.
By 1967, Orient was focusing on innovation. That year, it produced The Fineness Day-Date, which was one of the slimmest automatic Japanese-made watches of its time.
It used miniaturized parts, tight clearances between the gears, and a single-piece case to create its slim profile. From 1969 and on, Orient began adding more watches to the lineup, including a Nonscratch model with a scratch-resistant design.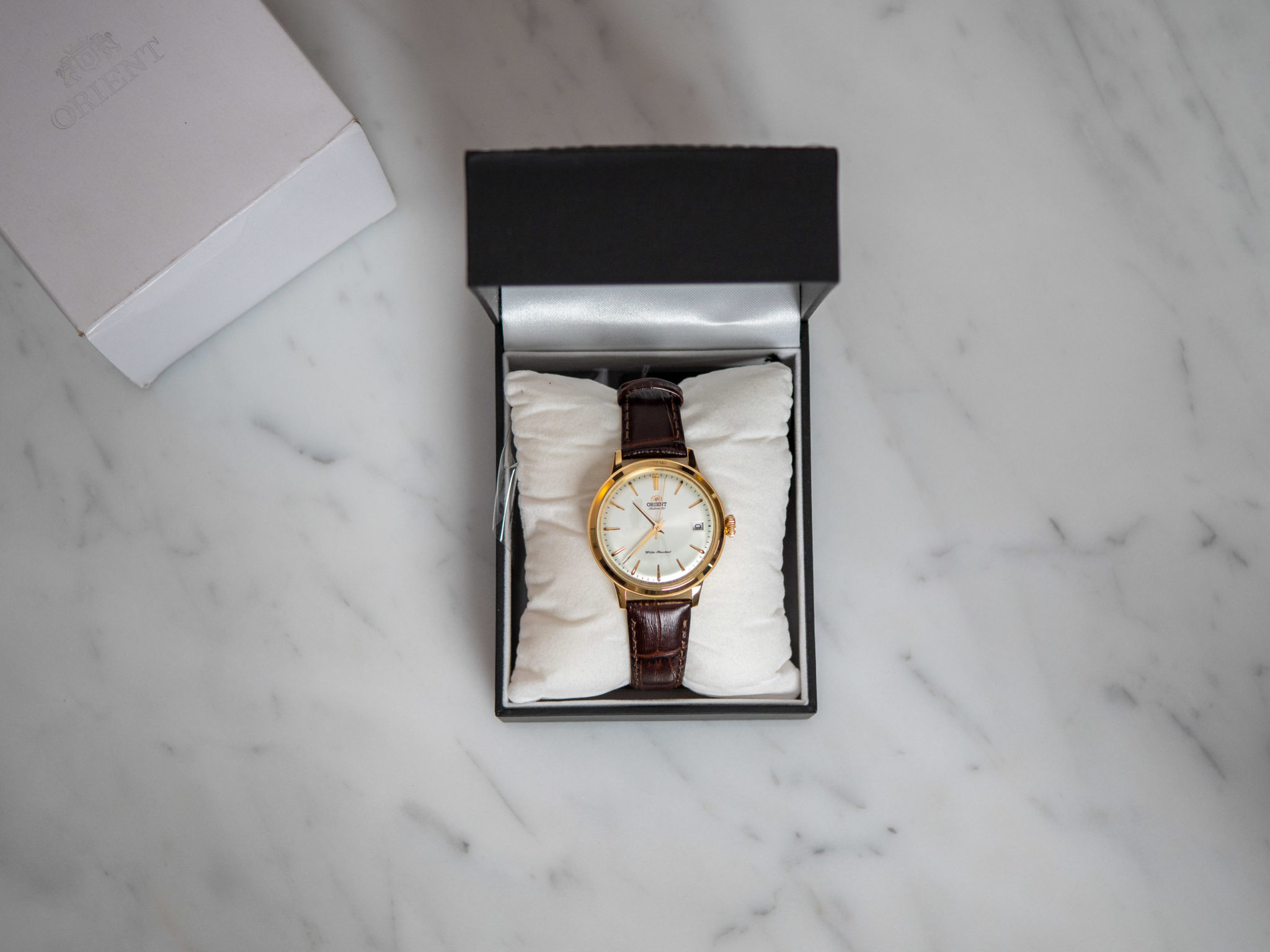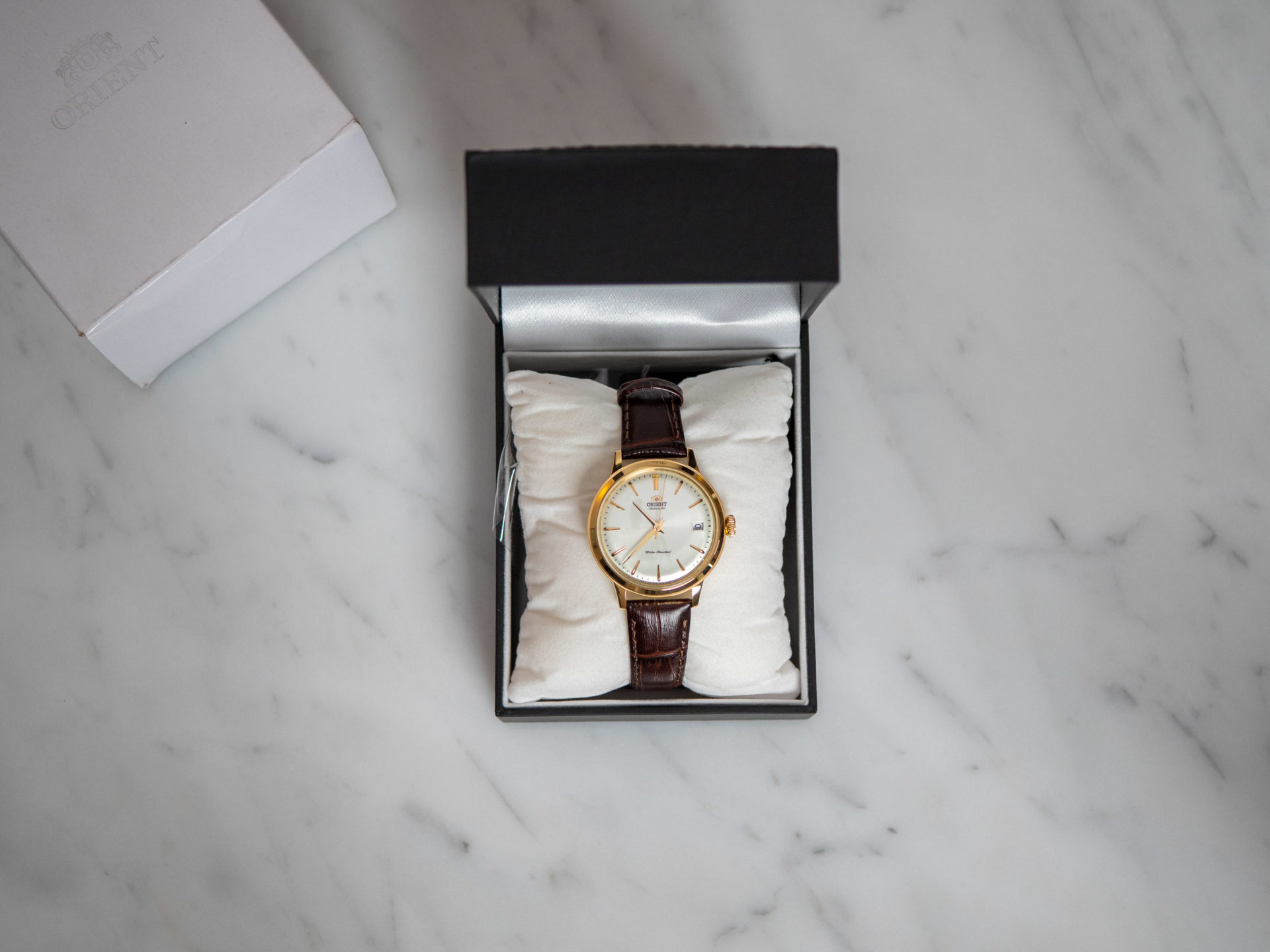 Other than the Orient Multi Year Calendar released in 1976, the 70s and 80s were rather unremarkable for the brand. It wasn't until 1991 that Orient produced another innovative design: The Orient Mon Bijou.
It was a skeletonized watch with a beautiful movement underneath — a design style that would become popular in the following years.
In 2001, Seiko Epson became the majority shareholder of Orient Watch, effectively putting Orient under the Seiko Group's control. In 2009, it became a wholly-owned subsidiary of Epson.
Today, it produces quality watches with the same level of obtainability it began with over 70 years ago.
The Orient Bambino 36mm Review
With that bit of history of Orient's background under our belts, let's move onto the Bambino 36mm. We'll discuss the dimensions, the styling, and the pros and cons of this piece.
The Dimensions and Specs
The Bambino 36mm is essentially a shrunken, more modest version of the full-size Bambino.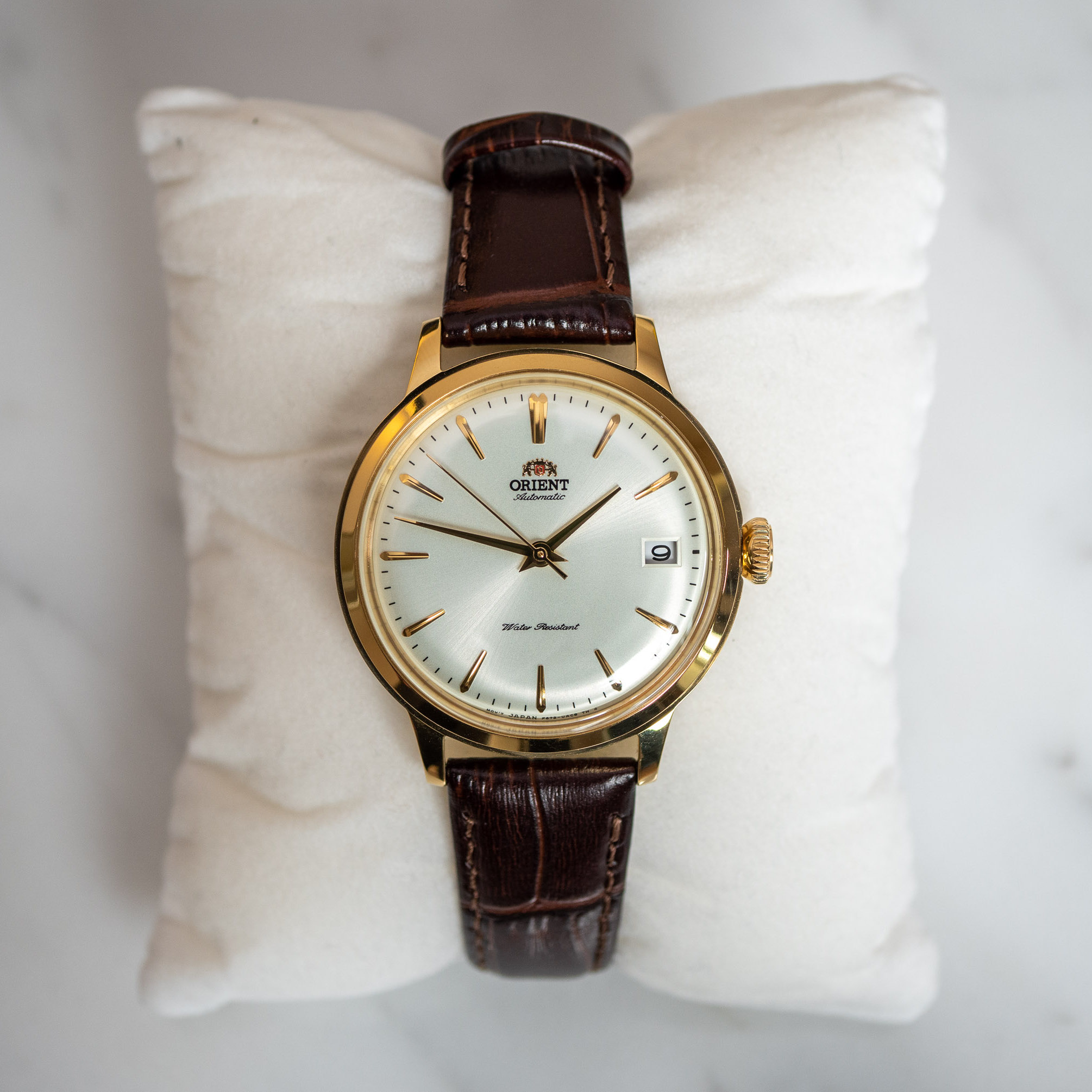 With a case that measures 36.4 millimeters across and 12.5 millimeters thick, it's a lot of watch in a rather scaled-down package. It also features a 42-millimeters lug-to-lug measurement, a strap width of 17 millimeters, and a water resistance rating of 30 meters.
The Styling
The Bambino 36mm features a gold-tone stainless steel case with a polished face and brushed sides, giving it a bit of eye-pleasing texture and contrast. It also features a nice chunk of domed mineral crystal that does take up its fair share of the 12.5-millimeter thickness.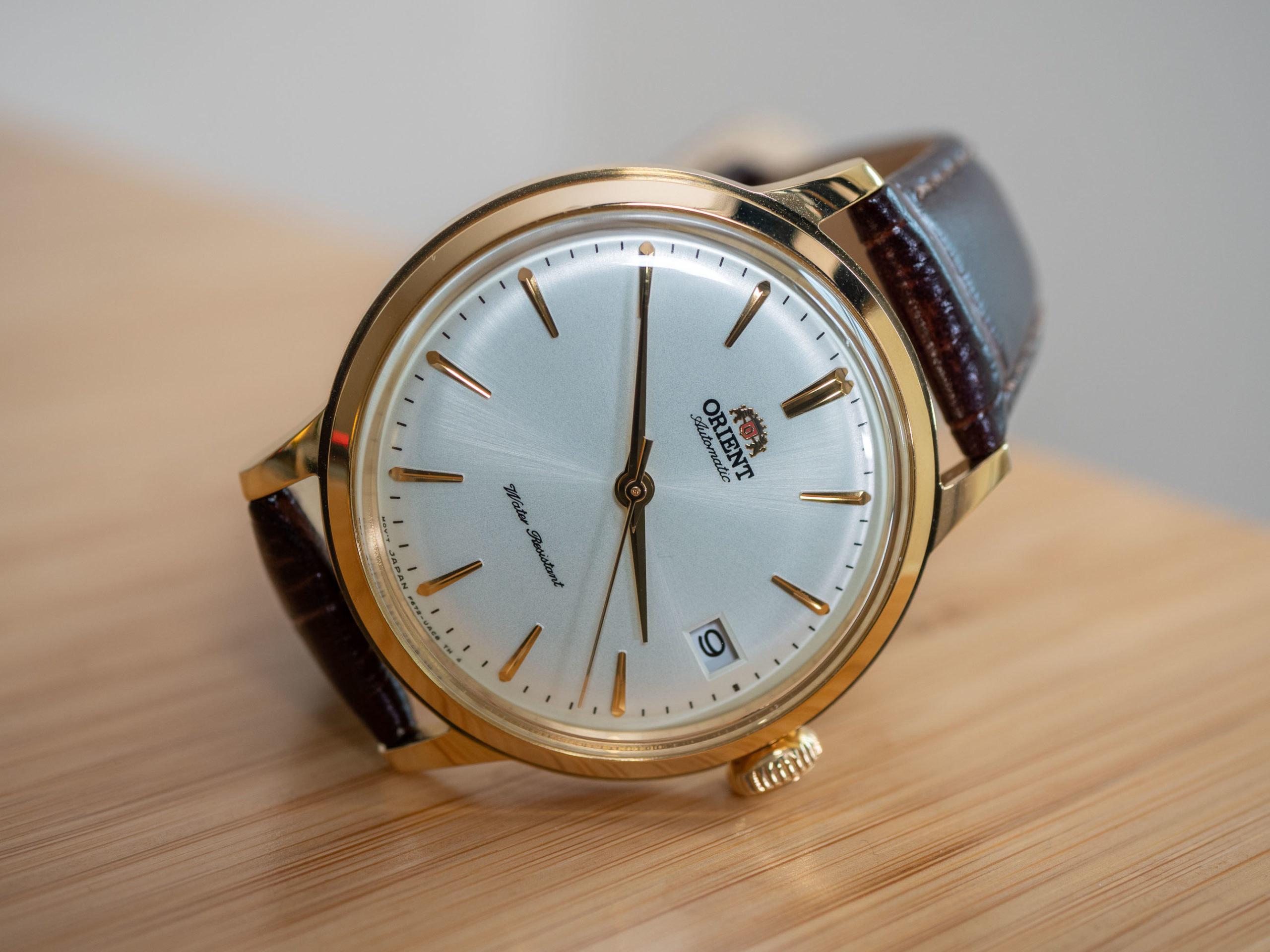 As far as styling goes, the Orient 36mm has a classic, traditional dress watch look. It features a white dial, gold hands, gold plated applied indexes, and a simple layout that remains uninterrupted save for the date complication at 3 o'clock.
It comes on a brown crocodile-style leather strap with a butterfly clasp as well (another nice touch at this price).
The Movement
This model features Orient's in-house F6724 Caliber movement, which is automatic, hand-winding, and hackable — something not common at this price point.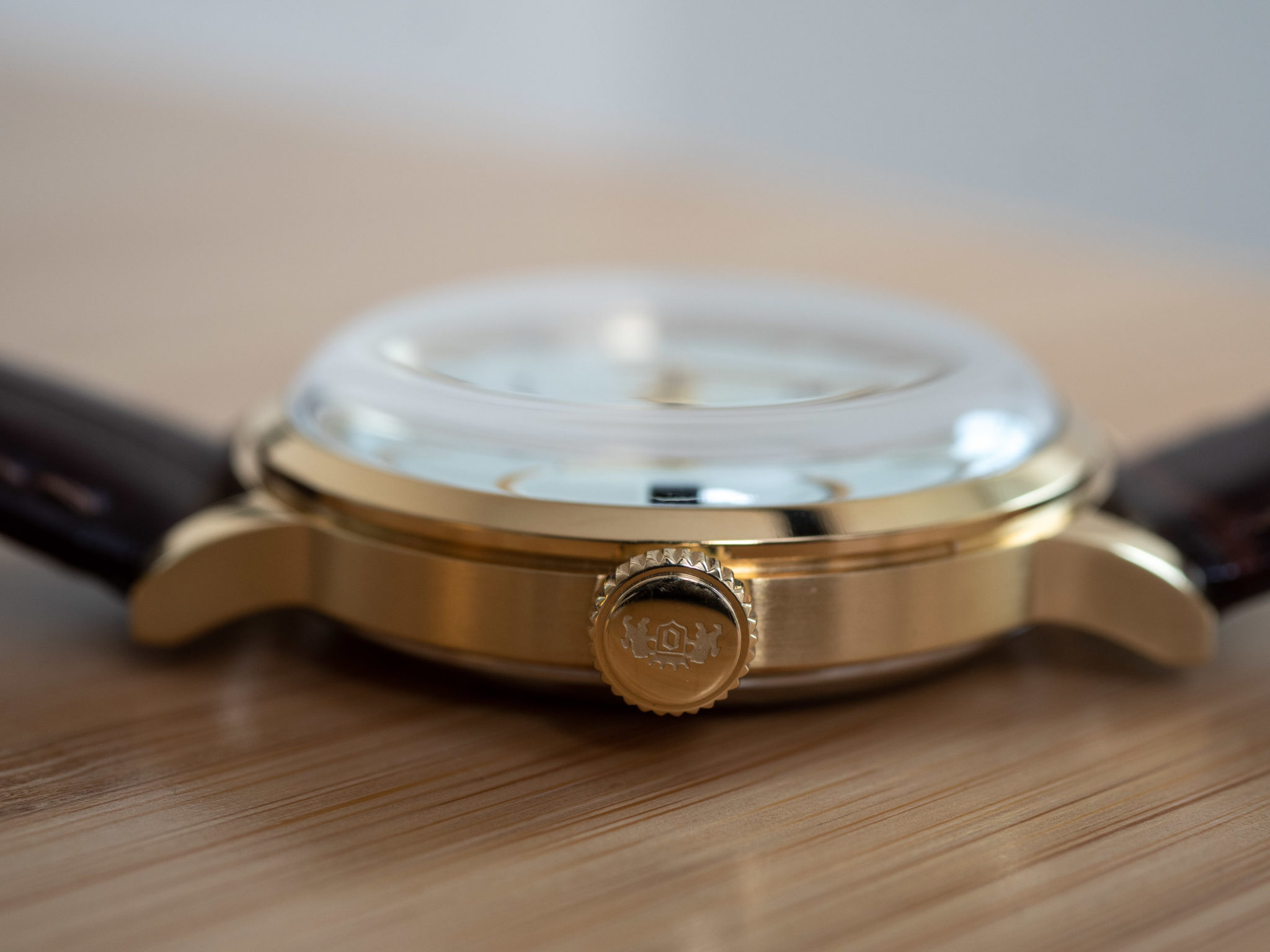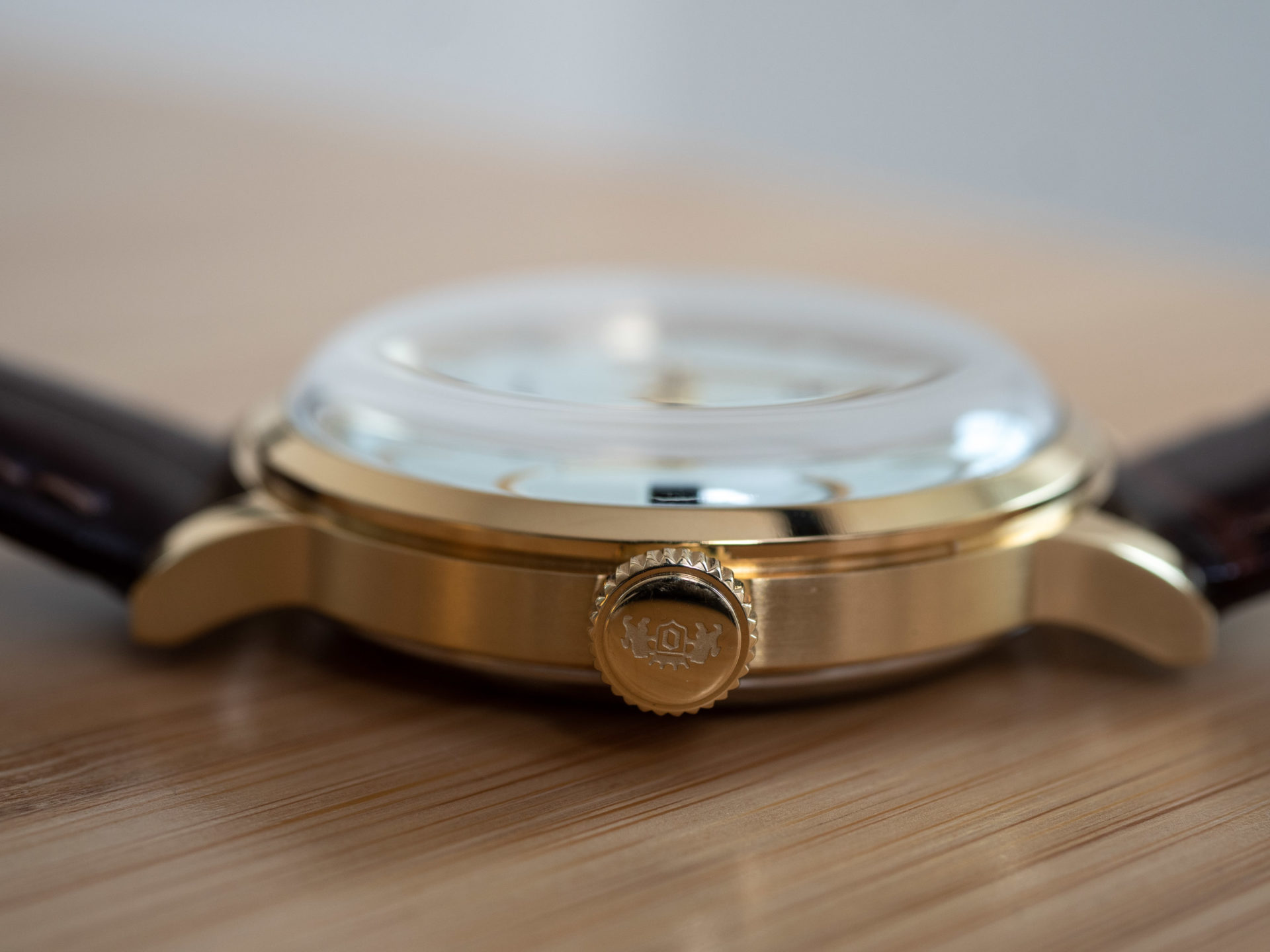 The F6724 features a date complication with the window at 3 o'clock, a power reserve of approximately 40 hours, and it's all viewable through the exhibition case back.
Overall Pros and Cons
You'll want the full picture before passing judgment on the Orient Bambino 36mm, so a rundown of the pros and cons is certainly in order.
But just remember, perfection is relative. What might not seem like a big deal to you might be a deal-breaker for someone else and vice versa.
Pros
Here's a breakdown of the pros:
Classic dress watch looks
Nice strap
Modest case size
Affordable price
The Bambino 36mm has some seriously classy looks, and it's an excellent dress watch. There are two variants that come on metal bracelets, but the classic good looks on the leather strap are hard to beat.
Add that it has that super clean dial, and it makes a very good case for itself against another affordable dress watch: the Timex Marlin.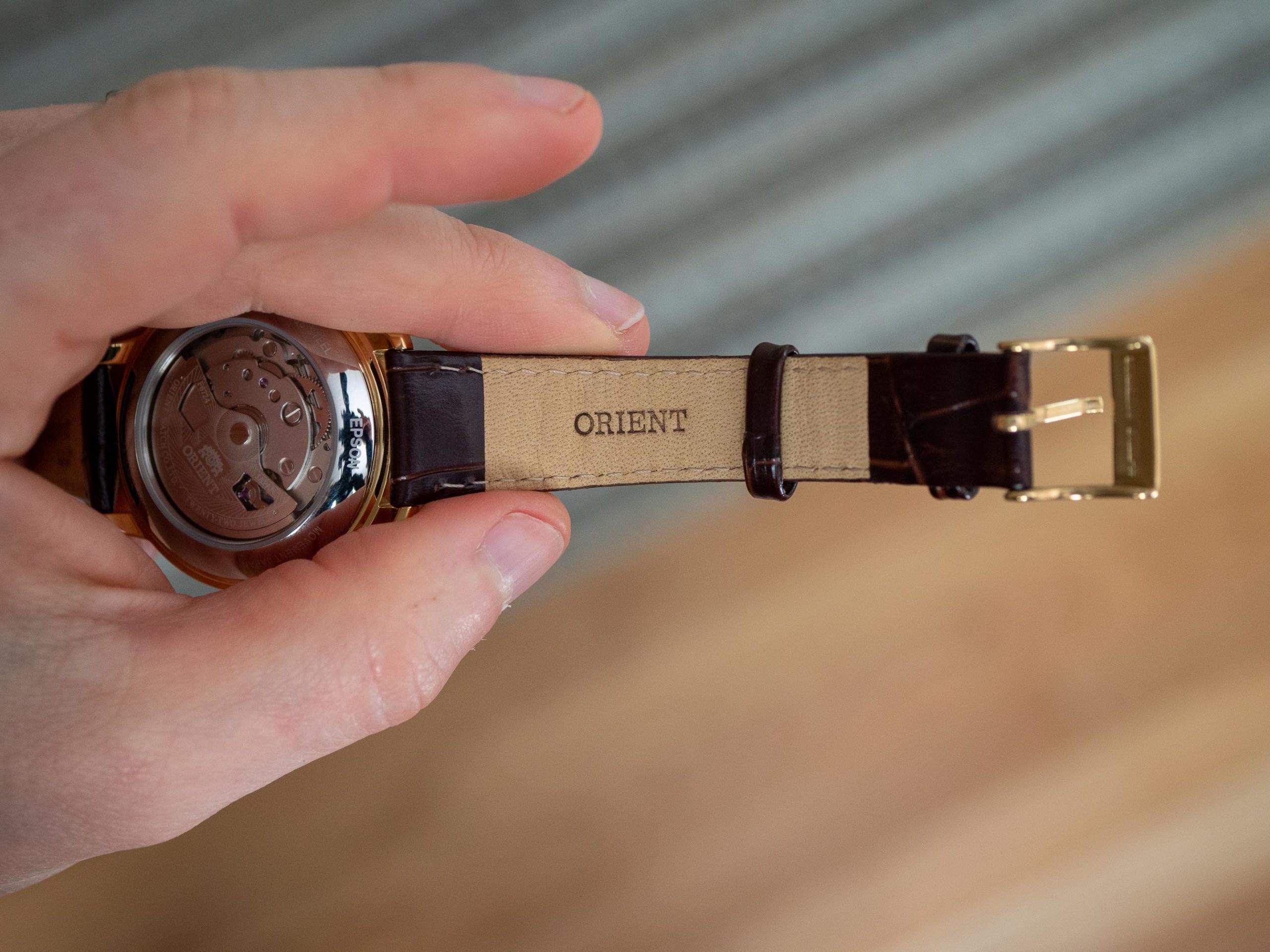 The leather strap that the Bambino 36mm comes on is very nice. It's a calfskin leather band with an alligator pattern. The dark brown with brown stitching is about as easy as it gets when it comes to matching to belts or shoes, as well.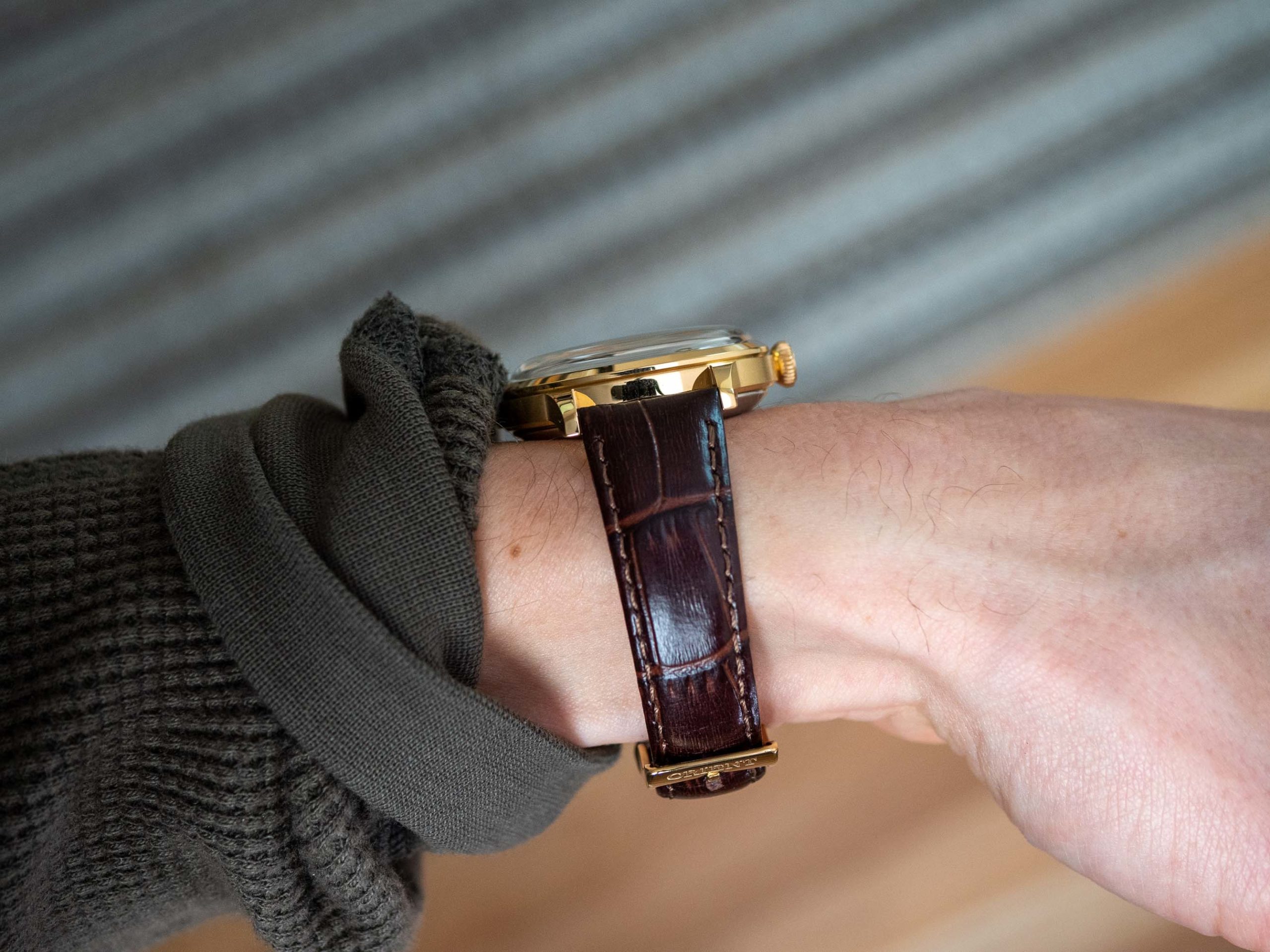 This strap is also soft, flexible, and comfortable. It's a major improvement over a bracelet, and it gives the Bambino 36mm a proper dress watch look.
The original Bambino measures over 41 millimeters, and it looks like it's every bit of it. That's too large for many guys, so the 36-millimeter case size is refreshing.
It's just an ideal dress watch size for guys who'd prefer a traditional look over something large and flashy. So, once again, it ticks all the dress watch boxes.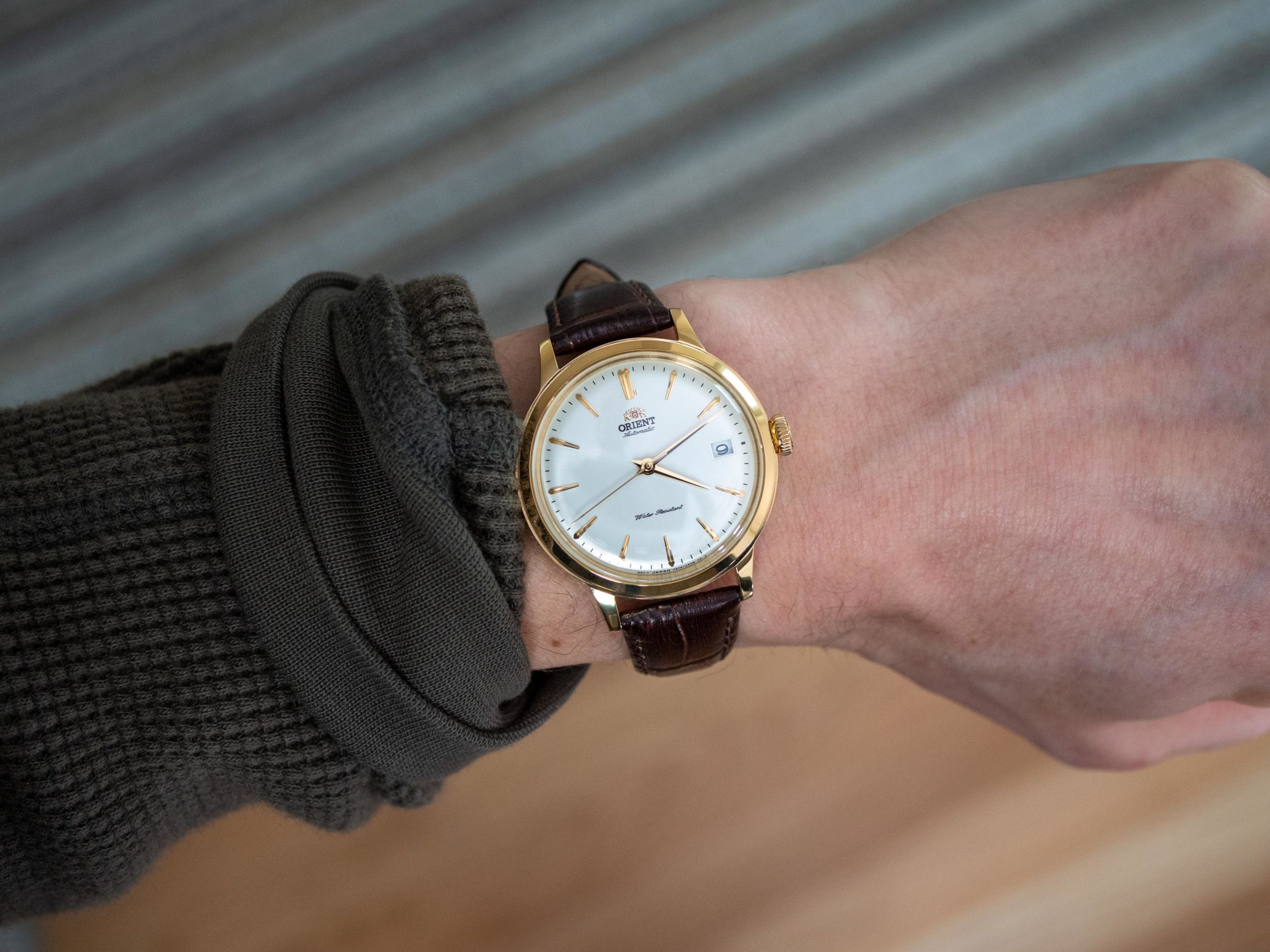 One of the most appealing parts of the Bambino 36mm is its price. A lot of guys won't spend a lot of money on a dress watch because they aren't able to wear them often.
With the Bambino's roughly $200 price point, it's an attractive option that most guys can afford without feeling obligated to wear it every day.
Cons
Like all watches, the 36mm Bambino does have a couple of cons:
Not available in as many varieties as full-size Bambino
Hard to find 17-millimeter straps
The full-size Bambino is its own lineup. It comes in several variants, case colors, dials, and strap options. And there have been several versions at this point, so the number of options is just daunting.
Unfortunately, the Orient Bambino 36mm doesn't offer the same possibilities. While the market might not really support smaller watches right now, it would be nice to see the Bambino 36mm offered in a few more colors.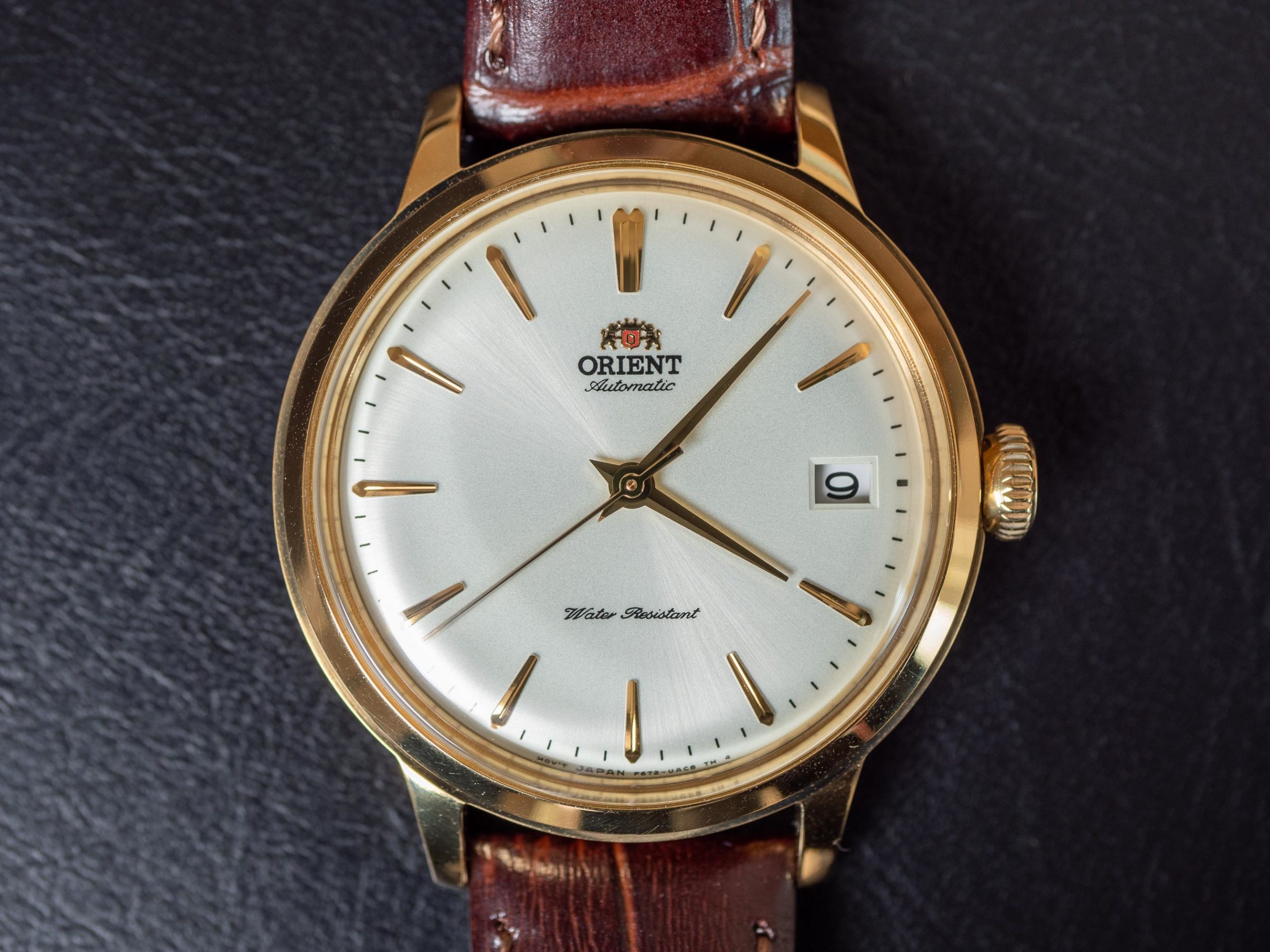 Watchmakers have a way of taking a good thing and not necessarily ruining it, but making it unnecessarily difficult. And that applies to the Bambino 36mm. The strap width on this piece is 17 millimeters.
If it was 18 millimeters, not only would the proportions be slightly more in line with other smaller watches, but there would be a near-endless supply of replacement straps available from which to choose. As is, the market's limited on 17-millimeter straps.
Luckily the strap that comes with this piece is a good one.
Final Thoughts
On a basic level, the Bambino 36mm's pros far outweigh the cons. Sure, the 17-millimeter strap might be a pain, and maybe there aren't as many variations as the larger Bambino.
But considering that the strap that comes on the watch is so good, and there are enough styles and colorways to make it interesting, the lack of choices is excusable.
The Bambino 36mm is a unisex watch at its heart, but its dressy styling makes it hard to deny as formal wrist candy. It's also hard to overlook its affordability. Guys looking to add a dress watch to their watch roll won't be disappointed in the Bambino 36mm.