In this review of the Bulova 96B104, we'll share our thoughts on this neat dress watch.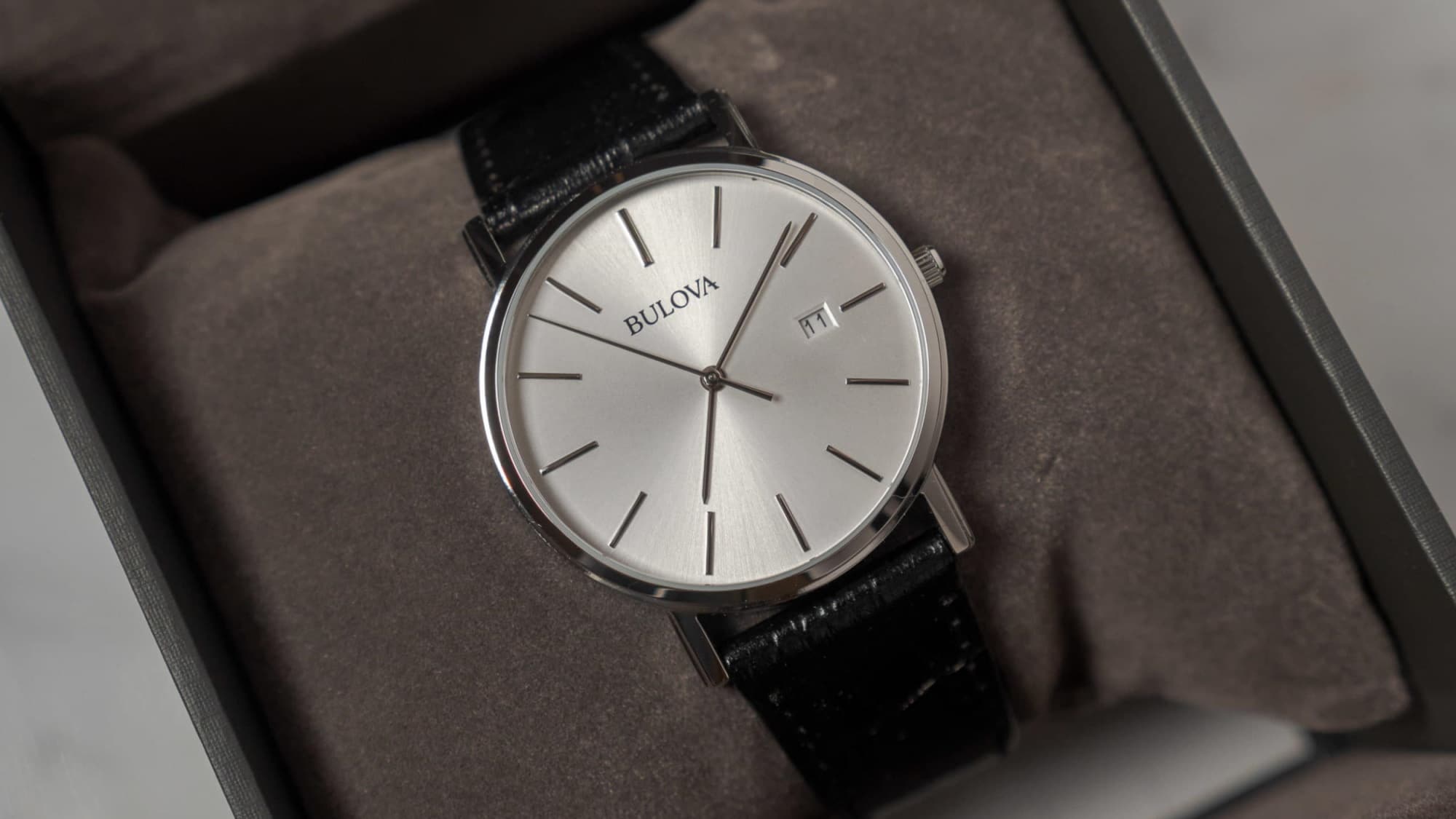 With new watch options coming out every week, there's no shortage of choices to make when shopping for a dress watch. Should you go with something new and flashy, or something classic, tried, and true?
With that in mind, I decided to buy one of the most talked-about affordable dress watches available online. And in this Bulova 96B104 review, I'll share my personal experiences with this surprisingly nice watch before giving a final verdict on who should get one and who might want to look for a different minimalist watch instead.
About Bulova
To really get to know any watch, you should first know a little bit about the brand that makes it. This is especially true for products that rely heavily on refined design; having a long, storied heritage usually means the brand will make a better final product.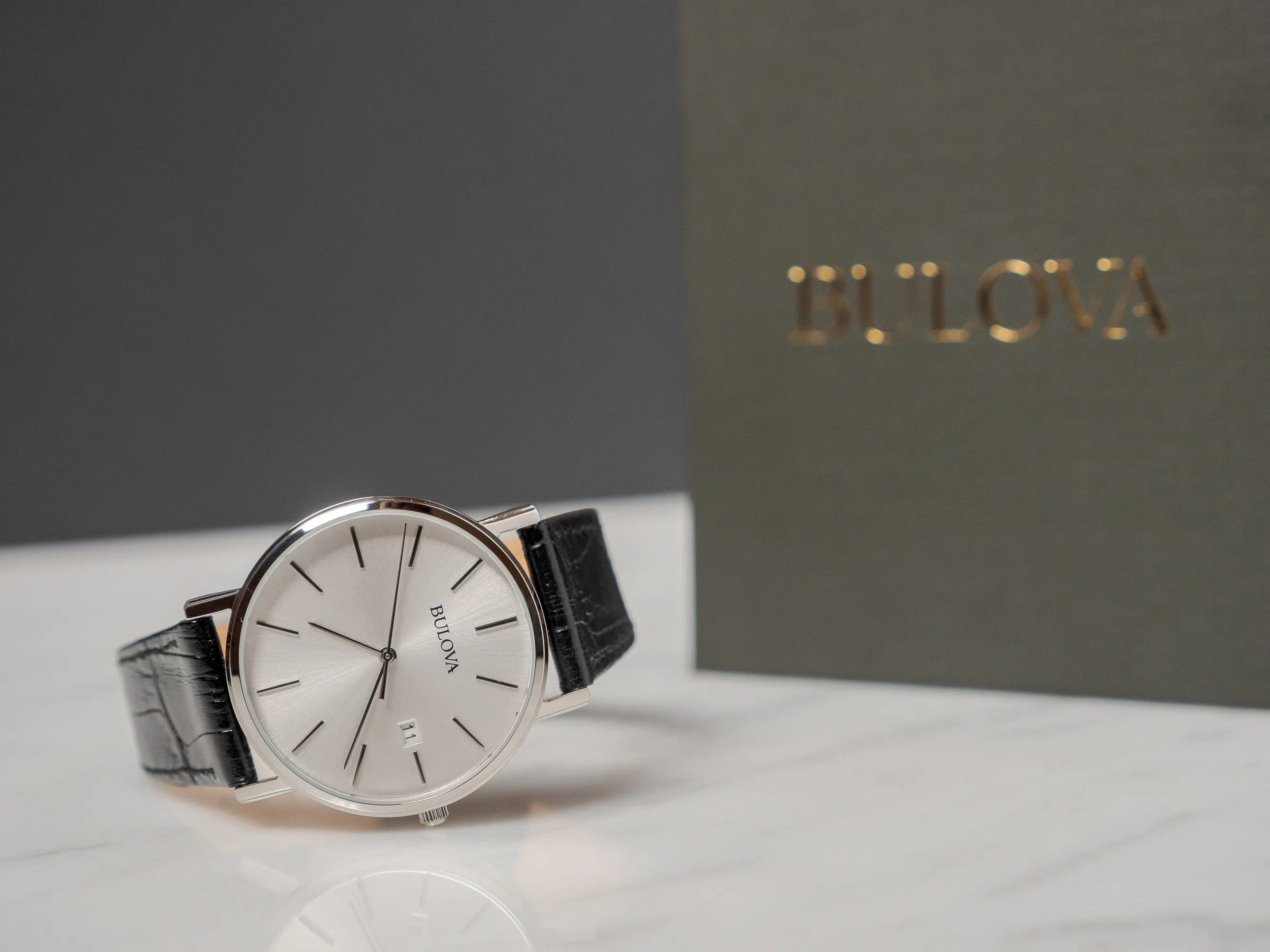 Bulova has that kind of heritage, and it shows through in their watch selection.
They were founded in 1875 in Queens, New York, and remained an American-owned company until 2008, when they were bought by the Japanese watch conglomerate Citizens Watch Co.
Although ownership has moved overseas, it's worth noting that Bulova's headquarters and design are still based out of New York City.
First Impressions
I've been looking at this watch online for a while now and finally decided to pull the trigger. What's kept me from getting one until now is that honestly, they look kind of boring online — just your average, everyday dress watch.
However, in person, I was really impressed with the quality and looks of the Bulova 96B104.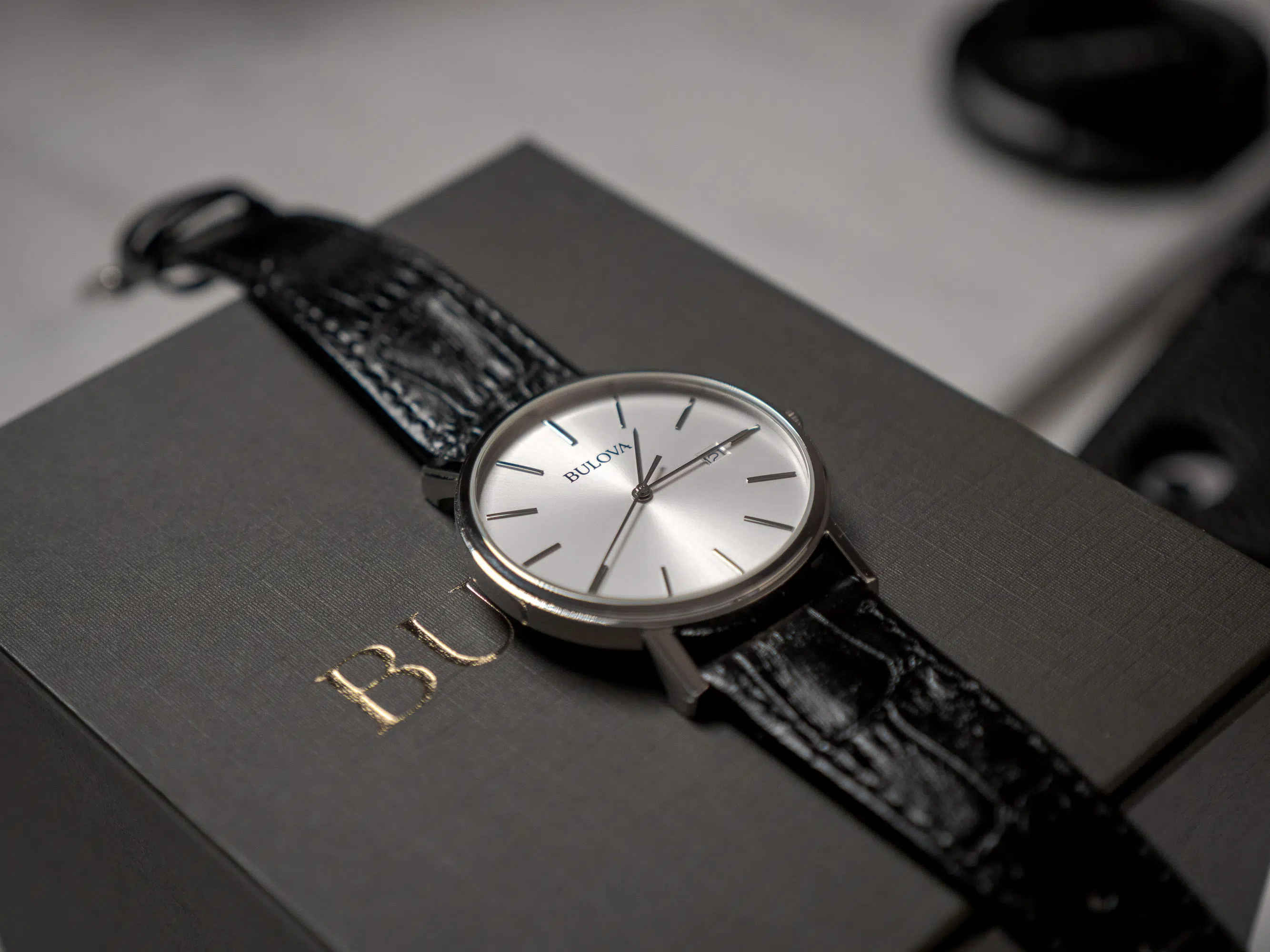 It's surprisingly elegant, especially given the price, and looks great with a business casual outfit or a full suit.
A word on that price, too: This watch is on sale all the time, so a fair price ranges from $95 to about $120. Don't pay the full $175 or $195 if you can avoid it.
The Case
Pretty much all dress watches are designed with smaller cases than your everyday wear style watches.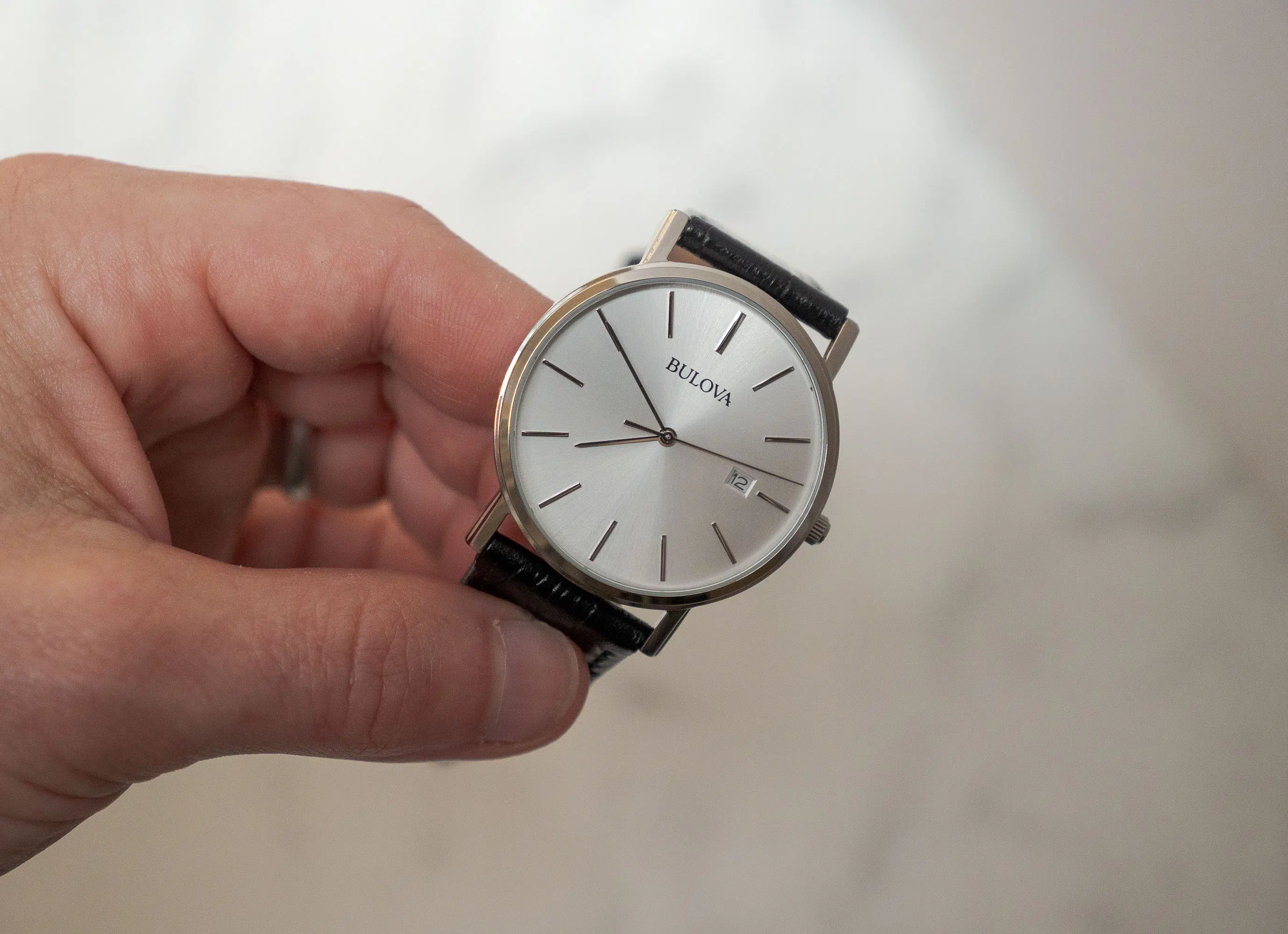 That's because they're not supposed to take center stage when you're wearing a suit or business casual outfit.
That's true of the 96B104 as well. It has a restrained 37 mm case and sits nearly flush with the skin of your wrist, feeling more like a bracelet than a chunky watch.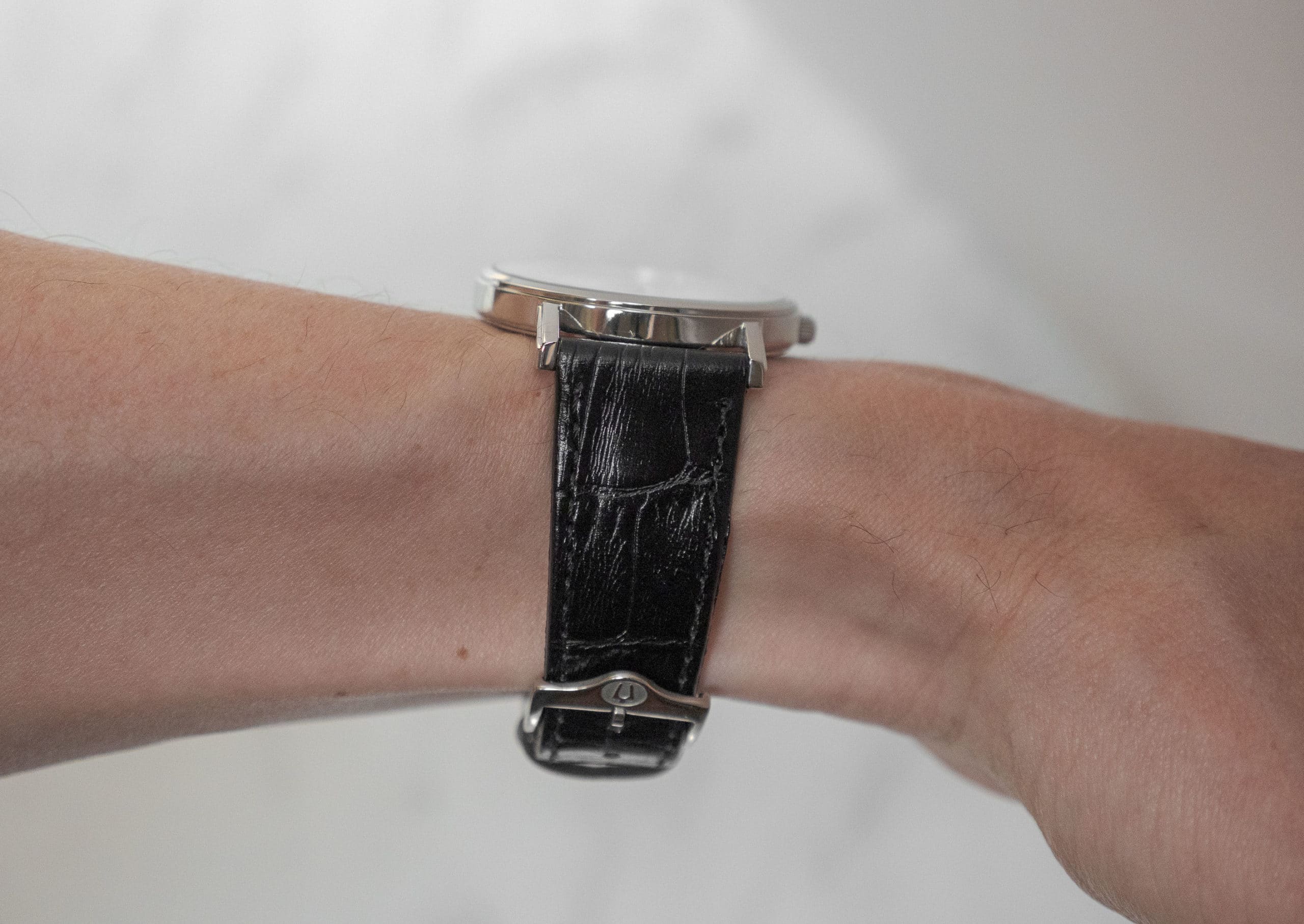 Add in that it has straight, simple lugs, and you get a watch that looks really good on wrists of all sizes.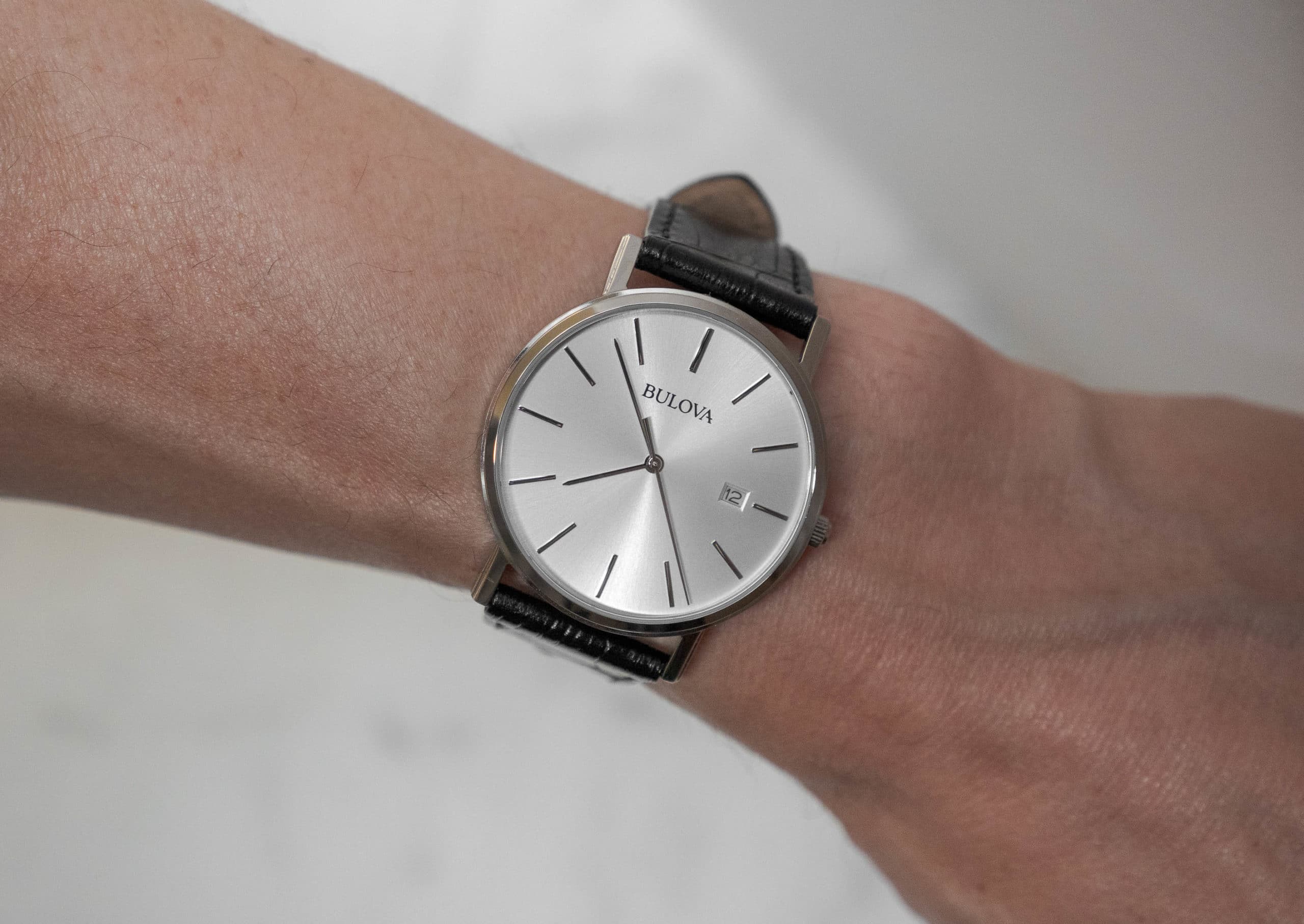 For reference, I have about a 6.3-inch wrist and think this watch looks great with all sorts of outfits.
The Dial
Elegant simplicity is the name of the game for the 96B104's dial. It has a really handsome sunburst pattern that you can't see well online, which is a big part of what won me over to liking and recommending this watch.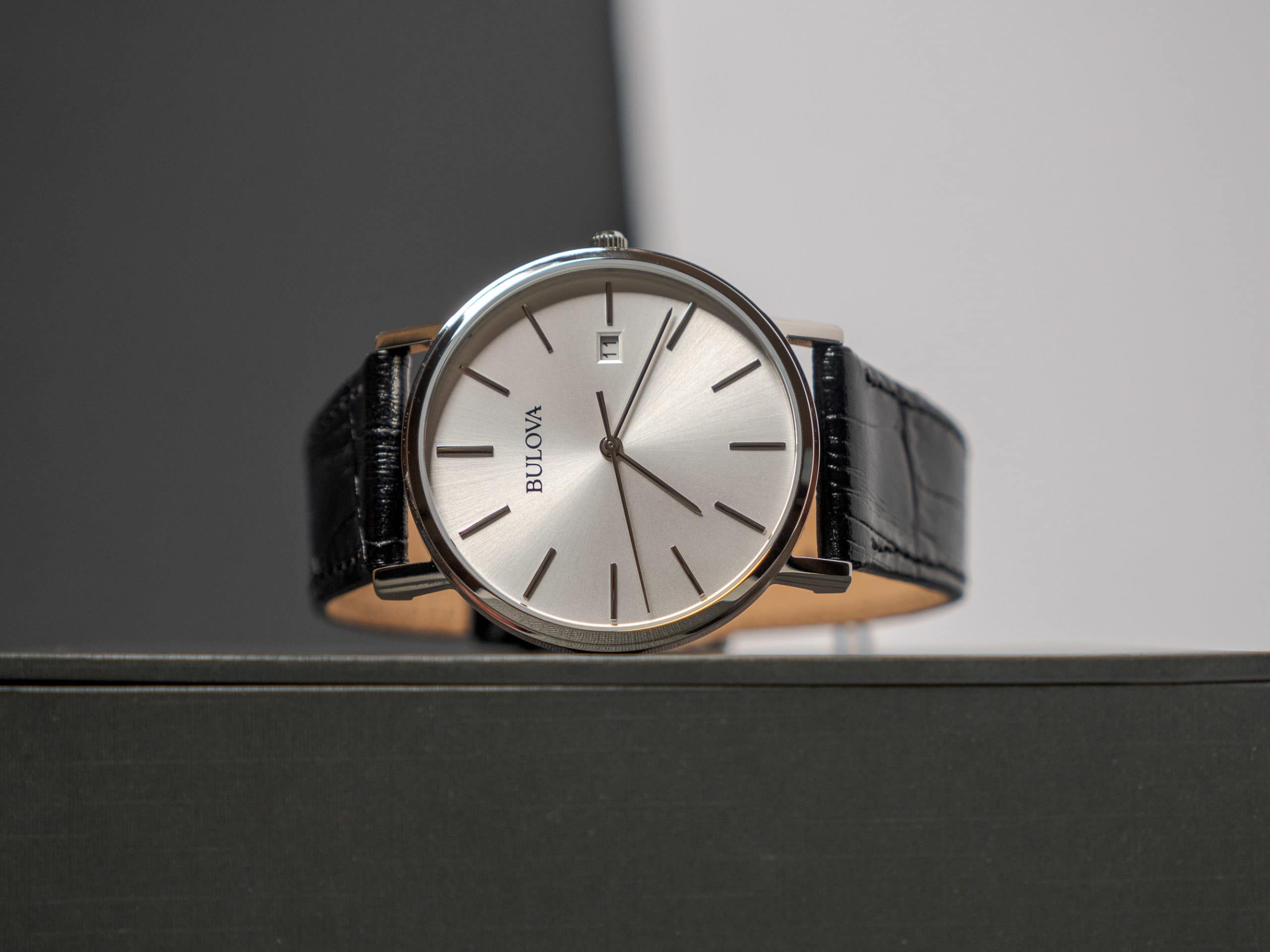 Other than that, you'll find simple tick indices and a small date window at 3 o clock.
I like having this minimal presence date feature, as I end up using it just about as often as I'm checking the time. The whole dial isn't strictly minimalist, but it's darned close.
The Strap
If this watch has one weak point, it's the strap.
The quality of the material is pretty good — it's made from calfskin and has a relatively soft and supple feeling. The strap is thin too, which helps complete the watch's overall minimal look and feel.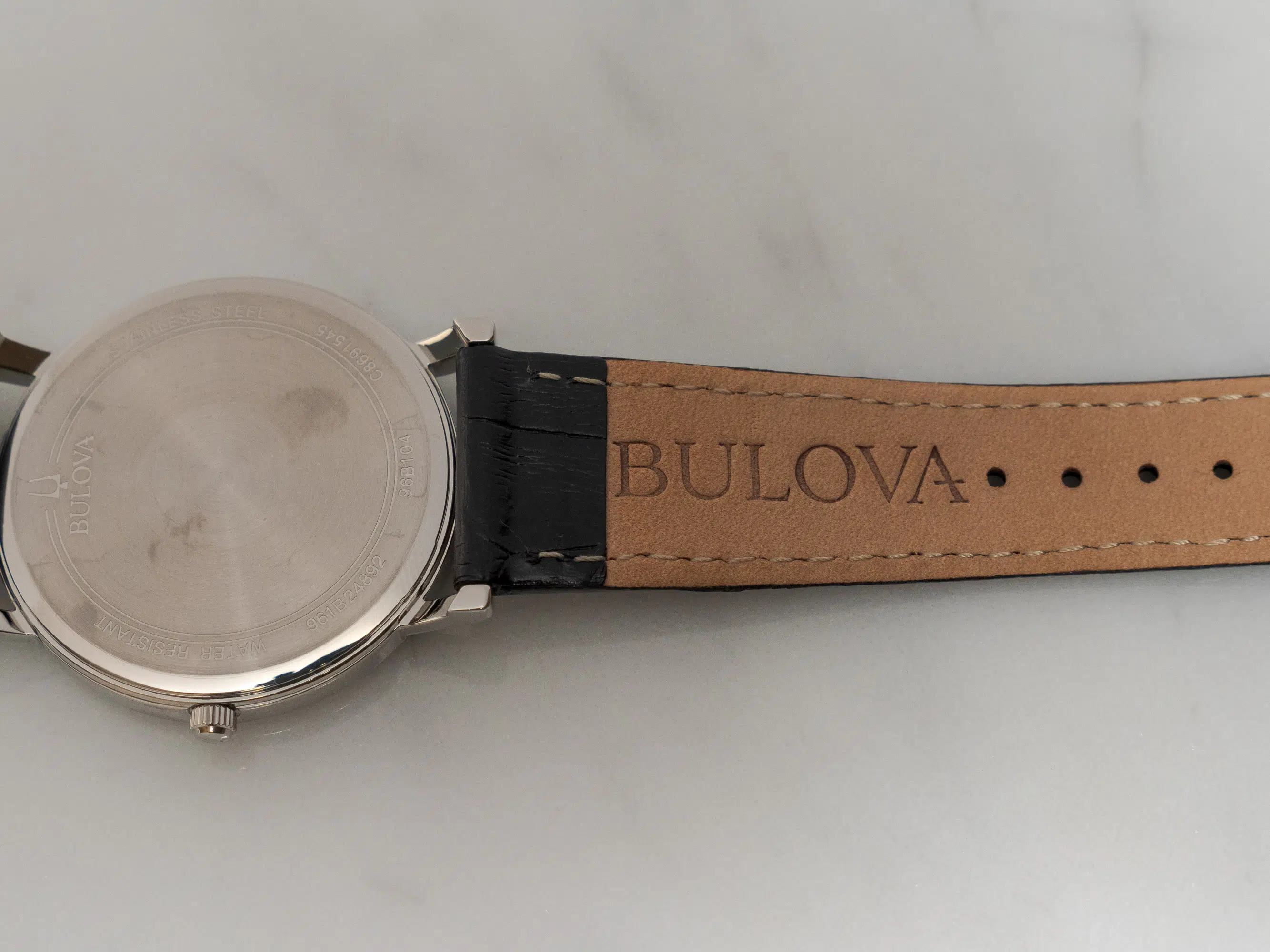 But to be honest, I don't really like the faux crocodile pattern on the strap.
It may just be me, but I find that kind of artificial patterning a little bit tacky and wish they would have left it as an unpatterned strap instead.
The Movement
So the 96B104 is a quartz movement watch, and that really makes sense for this style.
It's a classic dress watch, so you're probably not going to be wearing it every day — and you shouldn't really be wearing it while you're working out or playing sports.
Even with very casual outfits, this watch will look out of place (unless you swap the strap out for something less formal).
That quartz movement allows this Bulova to keep time while it's being stored away, so you don't have to wind it up and set the time every time you want to wear it. Overall, that's definitely a point in its favor as a dress watch.
Final Verdict
I'm actually really impressed with how much the Bulova 96B104 has to offer for the price you can usually find it at. The total package of a well-designed case, dial, and movement makes it a reliable and good-looking classic dress watch.
And because of Bulova's long-standing watchmaking experience, it's honestly a much better alternative to some of the minimalist crowdfunded watches that keep popping up online.
Questions? Comments? Leave them below!