Patek Philippe makes some relatively affordable timepieces if you know what to look for. Here's our list of affordable options.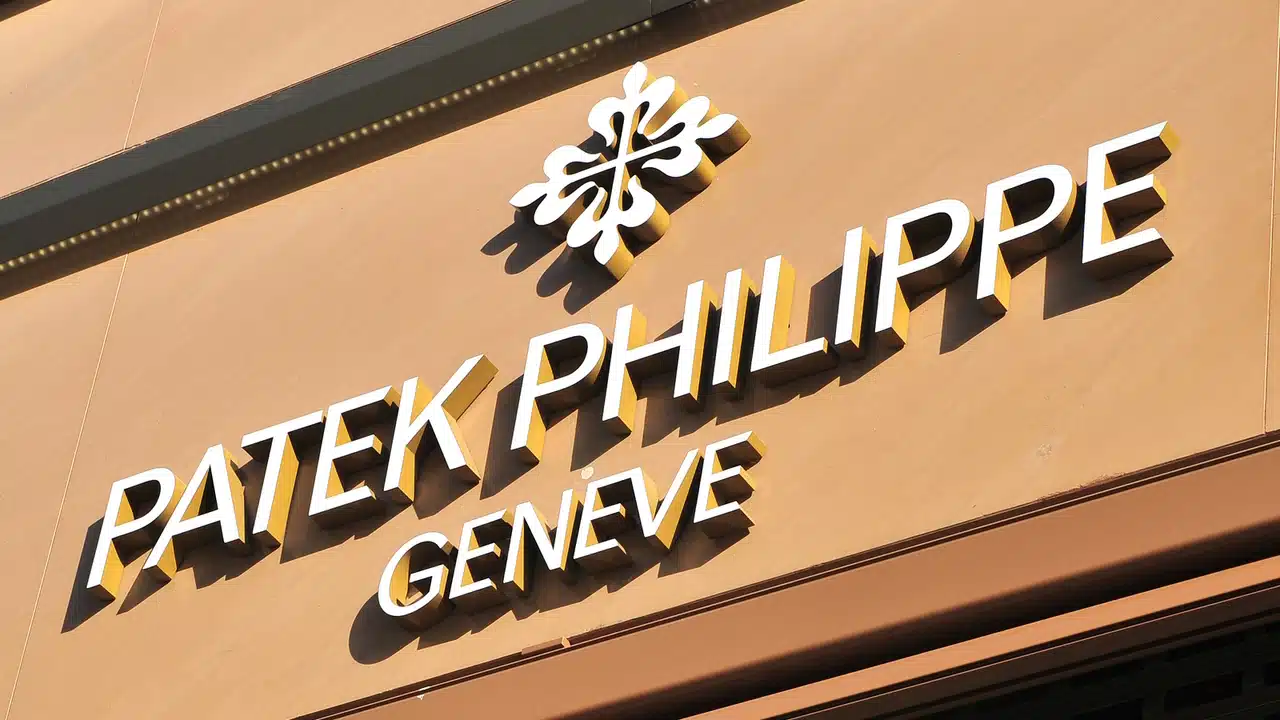 Worn as status symbols and purchased as lifetime investments, Patek Philippe watches are some of the most expensive on the market. 
Backed by brand provenance and fortified by expert craftsmanship, the company's rich heritage in exquisite watch manufacture, spanning over 150 years, is reflected in the price of each timepiece.
For many of us, owning a brand new Patek Philippe seems but a dream. Alas, every luxury watch company has an entry-level watch.
For Patek Philippe lovers, this entry point may be significantly higher compared to other manufacturers' offerings, but if you've been planning on investing in a timepiece from the famed Geneva-based watch company for some time, you'll be wanting to know where to start your search.
In this article were going to look at the cheapest Patek Philippe watches on the market and why each of these designs holds its value so well. Before we start, a brief overview of Patek Philippe and its storied history in fine watchmaking.
History of Patek Philippe
Antoni Patek (1811-1877) began his career in horology in the year 1839 when he began producing pocket watches within his workshop in Geneva.
It was around 6 years later that he joined forces with Adrien Philippe (1815-1894) who had acquired a love of watchmaking from his father.
Philippe had invented the concept of the crown just a year before collaborating with Patek. Before this breakthrough, a movement was wound using a key.
From 1851, the company existed under the name Patek Philippe and soon experienced great success, having developed two watches purchased by Queen Victoria.
In 1902, Patek Philippe produced the first double chronograph followed by the first perpetual calendar wristwatch in 1925.
From this point onwards, Patek Philippe specialized in developing complication watches, 25 of which were owned by automaker James Ward Packard.
Today, some of the most popular Patek Philippe watches include the Nautilus and Calatrava.
The prestigious watch company builds nearly every watch component itself and offers a vast selection of wristwatches crafted from supreme materials for an incredibly luxurious finish on the wrist.
Precious metals like platinum or 18kt yellow gold make for popular investment pieces, whilst some of the brand's stainless steel models are less abundant, making them rare and highly coveted amongst serious luxury watch enthusiasts.
Patek Philippe Nautilus
We'll begin this guide to the cheapest Patek Philippe watches with the Nautilus, since this is one of the company's most recognizable and desirable watches to own.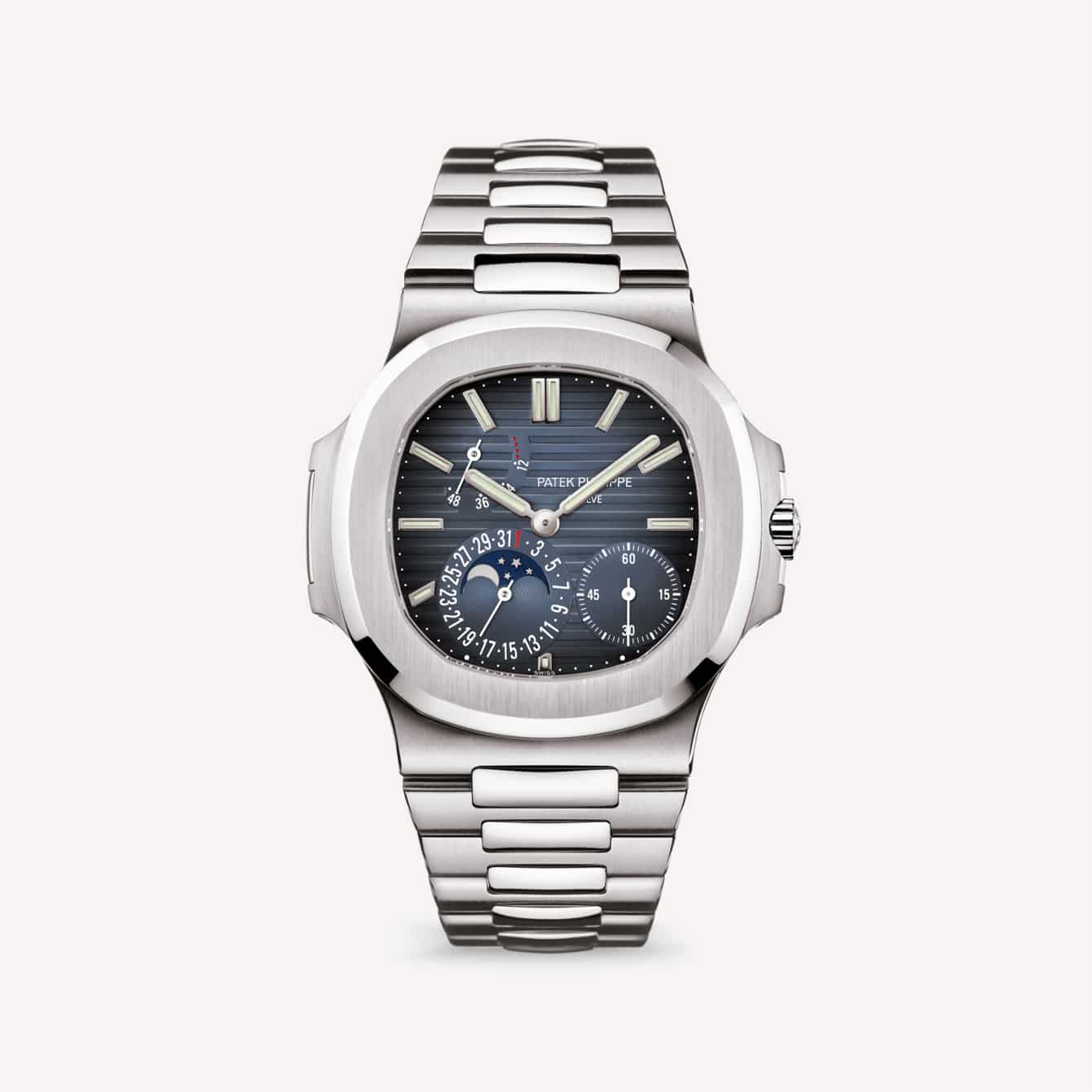 The Patek Philippe Nautilus is more widely available in 18kt rose gold, 18kt white gold or a two-tone version and is even offered in an annual calendar, moon phase, and a second time zone and chronograph iteration.
Stainless steel Patek Philippe Nautilus watches are in higher demand and have huge waiting lists if purchasing new. Part of this is down to the fact that Gerald Genta designed the Nautilus in steel in 1976 with the reference 3700/1.
Its porthole-inspired design caught the attention of steel sports watch enthusiasts who are still searching for this vintage model on the pre-owned market today, where prices can reach up to around $110,000.
The 2006 model reference 5711/1 fetches an even higher price and once Patek Philippe confirmed the discontinuation of the original Nautilus, prices on the pre-owned market inflated drastically.
If your heart is set on the original look of the steel Nautilus watch, the reference 71-09-005 remains a faithful iteration of the steel sports watch and offers a little more technical finesse with its date ring, power reserve indicator, and small seconds sub-dial.
Its stainless steel octagonal bezel honors the faithful porthole-inspired shape and frames an ocean blue dial adorned with luminous central hour and minute hands.
The power reserve display located between 9 and 12 o'clock indicates the remaining energy of an in-house developed movement.
The dial's surface is adorned with an embossed horizontal pattern, protected underneath a sapphire crystal glass front.
Completing the iconic design of the Patek Philippe Nautilus is its integrated stainless steel bracelet which, for a watch priced around $35,000 proves a great investment piece for the future.
Patek Philippe Golden Ellipse
With its elliptical-shaped case, the Golden Ellipse watch has become one of Patek Philippe's most recognizable designs. Despite its luxurious and resolutely elegant design, there are still "affordable" models from new that can be purchased for under $40,000.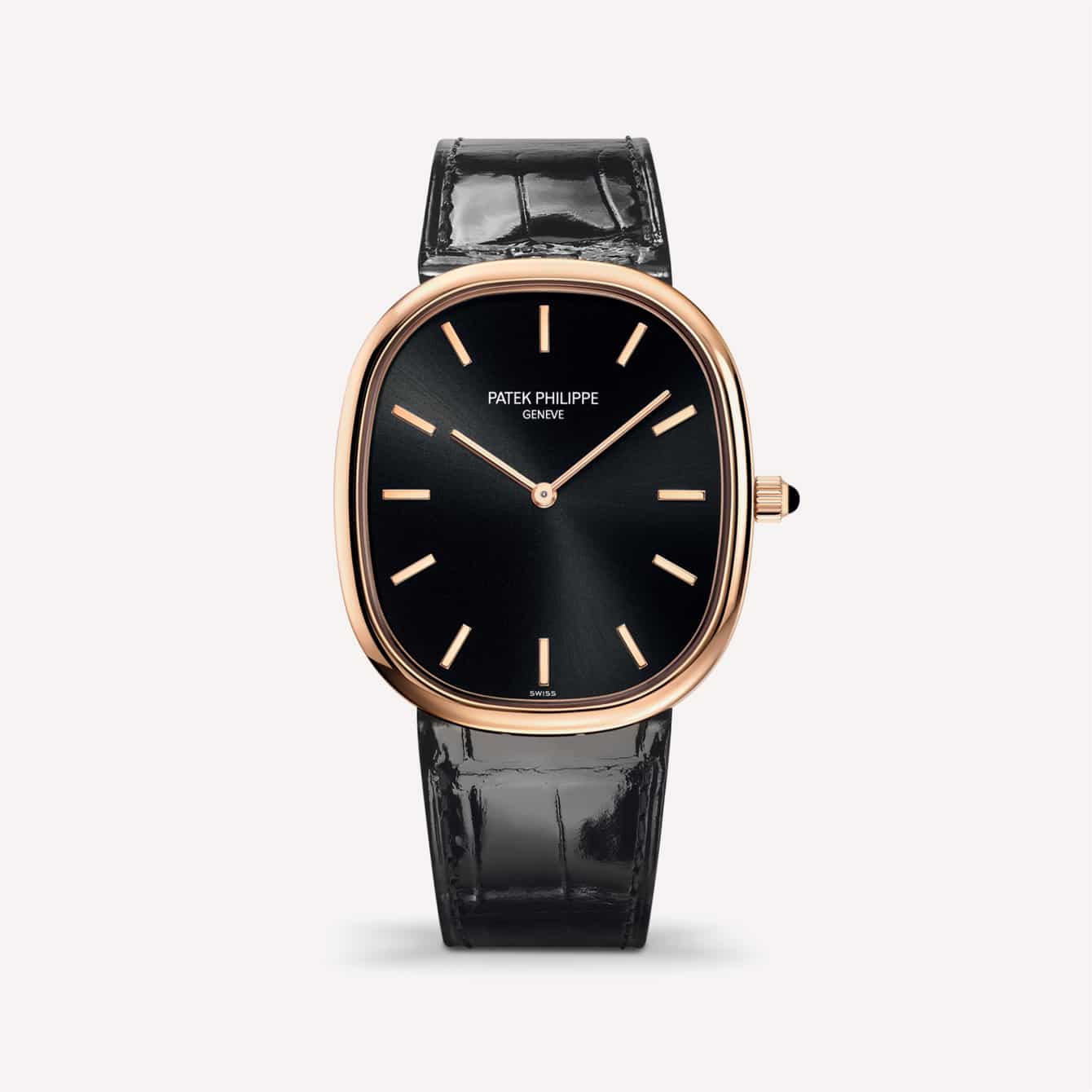 The Golden Ellipse watch reference: 5738R-001 is priced at around $33,000 making it one of the most affordable Patek Philippe watches to invest in.
Crafted from 18ct rose gold, the model presents the time on a classic-looking ebony black sunburst dial with slender rose gold hands and simple stick hour markers.
This pared-back design features plenty of elegant finishing touches, such as a crown set with black onyx and a stylish black alligator leather strap with a traditional prong buckle crafted from 18ct rose gold to match the case material.
One of the appealing features of the Patek Philippe Golden Ellipse watch is its incredibly slim case depth measuring just 5.9mm in height. It holds the ultra-thin self-winding Calibre 240 at its center capable of producing an impressive power reserve of 48 hours.
Patek Philippe Calatrava
When it comes to searching for the cheapest Patek Philippe watches, the Calatrava has some pretty accessible models on offer.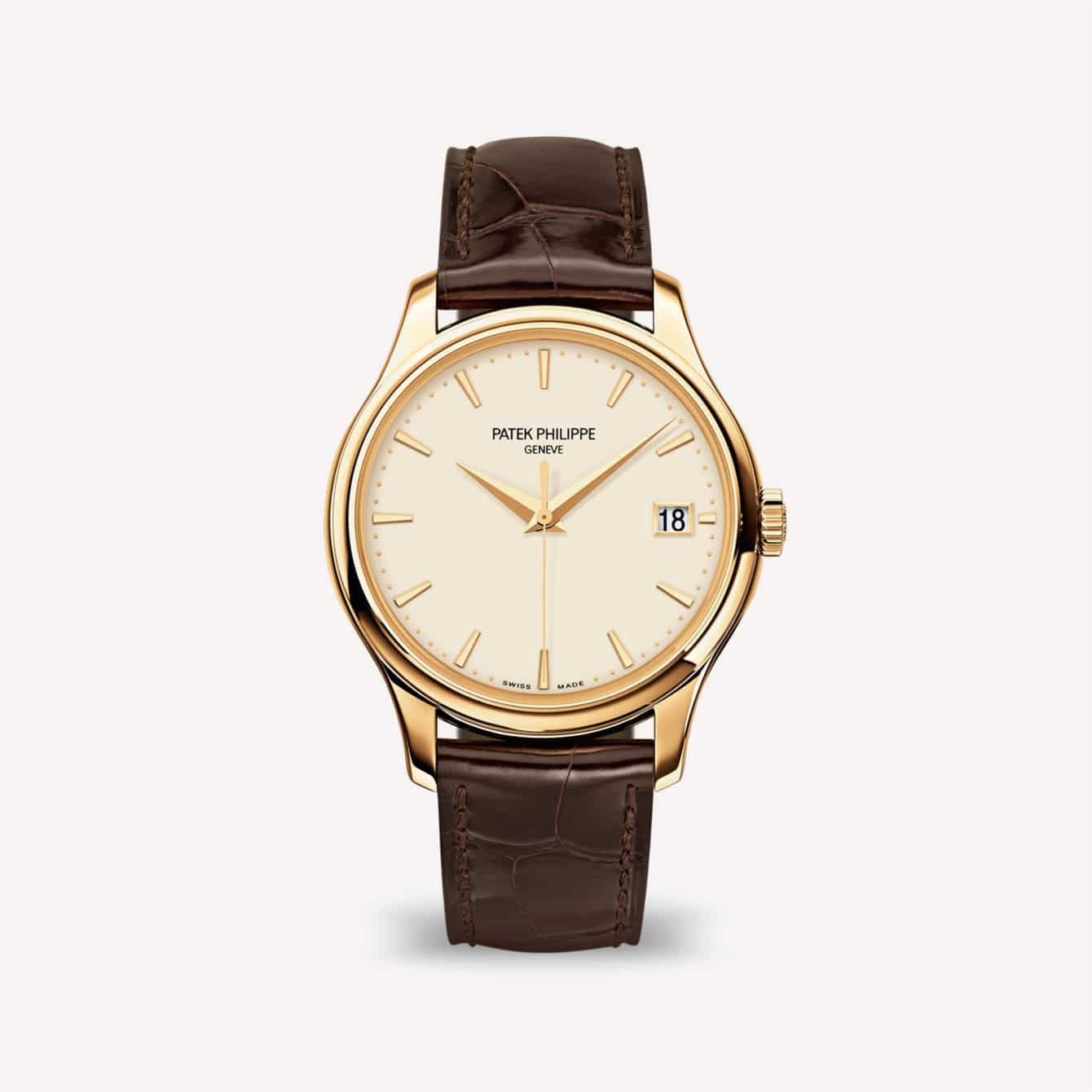 The Calatrava reference 5227J-001 has a beautiful sweep second hand courtesy of the in-house developed Calibre 324 S C, a self-winding engine comprising a total of 217 hand-assembled parts and a power reserve of 35 hours.
Its architecture is also adorned with a 21k gold central rotor. This affordable dress watch from Patek Philippe features an elegant ivory-colored dial with rose gold hands and hour markers that match the material of its 30-meter water-resistance case.
Practical in every way, this affordable Patek Philippe Calatrava watch is equipped with an easily readable date aperture at 3 o'clock and wraps comfortably around the wrist with a brown alligator leather strap and a traditionally crafted 18ct rose gold prong buckle.
Patek Philippe Aquanaut
On the pre-owned market, you can expect to pay around $52,000 for a three-handed steel version. The line was first launched in the late 1990s and became an instant success with its softer lines compared to the Nautilus.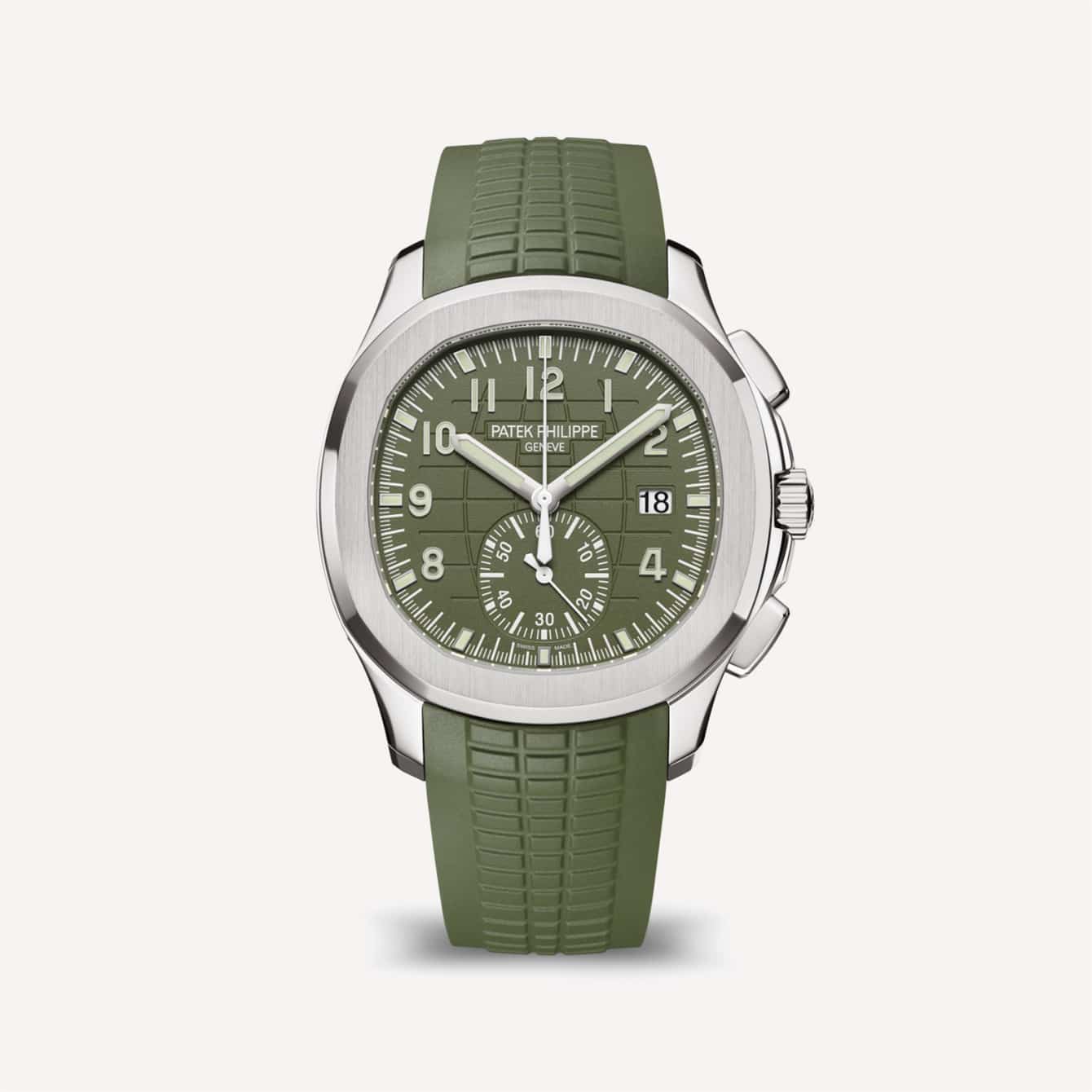 Modern Patek Philippe Aquanaut watches are fitted on the company's "tropical" strap crafted from a composite material and are available in rose gold, white gold, and steel options, as well as Travel Time and chronograph iterations.
The Patek Philippe Aquanaut reference 5968G-010 is a self-winding model crafted from 18ct white gold. It features a stunning khaki green-colored dial and a strap to match, appealing to those with a preference for the less conventional black dial version.
The case is crafted in a mix of polished and satin finishes and is integrated with 120-meter water resistance, making it an ideal option for snorkeling, swimming, or a spot of water sports while on vacation.
This affordable Patek Philippe watch gives you plenty for your money, including a flyback chronograph function that enables you to start, stop and reset the chronograph feature with one simple push of a button.
It also features a small second sub-dial at 6 o'clock, luminous hands and hour markers, and a date aperture dressed in white a 3 o'clock, set against an embossed Aquanaut patterned display.
Patek Philippe Complications
The Patek Philippe Complications watch collection is where you'll find some of the Geneva watch brand's most complex and meticulously crafted timepieces.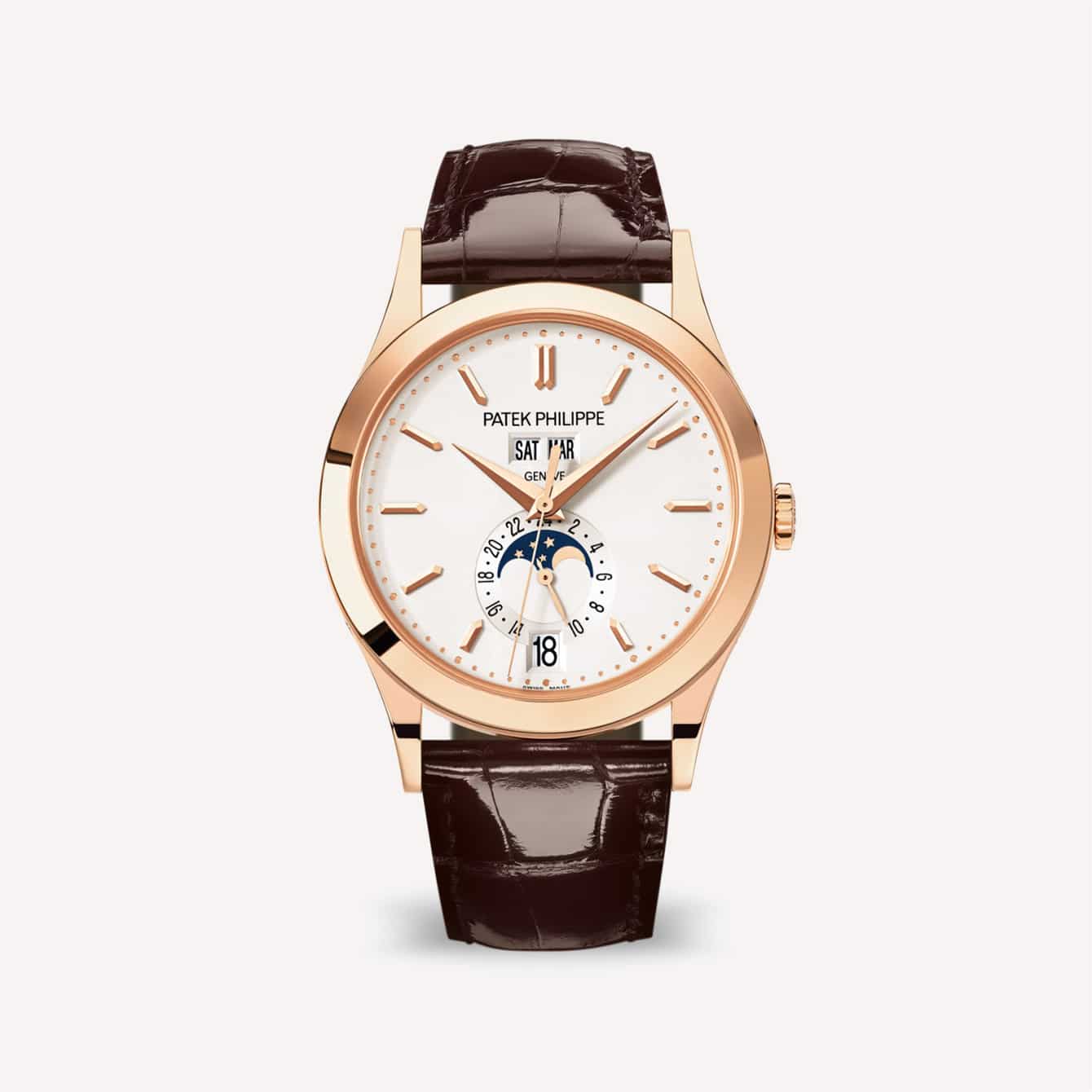 While there is no doubt that complication watches are more expensive than simple three-handed models, there are still some more accessible price points for those that don't want to break the bank.
The Patek Philippe Complications reference 5396R-011 is an elegant dress watch that also enables you to track the exact positioning of the moon according to the 29.5-day lunar cycle.
It displays the lit-up surface of the moon, starting from a new moon, transitioning into a full moon, and back again.
This is one of the more affordable of Patek Philippe's range of Complications watches, costing under $55,000. It also doubles up as a dress watch for pairing with formal or professional attire thanks to its 18kt rose gold case.
The moon phase indicator also combines with a 24-hour scale running around its perimeter and incorporates a date window into its circular shape.
Frequently Asked Questions
Still have questions about Patek Phillippe? Check below for answers:
How Old Is Patek Phillippe?
Patek Phillipe began in 1839 and is over 180 years old.
Why Is Patek Philippe Expensive?
Patek Phillippe watches are expensive because of the quality materials used, the countless hours each watch takes to produce, and because of the brand's reputation and high-status name.
How Do You Pronounce Patek Phillippe?
The name of the brand is pronounced "Pah-tek Fee-leep."
The Takeaway
The bottom line is that there are entry price points into the world of Patek Philippe once you know where to look.
In some cases, a pre-owned watch does not necessarily mean a more affordable Patek Philippe watch, since many of the manufacturer's most desirable timepieces are manufactured in small numbers, often inflating pre-owned prices.
More importantly, you can own a Nautilus watch, faithful to the much-loved DNA of the original, without paying an extortionate price for it.
However, whether you're opting for the robust and water-resistant Aquanaut, the classic Calatrava, or the elegant Golden Ellipse watch, Patek Philippe watches are certainly worth the investment — each one fitted with a modern independently manufactured movement passed by a unique quality seal.
Questions? Comments? Leave them below!