Looking for a Hublot watch that isn't as pricey as their premium timepieces? This list has you covered.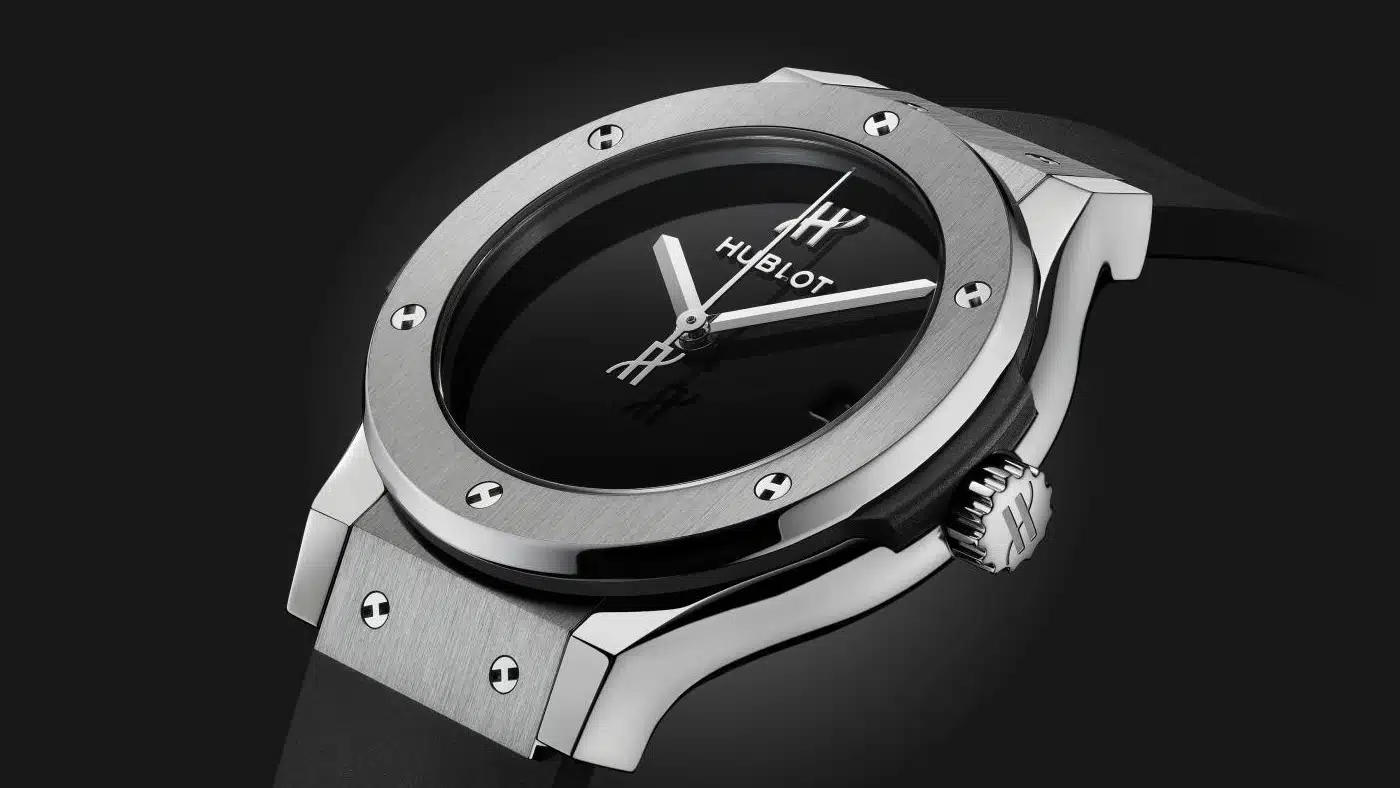 Hublot's distinct watch designs are amongst some of the most recognizable yet some of the most expensive on the current market.
Alas, if you're looking to get your hands on an affordable Hublot watch, you're in luck as we've created this guide to some of the least expensive Hublot watches out there.
There are so many reasons to invest in a Hublot watch.
Not only do they hold their value, but they're also incredibly sought after on the market due to their unmissable style and functional designs, which include tourbillons, GMT watches, chronographs, and perpetual calendars.
It's possible to find less expensive Hublot watches on the market if you know what you're looking for.
Whether you're buying a pre-owned Hublot watch or saving to buy a brand-new one, this list has you covered with a guide to some of the least expensive Hublot watches.
Hublot is also setting benchmarks in the field of material research and development and remains the only company to manufacture some of its watches from Magic Gold — a ceramic and yellow gold alloy.
You can also choose from models crafted from carbon, titanium, steel, and even a composite concrete material.
Least Expensive Watches from Hublot
Here are the 6 least expensive Hublot watches in no particular order.
Hublot "Classic" MDM Geneve Watch Ref 1521.1
The Hublot Classic watch is sadly no longer available new, so the pre-owned market is the only place you'll likely drop on one of these models.
If it's more about owning a Hublot watch than it is about choosing a certain model, then the Hublot Classic watch is an ideal consideration because you can pick up one of the older models from the series for around $1000.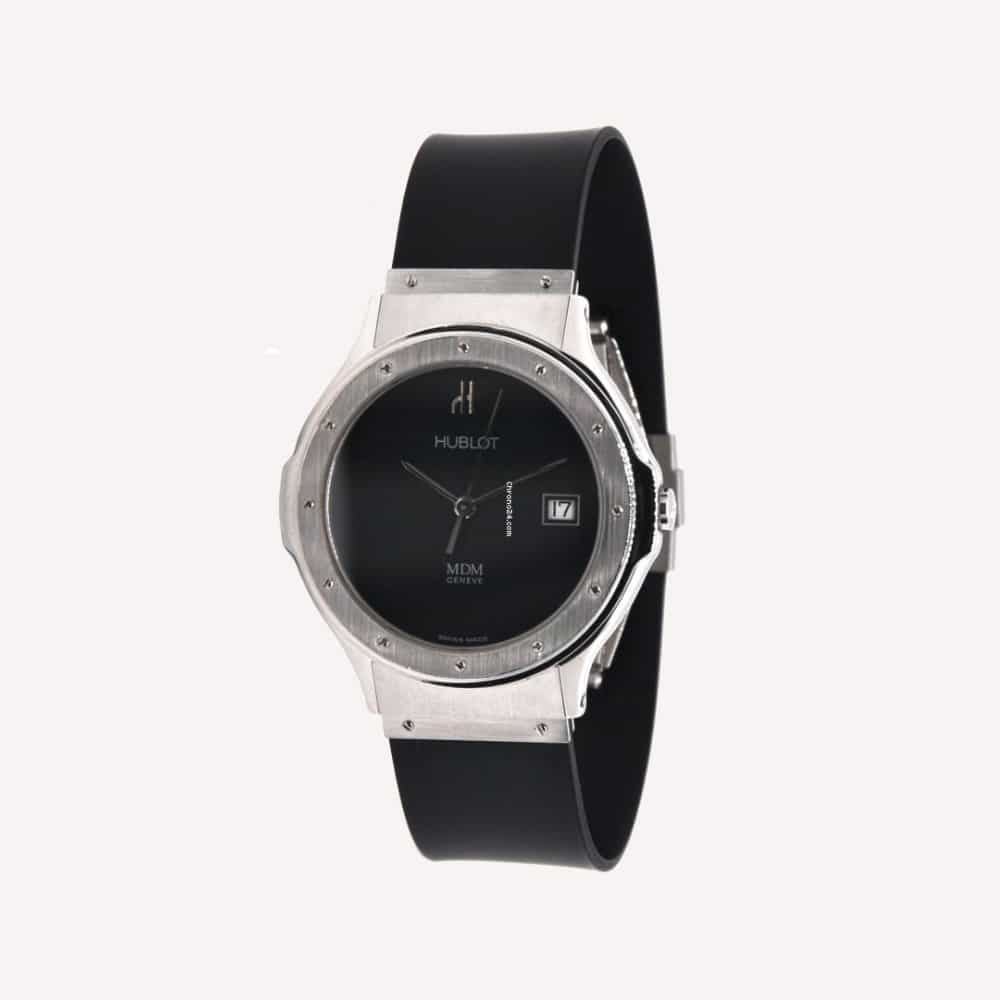 If you fancy a new Hublot Classic watch, expect to pay a couple of thousand dollars more. This Hublot "Classic" 1521.1 MDM Geneve watch is a vintage model and is one of the most faithful iterations from the entire Classic collection.
Adding to its unique character are its hooded lugs and black rubber strap that contribute to an overall industrial-inspired aesthetic.
As one of the most affordable Hublot watches to collect, you can expect a 50-meter water-resistant stainless steel case with a robust sapphire crystal glass front and a legible black dial equipped with a date window at 3 o'clock.
The Hublot emblem, emblazoned onto a stealthy black backdrop makes this watch a clear winner when it comes to statement pieces, plus you get a reliable quartz movement and a bezel that features the familiar 12 "porthole" hour marker screws set into its surface.
Hublot Classic Fusion Automatic Watch Ref 542.NX.1171.RX
The Hublot Classic Fusion Titanium watch is available in sizes 33mm, 38mm, 42mm, and 45mm.
This 41mm model reference 542.NX.1171.RX is a confident size that won't swamp the wrist, plus it's crafted from lightweight titanium making it an incredibly comfortable companion for wearing every day of the week,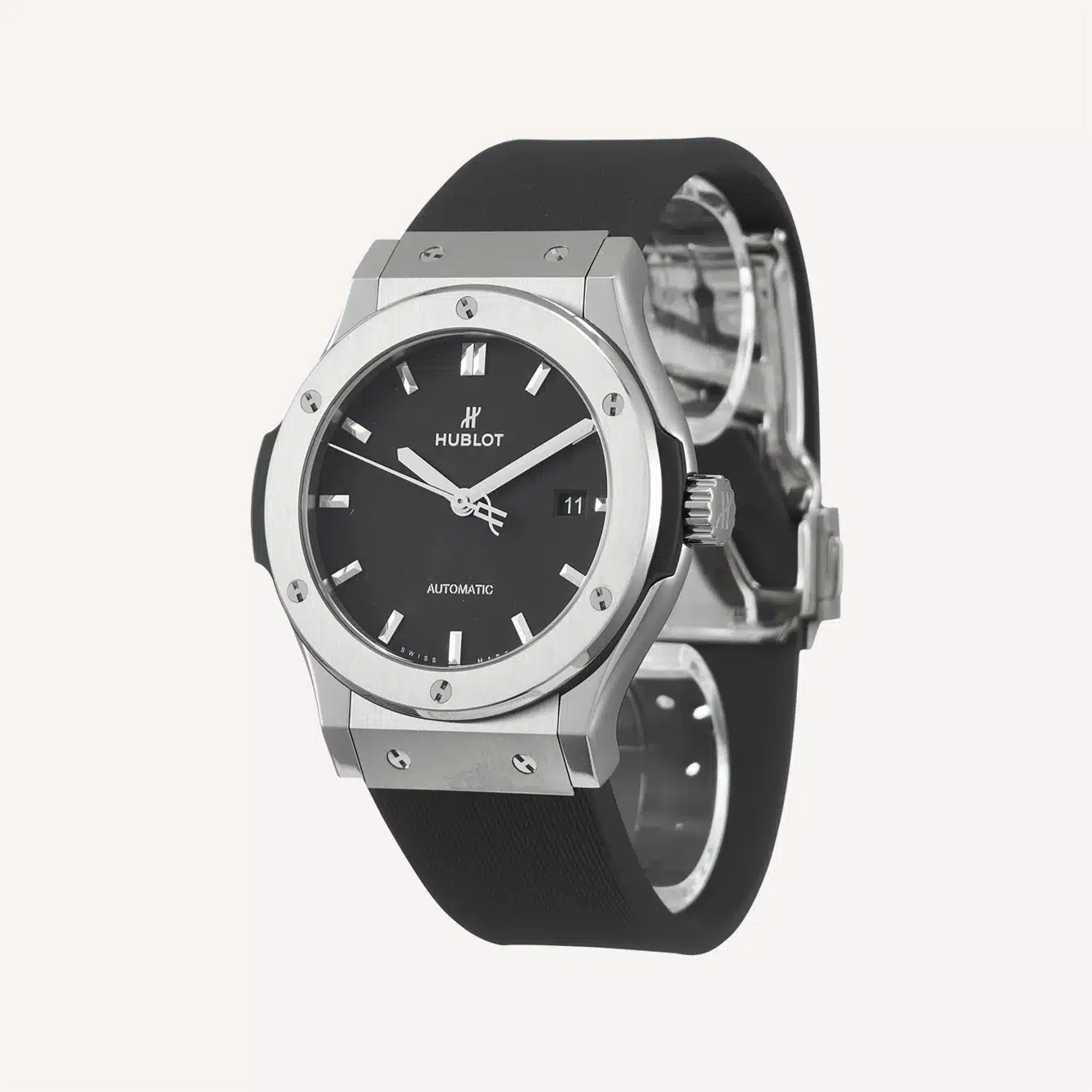 The design belongs to the popular Classic Fusion watch collection and features a simple three-handed dial layout, powered by an automatic movement.
The Classic Fusion watch, of course, replaced the Classic MDM models and you can certainly see a clear resemblance between the two.
A satin-brushed and polished titanium case is integrated with 50-meter water resistance and features a scratch-resistant sapphire crystal glass front for a clear view of the model's faceted hour markers and luminous-coated central hands.
The watch also features a date window and is powered by the self-winding Calibre HUB1110, which provides a useful 42-hour power reserve.
Complete with a black rubber strap and a vertical satin-brushed titanium bezel fitted with 6 H-shaped titanium screws, this Hublot Classic Fusion Automatic watch is one of the least expensive out there and boasts an instantly identifiable style.
Hublot Classic Fusion Quartz Watch Ref 581.NX.1171.RX
If you're a man with a slender wrist you'll appreciate the unisex styling of Hublot's range of quartz-powered Classic Fusion watches, which only come in a 33mm size.
However, thanks to the Classic Fusion's beefy persona and imposing proportions, the watch certainly doesn't look small on the male wrist.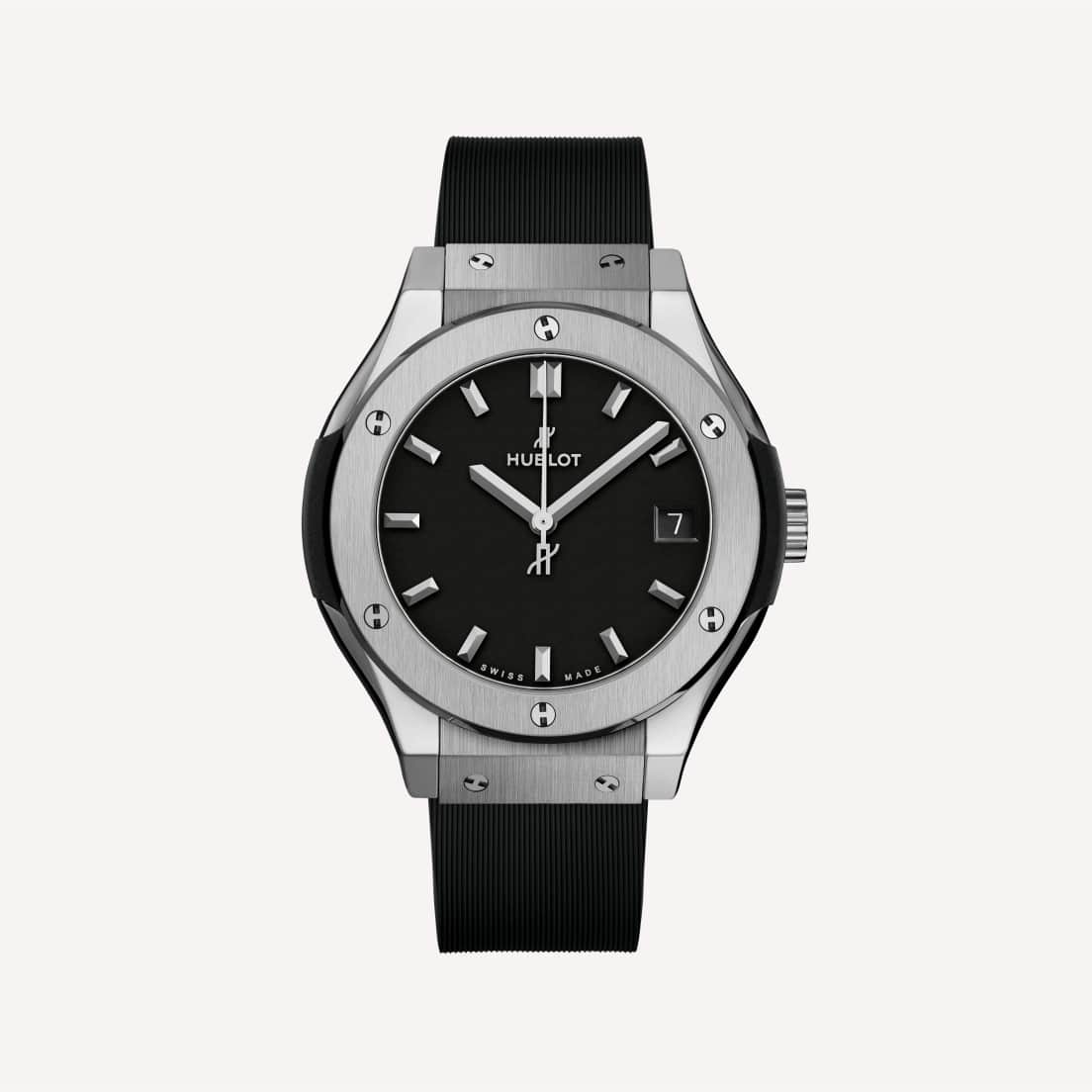 Therefore, this is an affordable Hublot watch if you prefer the no-nonsense accuracy of a quartz movement.
The understated dial design has hour markers that are chiseled so that they catch the light and sword-shaped hands that travel over the iconic Hublot logo at 12 o'clock.
This model is crafted from titanium and features a date window at 3 o'clock, together with a versatile black lined rubber strap that pairs easily with almost any attire.
Hublot Big Bang Steel Diamonds Watch Ref 361.SX.1270.RX.1104
For an added touch of refinement and elegance, this Hublot Big Bang watch comes adorned with scintillating diamonds on its bezel.
This frame of light around the watch's matte black dial elevates the display, interacting with an hour track represented by Arabic numerals and stick markers. The 38mm Hublot Big Bang Steel Diamonds watch is an affordable luxury timepiece compared to other models within the same range.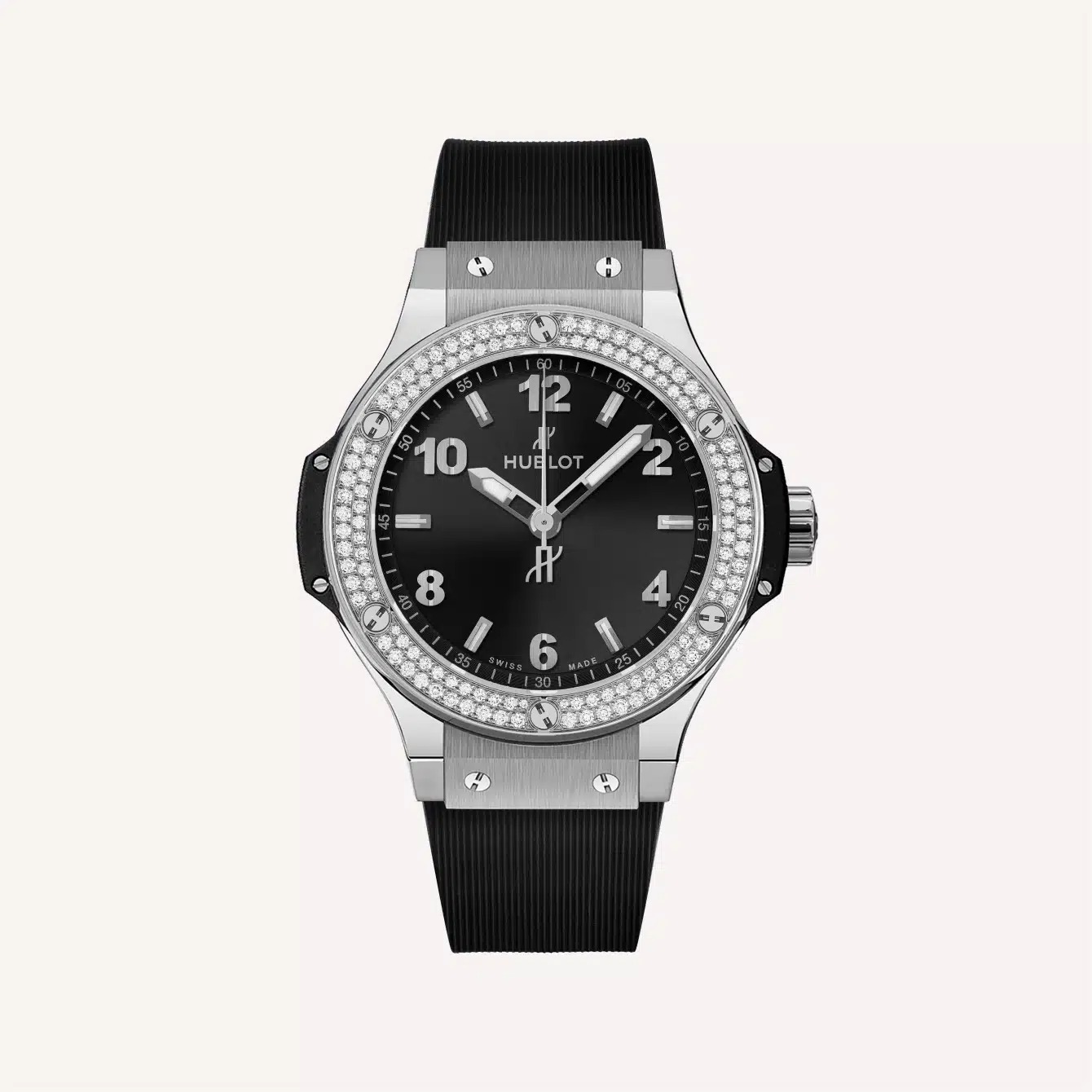 Its stainless steel case brings the overall cost of the watch down, whilst the diamonds enhance an indulgent and luxurious finish to the wrist.
The fact that a diamond-encrusted Hublot watch is so attainable comes with a compromise, however, and in this case, it's the quartz-powered movement at the center of its 100-meter water-resistant case.
Still, you get to enjoy the status of a Hublot watch on the wrist, complete with a showering of diamonds for just under $11,000!
Hublot Spirit of Big Bang Watch Ref 614.NX.1170.RX
If you want to push the boat out a little more, there are some reasonably-priced models from the Hublot Spirit of Big Bang watch collection — the series known for its eye-catching barrel-shaped cases.
The reference 614.NX.1170.RX, for example, combines a lightweight titanium case with a Meca-10 manual-winding skeletonized movement that is put on show through a matte black dial and protected under a sapphire glass front.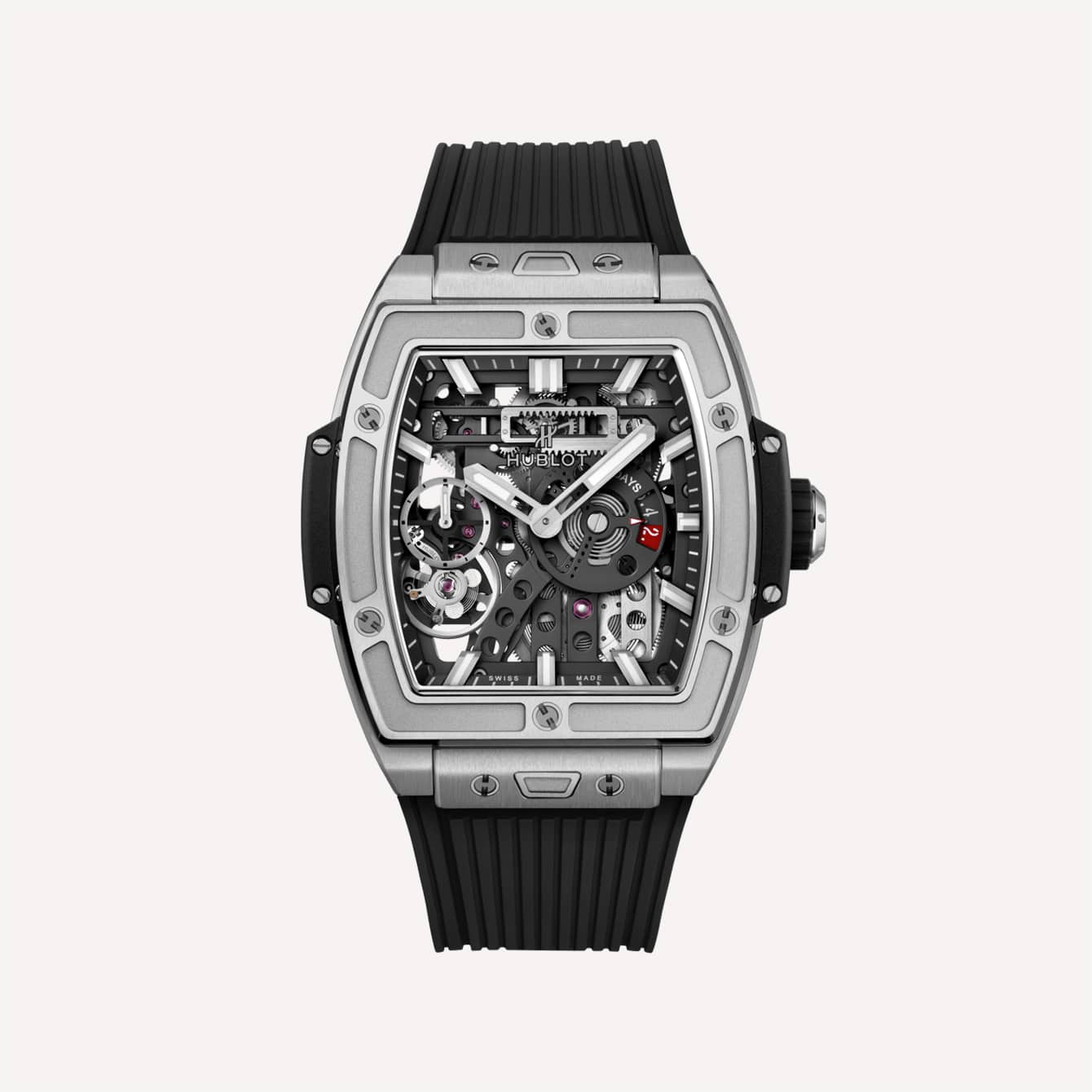 The Calibre HUB1233 promises a staggering 10-day power reserve, enabling you to enjoy the watch while on the go.
You can alternate the Spirit of Big Bang watch with another favorite and not have to worry about it keeping accurate time for over a week.
In addition, you get to admire all the finest elements of the movement through the dial of the watch, together with a small seconds sub-dial at 9 o'clock and a power reserve indicator at 3 o'clock.
Hublot Big Bang Chronograph Steel Ref 341.SB.131.RX
If you love the technically daring look of a Hublot watch, the Big Bang Chronograph is worth a look.
One of the most affordable Hublot watches from this range is the reference 341.SB.131.RX.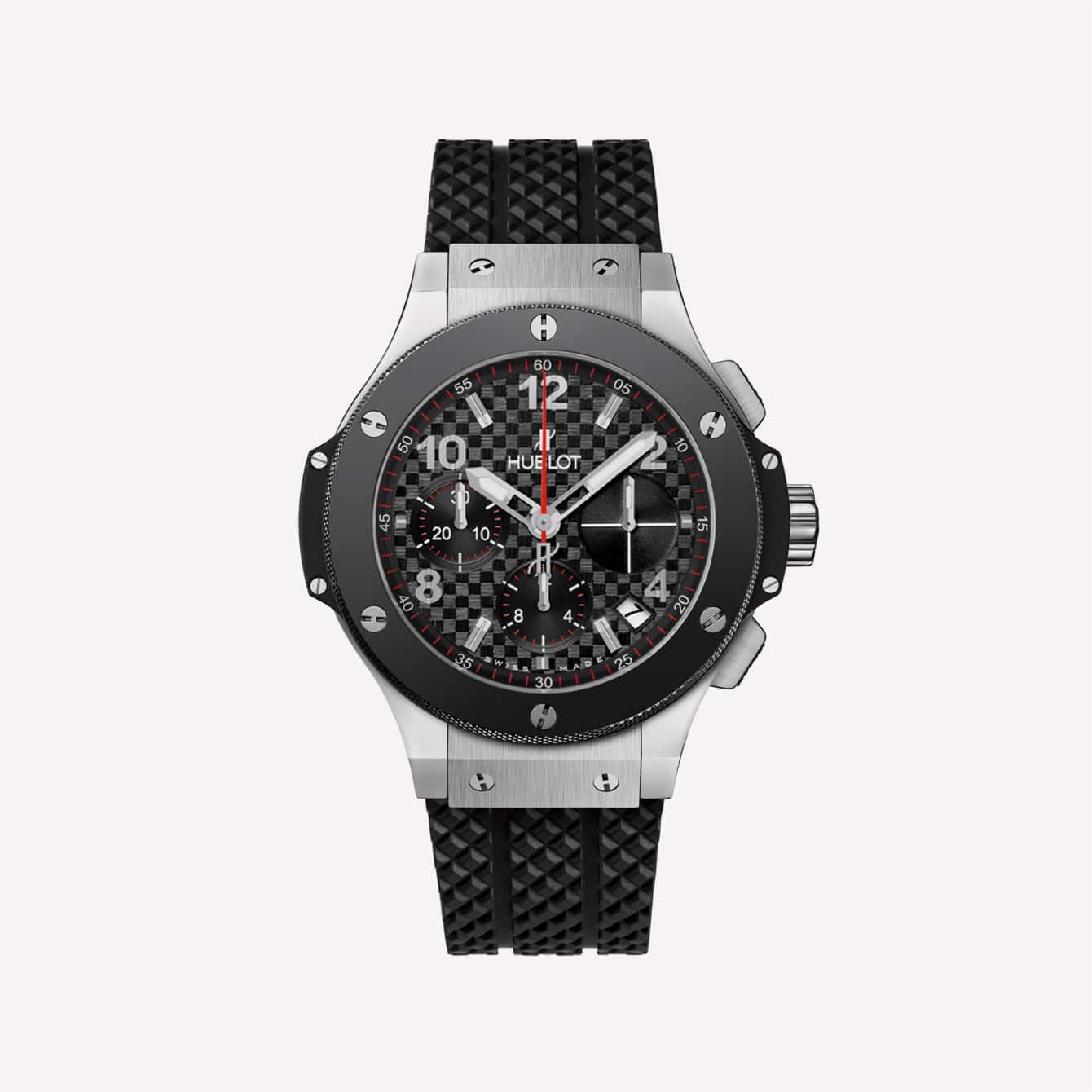 It's a classic-looking model with a stainless steel case in contrasting polished and satin-brushed finishes and a black structured rubber strap.
The textured surface of the band compliments the dial of this Hublot Big Bang watch, which has been finished with a stamped carbon effect to give depth and a sense of dimension to the wristwatch.
For its appealing price tag, you get a sapphire crystal glass front that helps the case uphold its 100-meter water resistance, as well as the self-winding Caliber HUB4300 complete with a 42-hour power reserve.
For measuring precise timings, this Hublot Chronograph features a 30-minute counter at 3 o'clock, a 12-hour totalizer at 6 o'clock, and a red-coated central chronograph hand.
Balancing these sub-counters is a small running seconds dial at 3 o'clock, whilst the date window is nestled neatly in between the 4 and 5 o'clock.
How Much Do Hublot Watches Cost?
As a general rule, you can usually pick up a pre-owned Hublot watch starting from around $1,200. For this price point, you're likely to find models released during the 1980s and 1990s, powered by a quartz movement.
For something more recent, you can expect to pay around $3,500 for a quartz model from the Classic Fusion watch collection.
Affordable Hublot watches powered by an automatic movement such as a chronograph with a titanium case can cost around the $8000 mark.
For the more collectible Hublot watches, Big Bang models generally start around $7000 and reach right up to around $77,000 with examples like the Big Bang Chrono Tourbillon Ferrari, whilst Hublot MP watches can reach right up to a staggering $450,000 on the pre-owned market.
Like many leading luxury watch brands, Hublot's discontinued models are in higher demand and cost considerably more, but for the majority of us, owning a brand new and affordable entry-level Hublot watch is symbolic of successfully reaching a milestone in life.
The Takeaway
Although you don't have to spend an absolute fortune to own a luxury watch these days, the important thing to note about a Hublot watch is that you get what you pay for.
Hublot's in-house movements and innovative approach to manufacturing new and leading materials get you a pretty neat statement piece to show off to your friends at the weekend.
The great thing about Hublot's range of timepieces is that there are affordable options in each category for those that don't want to pay top-end prices.
All-in-all, this guide to some of the least expensive Hublot watches gives you options whether you're a fan of the iconic Big Bang watch, the timeless Classic Fusion watch, or the futuristic styling of the Spirit of Big Bang series.
Questions? Comments? Leave them below!