Hublot watches can fetch a high price, but which ones are the best to invest in?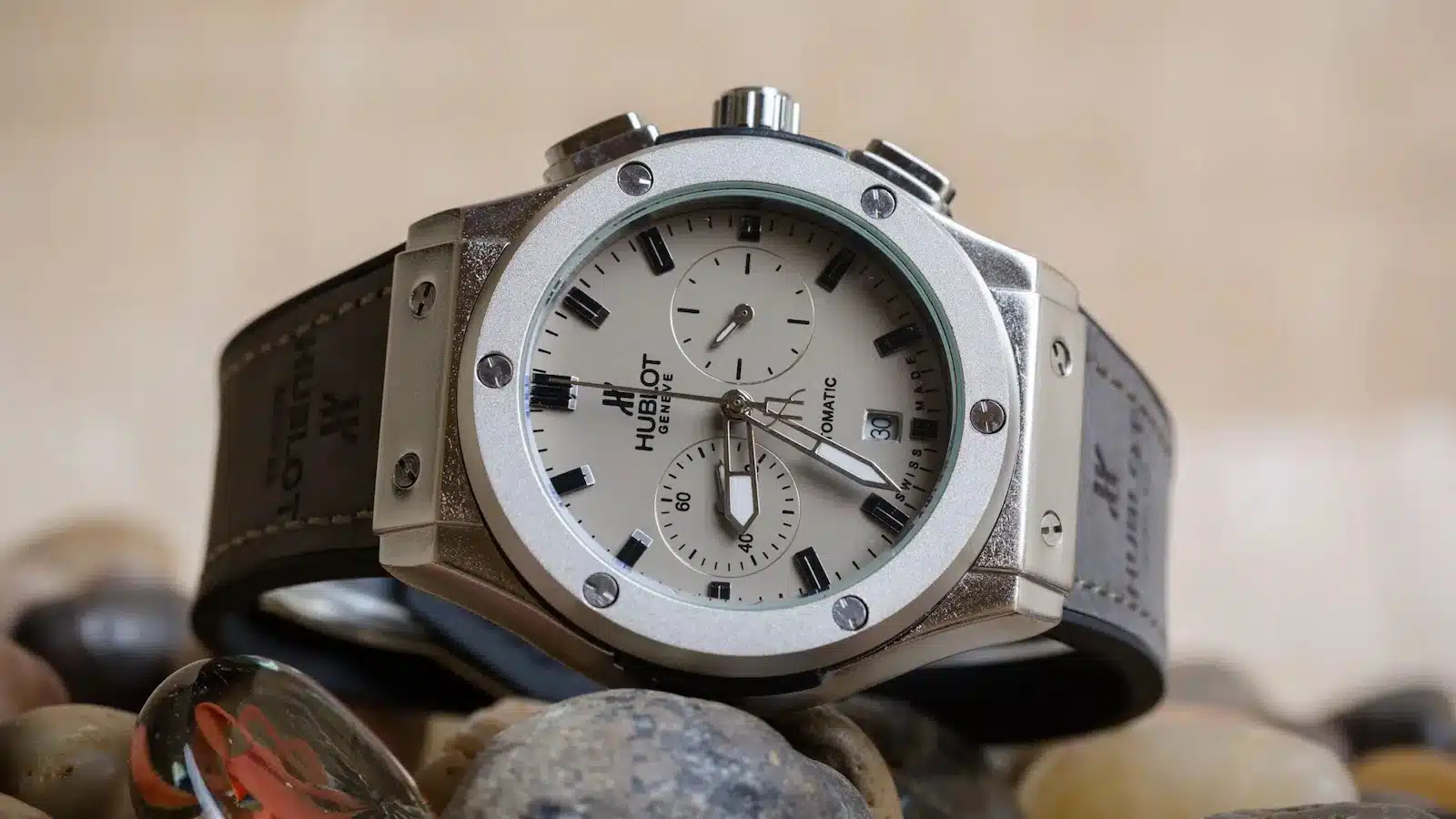 If you like bold designs, the chances are you've already checked out Hublot watches.
The brand creates extraordinary designs made from never-been-seen-before materials.
These unusual material combinations have been used in the Swiss watchmaker's most recognized designs. These include the Big Bang, the LaFerrari watch from the MP collection and the Classic Fusion.
Here's my guide to some of the best Hublot watches.
About Hublot Watches
Hublot was actually founded back in 1980, yet its success did not start early. In fact, it would be another 28 years before the brand began making real waves throughout the industry.
In 2008 the brand was taken over by LVMH. That's when sales started skyrocketing.
However Hublot's first big break was the release of the Big Bang watch. The chronograph version won several awards for watchmaking and design.
Even now, the Big Bang All Black and Aerobang watches are still considered some of the best to collect.
In 2008, Hublot secured some important ties to the sporting industry, becoming the official timekeeper at the European Football Championship.
Then, in 2010, it became the official timekeeper of the FIFA World Championship.
After this, Hublot went on to enjoy a partnership with former American baseball player Kobe Bryant.
Together they designed the Big Bang Unico Chronograph Retrograde Kobe "Vino" Bryant watch, along with the Black Mamba watch.
In 2016, Hublot released two limited edition watches from the Big Bang collection for the 2016 Olympic Games. The Ceramic Usain Bolt watch had a sleek black ceramic case.
(Below: Hublot Big Bang Unico Usain Bolt Yellow Gold watch)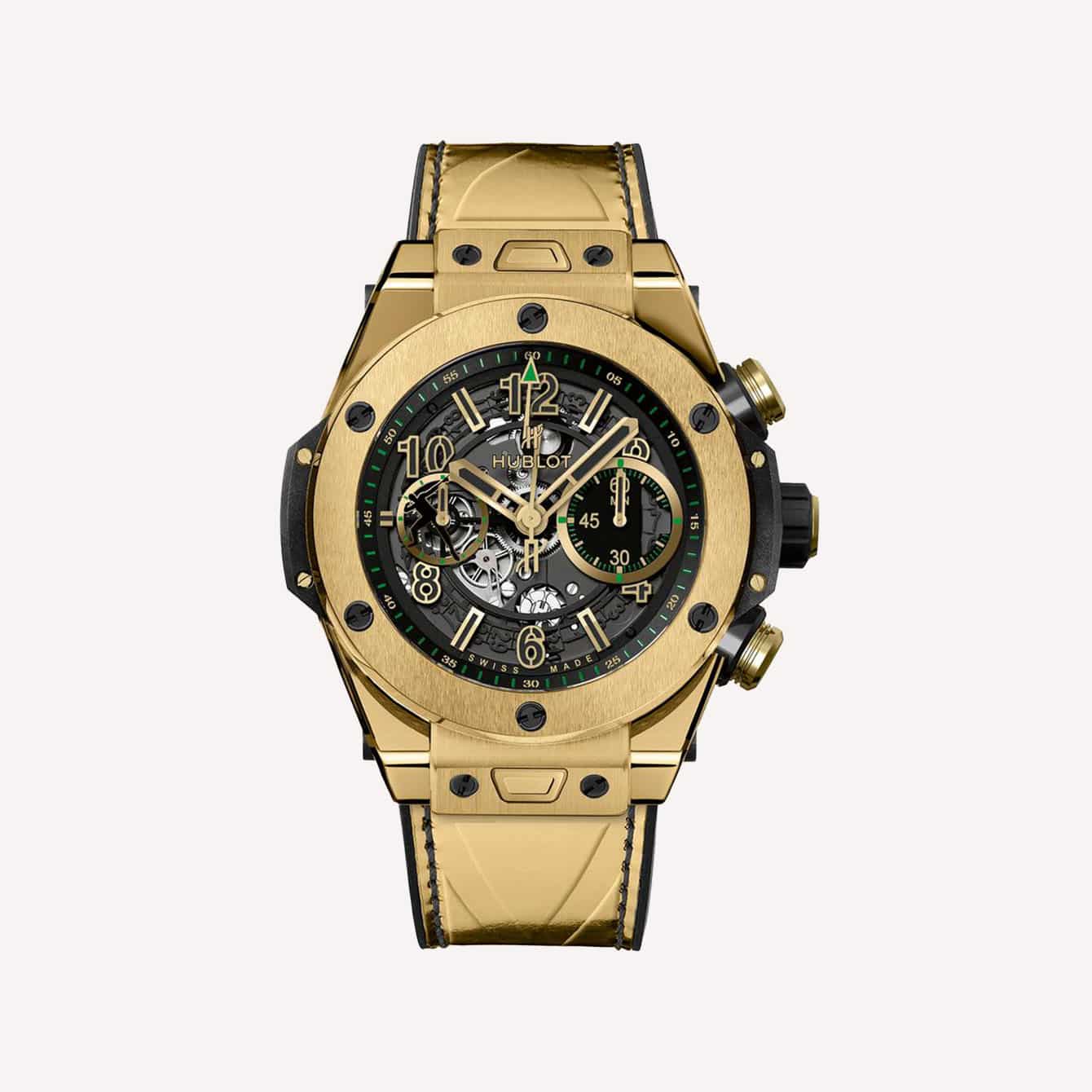 In contrast, the Yellow Gold Usain Bolt came dressed in an 18k yellow gold case and black skeleton dial.
What Are Hublot Watches Good For?
Since 1980, founder Carlo Crocco has been determined to re-shape luxury watches with his unusual designs. Many of these are distinguishable for their iconic bezels featuring prominent screws. The design feature was inspired by a ship's porthole.
The brand's name "Hublot", French for the word "Porthole", is a natural fit for such a design feature.
Hublot is famous for creating watches out of its proprietary Magic Gold material. This unique metal is an alloy made from yellow gold and ceramic.
It also produces timepieces made from titanium, carbon, sapphire, textiles, and even a material developed from concrete.
To further enhance the unique design of any Hublot watch, the brand combines these materials with bold designs.
Hublot Big Bang Collection
The Hublot Big Bang watch, for example, lives up to its name with its huge wrist presence. It measures a confident diameter of 45mm.
The MP collection by Hublot is known for its revolutionary movements. Alternatively, the Classic Fusion delivers a sleeker aesthetic that is more conventional and simpler in design.
Of course, the Spirit of Big Bang watches are one of the most instantly recognisable of all. These watches boast a striking tonneau-shaped case. Hublot extended the line in 2022 with a series of square watches named the Square Bang.
Aside from Hublot watches being great for making a statement, good use of robust materials ensures they're great for many other pursuits. These include extreme sports and daring outdoor challenges.
Why Buy a Hublot?
There are plenty of reasons why you might want to buy a Hublot watch.
The watches are fitted with in-house movements and some special models are produced in limited editions.
Hublot has also made a name for itself, collaborating with Ferrari and strengthening its ties to the sporting world.
But most of all, Hublot watches can be as straightforward or as complex as you like. Some wristwatches feature complications like a GMT, chronograph, and perpetual calendar, while others offer just the time and date.
8 of The Best Hublot Watches
Hublot has a huge range of timepieces to choose from. If you're deliberating which Hublot watches are the best, here's are some great ones:
Hublot Classic Fusion 3-Hands watch reference 511.NX.1171.RX
If your wrist can carry off a watch as large as 45mm, the Hublot Classic Fusion 3-Hands is an option.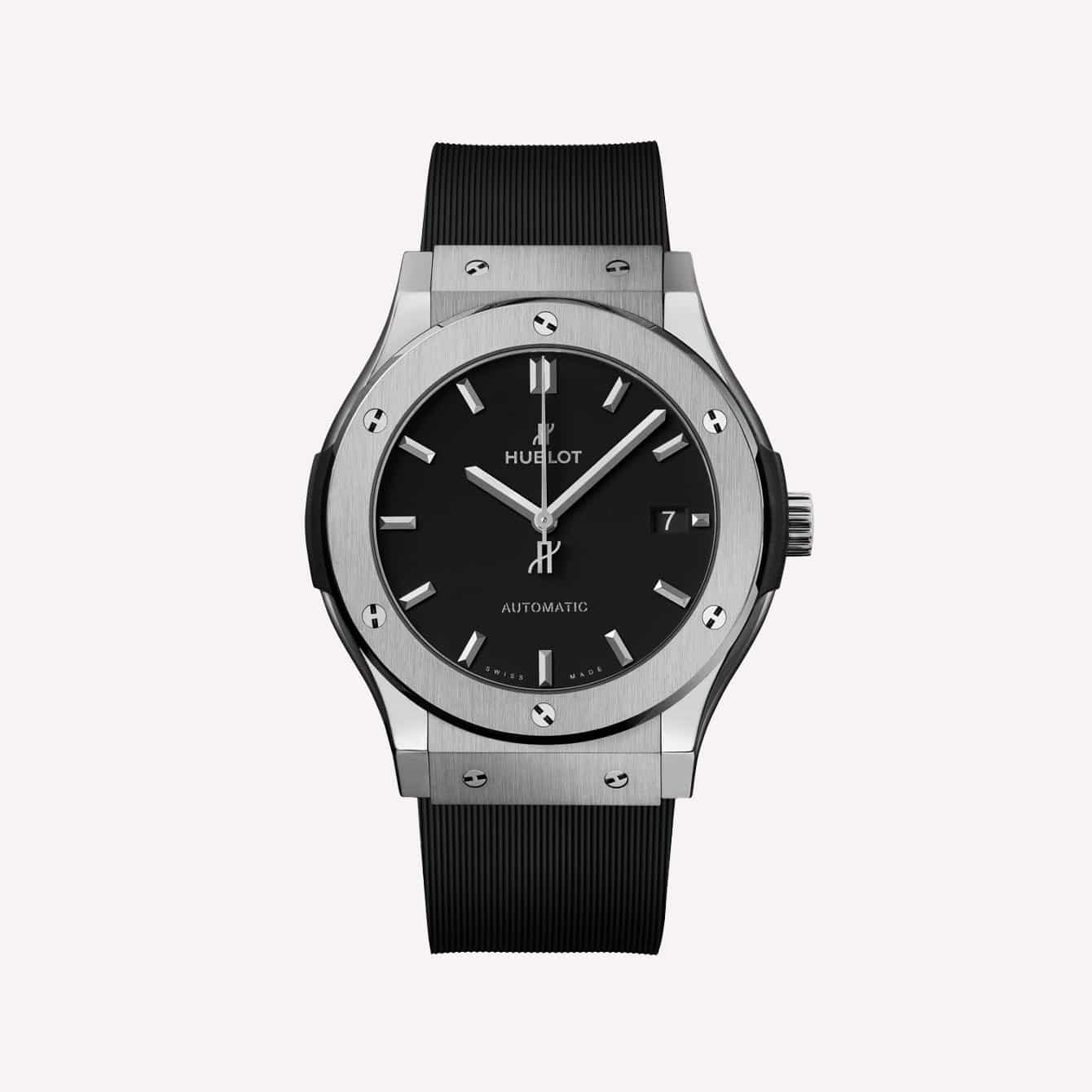 This design is perhaps the most classic of all. It features 45mm lightweight titanium case and a rich black dial for displaying the hands and hour markers.
The Classic Fusion watch comes in an even more minimalist design, showcasing a dial void of hour markers. But I think this classic design is more universal.
Lastly, the Hublot logo forms the counterweight to the seconds hand, a signature feature of every Hublot watch.
Hublot Spirit of Big Bang King Gold watch reference 642.OX.0180.RX
This Spirit of Big Bang Chronograph watch imbues luxury with its sporty chronograph design.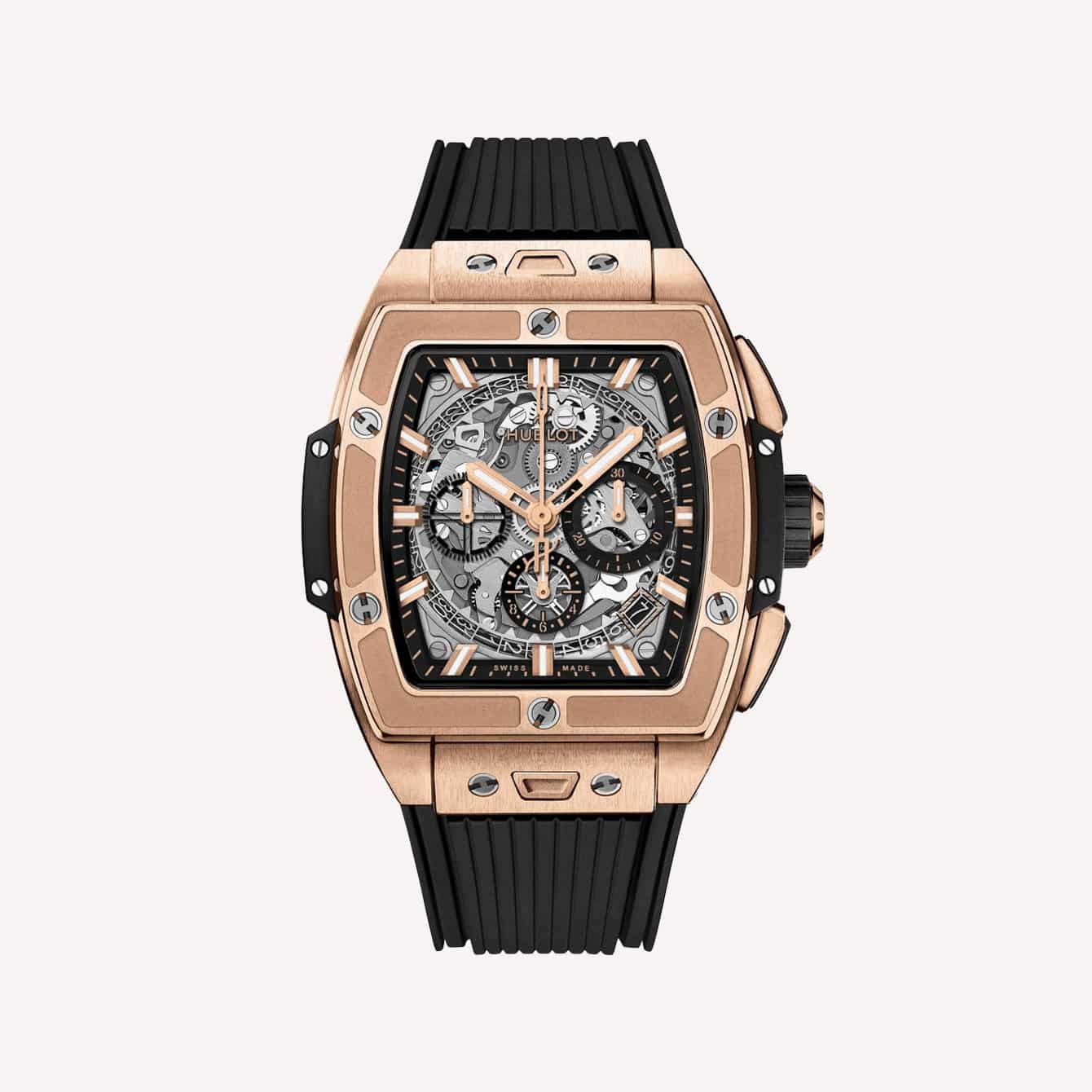 Crafted from satin-finished and polished 18k King Gold, it features a micro-blasted bezel. This bezel is adorned with 6 H-shaped titanium screws, completing the model's instantly recognizable aesthetic.
Through the surface of this watch, you can appreciate another of Hublot's in-house chronograph movements.
The HUB4700 comes complete with a power reserve of 50 hours.
Hublot Classic Fusion Chronograph Titanium Blue watch reference 541.NX.7170.RX
Since 45mm Hublot Classic Fusion watches are too big for some wrists, this 42mm model is a great choice (though still pretty big).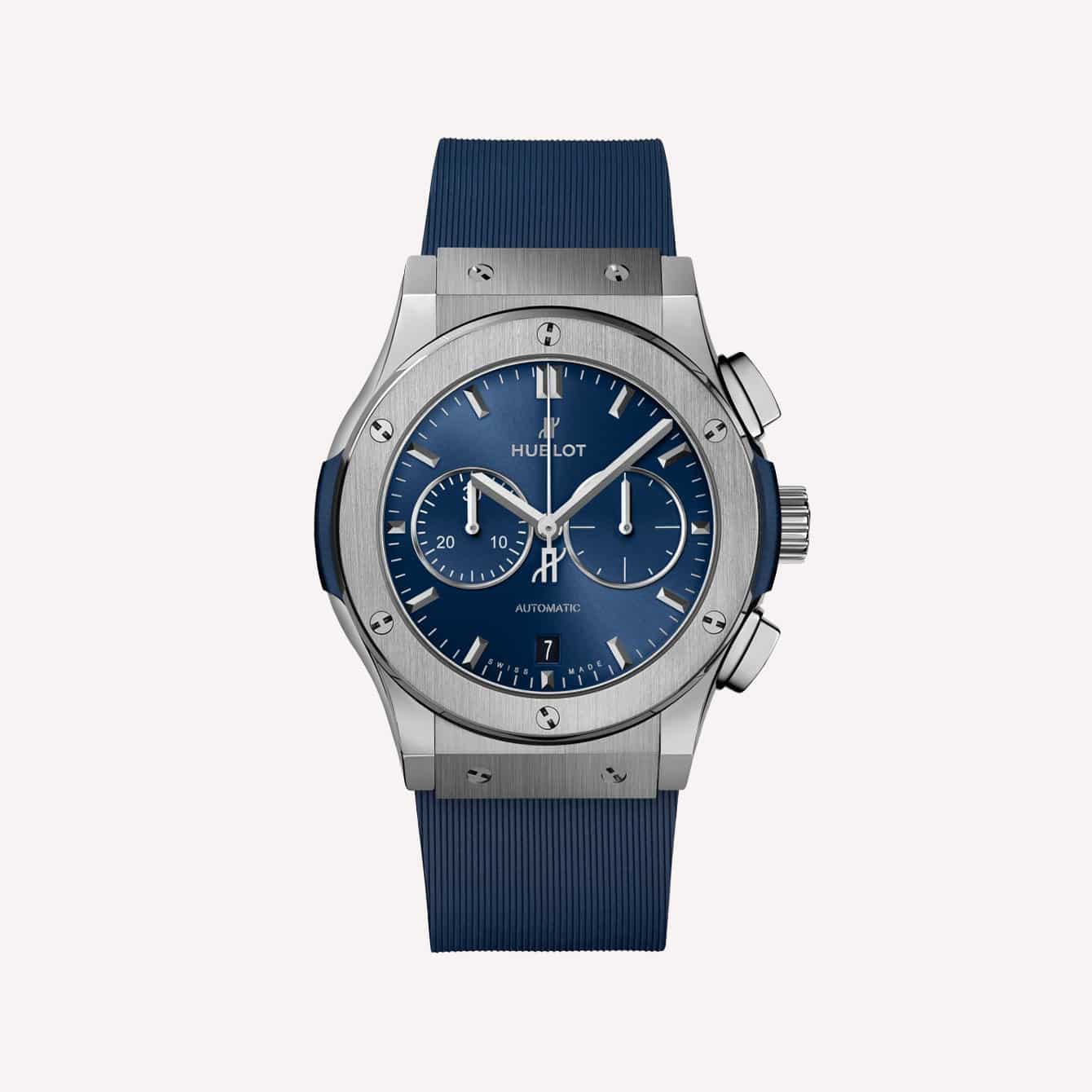 The watch is crafted from titanium, providing you with a lightweight timekeeping experience.
This material compliments a blue lined rubber strap and a steel deployment buckle clasp.
It's also powered by the HUB1153 self-winding movement, complete with a 42-hour power reserve.
The movement displays the small seconds function at 3 o'clock and the 30-minute function at 9 o'clock. Both of these are balanced by a black date window at 6 o'clock.
Hublot Square Bang Unico Sapphire watch reference 821.JX.0120.RT
The recently released Hublot Square Bang Sapphire watch captures the imagination of many a Hublot fan.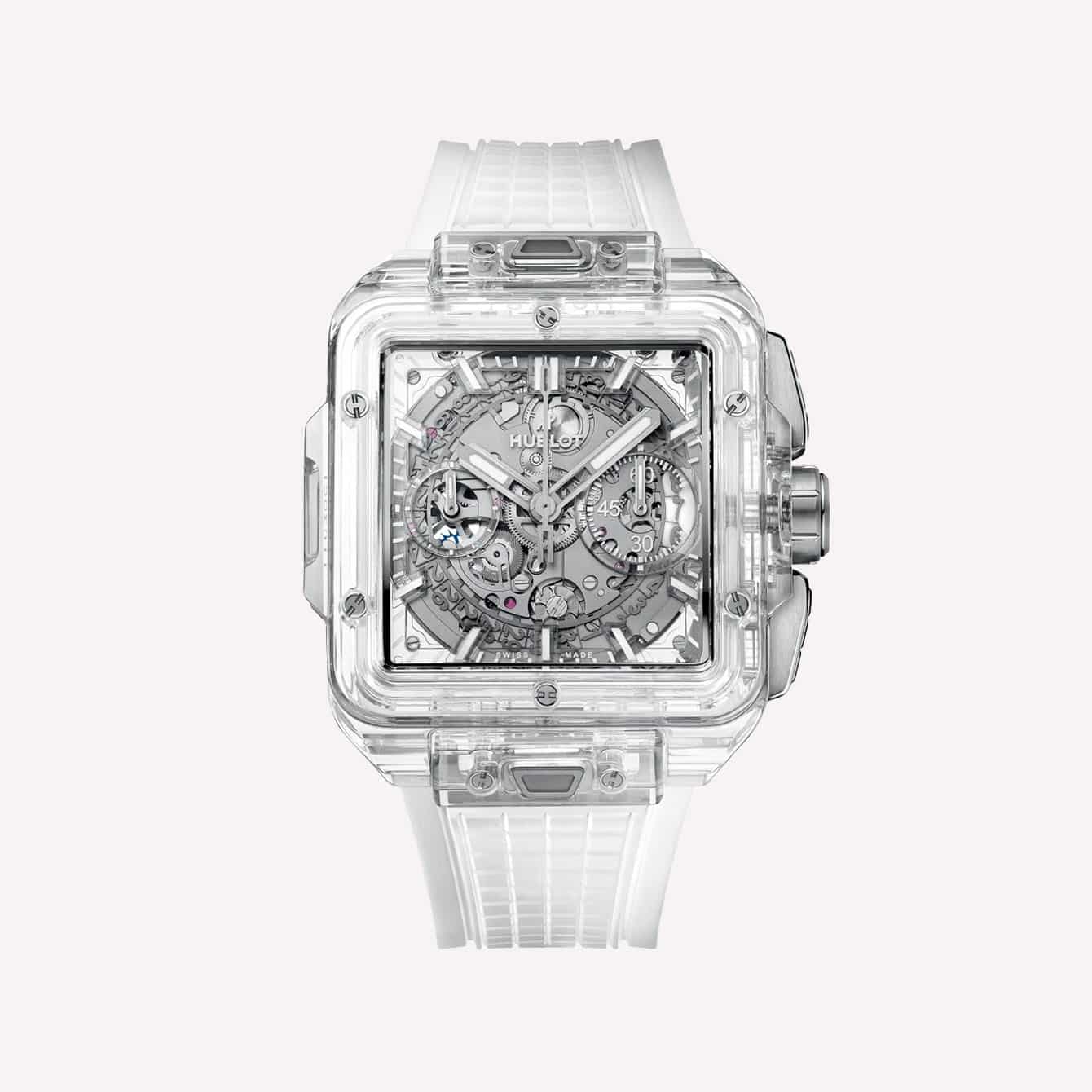 This pricey investment is worth it if you're lucky enough to have the lifestyle to pay for it.
It comes with a polished sapphire crystal case. Inside the case is an in-house engineered Calibre HUB1280 UNICO movement.
In addition to that you get a unique transparent lined band made from natural rubber to complete its unmissable look.
Hublot Spirit of Big Bang Black Magic Diamonds watch reference 662.CX.1170.RX.1204
This 39mm unisex Hublot watch is crafted from polished and satin-finished black ceramic. It also features a black-plated bezel set with a total of 50 diamonds.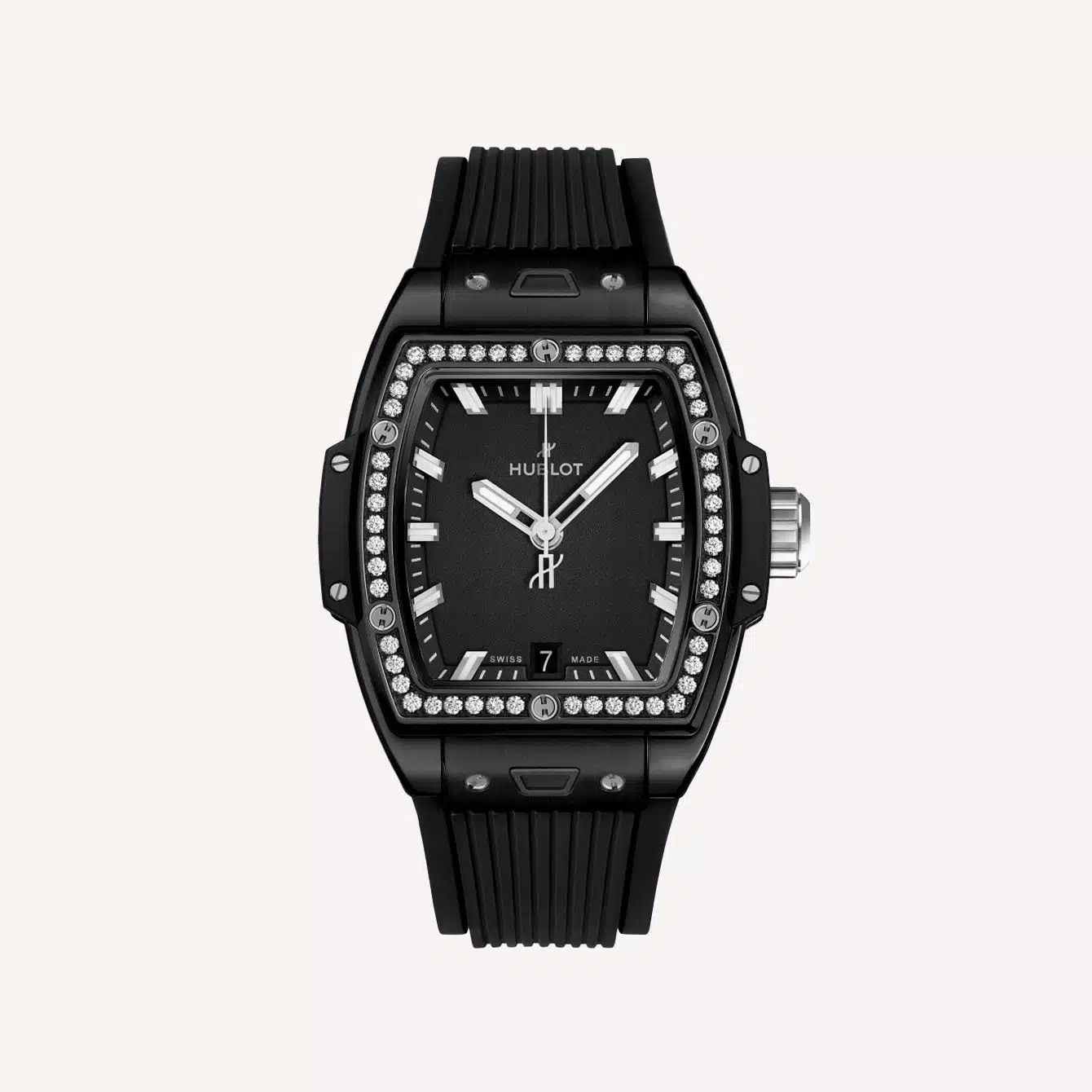 Adding a touch of luxury and indulgence to the Hublot experience, the diamonds illuminate this watch.
The way Hublot experts have combined the scintillating stone with a resolutely modern design commands attention.
What's more, the watch's ceramic case is equipped with a 100-meter water resistance. It means you can easily enjoy a quick swim on vacation without worrying about damage.
Hublot Big Bang Meca-10 King Gold Blue watch reference 414.OI.5123.RX
Blue and rose gold is a stunning combination, especially in a design like the Hublot Big Bang Meca-10 watch.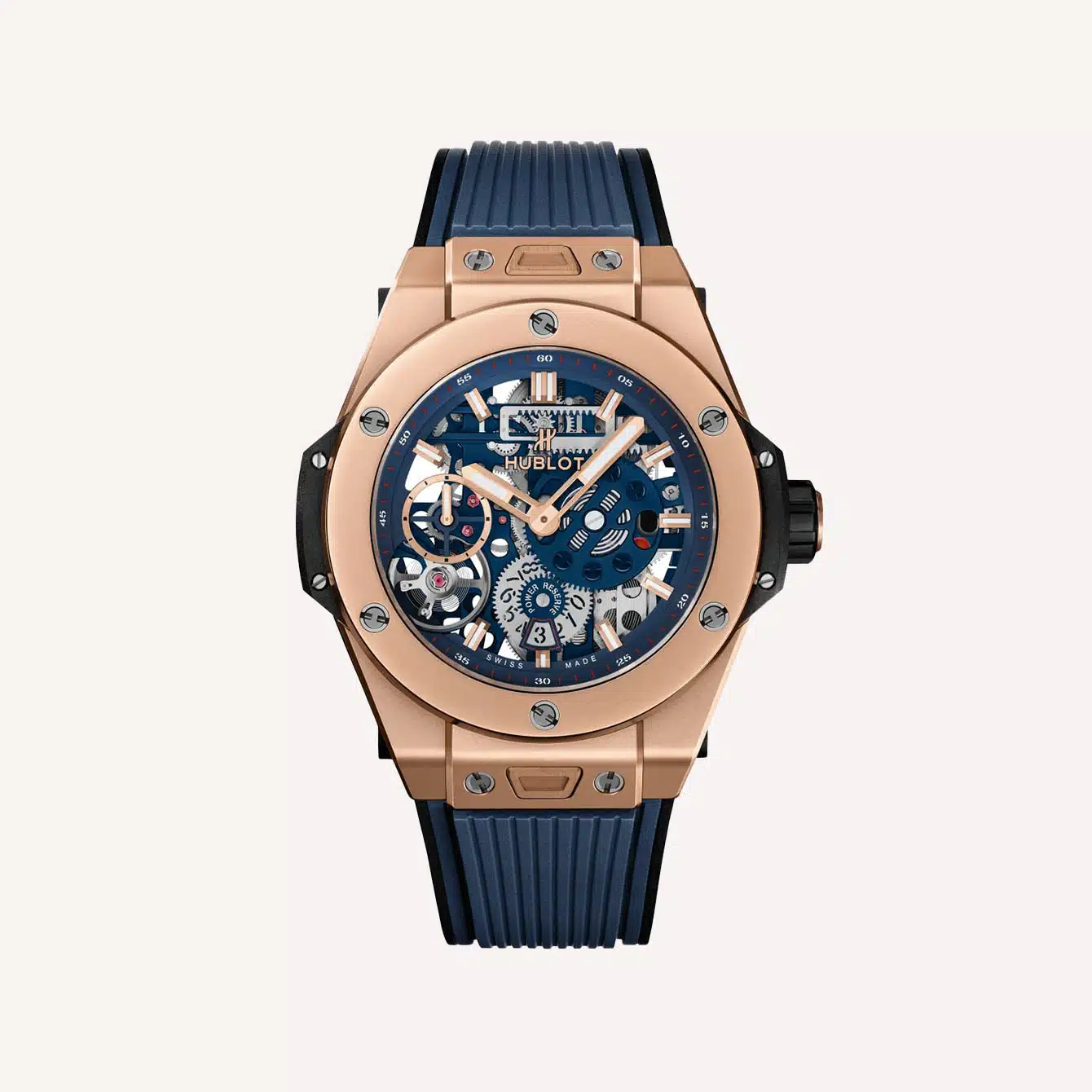 This brand's King Gold material provides a warmer shade compared to classic 18K rose gold. It complements the blue dial of this model perfectly.
Polished and satin finishes add further character to this attention-demanding model.
Its 45mm size is huge!
The Meca-10 iteration refers to the automatic caliber fitted to the heart of the watch. The strong engine is capable of a staggering 10-day power reserve.
Hublot MP MP-13 Tourbillon Bi-Axis Retrograde watch reference 913.NX.1170.RX
As mentioned, the MP collection by Hublot is where the luxury watch brand's more complex wristwatches live.
This MP-13 Tourbillon watch features a 44mm diameter and comes delivered in a titanium case.
The watch offers a very useful 96-hour power reserve. So, if you like to rotate your watches regularly, this is a great option.
This watch is also a limited edition design, further adding to its demand. The disruptive design features the hours on an inner dial and the minutes on the outer track. This creates a unique spin on the traditional watch.
Hublot Big Bang Unico Ceramic Magic Gold watch reference 421.CM.1130.RX
If you want a watch that wholly represents Hublot the Big Bang Unico Ceramic Magic Gold watch is ideal.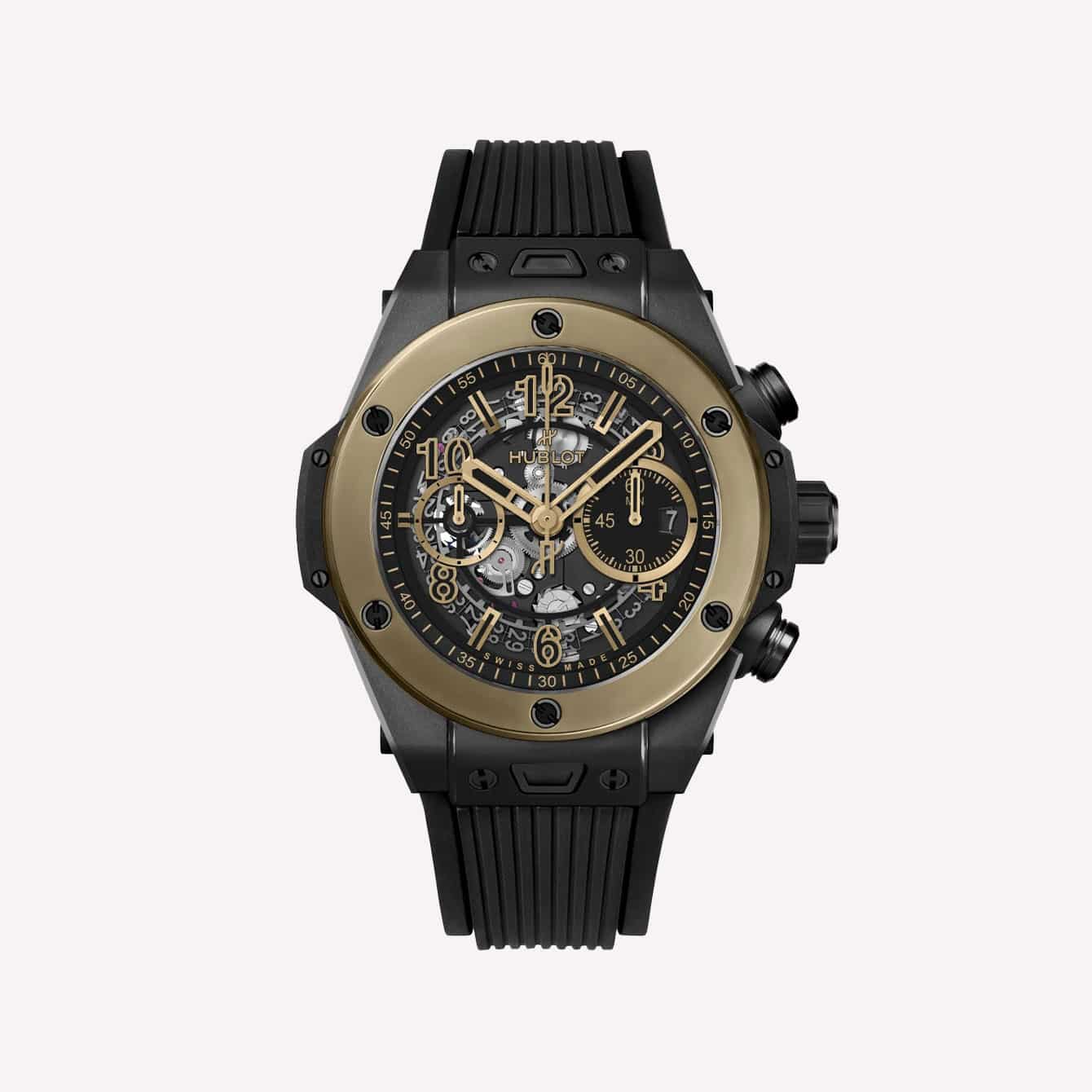 Its Unico movement provides a very handy 72-hour power reserve while protected inside a 100-meter water-resistant case.
That case is black ceramic topped with a luxurious polished Magic Gold bezel. The two are a great match together. They frame a matte black skeletonized dial that shows you the workings of the movement as it performs.
This Hublot Big Bang Unico Ceramic Magic Gold watch is a nice balance between a technical yet classic design from the manufacturer, measuring a confident 44mm.
FAQs
Here are the answers to some questions you may want to know before buying your first Hublot watch.
Are Hublot watches a good investment?
Not every Hublot watch will appreciate in value, but they do hold their value well. Examples such as the Classic Fusion watches have more universal appeal than others. These conventional designs are favored for their unique use of materials.
What is the entry-level Hublot?
If you're looking to buy the cheapest Hublot watch on the market, you can expect prices to start from around $5000.
These entry-level watches for the Classic Fusion watch are considerably more affordable versus the entry-level price of a Spirit of Big Bang. The latter can start at around $18,000.
What is the most iconic Hublot watch?
Without a doubt, the Big Bang is Hublot's most iconic watch. Its design has been the brand's best-seller since 2005, offering a range of three-handed models, chronographs, and complication watches.
Hublot: Bold Designs for Big Wrists
In summary, Hublot appeals to fans of bold, futuristic watch designs, though maybe not those with smaller-sized wrists.
Through its use of innovative materials and in-house movements, the company continues to resonate with a certain demographic — those who like to break the norm.
Many are investment pieces, with the most popular models deriving from the Big Bang And Classic Fusion watch collections.
The price tag and design of a Hublot watch may first strike you as intimidating. However, each watch has high-grade materials and a high quality of craftsmanship.
What do you think of Hublot watches? Do you have one in your collection? Drop a comment and let me know!