If you're trying to figure out how to change an Apple Watch band, here's what you need to know!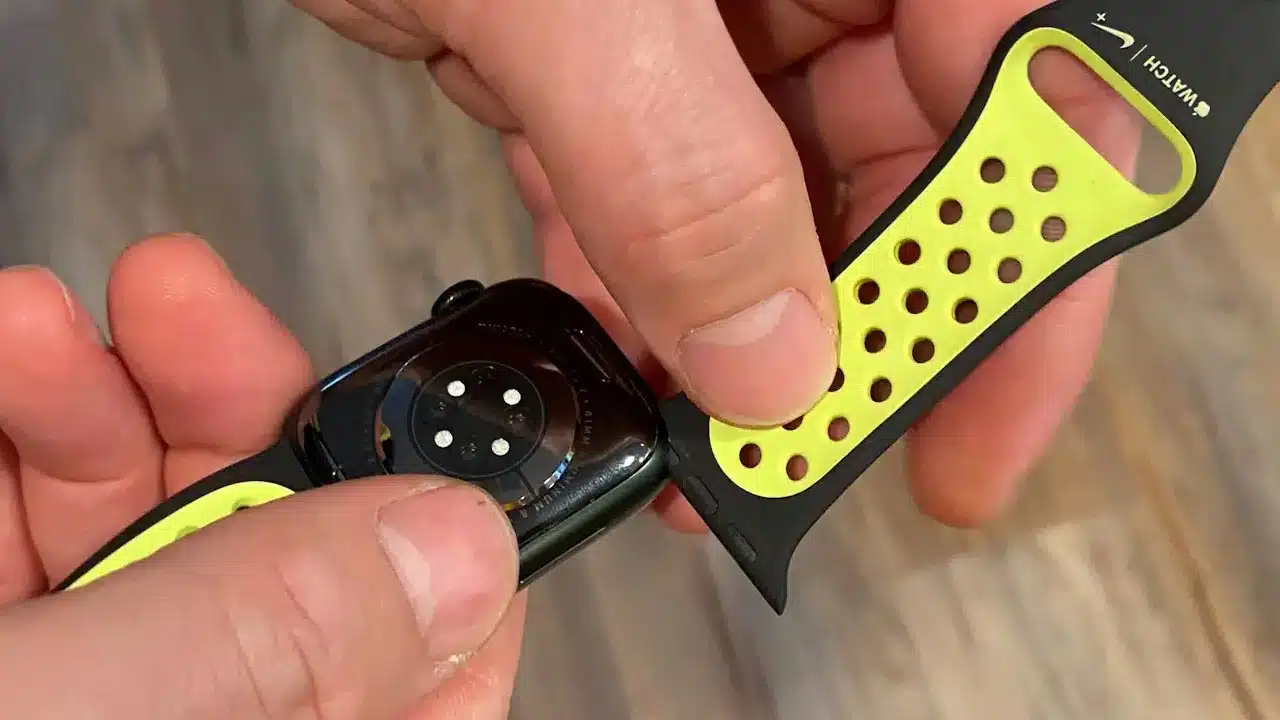 It took me a minute to get into the Apple Watch, several minutes, in fact. It's funny since I am an Apple guy — As we speak, I'm typing this on my Pro 16 while texts flow onto my screen from my iPhone 15.
I guess I'm old-fashioned when it comes to my wristwear, though. I love the history behind my Omegas and watching the movements behind an exhibition case back.
It wasn't until I saw all of the cool designs that Apple Watch bands come in, many bringing them visually closer to my analog watches, that I got on board. Oddly, changing the bands and giving my Apple Watch a new look are my favorite things about it.
So, here's how to do it!
How To Change the Watch Band on an Apple Watch
It's pretty easy, thanks to all of the quick-release buttons. Here are the simple steps necessary to give your watch a new style.
First off, grab your watch. Apple actually claims that it's so easy to change these bands that you can do it without laying it down (as you'll see in the photos). But if you like extra security, find a flat, clean, and soft surface. I like to use a clean table with a soft cloth placed over it.
If you have an Apple Link Bracelet or any two-piece bracelet really, you'll first separate the band into two pieces. If there's a butterfly closure, make sure it's closed (you have to hear that click to confirm it's indeed closed!). Then, for the Link Bracelet, just press the quick-release button, and they'll separate.
There are two quick-release buttons on the back of your Apple Watch case. Each is located right by where the band ends and straps in. Each is small, mostly-flush cut-outs.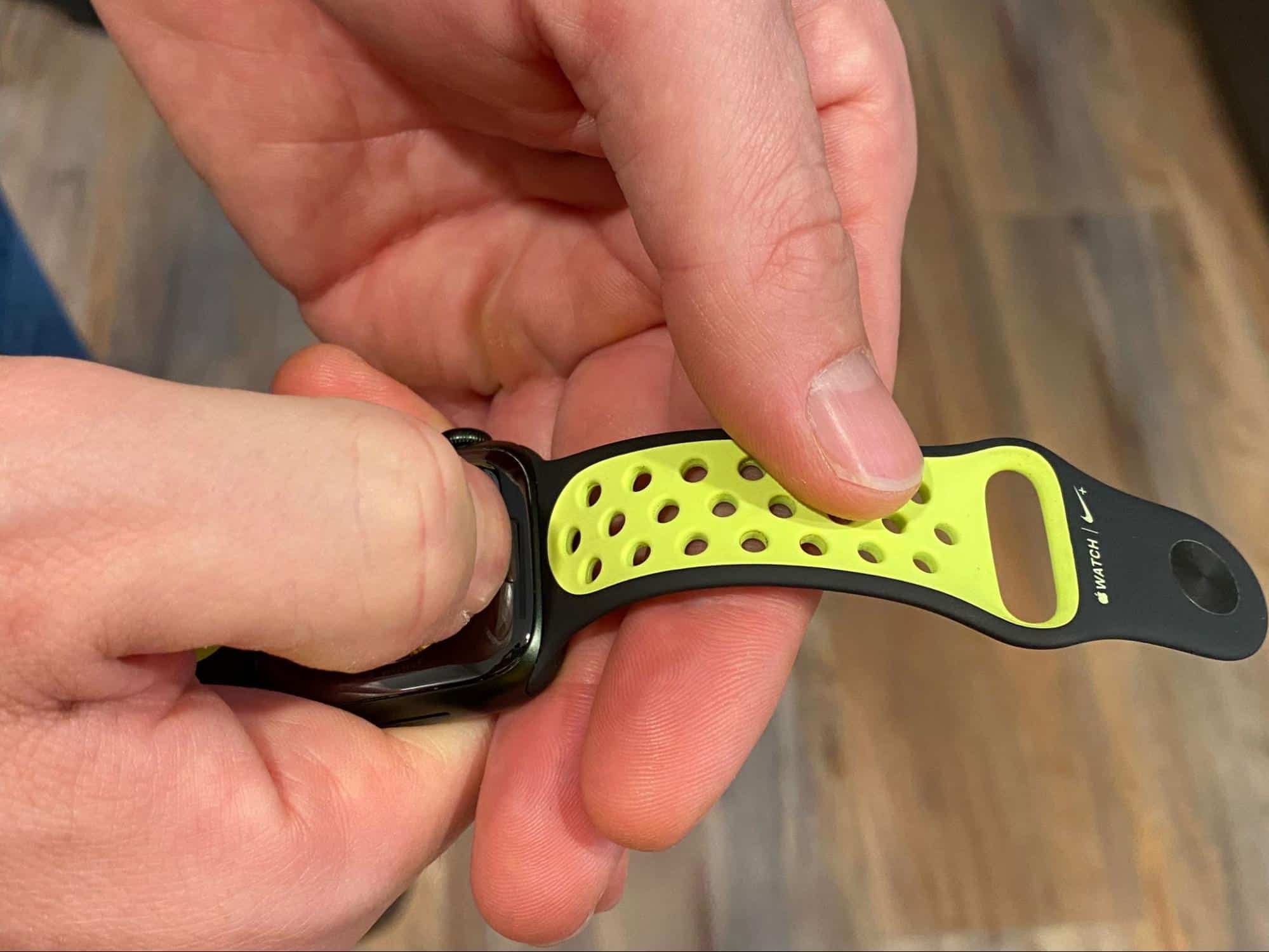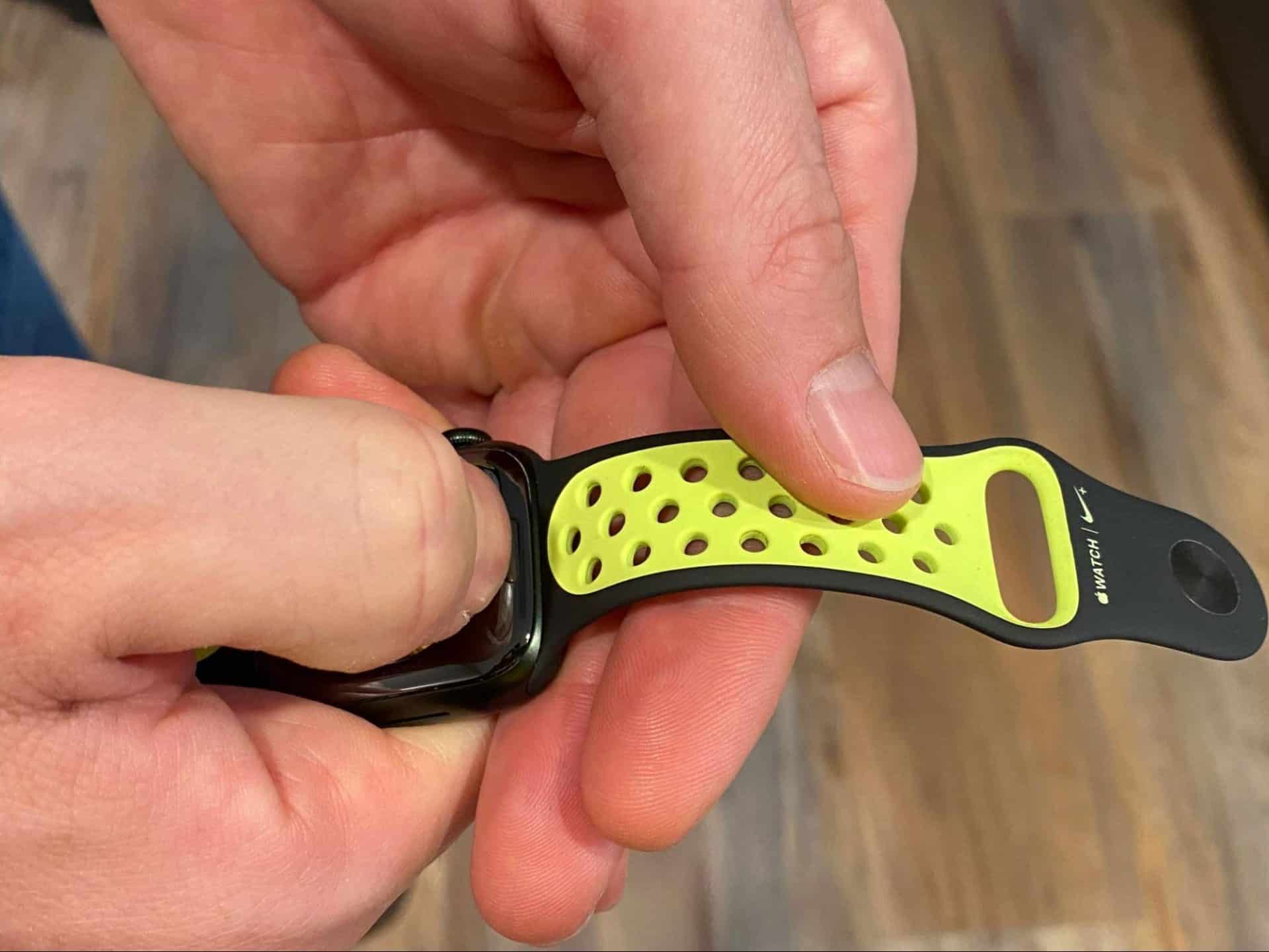 Press one of the buttons. This little proprietary feature is what makes this so much easier than changing a Rolex bracelet.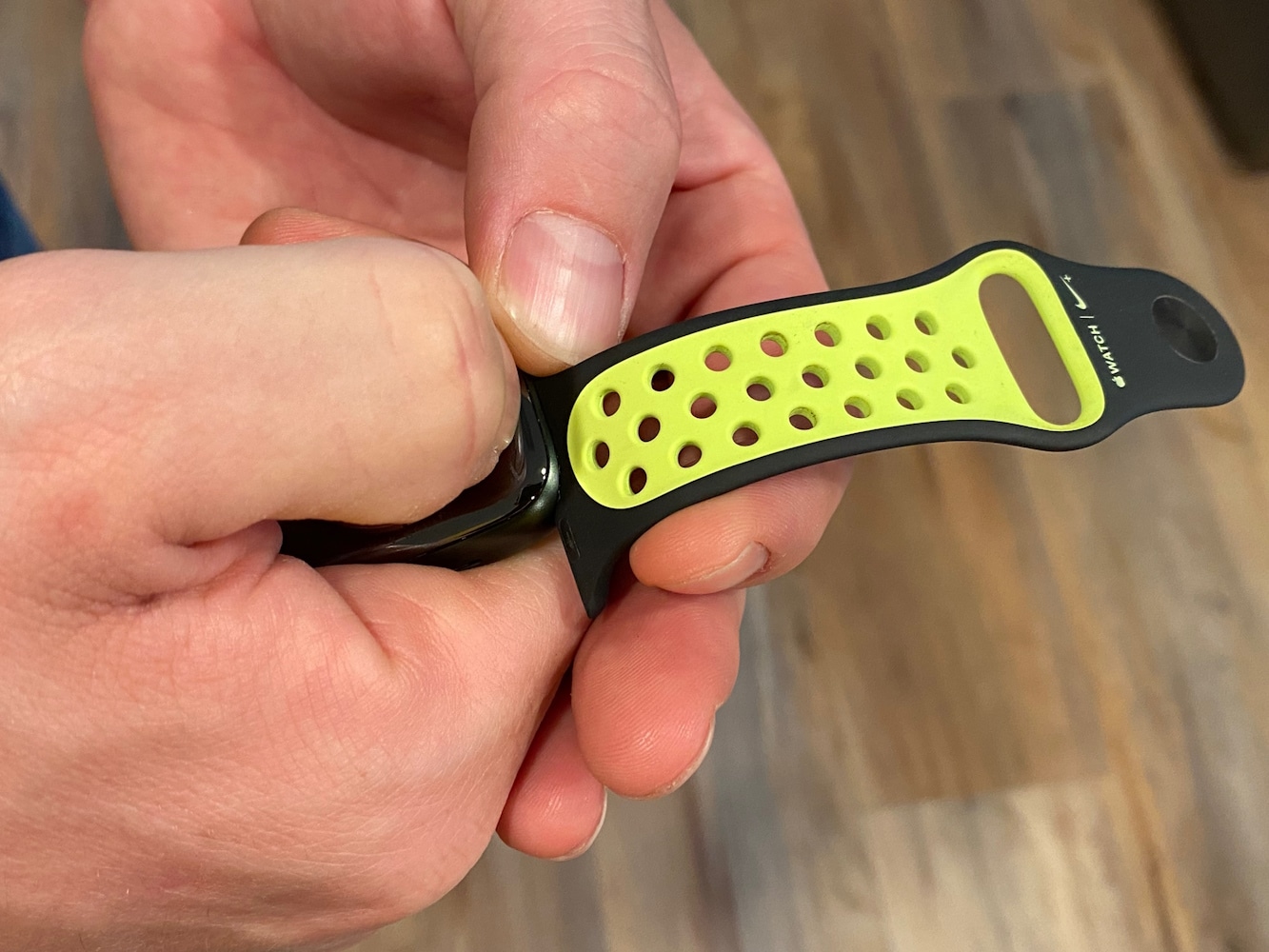 As you're holding the button, slide the band across to disconnect it from the watch. This may take some finessing at first, but just make sure the button is truly pressed. Sometimes, it's hard to tell whether or not it is since it's mostly flush.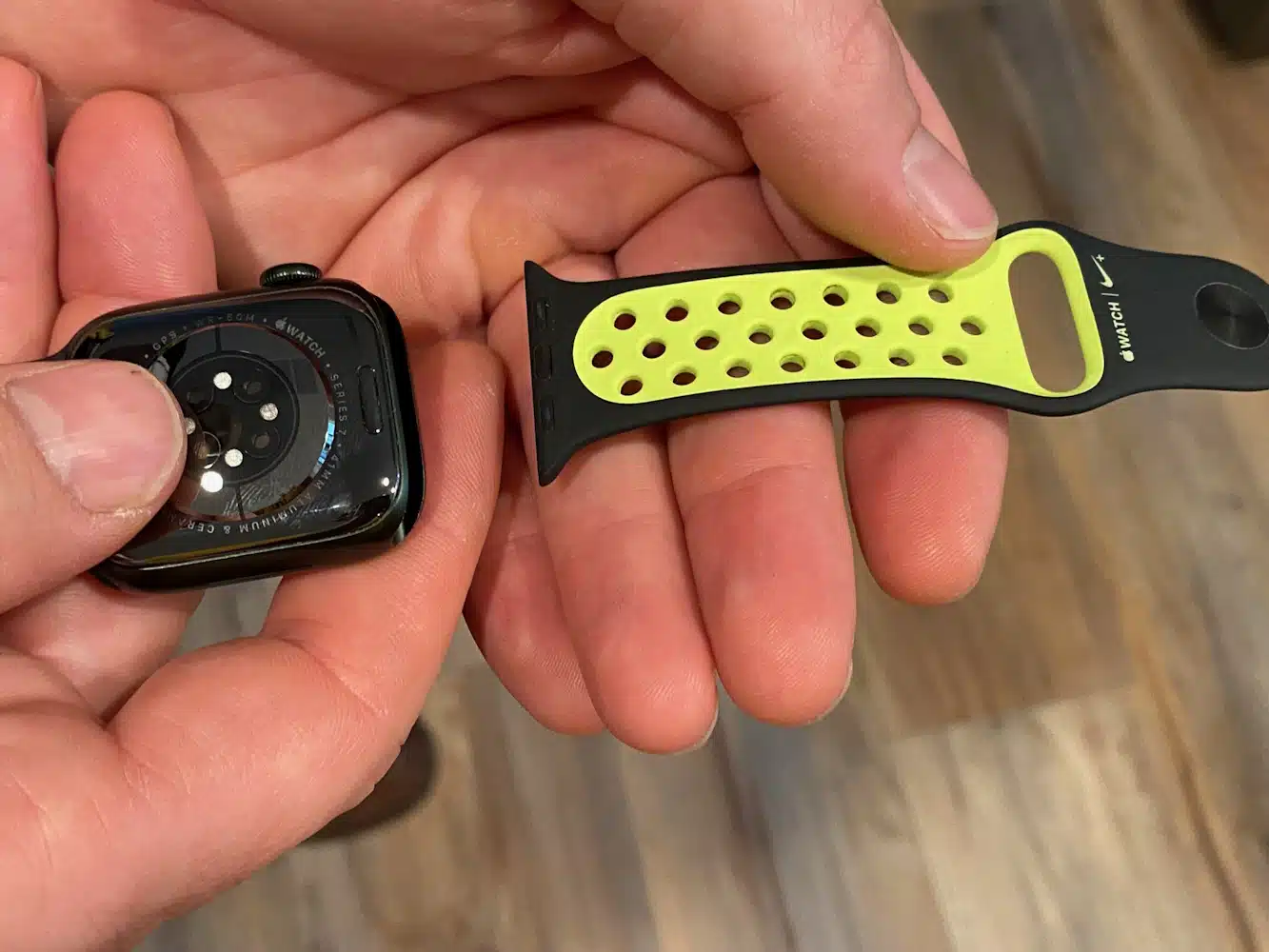 Remove the other side of the band doing the same thing.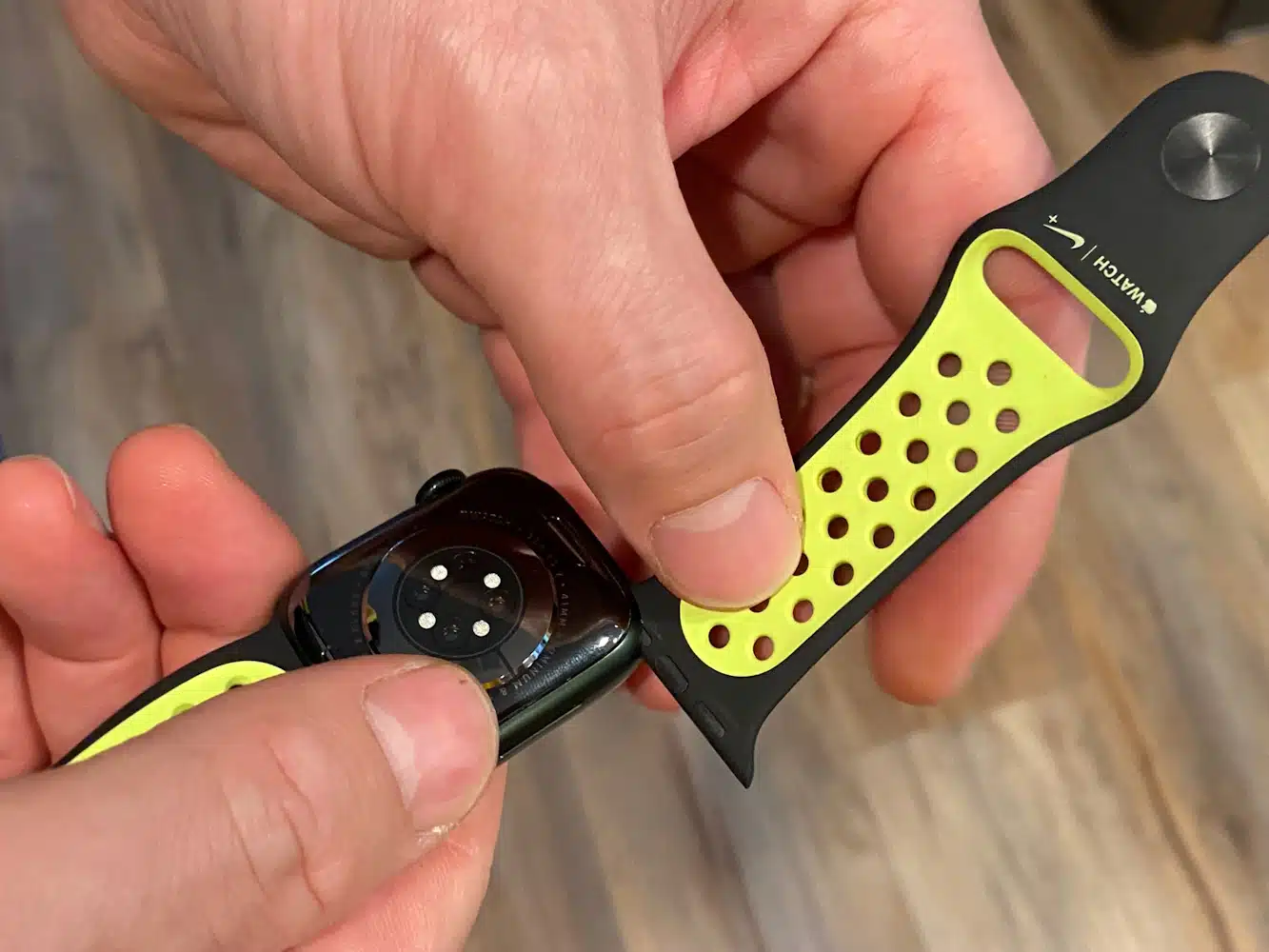 Attaching the new band is even easier. You'll simply slide it in until you hear the click! Make sure you're attaching it with the right side up!
Put your newly transformed Apple Watch on and enjoy! By the way, to put on a one-piece bracelet, just pull it from the bottom, the part that touches the back of your wrist, and slide it over your hand.
Notes on How To Change the Band on an Apple Watch
Fortunately, all Apple Watches have the same quick-release buttons, making the process the same for all generations of Apple Watches, whether you have a Series 1 or a Series 9.
You just need to make sure you get the corresponding size to your Apple Watch case.
You'll use the same size strap from Apple Watches, between 38 and 41 millimeters.
The next size up is compatible for cases between 42 and 45 millimeters.
The next size up is for the 49-millimeter Apple Watch, which is also compatible with 44-millimeter and 45-millimeter watches, but not 42-millimeter ones, so there's a slight, but not complete overlap with the size down.
I also like to clean the edges of the watch bands, the ends that go into the chamber, before I put them in.
It isn't totally necessary unless your watch bands are super dirty (in which case, clean the whole thing). But I do like to blow on the edges, then take an alcohol wipe to it.
FAQs
Here are some answers to common questions when it comes to changing your Apple Watch band!
Can I Swap Apple Watch Bands in the Store?
You can return items that are in good condition at authorized Apple dealers if it's been less than two weeks. You can't swap the band your watch comes with, but you can always buy extras to switch up your watch's look.
How Do You Remove an Apple Watch Band Without a Tool?
You don't need a tool, just a clean surface. Apple Watches are equipped with a quick-release system.
Give Your Apple Watch an Update
There you go! Now you know how to remix that Apple Watch of yours.
I find it remarkable just how much an Apple Watch can visually register as a dress watch when you pair it with a nice leather strap, particularly if you go for a gold case.
I hope this was helpful and that you'll go ahead and give your Apple Watch a new look.
What other Apple Watch-related content are you interested in reading? Let me know in the comment section!