In this article, we'll share our thoughts on if we think Alpina watches are worth buying. Read on for all of the details.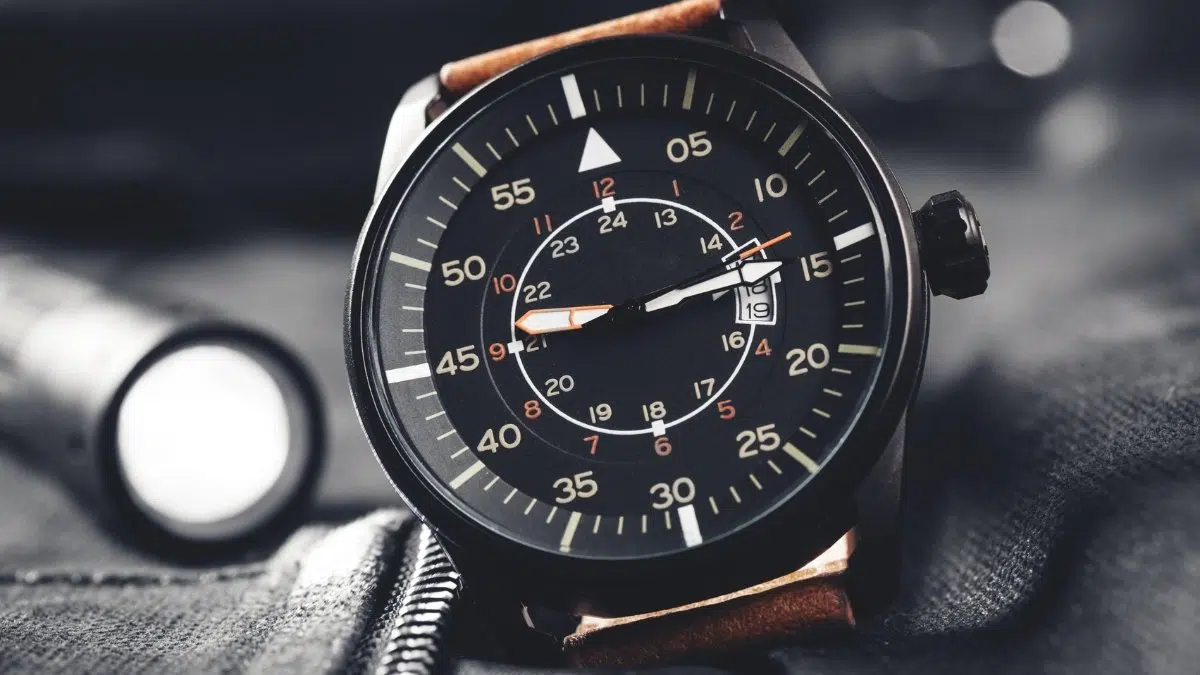 Unless you're a seasoned watch enthusiast, you might not know a lot about Alpina watches.
Even those that have heard of the brand might only know it for its mountaineering-style field watches. But that's really just the tip of the Alpina iceberg. The question is, are Alpina watches good?
It's that question that this article aims to answer. We'll go over a bit of the Alpina company history (which is actually quite storied), the pros and cons of the brand, and a few of the company's most beloved and exciting models.
Alpina Company History
For a company that doesn't have quite the recognition of most other luxury brands, Alpina's history is long and interesting. Formed in 1883 by Gottlieb Hauser, this Swiss brand has made several significant impacts on horology.
Hauser was a Swiss watchmaker, but he was finding it difficult to source parts for his movements. Searching for a solution, he formed the Corporation of Swiss Watchmakers, which was a union between highly-skilled watchmakers.
The goal was to share ideas, resources, and materials. Not long after, Alpina was born, and the company started producing its own calibres and chronometers completely-in house.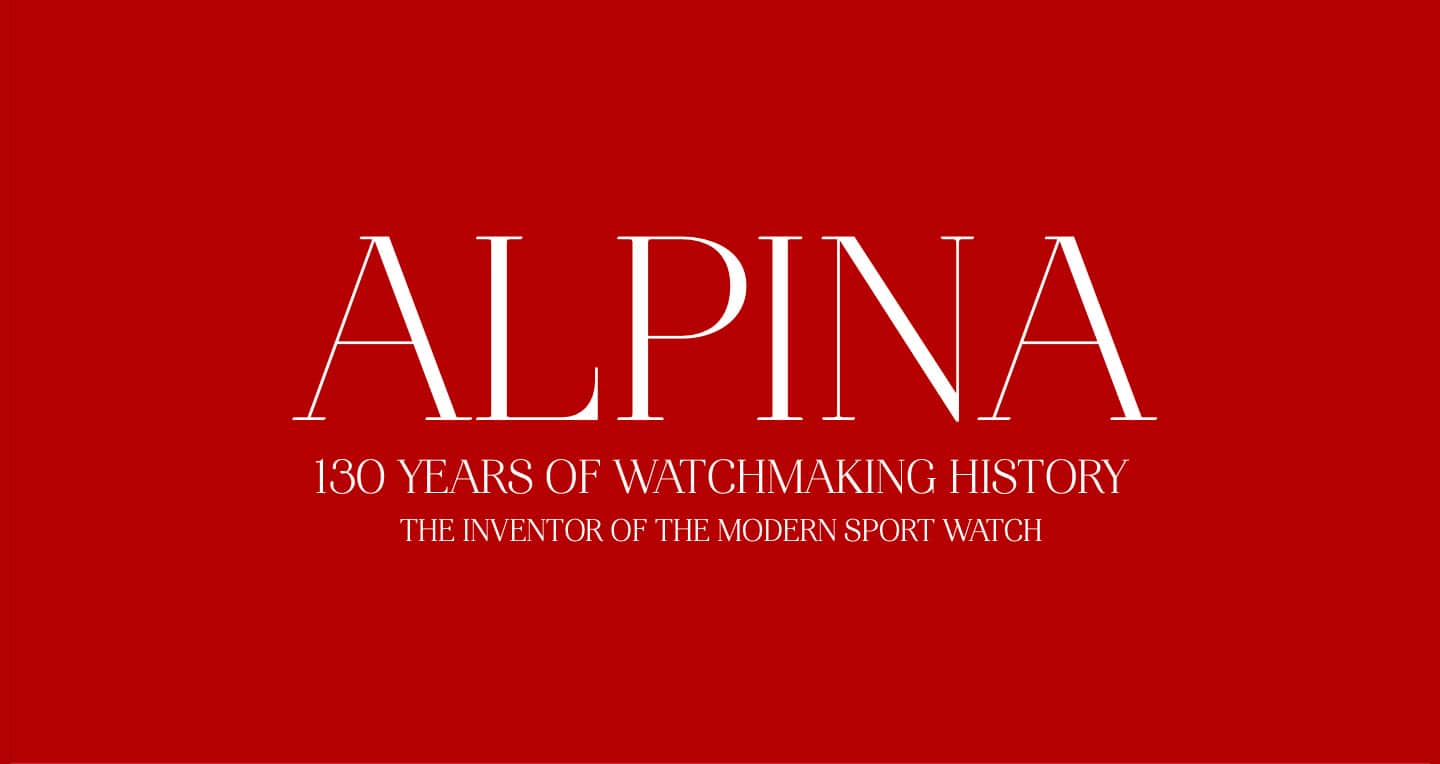 By the early 1900s, Alpina was growing its influence. It was producing movements for several high-end brands, of which Rolex is rumored to be one.
Realizing the importance of protecting its property and hard work, the company registered the patents on two of its most popular mechanical movements.
The year 1913 marked a deal between Alpina watches and the German navy, but it was the company's aviation-style watches that made the biggest impact.
Alpina started manufacturing Flieger-style watches with large crowns and long leather straps — perfect for pilots since they could wear these watches over their uniforms for easy reading.
It was also around this time that Alpina was selling watches worldwide at over 2,000 retail locations. In fact, Alpina was one of the first brands to establish global distribution lines — a very big deal at the time.
But, of all the interesting events in Alpina's timeline, it was the 1930s that really brought the company to life. In 1933, Alpina released the Block Uhr, which was a tough stainless steel watch with a durable crown.
From the Block Uhr's inspiration, the Alpina 4, considered by many to be the first sports watch, was released in 1938.
The Alpina 4 was a horological turning point. The 4 had, as you might've guessed, four defining characteristics: Water resistance, anti-magnet, anti-shock, and a tough stainless steel case.
Many consider the 4 to be the first sports watch, and with those credentials, it's easy to see why.
The 1950s marked an anniversary model of the 4 released in 1953 and an Alpina 4 chronograph released 1959. It was at this point the company's global reach was growing.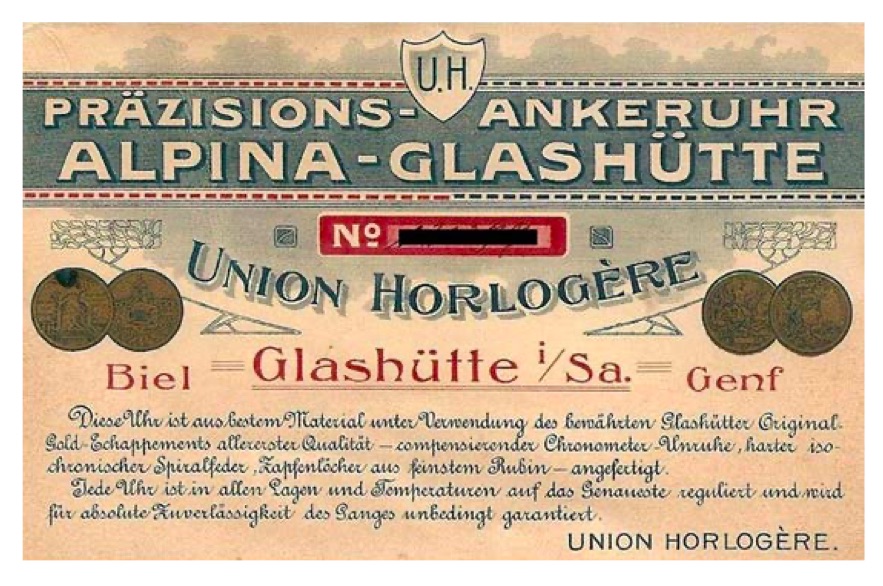 In 1969 the Alpina released the Seastrong diver, a true diver with a rotating bezel and plenty of water resistance.
The quartz crisis hit Alpina hard. Up until the mid-70s and 80s, Alpina was producing mechanical watches. But when the quartz crisis started picking up speed around the same time frame, it forced many high-end mechanical watchmakers from Europe to fail.
But Alpina stayed around, though it was on a slippery downhill slope. The company was under German ownership in the mid-80s, and they hadn't quite made a move to quartz movements yet.
In 2002, Dutch entrepreneur Peter Stas and his wife, Aletta, came along and purchased the company, breathing fresh new life into the aging sports watch manufacturer.
As it would turn out, Peter and Aletta also own Frederique Constant, which the company combined with Alpina and Ateliers DeMonaco to form the Frederique Constant Group.
In 2016, the Frederique Constant Group was purchased by Citizen, giving the Japanese watchmaking giant control over the Alpina name.
Alpina Watches Lines
There was a time when Alpina's catalog was insanely diverse, and the price ranges were truly extreme. Now there are four main lines, and the prices range from around $600 to around $3,000, positioning Alpina in the affordable luxury market.
Alpina Alpiner Line
The Alpiner line is intended for adventurers. It embodies the spirit of the original Alpina 4. These watches offer stainless steel cases, antimagnetic tech, anti-shock, and water resistance, just like the originals.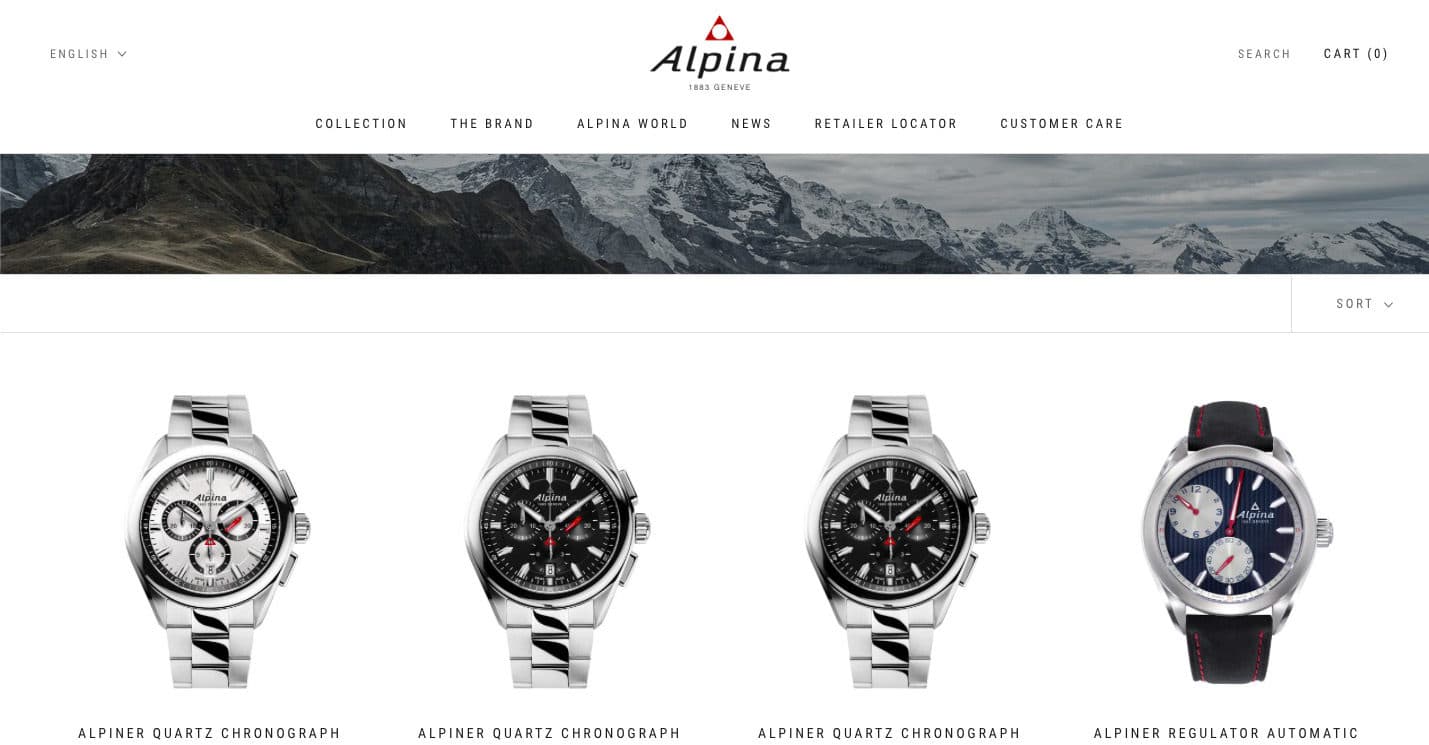 There are even AlpinerX models, which are the brand's smartwatch offerings. The prices for the Alpiner line range from between $800 and $2,000.
Alpina Startimer Line
You'll remember that Alpina is no stranger to aviation watches, and the Startimer line carries on the tradition. This line features large case sizes, oversized crowns, and several movement choices.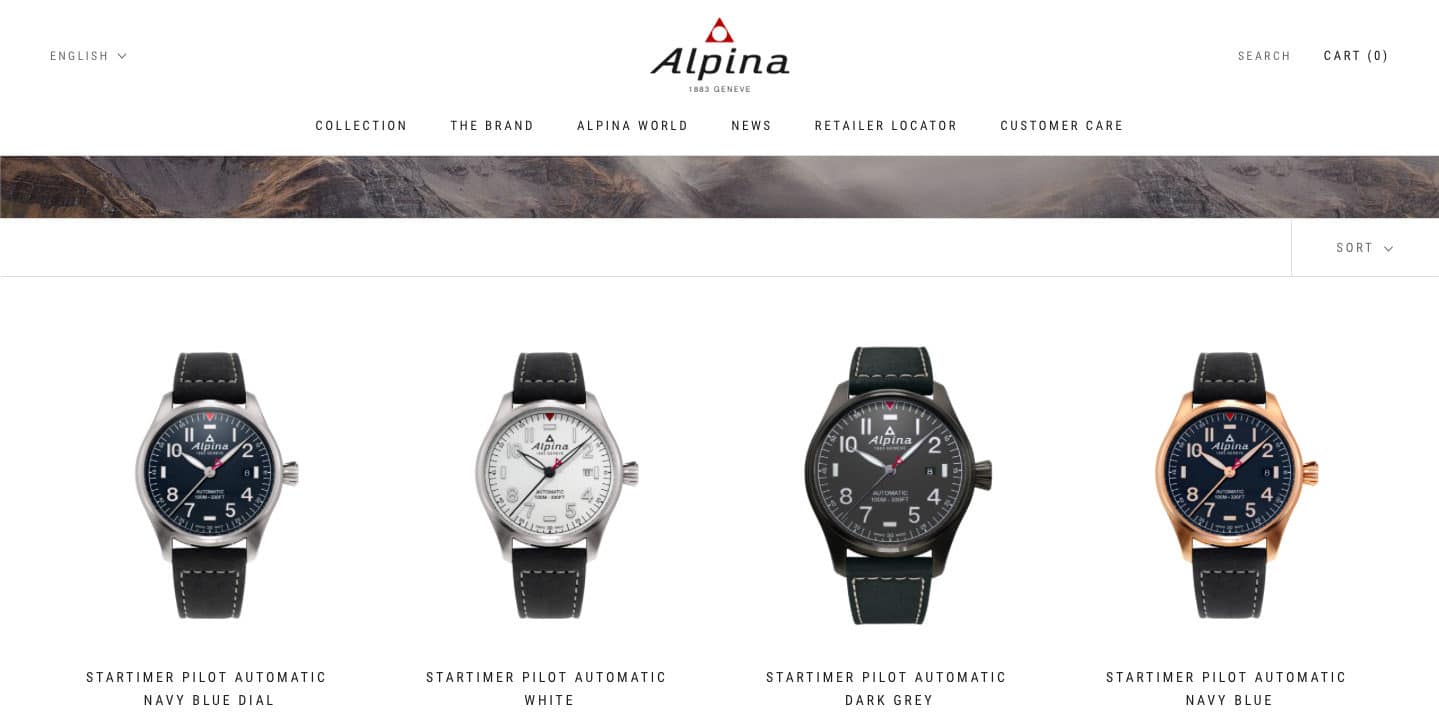 This particular line has a price range between $600 and $1,500, with one beautiful outlier ringing the register at $2,800.
Alpina Seastrong Line
For dive watch lovers, the Seastrong line carries on the tradition of the Alpina divers of the late 60s and 70s.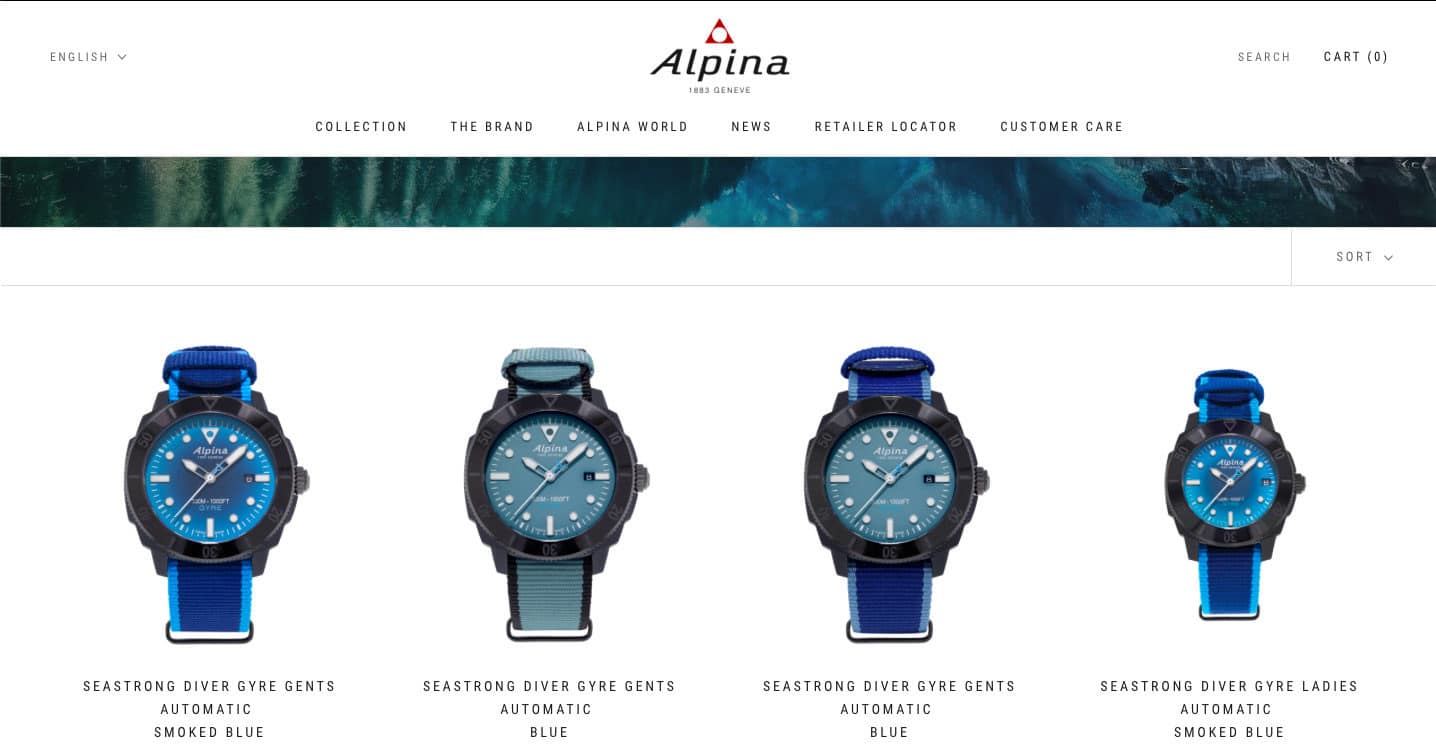 There's even a cream dialed automatic diver with two crowns and an internal bezel just like the originals. Prices range between $600 and $1800.
Alpina Comtesse Line
Most of Alpina's focus is on men's watches, but the company does offer the Contesse line — smaller cased watches with more delicate features.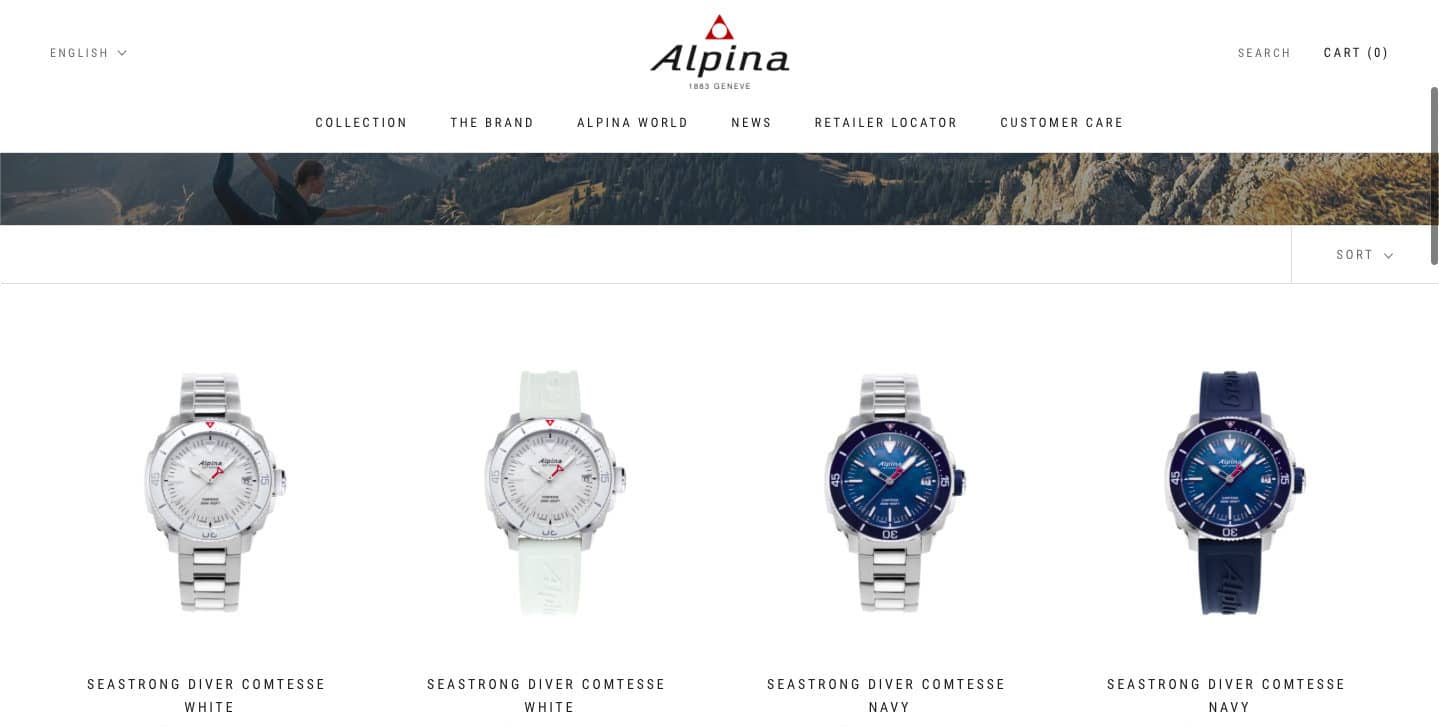 While these are marketed to women, a few of their offerings are as large as 36.5 millimeters, putting them in SKX013 or even Rolex Explorer territory. Most of the Comtesse line features quartz movements, but prices range between $800 and $1100.
Alpina Watches: Pros and Cons
You might still be wondering, "Are Alpina watches good?" One of the best ways to answer that question is to analyze the pros and cons of the brand.
Let's take a look at why Alpina watches might be worth checking out or why you might want to skip on them altogether.
Pro: Price Point
Alpina's entry-level, affordable luxury price point is an attractive aspect of the brand. While there are occasional releases with Tourbillons that cost tens of thousand of dollars, the bread and butter of the brand is the under-$2,000 range.
This puts it in line with makers like Tissot and Longines, making it an attractive alternative to those brands while still being a Swiss-made watch.
Con: Brand Recognition
If you're simply collecting watches, this point might not matter to you. But, if you're spending $2,000 on a watch, you might want it to carry a bit more brand recognition than Alpina does.
Truly, only enthusiasts will recognize this brand for what it is. Even then, there just isn't as much brand excitement as some of Alpina's competitors.
Pro: Traditional Styling
Many of Alpina's watches still carry that traditional styling that carried the brand through its hay-day. There are aviation, dive, and mountaineering watches that hold true to the original design cues. But that also leads us to our next con.
Con: Some Not-So Traditional Styling
It would be unfair to mention the traditional-style watches and not the more wild designs. In particular, some of the AlpinerX line might look too much like department store Casios for some collectors.
And while they are quartz watches, they offer plenty of mountaineering smart features — making up for some of the looks.
Pro: Still a Swiss Brand
Regardless of which company owns Alpina at this point, Alpina is still a Swiss watchmaker. There are only so many options for Swiss brands at these prices, so Swiss horology fans on a budget do have hope in Alpina.
Con: Size
Alpina does offer some beautiful watches that will grab attention from across the room. But there's a reason for that: Many are very large.
Most of Alpina's watches fall between 42 and 44 millimeters, and those without external bezels look every bit of their size. That can be off-putting for some guys, so it's certainly worth considering.
The Best Alpina Watches
Now that you know more about the brand, the different lines, and some of the pros and cons Alpina has to offer, it's time to take a look at some of the company's best watches. The following four watches offer a clear look at the brand's value, styling, and pricing.
Alpina Alpiner 4
The Alpiner 4 is the quintessential Alpina watch. Offering the four attributes so critical to the original sports watch — the stainless steel case, anti-magnetic, anti-shock, and 100 meters of water resistance — it's as much a part of the brand as the logo.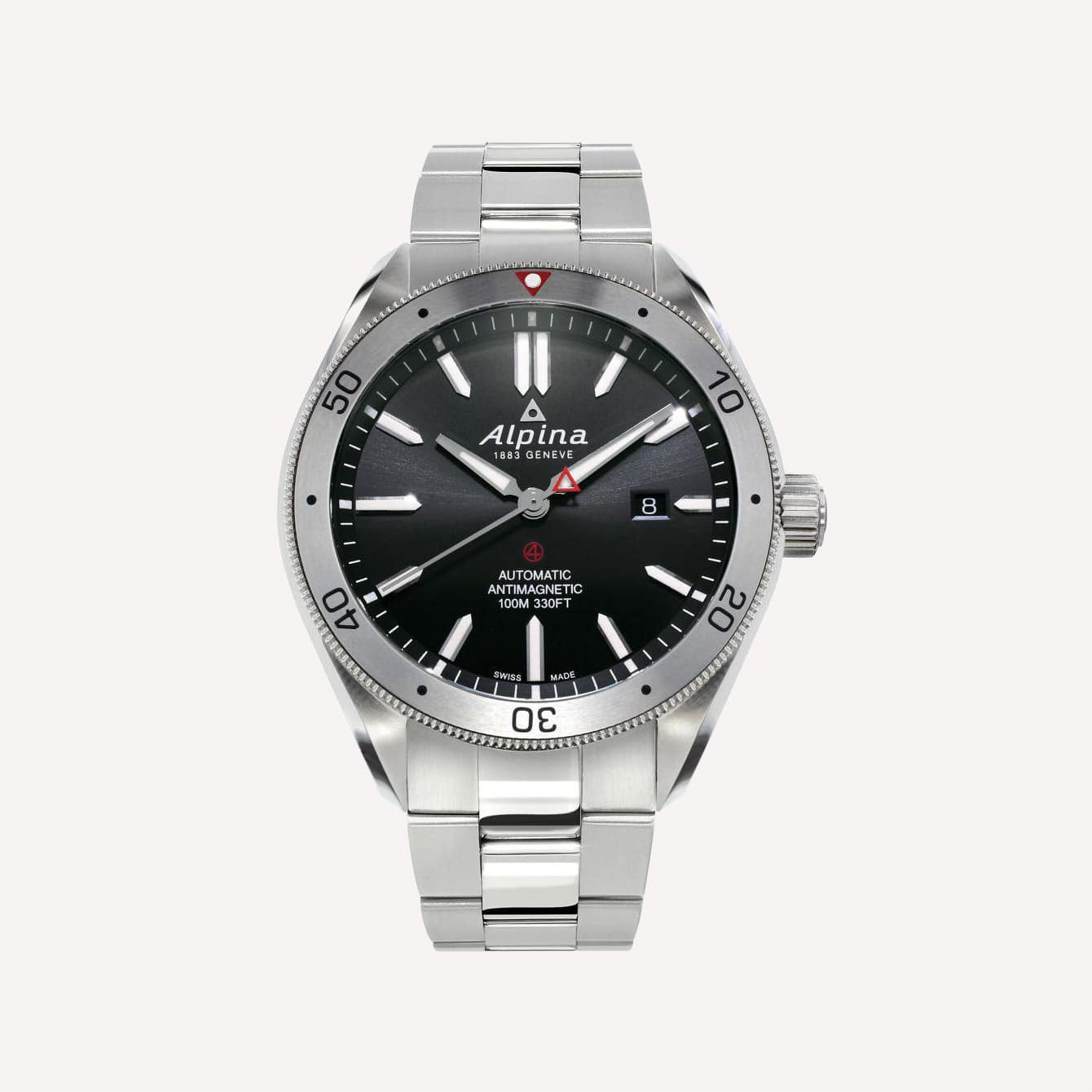 The Alpiner 4 is a big watch. It measures 44 millimeters across the dial, though the thickness isn't overly absurd at just over 13 millimeters. The 22-millimeter strap does help to shrink the perceived case size a bit.
Beyond those four core attributes, the Alpiner 4 has more to offer. The crystal is a convex-shaped sapphire crystal, and the case back is screw-down. The Alpiner 4 also has a screw-down crown to help it achieve its water resistance rating.
It has an in-house AL-525 automatic movement with a date function at 3 o'clock. Finally, it also has a stainless steel bezel with Alpina's distinctive red triangle logo, though inverted, at the 12 o'clock position.
Alpina Alpiner
If you like the idea of a stainless steel mountaineering watch, but don't want to spend the kind of cash an Explorer or Tudor might run you, the Alpina Alpiner might be worth checking out. While it does have one considerable drawback, overall, it's a nice piece.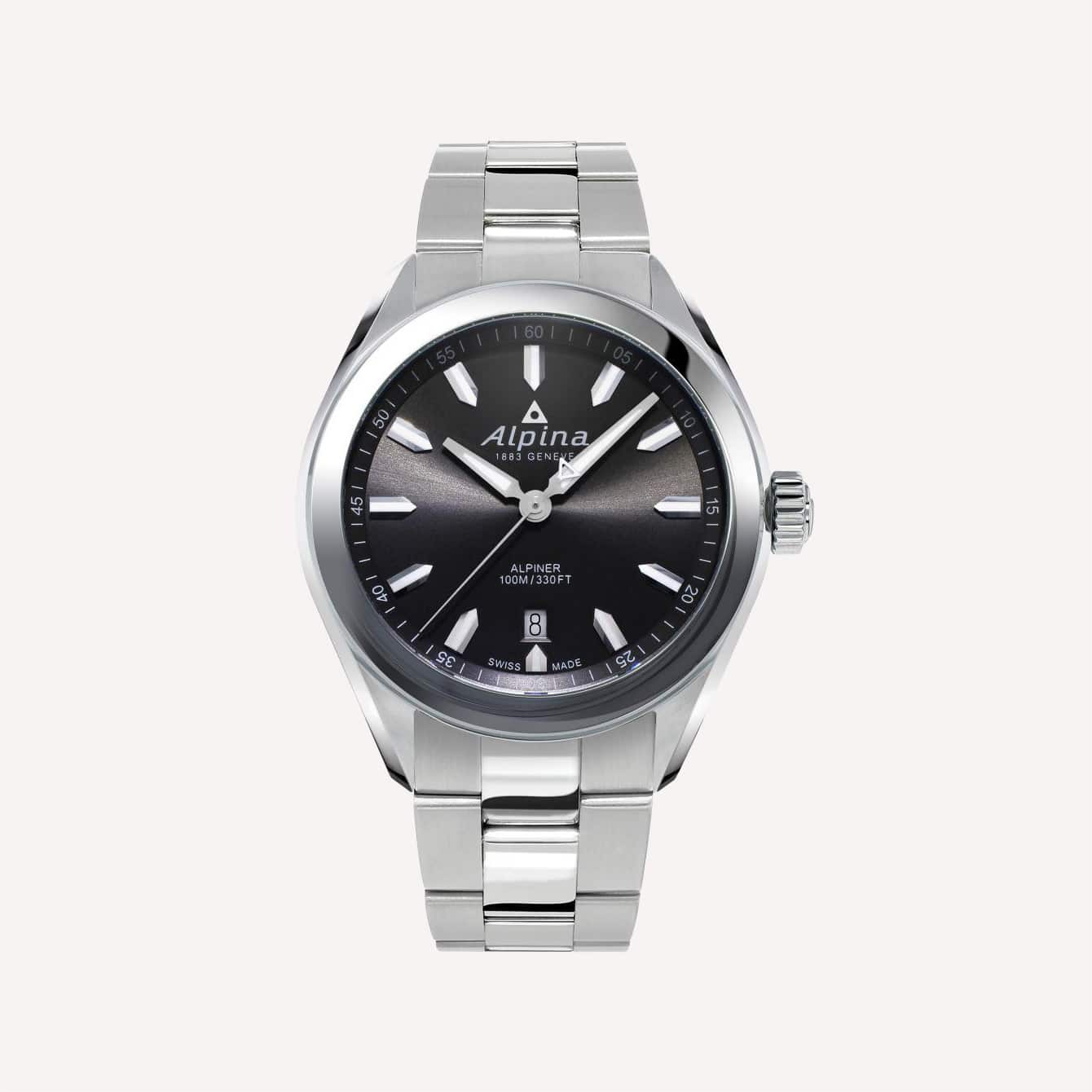 The Alpiner is more modestly sized than the Alpiner 4, though it has many of the same features. The Alpiner has a 42-millimeter case, and the thickness is just 10 millimeters (though there's a reason, and we'll get to it).
This Alpiner iteration features a stainless steel case, the same convex-style crystal as the 4, and water resistance of 100 meters. While the crown doesn't screw down, it does have two o-rings to seal out dust and water.
So, the big drawback and reason for the 10-millimeter case thickness: The Alpiner is a quartz watch.
While it's an accurate AL-240 movement and does offer a date function at 6 o'clock, it might be hard for some guys to justify the $900 price tag for a Swiss watch with a quartz movement.
Alpina Startimer
Truly, it's hard to get more Flieger than Alpina's Startimer. Not only does this watch have Alpina's aviation history behind it, but it has all the touches you'd expect from a pilot's watch. And that includes a massive case and a whopper for a crown.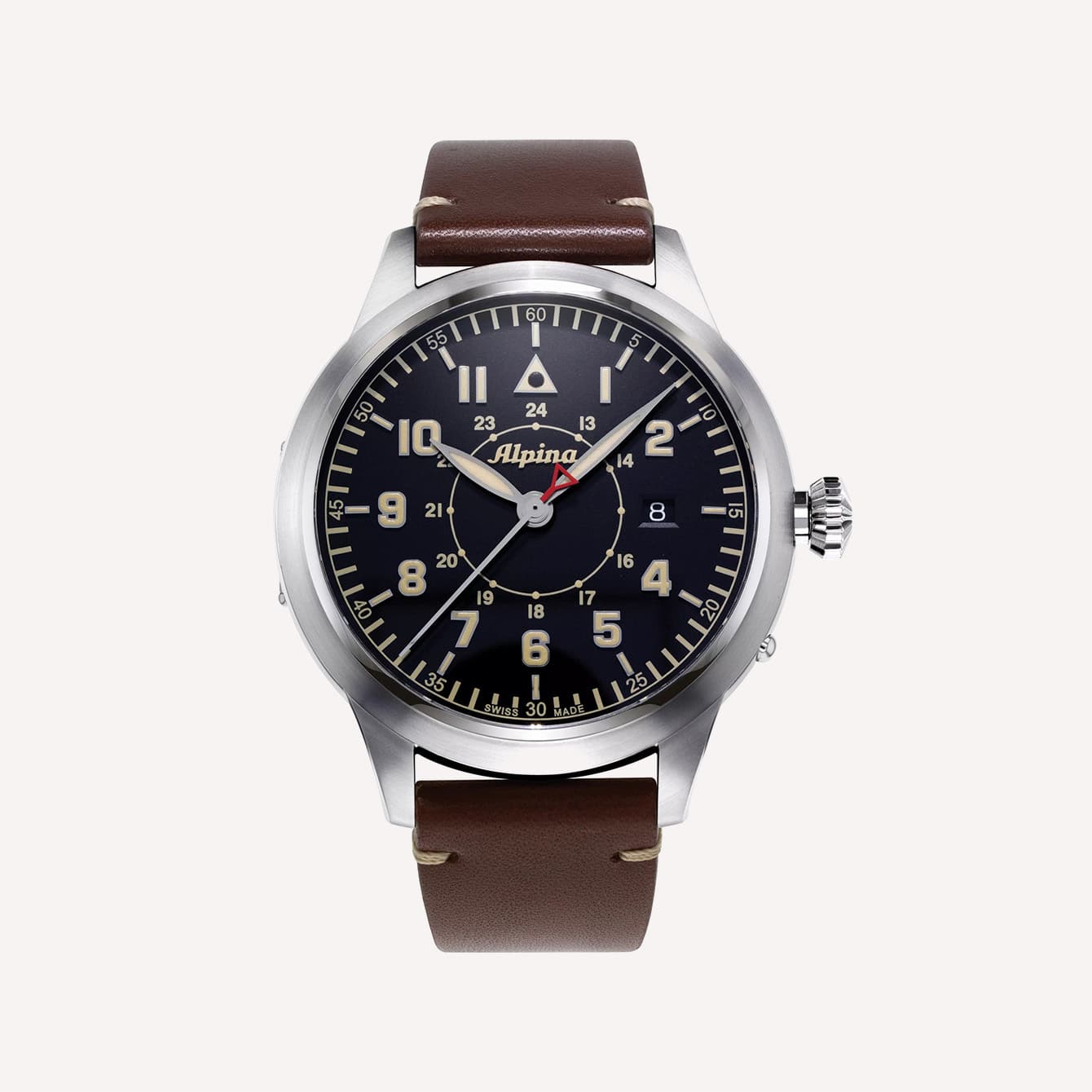 The Startimer's a big watch, measuring 44 millimeters across the dial. But that gives this piece a massive Flieger dial that's easy to read in any cockpit.
However, without a timing bezel (which would be out of place), that dial can make this piece look even larger than it already is.
The Startimer is truly a pilot's watch. The dial features applied numerals at all positions but the 3 o'clock where a date window lives. The lumed numeral makes quite a contrast against the black dial, making it legible even in low-light conditions.
There's also a massive crown at 3 o'clock, which might be necessary on a manual-winding mechanical watch, but this one features an automatic AL-525, so the crown's size is just for looks.
There's a really unique feature about the Startimer: It has a hinged door on the back that releases with the press of the button at 4 o'clock. Swung open, this door reveals an unobstructed view of the automatic movement.
Alpina Seastrong Diver 300 Heritage
Possibly saving the best for last, The Seastrong Diver 300 Heritage is a beautiful vintage-inspired diver with relatively modest dimensions. It's something different but still a diver, so it could be an attractive option for some guys.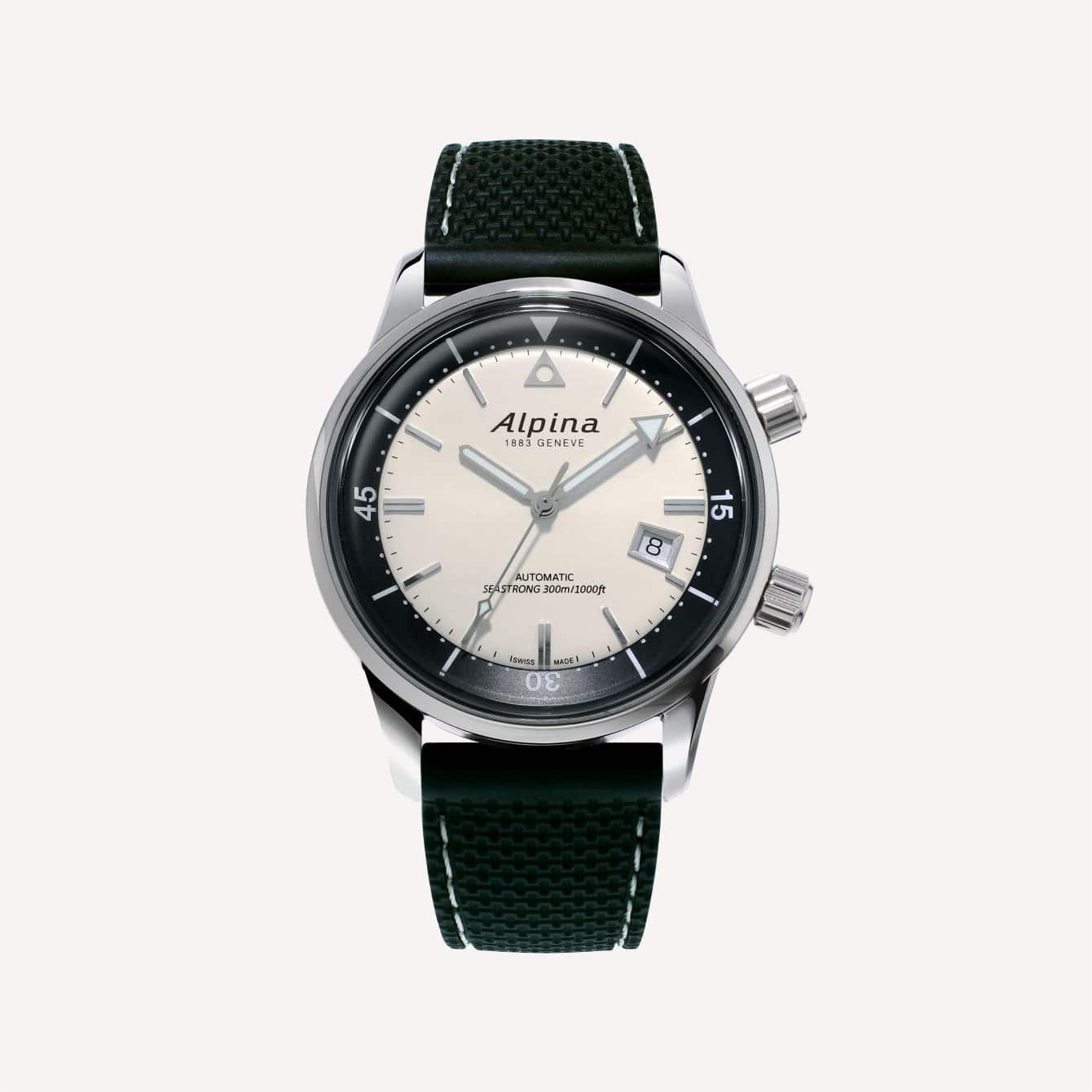 "Relatively modest" were the words: It's not a small watch. The Seastrong Diver 300 Heritage measures 42 millimeters across the dial (though it's less than 12.5 millimeters thick).
And, since it doesn't havean external bezel, it might appear larger than some other 41, 42, or 43-millimeter divers. But there's a reason there isn't an external bezel.
Like the original 1969 Seastrong, the Seastrong 300 Heritage features an internal bezel operated with the crown at 2 o'clock. This is a really nice touch and does make this piece stand out among many other Swiss divers.
Beyond the bezel, the Seastrong Diver 300 Heritage features an Al-525 automatic movement, a box-style sapphire crystal, and a screw-down crown and case back.
The crown, case back, and crystal add up to a 300-meter water resistance rating — not bad for a vintage-inspired piece.
Final Thoughts
Are Alpina watches good? What do you think? I'd say that overall, Alpina watches are good. But they're not for everyone.
Alpina's watches tend to be large, and not every guy with a smaller wrist will be comfortable wearing one. If you find a model you like despite its size, then Alpina would be a great choice.
There's more value in the automatic movements than the quartz models, though that can also come down to preference.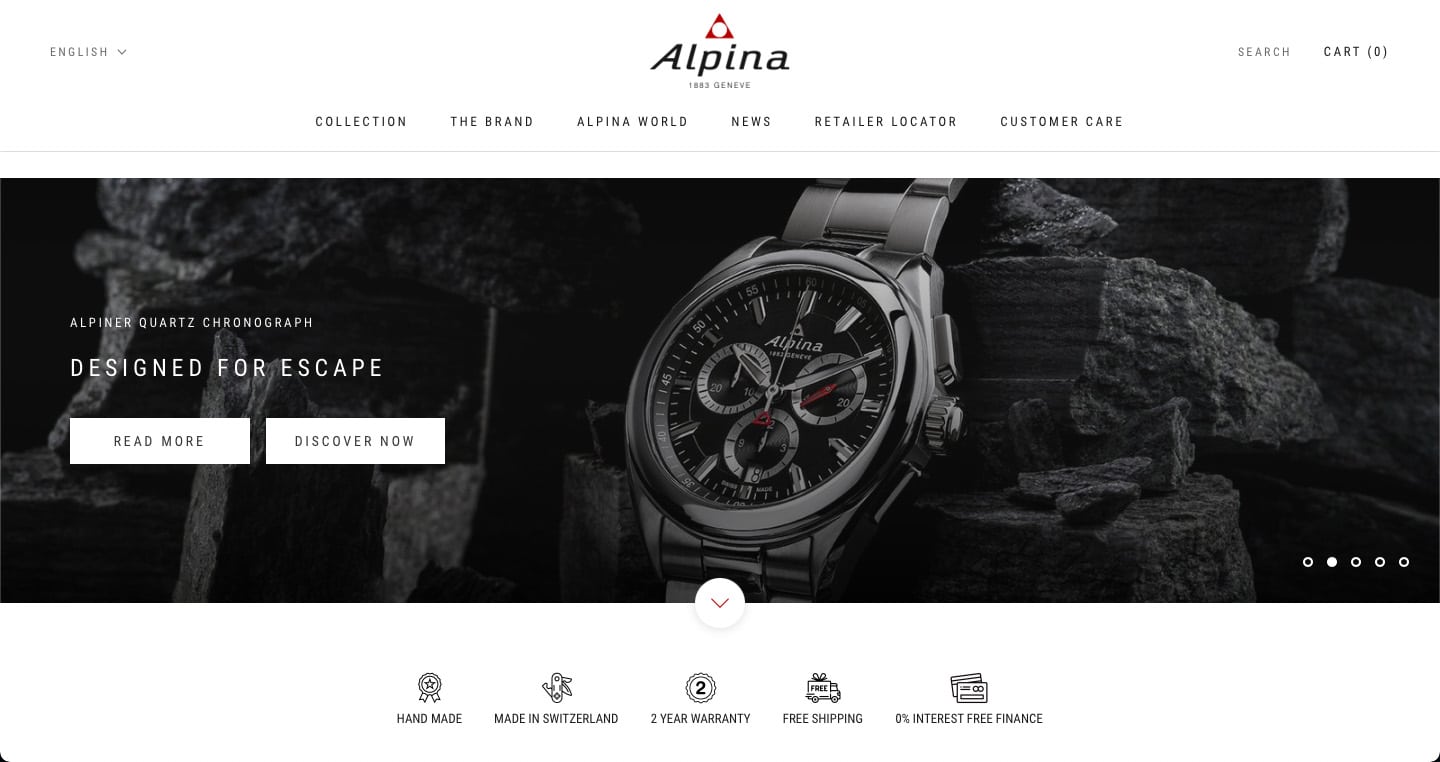 If you're looking for a mountaineering watch that might even compete with the Explorer for less than 25 percent of its price, the Alpiner might be worth a look.
If you're into divers, the vintage-inspired Seastrong Diver 300 Heritage is hard to argue against.
Ultimately, deciding on whether Alpina watches are good is really more a matter of if they're good for you. The quality is there, though the value might be an issue with the quartz models.
But the company has a rich history, interesting offerings, and an affordable price point. With all those factors in mind, it's not a stretch to say that Alpina watches are good watches.