In this Citizen Eco-Drive Chandler review, we'll take an in-depth look at this watch to see if you should scratch it off your list or order one right away.
If you're in the market for a modestly-sized field watch, the Chandler from Citizen is probably on your shortlist. This solar-powered watch has a tried-and-true design, a compact size, and a modest price tag.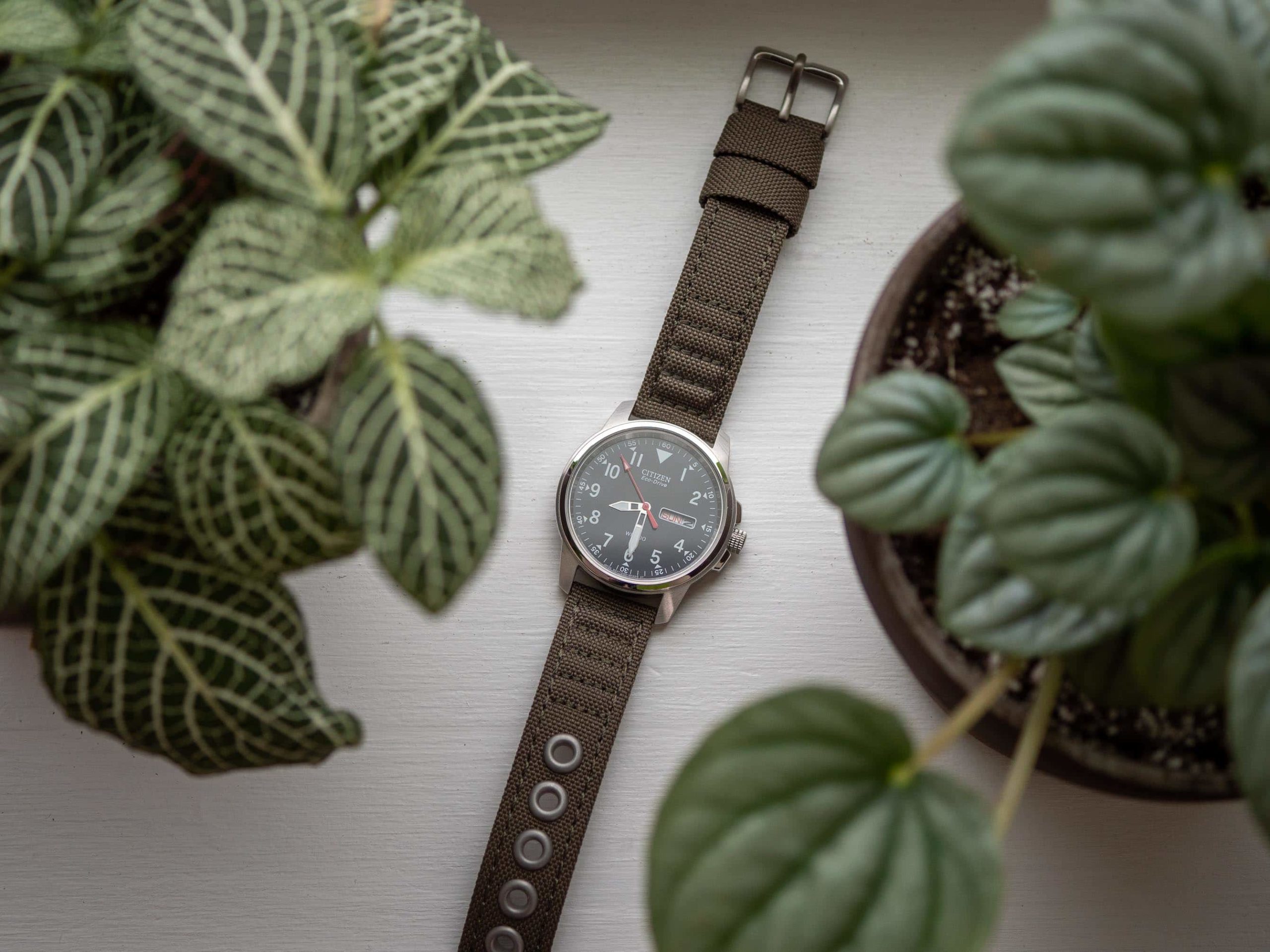 There's a lot to know about the Citizen Chandler, from its movement to its design and even Citizen's company history. Keep reading to learn more about this watch so you'll know if it's the right timepiece for you.
Citizen: The Company
Watch collectors are big on provenance. Before we dive too deeply into the chandler, let's take a brief look at Citizen as a company.
Citizen is a Japanese watch company known for its wristwatches. It's also the parent company of several historical watch brands, including Bulova, Alpina, Frederique Constant, Miyota, and more.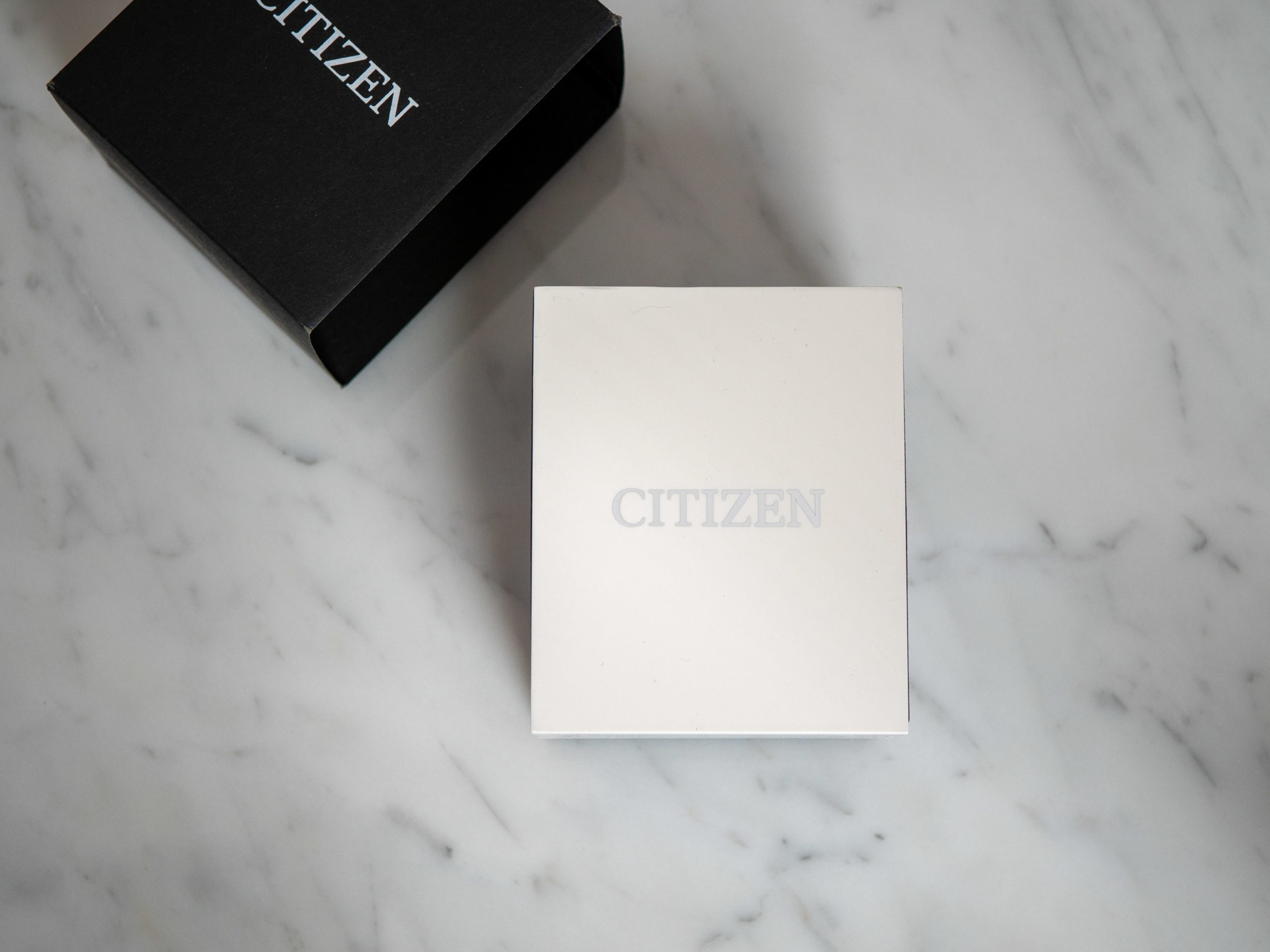 The story starts back in 1918, with the establishment of the Shokosha Watch Research Institute. Originally a pocket watch maker, Shokosha released a watch known as the Citizen.
By 1930, Citizen Watch Co. emerged and took over the Shokoma facilities, and by 1931, the company was producing quality mechanical watches.
The company continued to grow until World War 2, which almost destroyed the Japanese watchmaking industry. When Eiichi Yamada was appointed president in 1946, he understood that the future of watchmaking hinged on internal markets.
By 1949, Yamada had established the Citizen Trading Co., expanding the company's reach globally.
Things began to get really interesting for Citizen in the 1960s. In 1960, the company signed an import-export agreement with Bulova. By the end of 1965, Citizen opened its first European office in former West Germany, opening distribution to all of Europe.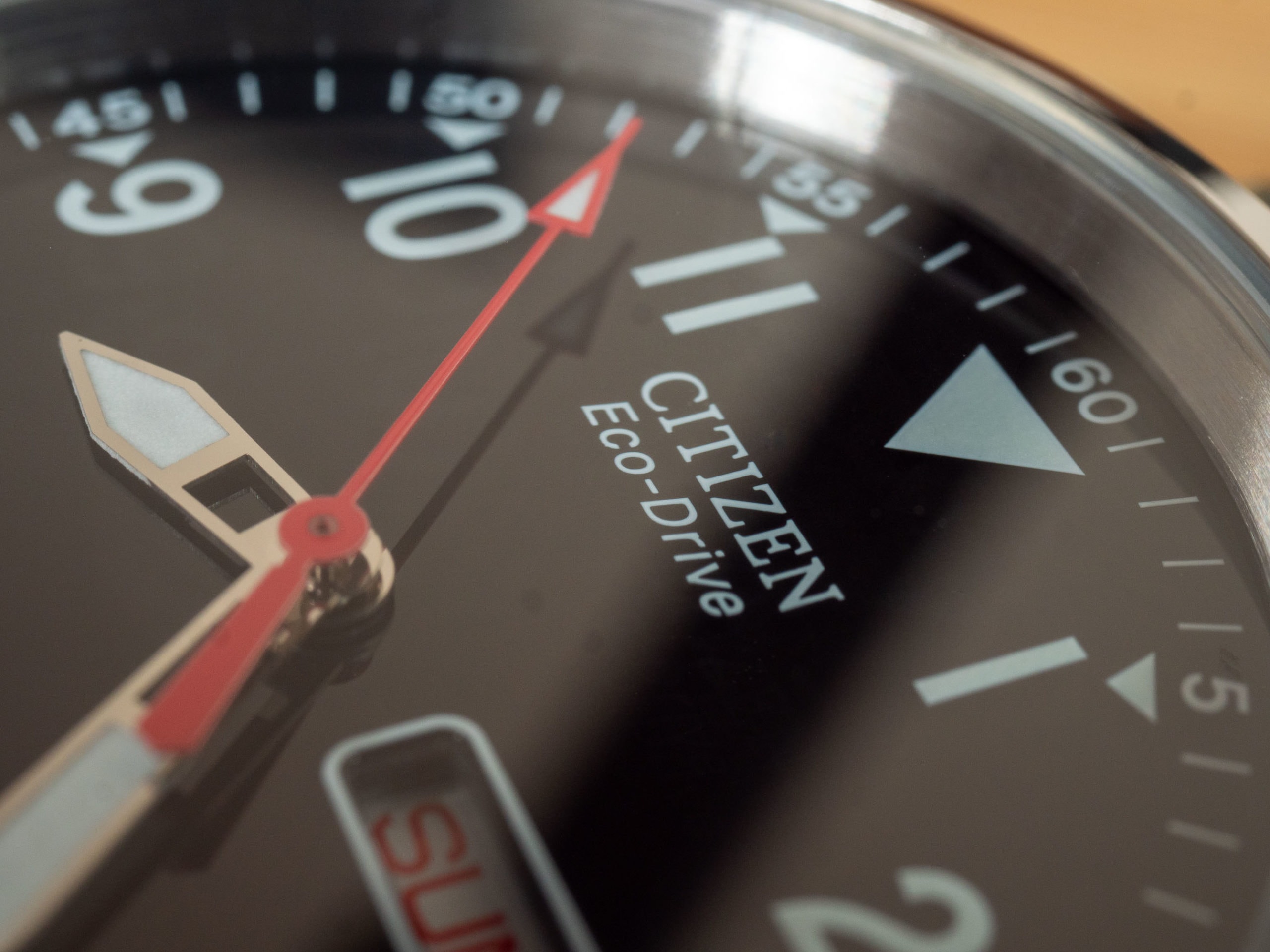 And, in 1966, Citizen developed the first electronic watch, the X-8.
As one of the primary companies specializing in quartz-powered watches, Citizen did quite well during the quartz crisis.
In 1976, right in the middle of the crisis, Citizen released its first light-powered timepiece, giving birth to Eco-Drive solar-powered watches.
Technology continued to improve. Citizen produced the world's first radio-controlled watch in 1993, and then the first full metal case radio-controlled watch with a built-in antenna in 2003.
And it's during the 2000s and 2010s that Citizen did much of its acquisition work, turning itself into the global powerhouse we know today.
Citizen Eco-Drive Chandler Overview
Now that you know a bit more about Citizen's history and its importance to the watch industry, we can dive into the Chandler.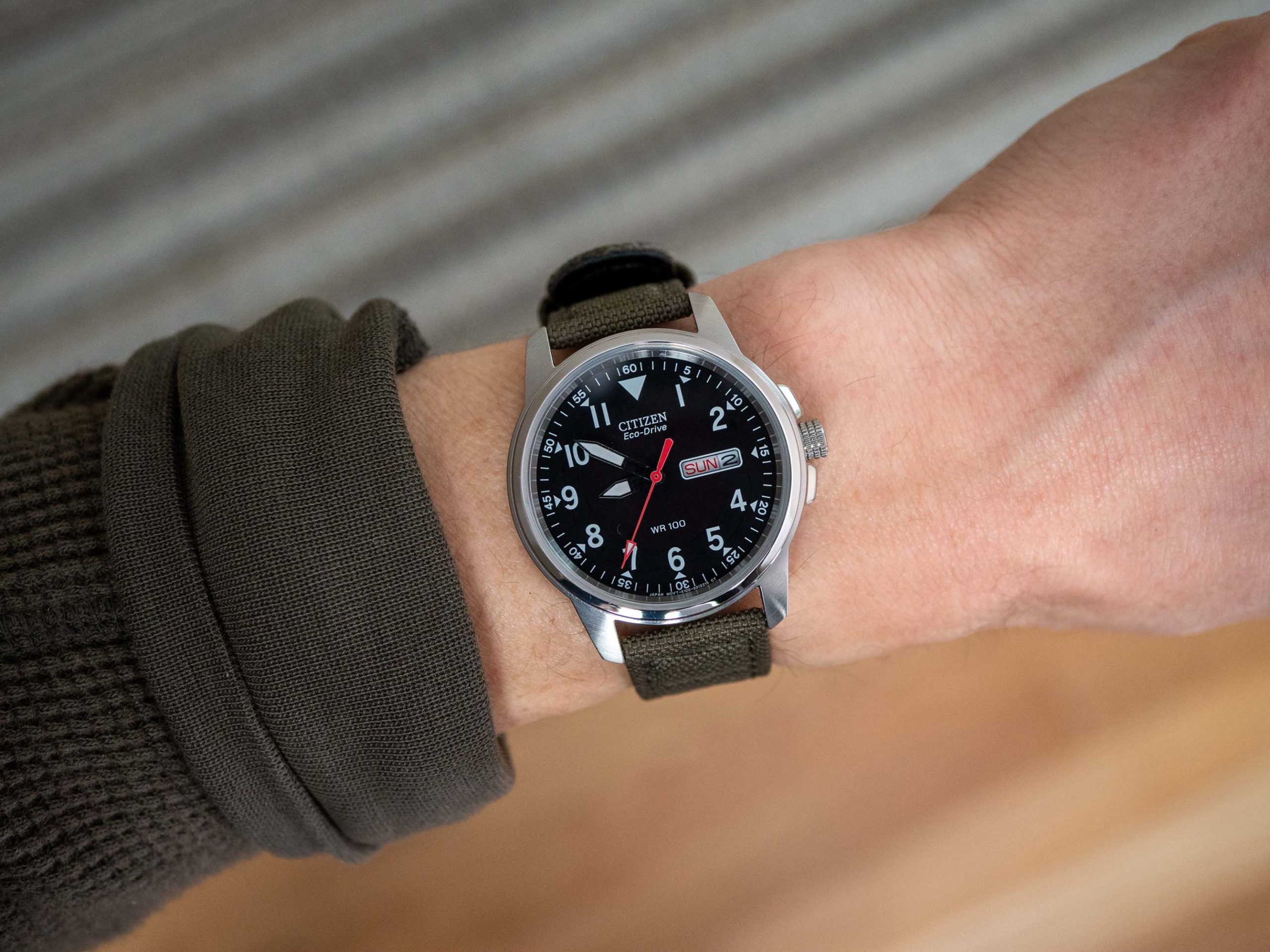 Released in August of 2017, the Chandler is the typical field watch. It fits the field watch proportions, styling, and durability parameters, which I'll go over in the following sections.
It has a military-inspired, rugged design, and it's at home on the wrist of adventurers and guys with active lifestyles.
Eco-Drive
If you're not familiar with Eco-Drive, I'll break it down as simply as possible. Eco-Drive is Citizen's take on a solar-powered watch movement.
These movements feature photovoltaic cells that hide behind the dials. It's these cells that capture light energy (the best source is the sun) and turn it into usable electricity. Eco-Drive then charges a battery with the power from the cell.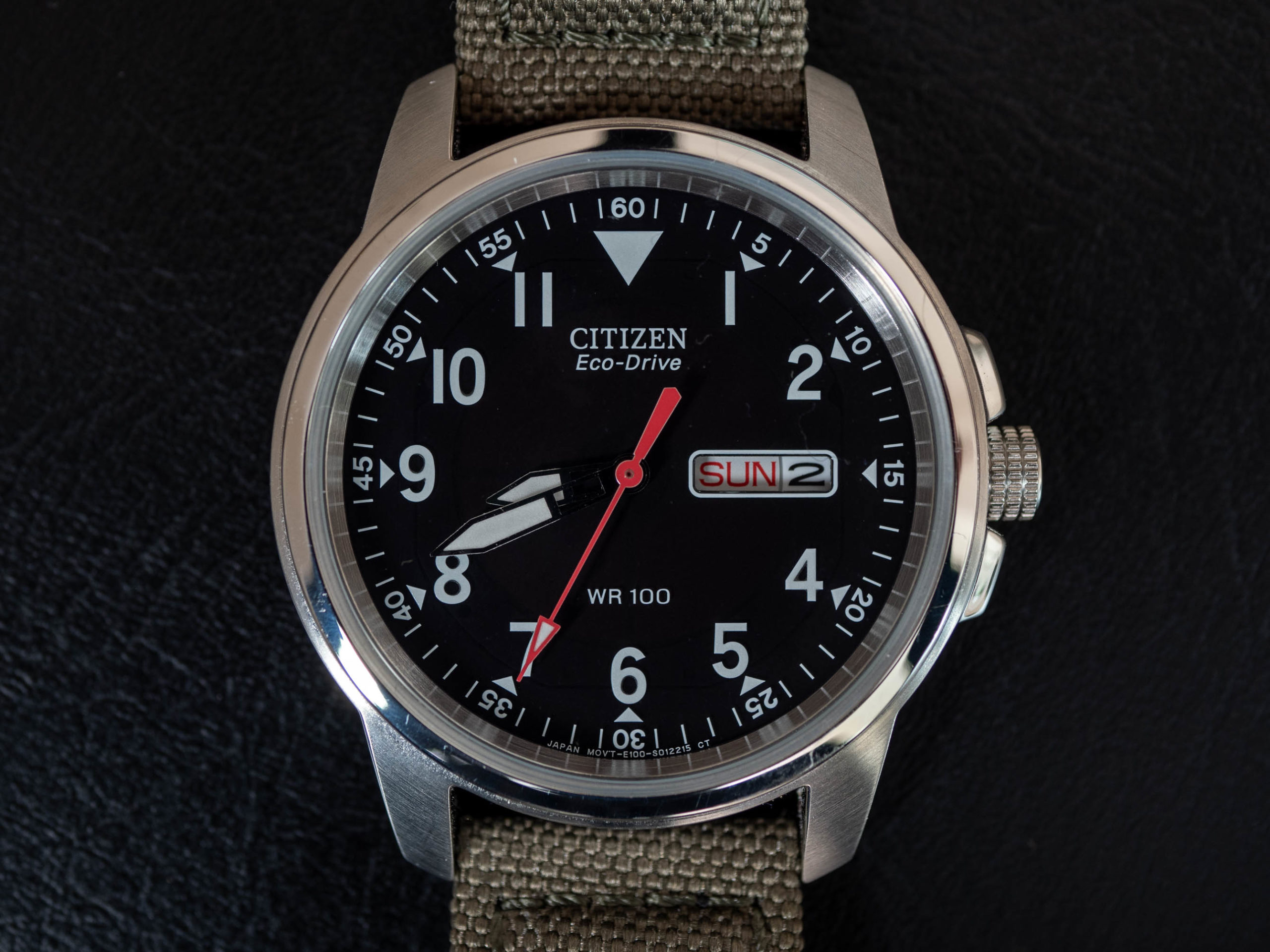 This technology allows most Eco-Drive watches to run for several months in total darkness on a full charge — not bad for a watch that relies on sunlight.
There is a common misconception about Eco-Drive and solar-powered watches in general. The belief is that these watches either don't have batteries or will never need a new battery.
There is indeed a battery, and it will eventually stop taking a charge. When that happens, you're better off taking it to an authorized watch repair center to replace it, as it's not as straightforward as a basic quartz movement.
Citizen Chandler Dimensions
Field watches take inspiration from the military watches of the 1940s and 1950s. Other than timepieces meant for aviation, these military watches were small, often in the 35-millimeter range.
This was comparable to the size of a standard wristwatch at the time, and the compact design prevented snagging while maneuvering in the field.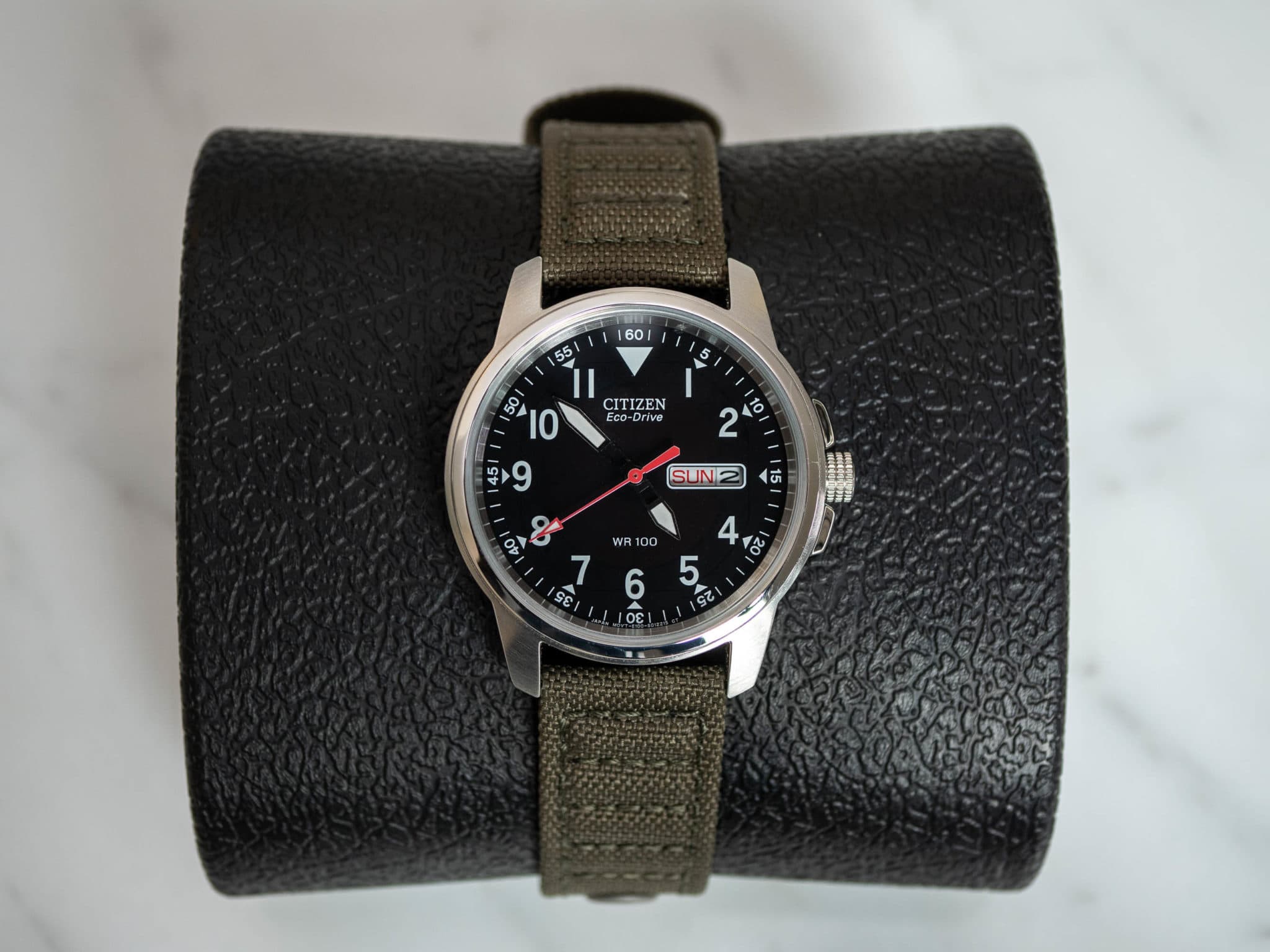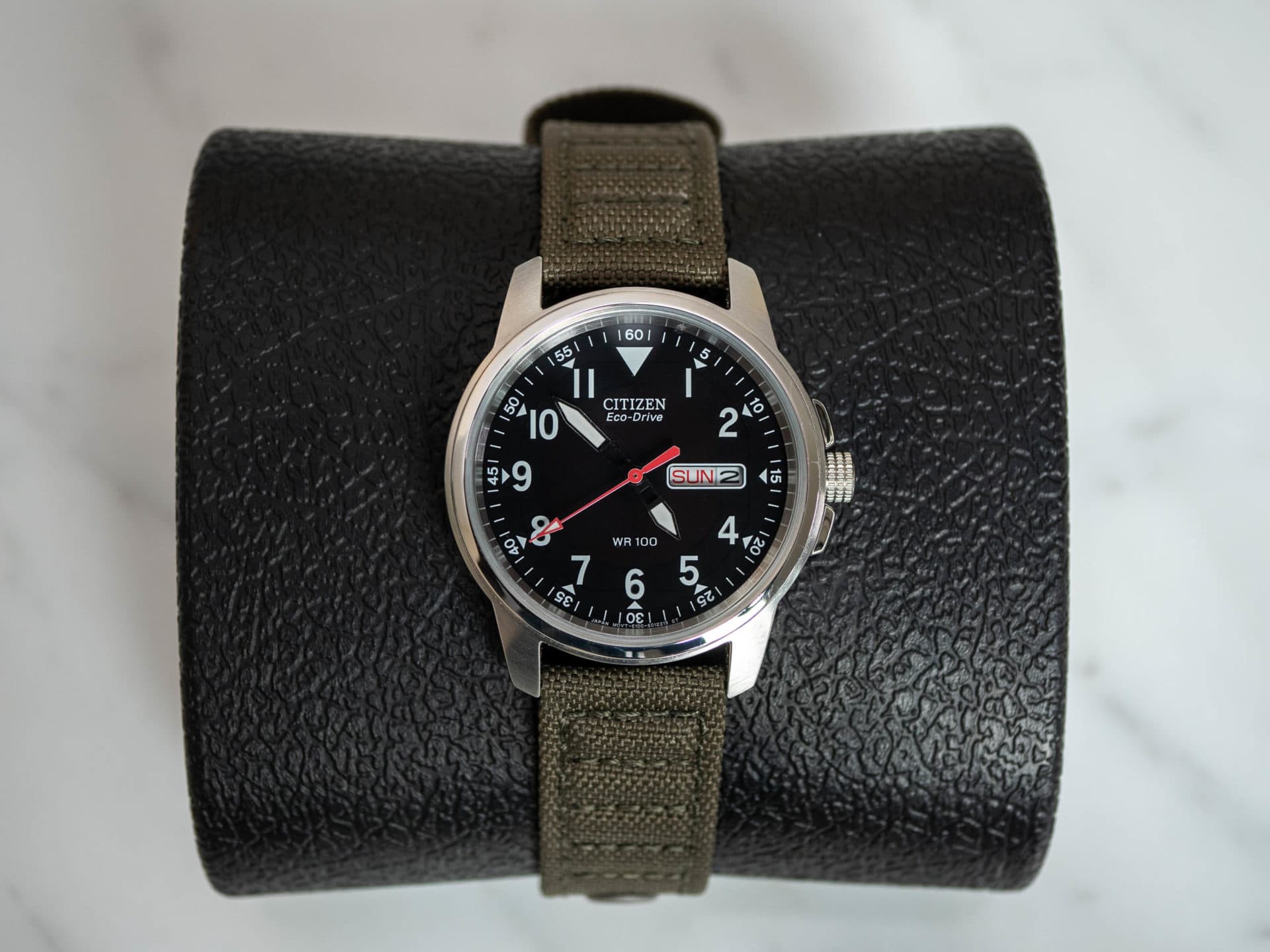 The Chandler stays true to that design with its modest dimensions. The case measures 37 millimeters across, which is certainly small by today's standards.
The lug-to-lug measurement is only 45 millimeters as well, while the lug width sits at 18 millimeters, making the Chandler an excellent choice for smaller wrists. And, at just 9 millimeters thick, it slides under a cuff with ease.
Citizen Chandler Design
As far as field watches go, The Chandler's design ticks all the boxes. It focuses on rugged functionality, which all good field watches should.
The Case
The Chandler's case is stainless steel, so it's tough and durable. But, it's also incredibly functional, with a three o'clock crown surrounded by large crown guards to help reduce the risk of damaging it.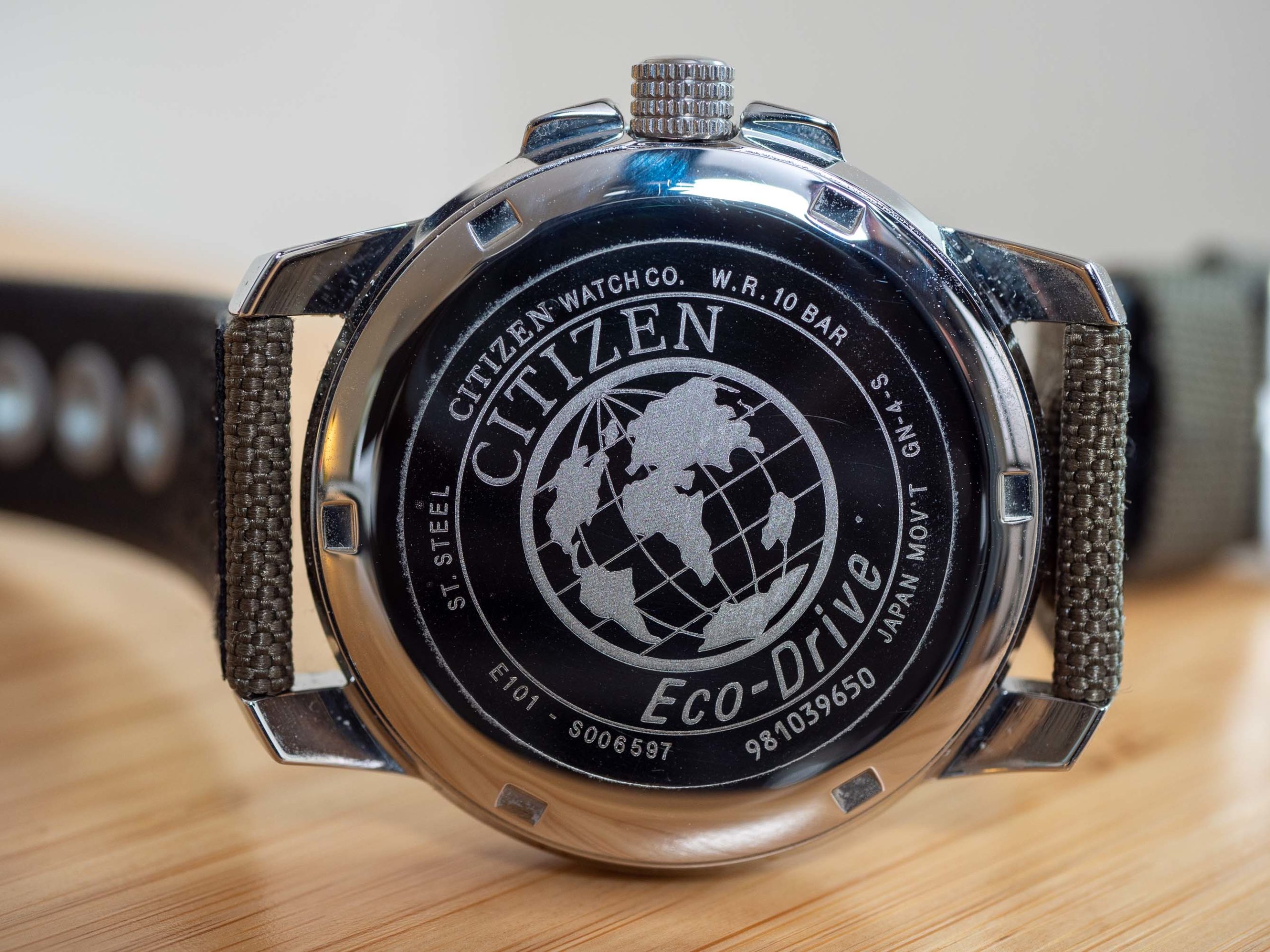 The push-pull crown is nicely oversized as well, giving it a bit of heft as opposed to a small, delicate-feeling crown.
On the back of the case, the Chandler features a screw-down, non-display stainless case back. On the front, this watch sports a scratch-resistant mineral crystal.
The case, case back, and crystal give this watch a 100-meter water-resistance rating — just right for an affordable field watch.
The Dial
As far as the dial goes, this watch is all about legibility. The black dial features Arabic numerals at every hour marker except for the three-o'clock, where an easily-read day-date function lives.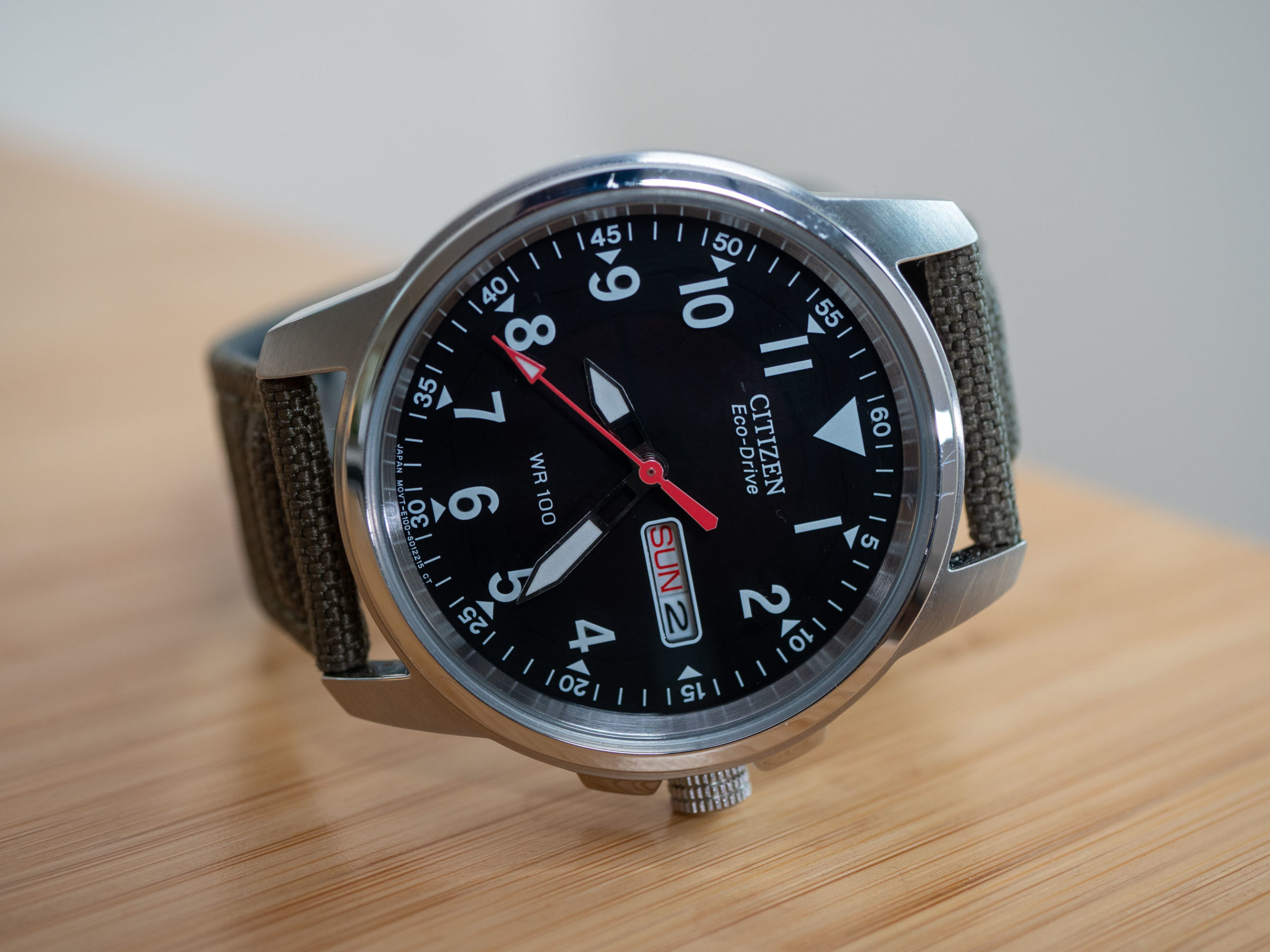 The chapter ring features 60 hash marks with numerals in increments of five. The hands are silver-toned with the exception of the seconds hand, which is a bright, noticeable red.
Both the hands and hour numbers are lumed, allowing you to check the time in low-light conditions.
The Strap
Citizen carries the rugged personality of the Chandler over into the strap. It comes on a supplied green canvas strap, with large metal grommets for the adjustment holes and a standard stainless steel tang-style buck.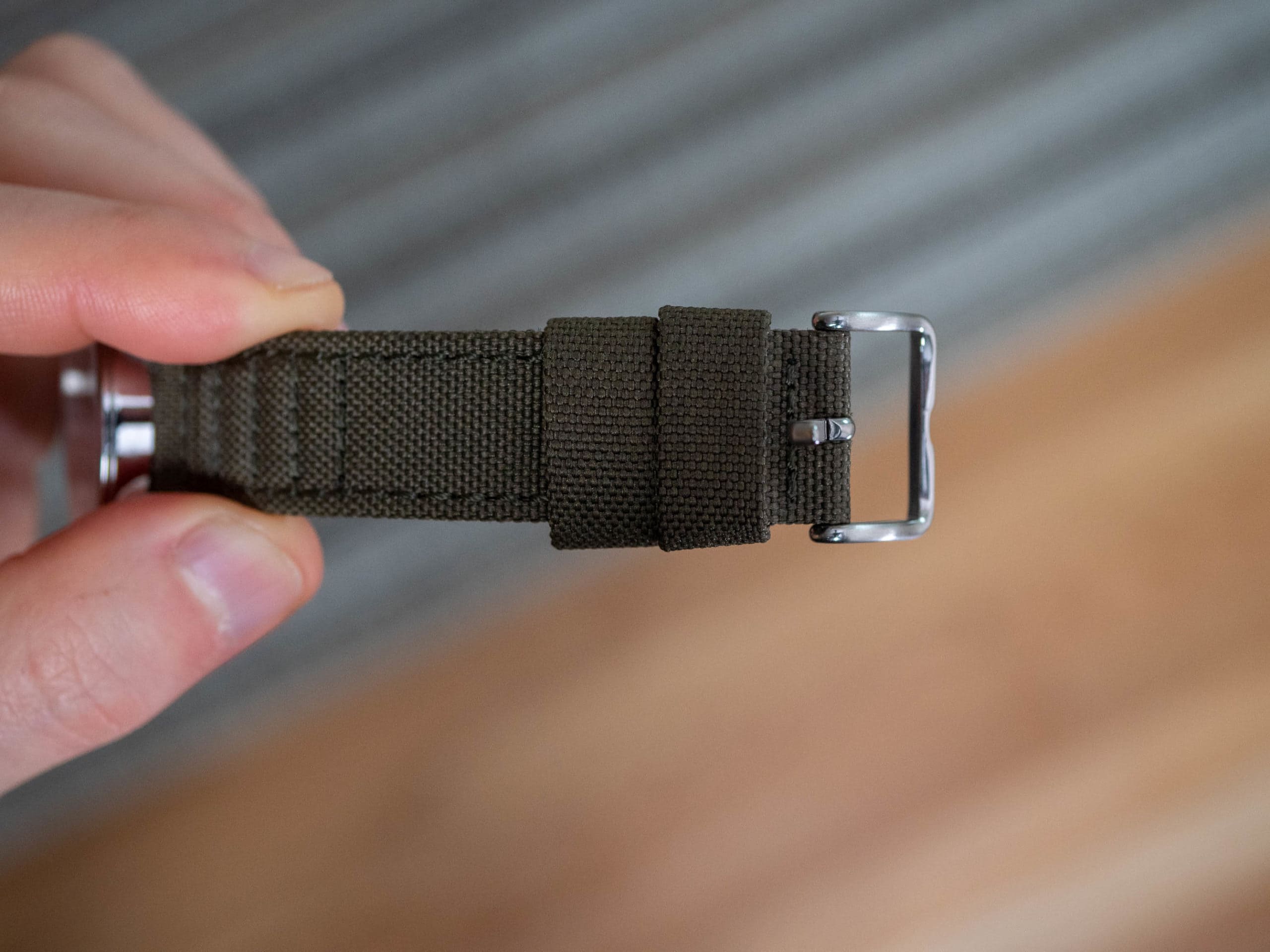 There's a bit of extra horizontal stitching by the case, giving this strap a bit of a ribbed look for some extra interest and style. On the backside of the strap is a leather lining to give the Chandler a bit of grip around your wrist.
The Movement
The heart of this beast is where the magic happens. The Chandler features an incredibly accurate Eco-Drive solar-powered quartz movement that typically runs within .2 seconds each day.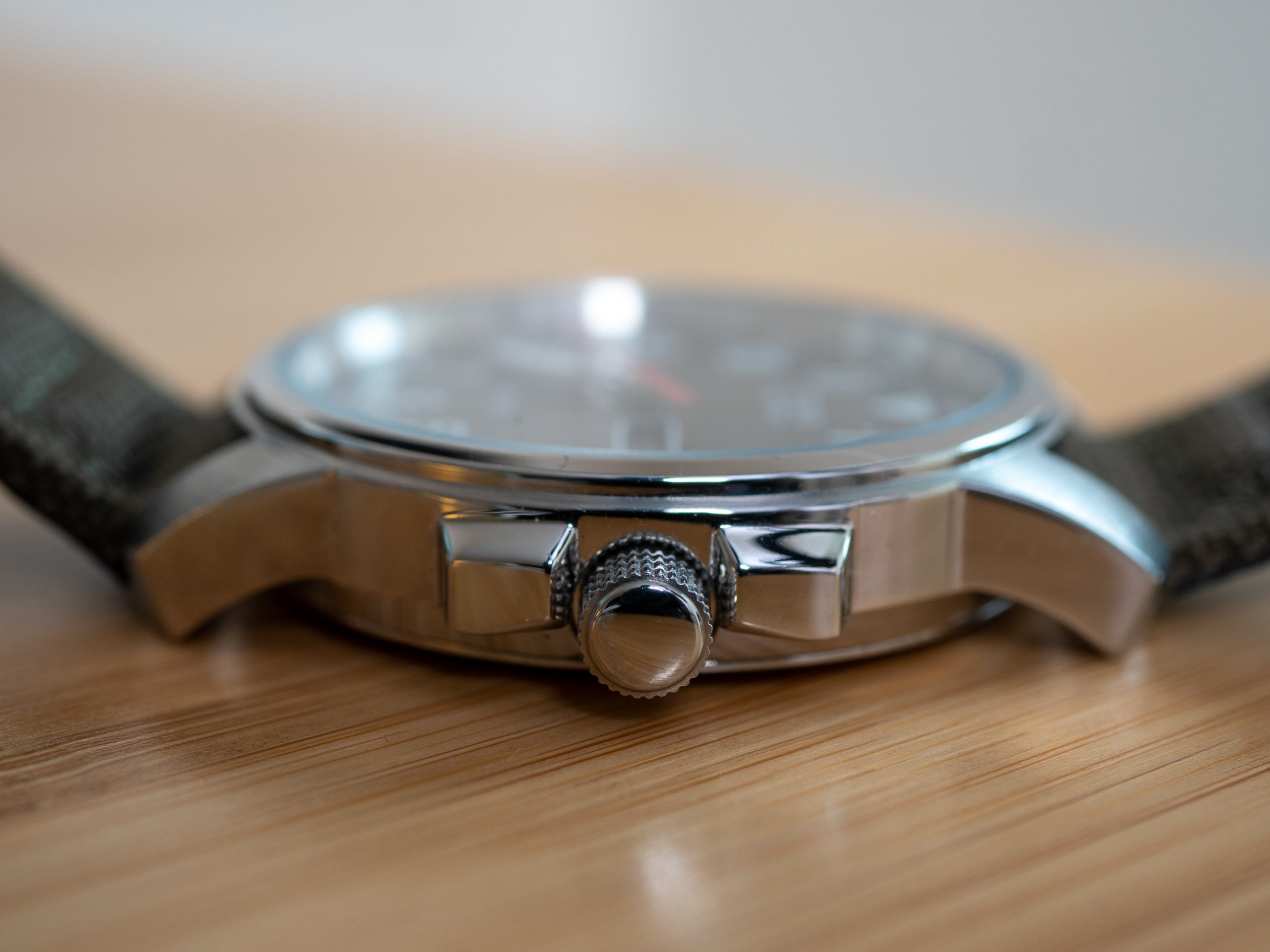 Also, the photovoltaic cell can charge the battery to full capacity, which will run for up to 6 months in total darkness.
This is thanks in part to its energy-saving mode, as well as Citizen's efficient design. The movement also features a day-date function which sits at three o'clock.
Overall Pros and Cons
Now that you know a bit more about the Chandler, these pros and cons should help you make an informed decision about this watch.
Keep in mind that no watch is perfect, so it's important to give an appropriate amount of weight to each pro or con, according to your tastes and needs.
Pros
Affordable price
Modest case size
Rugged, functional design
Eco-Drive movement
There's a lot to like about the Chandler, but its price point might be its best feature. This watch typically sells between $100 and $150, making it one of the best values in the affordable watch segment.
Considering that companies are making field watches capable of less and selling them for 5 or 6 times the Chandler's price, the value is evident.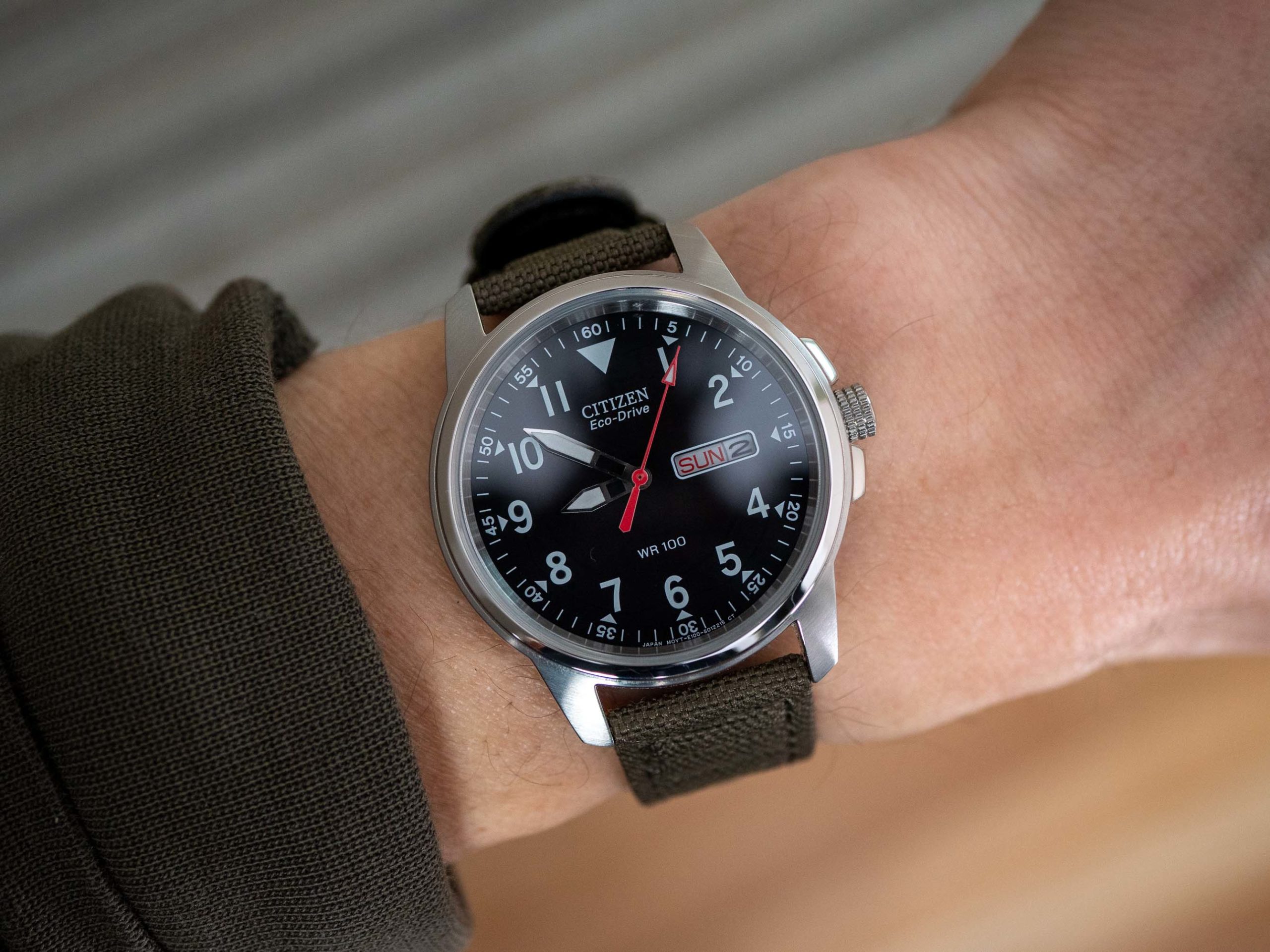 Not everyone wants a big, chunky watch on their wrist. For those of us that prefer a more subtle look, the Chandler is a great choice. Its small design will fit comfortably on the wrists of smaller-framed men.
It definitely won't look like a pie plate on a strap like some other field watches.
The Chandler's rugged design is another pro for this little watch. The pronounced crown guards, mineral crystal glass, and brushed stainless polish give this piece that tool watch designation it's so clearly after.
Finally, you can't overlook the convenience, accuracy, and dependability of an Eco-Drive movement. To own a watch with incredible precision that won't need a battery for a very, very long time is nothing to scoff at.
The mechanical watch buffs might not approve, but Citizen's ability to create a high-quality solar-powered watch is undeniable.
Cons
Lack of color options
Strap design
There aren't many complaints to levy against the Citizen Chandler, but there are a few design cues that could use some improvement.
While the black dial and green strap certainly work well, it would be nice to have some additional color options, such as a blue or cream dial on a leather strap.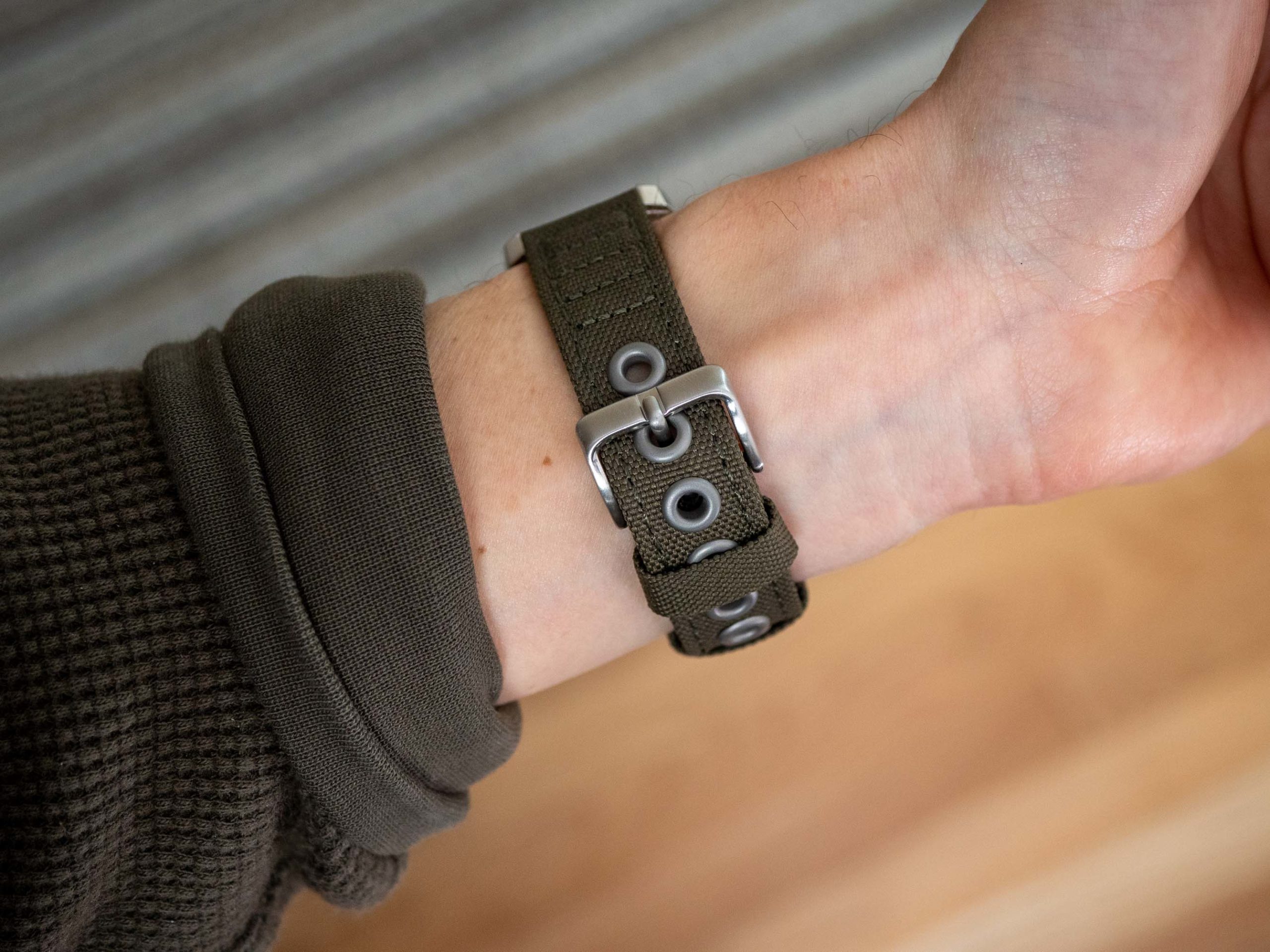 Also, one of the most common complaints about the Chandler is the supplied strap. The fact that a watch with a 100-meter water-resistance rating comes with a strap with a leather backing is perplexing to some guys.
Personally, I don't see that as an issue, but I do think that the strap design could use some work. I'm not a big fan of the metal grommets at each adjustment hole.
I don't feel that it's a deal-breaker, but having seen some Chandlers on leather, I'd say there's room for massive improvement.
Final Thoughts
The Citizen Chandler is a very interesting watch. It has the military-inspired, rugged good looks of a traditional field watch but also the incredible accuracy and dependability of an Eco-Drive movement.
And, given its smaller size, it really carves out a niche for itself among the much bigger watches from other brands.
So, who's the Chandler for? If you're a guy with a rugged, casual style, but you have smaller wrists, the Chandler hits that sweet spot. While it won't be at home in the boardroom or timing laps at the track, it does fit in as an everyday wear type of watch.
Upgrading the strap to either a true canvas or full-grain leather strap will help give it the extra touch of do-all attitude it might lack.
Overall, the Citizen Chandler is an excellent affordable field watch that guys with smaller wrists will love wearing. It's rugged, compact, nearly-maintenance free, accurate — what more can you ask from a field watch?