Looking for a watch repair kit? Here are some great options.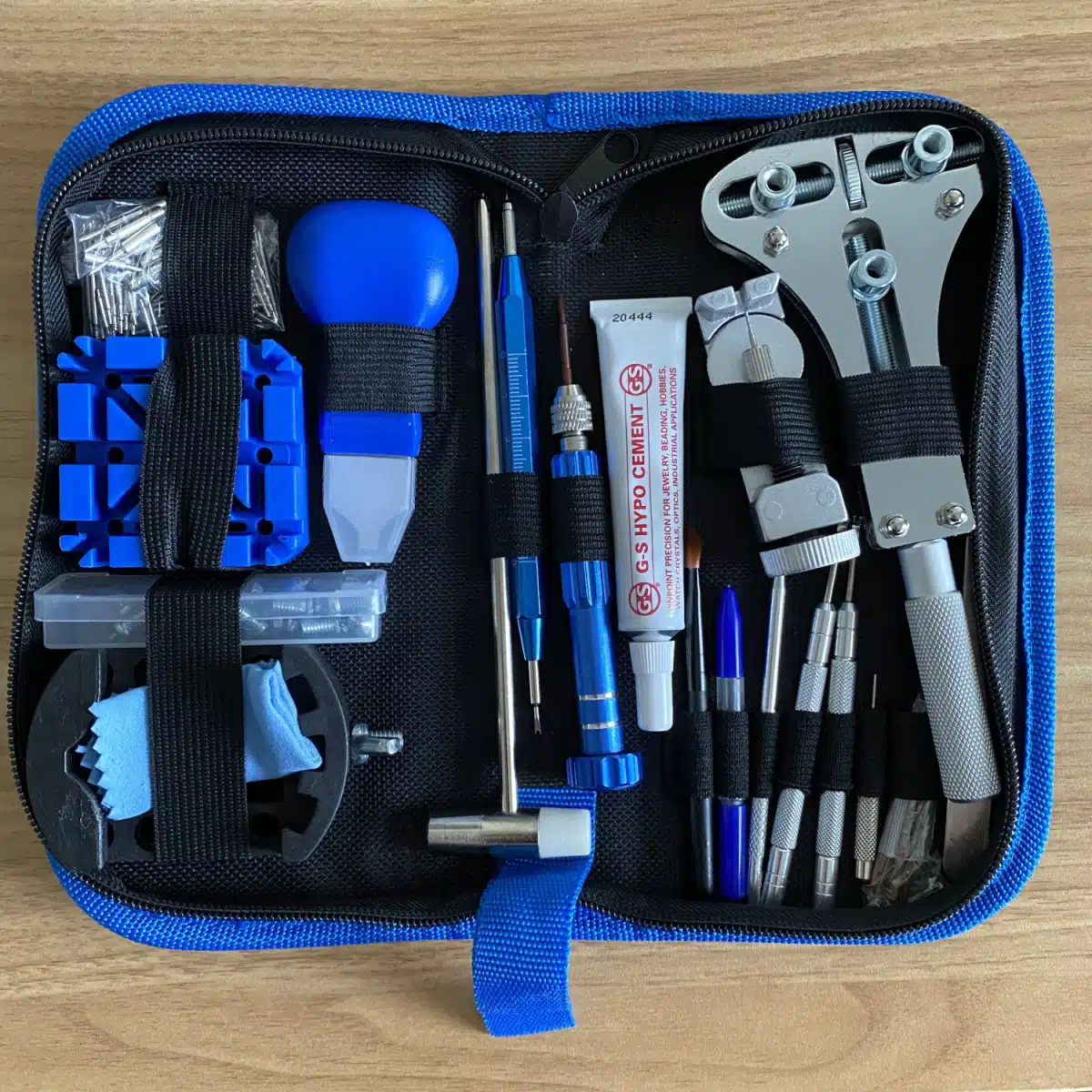 If you wear a watch even occasionally, you should have a good watch repair kit on hand.
Admittedly, the name "watch repair kit" is a bit misleading. If something internal breaks, then you'll likely need a watch professional to help you out.
However, there's a lot of simple watch maintenance that you should be able to perform whether you own one watch or one hundred. Swapping spring bars, punching new strap holes, changing batteries, and removing links are a few examples of basic maintenance you should be equipped to tackle.
And if you don't have the exact tools, maintaining watches can be a headache.
Watches from some brands, particularly high-end luxury brands, require very specific tools. So while none of the kits on this list will help you service your Rolex, they will make sure that you can get the most out of your watches.
What to Look For in a Watch Repair Kit
When shopping for a watch tool kit, there are two main factors you should look for: quality and practicality.
First, the kit should come with well-made watch repair tools. This is easier said than done because most inexpensive watch repair kits have fairly cheap tools. Make sure to read reviews about the quality before pulling the trigger.
Second, the kit should be practical. Most of the popular watch kits have upward of 200 pieces, but it's highly unlikely that you'll end up using all of those tools. It's a better idea to spend that money on quality instead of quantity. (That's why there are only four kits on this list)!
For basic maintenance, you'll want to have a few key watch repair tools:
Spring bar tool
Extra spring bars
Assorted screwdrivers (typically 0.50mm to 3mm)
Polishing cloth
Assorted tweezers
Case opening tool
If you wear watches that have metal bracelets with links, then you'll also want to buy these link replacement tools:
Pin pusher
Pliers
Small hammer
Tray (optional)
Unless you want to take up watchmaking or get into watch modding, these basic tools are all you'll need for regular upkeep.
The Best Watch Repair Kits
And with that, here are the 4 best watch repair kits on the market today from least expensive to most expensive:
Eventronic Watch Repair Kit
Watch repair kits on Amazon are a dime a dozen, and they're all largely the same. The Eventronic is one of the best kits of this variety, so if you're after a set of cheap tools that will just get the job done, this is the one to get.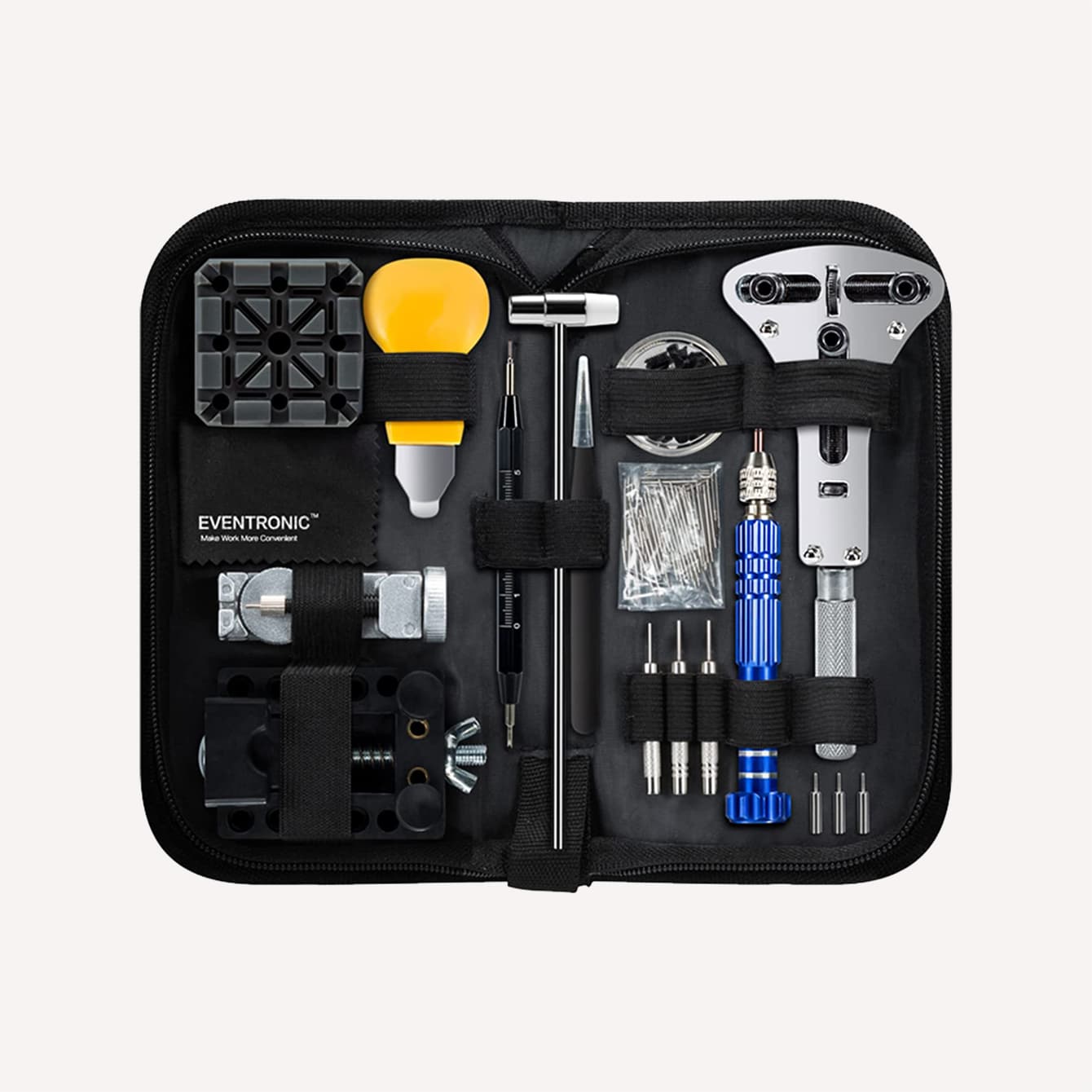 The kit includes everything you need for basic watch maintenance — you can swap straps, open case backs, change out batteries, and remove link pins.
The good news is that it's only $19 and has over 27,000 reviews with an average rating of 4.5 stars. The not-so-good news is that most people agree the tools aren't the best quality.
However, if you have a modest watch collection and simply need to perform basic upkeep, this kit should serve you well.
Esslinger Watch Repair Deluxe Watch Tool Set
If you're looking for a more well-rounded kit that covers all the bases and uses higher-quality tools, then you absolutely need to be aware of Esslinger, a watch parts retailer which is the equivalent of The Home Depot for timepieces.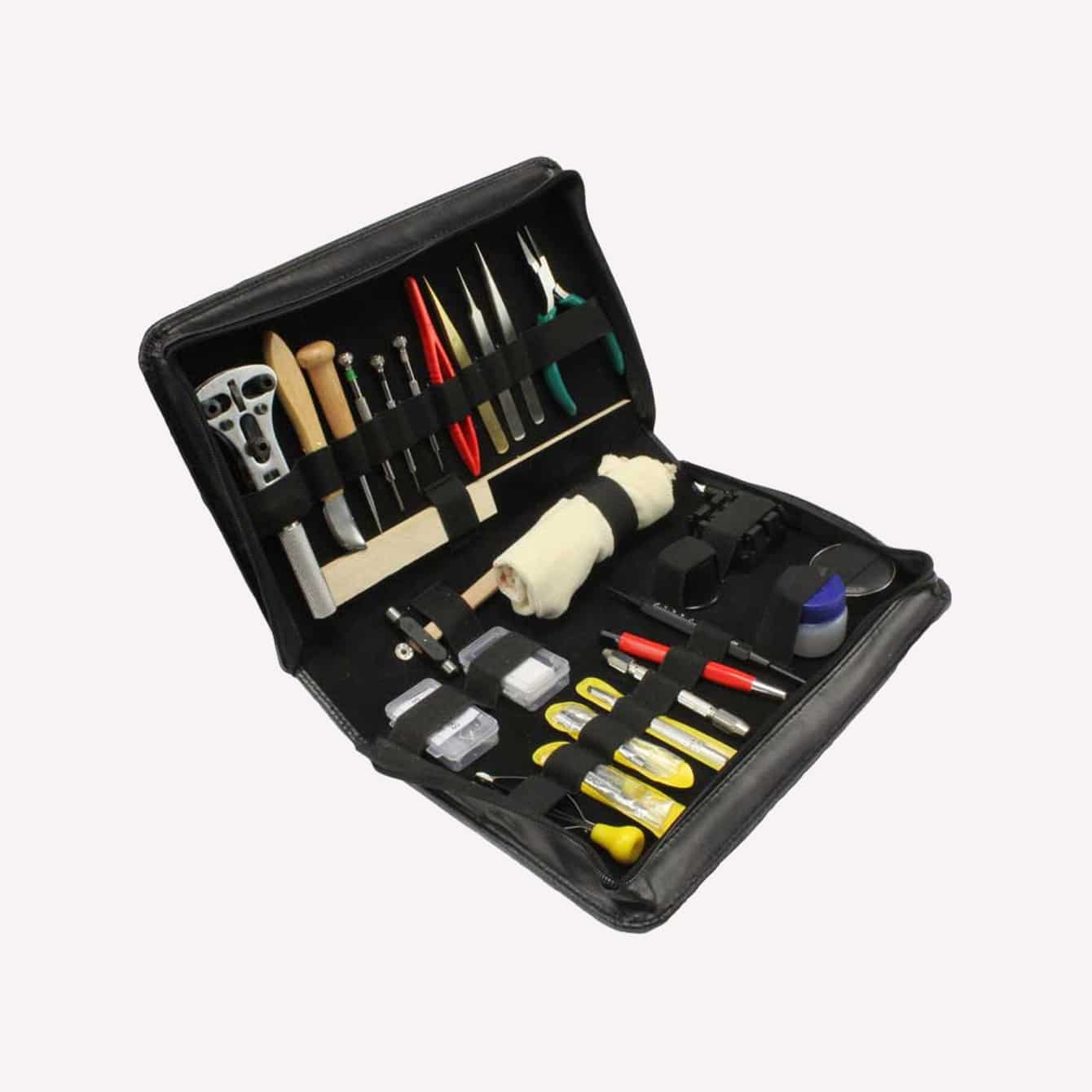 While Esslinger makes several kits, the Watch Repair Deluxe Watch Tool Set stands out for its usefulness and relative affordability.
You get all the basic tools along with other useful accessories that include a loupe, polishing cloth, fiberglass brush, and anti-magnetic tweezers. (These are also much sturdier and more durable than what you'll find in cheaper kits).
At $60, it's a fairly inexpensive investment that will equip you with everything you need for routine watch maintenance. It's a good all-around kit that will suffice for most watch enthusiasts and provides great value for money.
Bergeon 7812 Professional Grade Quick Service Watch Repair Kit
There are good reasons why Bergeon is the biggest name in watch repair. The company's Swiss made watch repair tools are of professional caliber and offer a degree of quality you simply can't find elsewhere.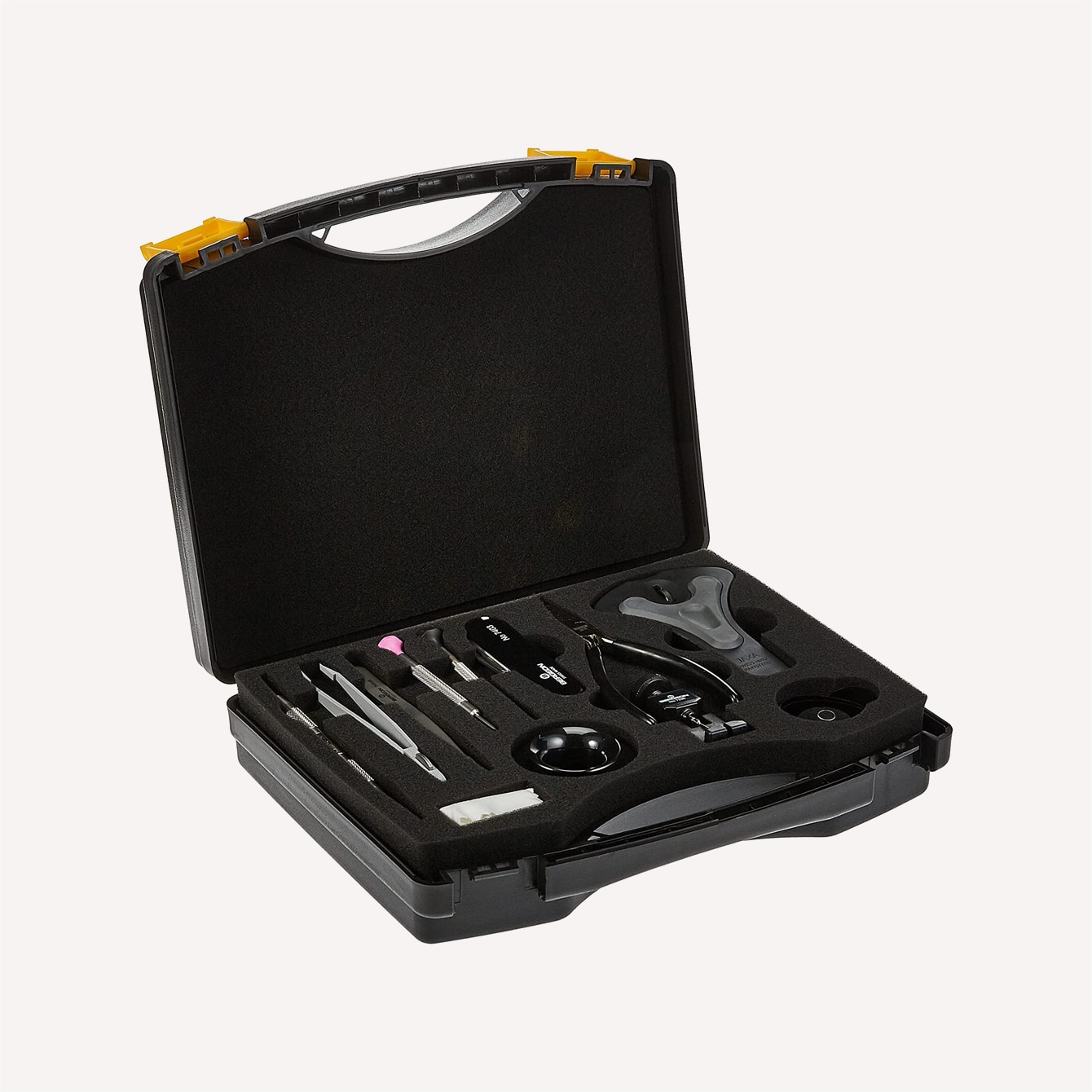 The 7812 Professional Grade Quick Service Watch Repair Kit is an 18-piece set that comes in a handy padded carrying case. With these expertly-made tools, you can handle just about any watch repair at the hobbyist level.
The kit includes a spring bar tool, loupe, microfiber cloth, tweezers, screwdrivers, pliers, and more.
Essentially, the 7812 is an improved version of the previous two kits, and that quality is the main draw here. That's reflected in the retail price of $259, but it's an investment that quickly pays for itself if you have even a few moderately priced watches.
Bergeon 7815 Master Service Watch Repair Kit
If you're looking to get into watchmaking — or if you just have a serious watch collection — then you might want to pony up for this endgame watch repair kit.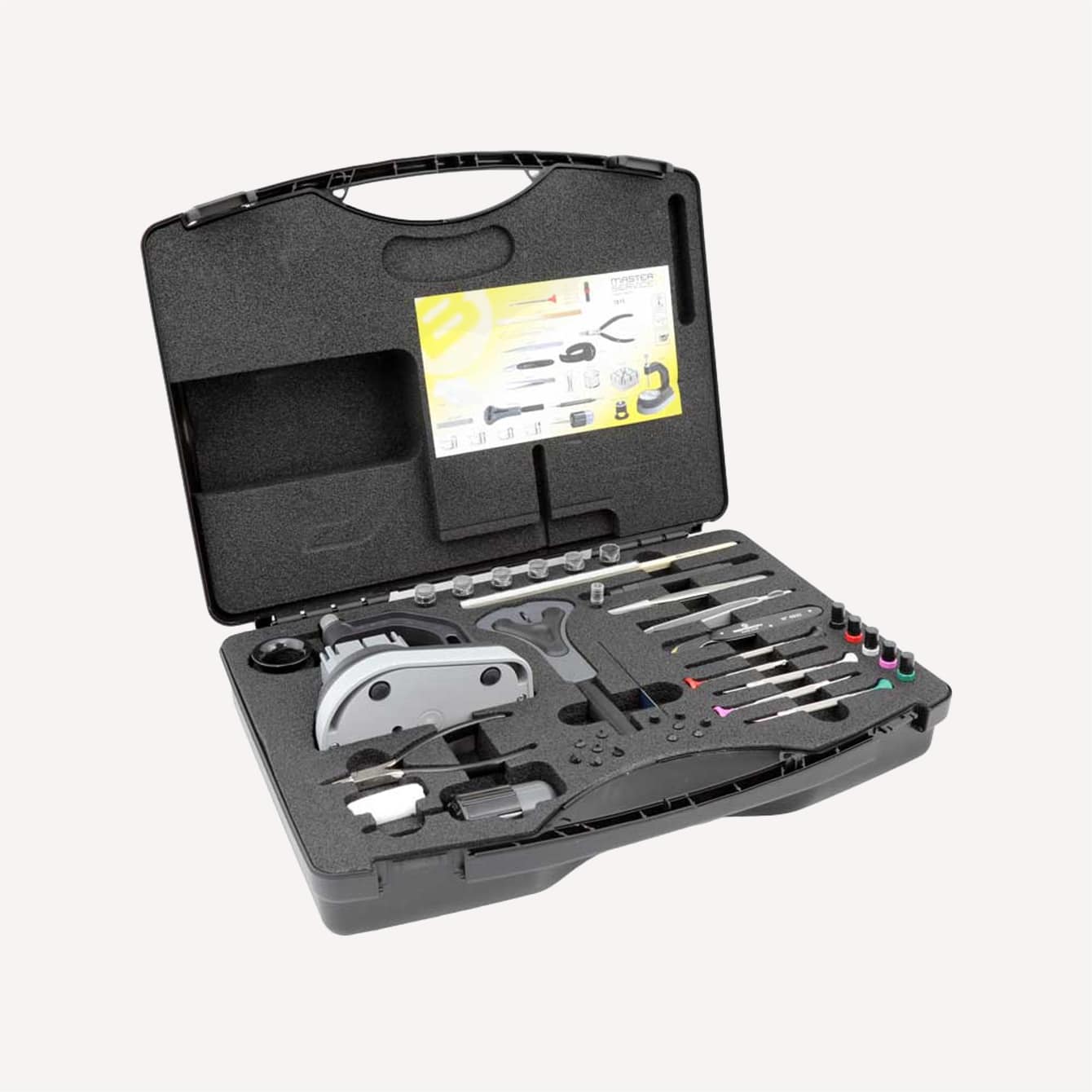 The Bergeon 7815 Master Service Watch Repair Kit isn't for the faint of heart. It comes with 46 tools that will allow you to confidently perform practically any repair or modification, and the quality represents some of the best Bergeon has to offer.
The kit consists of improved essentials and advanced tools, including a multi-use bracelet press, 4x loupe, leather polishing buff, and air blower.
Since it's pro-quality, the 7815 kit comes with an immense price tag, typically selling for around $900.
While this expensive kit is overkill for the average hobbyist, it makes a lot of sense for people who want to dive into watchmaking or watch modding. You might also want to consider it if you own several luxury watches and want to make repairs yourself.
Watch Repair Kits FAQ
Need a TL;DR? We've got you covered. Here are answers to some frequently asked questions about repairing watches.
What do I need to start repairing watches?
To make basic at-home watch repairs, you'll want to have a spring bar tool, a case opener tool, and assorted screwdrivers and tweezers. Most watch repair kits will come with all of these items.
How can I fix my watch at home?
If the internal mechanism of the watch is broken, then you probably won't be able to fix it at home. However, if the watch battery needs replaced, you can easily do that by purchasing a case back opener, tweezers, and a replacement battery.
What do you call a person who fixes watches?
The most common term for a person who repairs watches is simply "watchmaker." Sometimes the term "horologist" is used, though this is less common.
Is watch repair a good hobby?
Knowing how to repair watches can help you get the most out of your watch hobby. If you want to get into watchmaking, it's best to seek out and learn from a horology professional.
Conclusion
Knowing how to perform basic watch maintenance is one of those skills that will really come in handy when you need it.
It'll also save you a lot of time and hassle — for instance, you won't have to track down a jeweler who still works on watches every time a battery dies.
When those situations arise, these watch repair kits will make sure you have everything you need to do the job.
Questions? Comments? Leave them below!