Most GMT watches need to have a bigger case to accommodate the bigger, more complex movement.
So is it possible to get that useful (and gorgeous) complication without the watch looking too big on your small wrist?
Yo, you can! Here are my favorite small GMT watches:
| | |
| --- | --- |
| Size | 36 mm |
| WR | 100 m |
| Price Range | $$$ |
This piece has a nice 36 mm case, which is again perfect for smaller wrists and you like GMT watches.
But what you get with this watch is a totally different look.
This thing is in its own class: you get that stainless steel bezel – which allows you to actually check 3 time zones at the same time! Crazy.
Also, those subtle 5 minutes increments makes it easy to tell the minutes. The package is complete with a super straightforward GMT hand.
Also part of the package is:
a Swiss watch with
an automatic movement
domed plexiglass crystal (true to the original)
100 meters of water resistance
and again, that look…
If you like pilot watches that are in their own league, I think this one will be the one for you.
Read the customer reviews on Amazon
---
2. Steinhart Ocean One GMT 39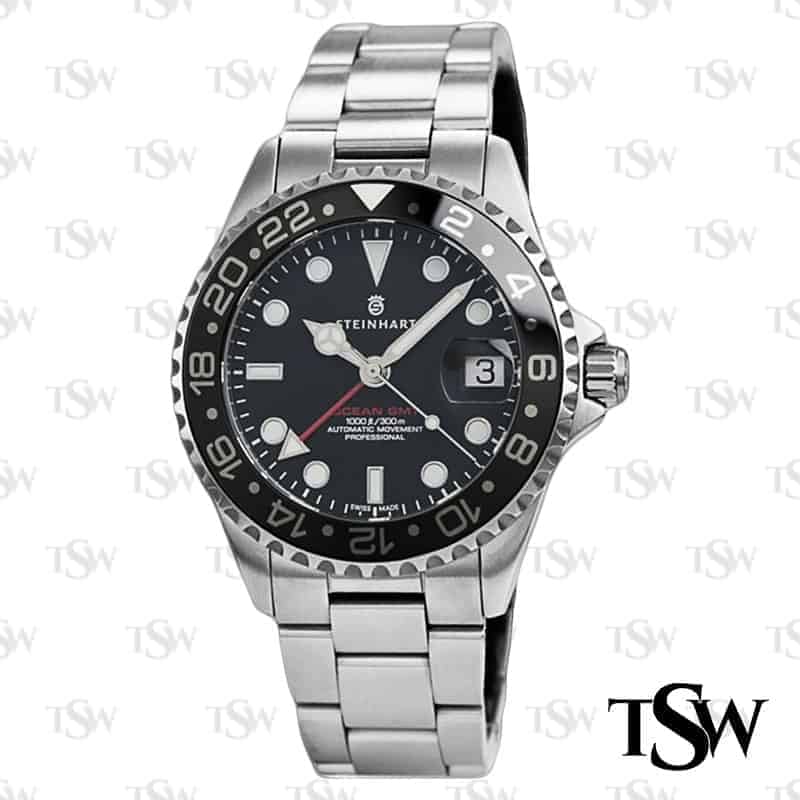 | | |
| --- | --- |
| Size | 39 mm |
| WR | 300 m |
| Price Range | $$ |
This watch is really close to the Rolex GMT Master 2 (as you can see on this picture) but in a much cheaper package and a 39 mm case (which is perfect for smaller wrists).
And of course, Steinhart being a brand which delivers a lot of value for the price you pay, you get the quality and features you can expect from it, that is to say:
a Swiss Made watch
an ETA 2893-2 Elaboré movement
300 meters of water resistance (!)
and bracelet – which is 20 mm wide and tapers down to 16 mm, so it's very comfortable to wear every day all day
an overall great looking watch
And by the way, you're getting a great watch for the money because you're not gonna break the bank with this one. But the quality you get for this kind of money is spot-on.
More info on website
---
| | |
| --- | --- |
| Size | 38 mm |
| WR | 100 m |
| Price Range | $$$$ |
This piece is a nice 38 mm piece, and of course, you get that super nice pilot look and GMT complication with the yellow hand.
This detail simply elevate this watch to a whole different level. It's sporty, rugged, ready for the job.
This piece looks great! You get a very distinctive, tool watch look with:
a bed blasted case
syringe hands
100 meters of water resistance
a chronograph
a Valjoux 7750 GMT Chronograph movement
It's something totally different from other GMT watches and it looks just perfect. By default, you get an acrylic glass but you can upgrade to a sapphire glass if you want to.
Now the good thing, because the movement is not an in-house movement but a Valjoux movement, it will be easier and more affordable to service it.
So if you like that pilot, rugged bed blasted look: this one is for you for sure.
---
| | |
| --- | --- |
| Size | 33 mm |
| WR | 200 m |
| Price Range | $ |
This one is a usual suspect when it comes to G-Shocks for small wrists. But I think you know that many G-Shock watches and electronic watches have a world timer / GMT function built-in.
So you actually can get the time from pretty much any part of the world super easily.
It even includes time zones that are offset by 30 minutes, like the Newfoundland Standard Time (UTC−03:30), the Nepal Standard Time (UTC+05:45) or the Indian Standard Time (UTC+05:30).
Now, you might think: "oh that's G-Shock, that should be a big piece!". Well, not really. If you look at the lug to lug distance, it's not even 45 mm.
But even better: the actual dial (the raised rectangle) has an actual size of 33 mm. Perfect for a smaller wrist, right?
But what you get as well is:
200 meters of water resistance
a solar-powered movement, so you don't have to worry about changing the battery
a radio controlled time setting, so you don't even have to set the time aver
5 alarms
a chronograph and a countdown timer
(Check my full review of the Casio G-Shock GW-M5610.)
This is not even a set and forget piece, it's just a forget piece! You never have to set the time because it will set itself every single night for you, you don't have to do anything about it. So it's perfect grab-and-go piece.
And if you like that rugged, G-Shock look and you like to have a watch that you don't have to think about and can bang around no problem, this one is definitely for you.
Read the customer reviews on Amazon
---
5. Christopher Ward C60 Trident GMT 600 MK3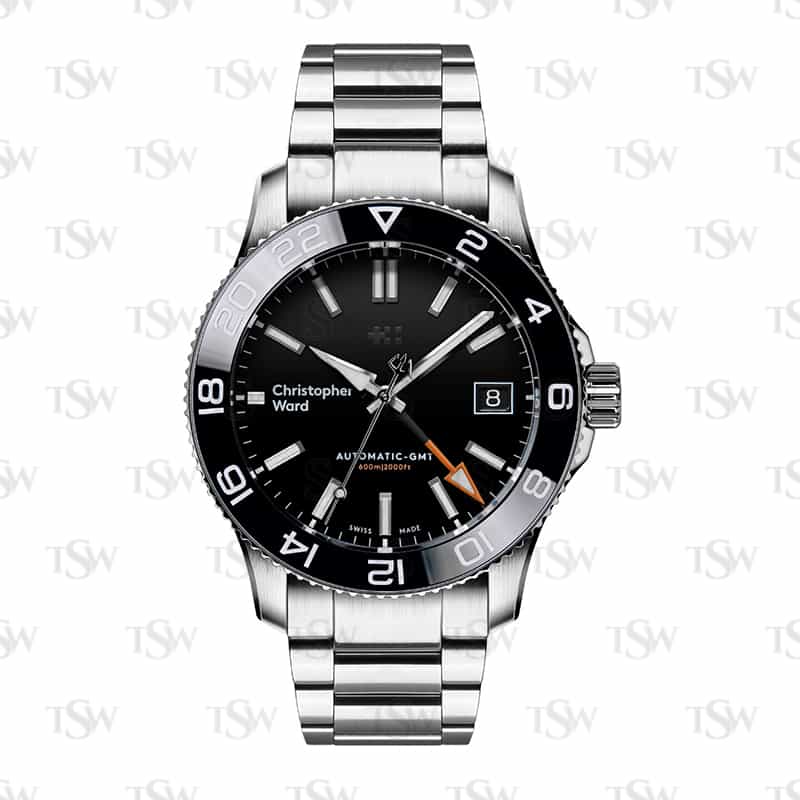 | | |
| --- | --- |
| Size | 38 mm |
| WR | 600 m |
| Price Range | $$$$ |
This one has a very distinctive look.
I picked the one with the black dial because I think that's the most timeless option of the bunch. But you can get it in blue or with a black dial and a red bezel.
It's available in 42 mm and 38 mm, which is the one you can see here.
It has that deep polished dial which increases constrast with the hands and make reading the time very easy. And that orange GMT hand is the cherry on the cake. You also get:
a crazy water resistance of 600 m (!!!) – if you want to go and dive with this one, you can no problem
an ETA 2893-2 automatic movement
a ceramic bezel – this will stand the test of time no problem
a marine-grade stainless steel case
hands, hour indices and bezel lumed with Super-Luminova Grade X1 GL C1
The bezel is the important feature here.
It has 24 hours to be used as a GMT watch, of course. But it's unidirectional, so that you can use it diving, too – remember, 600 m of water resistance!
If you like modern watches with a timeless yet rugged design, this is a classic for sure. You'll love it.
More info on website
---
| | |
| --- | --- |
| Size | 33 mm |
| WR | 30 m |
| Price Range | $$$ |
I have a good and a bad news about this watch.
Let's start with the good one: it's 33 mm GMT watch – I know, that's never heard of!
Now the bad news is that it's discontinued.
You'll have to try and find it on eBay, that's the only way to get one as of today (that I know of).
But if you happen to put your hands on one of those, you'll get a unique design that screams Braun and Bauhaus at the same time.
You'll also get:
a playful dial, full of color – between the yellow of the seconds hand, the sky blue of the GMT hand and markers and the red chevron pointing to the date, you won't get bored when checking the time
a very comfortable watch – given it's only 7 mm thick, whether you get the version with this Milanese mesh strap or the leather strap, it will hug any wrist
Sure, if you have big wrists (7.5 inch or more), you really want to go with something bigger – but I guess it's not your case if you're reading this article!
And yeah, the 30 m water resistance is the worse of the bunch…
But you just can't deny that this Braun is a fun little watch that can completely change the face of your collection.
So if you're tired of seeing the same old Rolex GMT Master II homages (like the Steinhart Ocean One GMT 39 above), let the hunt begin!
---
| | |
| --- | --- |
| Size | 42 mm |
| WR | 200 m |
| Price Range | $$ |
I know what you're gonna say: the Nighthawk is a 42 millimeters watch!
I know it's a bigger watch, but it has a sub-47 mm lug to lug distance which makes it wear smaller on a small wrist. I have a 6-inch wrist and it still looks great on me.
This gorgeous GMT hand with the white and the red tip – which are shaped like airplanes, how cool is this – looks killer. But that's not all, you get:
200 meters of water resistance
a solar powered movement – so you don't have to ever change a battery
a slide rule – super useful when you need to make a currency conversion on the go (super useful)
a bit of a Breitling Navitimer vibe
a distinctive GTM hand that doesn't look like all other GMT watches out there
This might be a 42 mm watch.. but if you like bigger watches and have smaller wrists, this watch is definitely for you.
(It tends to go out of stock quickly and not be available for months, so when you see one, don't hesitate!)
Read customer reviews on Amazon
---
The problem with GMT watches
I love GMT watches.
In fact, the GMT complication is my favorite one.
The problem is: I have small wrists.
Most GMT watches have 40 mm cases or more. Yes, you can find some options that have a smaller case, but finding those is like trying to find a needle in a haystack.
And that's why I featured watches like the Casio GW-M5610 or the Citizen Promaster Nighthawk.
For some reason, small GMT watches just don't appeal to the vast majority of people.
There just doesn't seem to be a market for it.
Sure, manufacturers can produce small GMTs – you've seen a few models in this list – but they just go through the hassle of
trying to make smaller movements or
creating special cases to fit existing movements (like the ETA 2893-2)
And that's why we have a very, very limited choice.
Oh well, maybe it's better for our wallets…
But if you happen to know a small GMT watch that didn't make it in this list, please let me know at [email protected]!
Didn't find what you were looking for? Need more options? Check out even more Men's Watches For Small Wrists!