The history of Invicta watches is an interesting topic. Here's all you need to know about the brand's biggest milestones.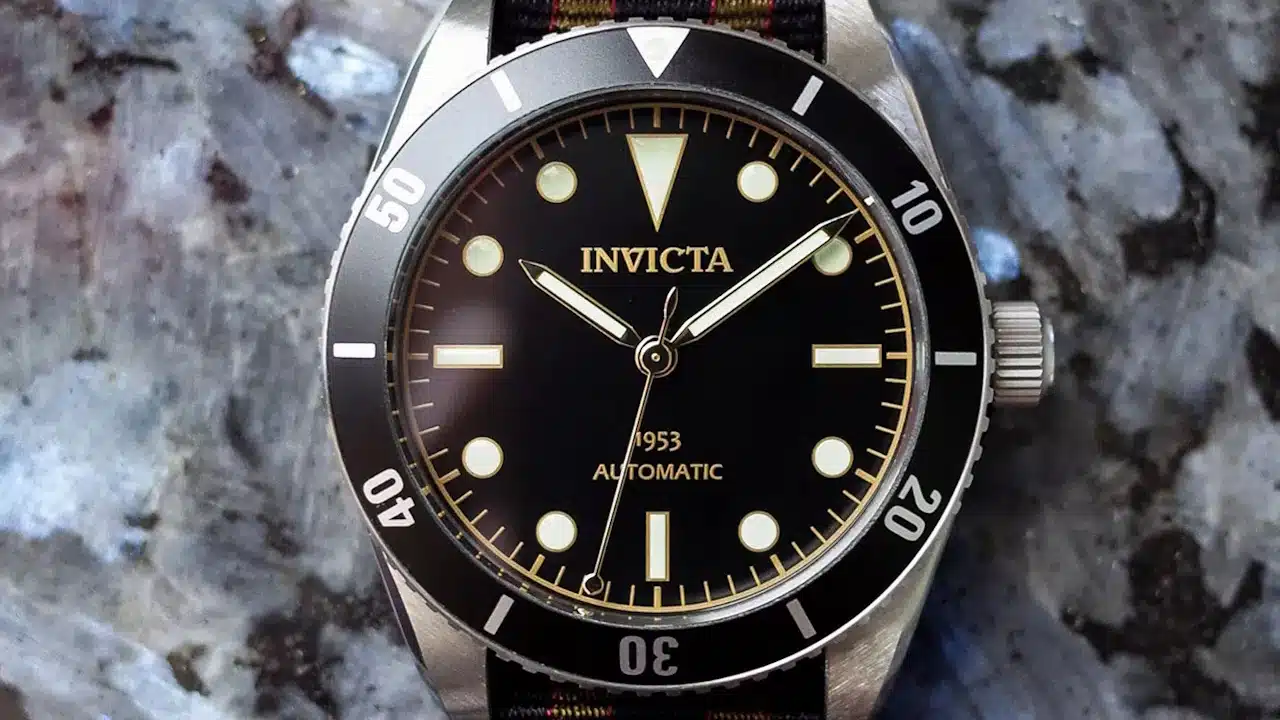 How did Invicta get to be labeled by some as a fashion brand? After all, the manufacturer has left an indelible mark in the history of horology.
The legacy of Invicta is a rich one, and that surprises some people, mainly because elite watch enthusiasts associate the brand with brash designs.
They tend to look different from the elegant and refined instruments made by prestigious brands like Vacheron Constantin, Jaeger-LeCoultre, and Patek Philippe.
Despite this stigma, Invicta began its roots in the heart of traditional Swiss watchmaking in La Chaux de Fonds. So surely it would only be fair to give those with a biased opinion of the brand a true insight into its history?
Join me as I explore this famous brand's legacy and the secrets behind its success.
What Is the Story Behind Invicta Watches?
As mentioned, Invicta traces its origins back to La Chaux de Fonds. It was founded by a gentleman named Raphael Picard in 1837. That's right, this manufacturer is old!
It has forged a reputation for itself, creating timepieces of exceptional quality. Its name is Latin for "Invincible," chosen to reflect the company's resilience, grit, and determination to influence the watchmaking industry for the better.
Invicta in the 20th Century
Over the next Century, Invicta would expand vastly, becoming widely recognized across Europe. By the time the quartz watch arrived during the 1960s and 1970s, many brands struggled to survive the seismic shift from mechanical to battery-operated timepieces.
Traditional Swiss watches were driven out of their territory as watchmakers converted from gear trains and springs to simpler quartz parts.
Invicta, however, attempted to overcome the challenge by diversifying. It chose to adapt to these changing times, embracing the quartz movement in its designs. Despite this, the company was among 1,000 others that had failed by the time the catastrophe was over.
Invicta sold its assets to a company called Ondix S.A. in 1987, only to be purchased by an American company in the early 1990s.
The company also traded under the name of Eno Watch Co. and Seeland Watch Co. By moving to the US, however, Invicta was able to create a new identity for itself.
It became one of the first to harness the advantages of the online shopping experience. Eventually, it began selling its watches through various e-commerce platforms.
In 1996, it became unified under the name Invicta Watch Group, where it has preserved its reputation ever since.
Invicta in the 21st Century
In the early 2000s, the brand had a new lease of life with larger-than-life designs and bolder case sizes.
Whether to the liking of traditional watch lovers or not, there is no denying that the brand has created some memorable wristwatches. I've listed some of these below as part of the brand's historical overview.
The Invicta Pro Diver
It may not be considered exactly original, but Invicta watches from the Pro Diver range resemble Rolex Submariner watches, making them a great alternative for those shopping on a budget.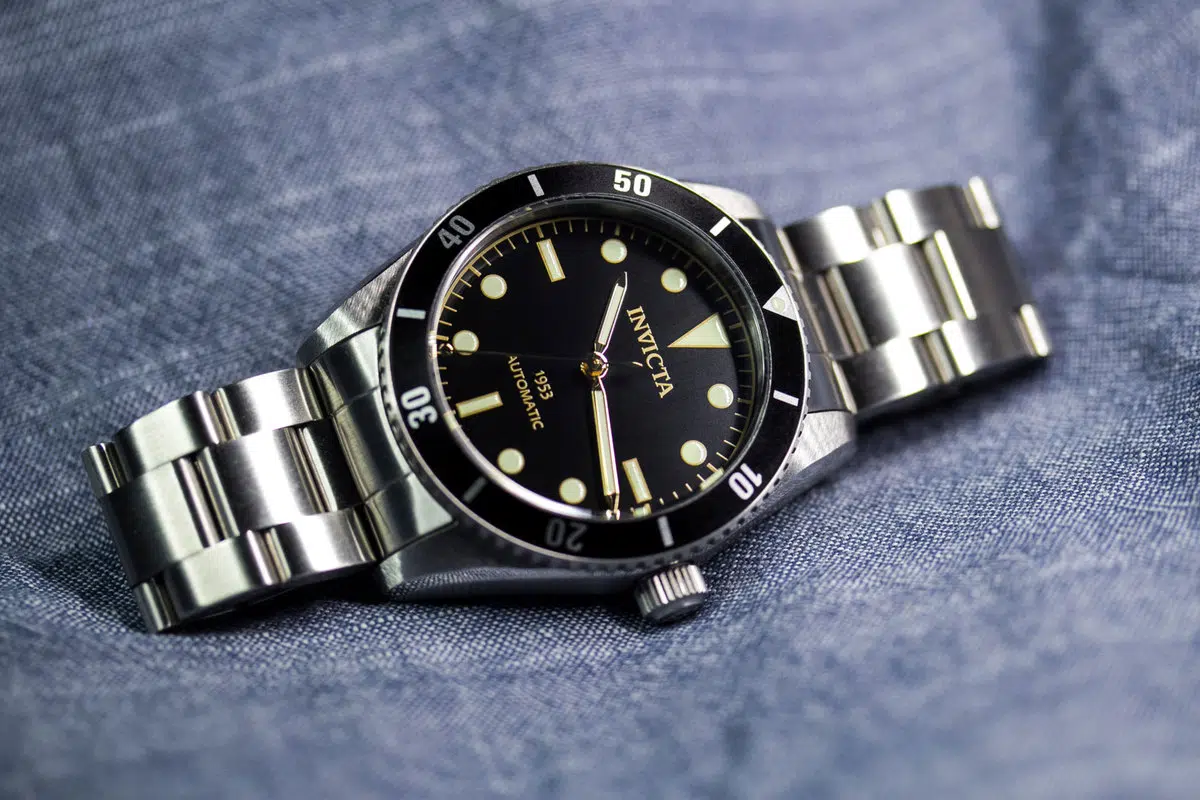 The cheaper imitation watch features the coin-edge bezel, almost exact dimensions as the Submariner, and a steel case. It also comes in a variety of different colors.
To keep costs down, Invicta Pro Diver watches feature mineral glass tops but are perfect for divers and keen water sports enthusiasts.
This is because they feature a unidirectional rotating bezel. That means that it only rotates in the counterclockwise direction.
The bezel has luminous elements on the dial for enhanced legibility.
(Below image: Invicta Pro Diver 28765)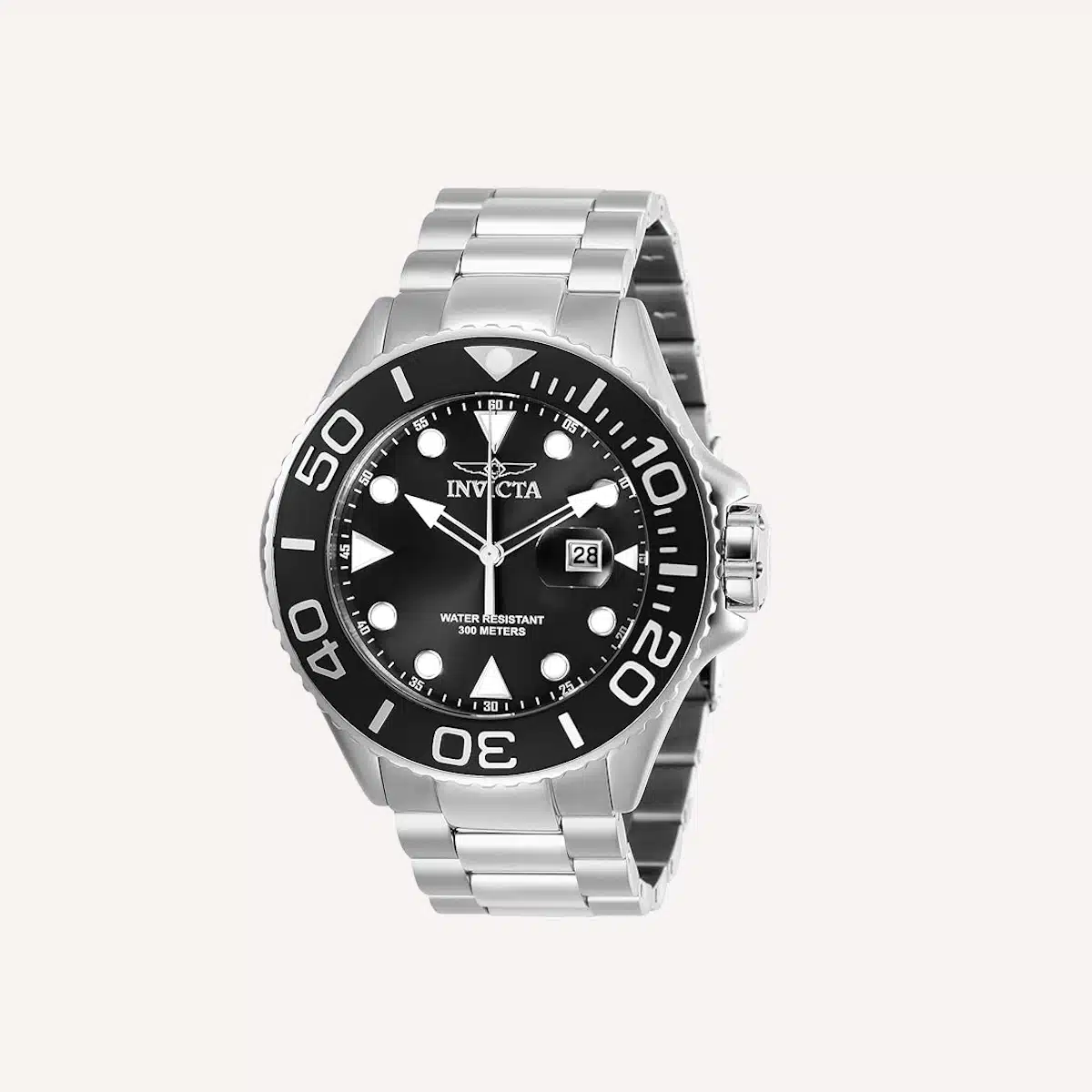 They also offer a 200-meter water-resistant rating and a confident, masculine style.
The Invicta Speedway
The Invicta Speedway watch collection is aimed at motorsport enthusiasts, and just like the Pro Diver is largely inspired by the Rolex Submariner. The Speedway is based on the design of the Rolex Daytona.
The latter is one of the world's most covetable designs and is highly priced (the most expensive sold at auction for $5.9 million).
If you can't bear to part with that much money, the Speedway provides a great, affordable option.
The design keeps the needs of the sportsman at the forefront, with a trio of chronograph dials that will come in handy when measuring elapsed time.
(Below image: Invicta Speedway 9211)
The watch also features a tachymeter scale on the bezel and secures to the wrist with a stylish stainless steel bracelet.
Invicta Angel
The Invicta Angel is Tailored to the needs of the female wearer. This series is bursting with exciting designs to add to your collection.
Whether you choose a chronograph or a simple time and date model, each timepiece from this series evokes a timeless and refined elegance.
Some more luxurious-looking models from this series feature diamonds positioned around the dial. Others present the time with traditional Roman numerals.
(Below image: Invicta Angel 14398)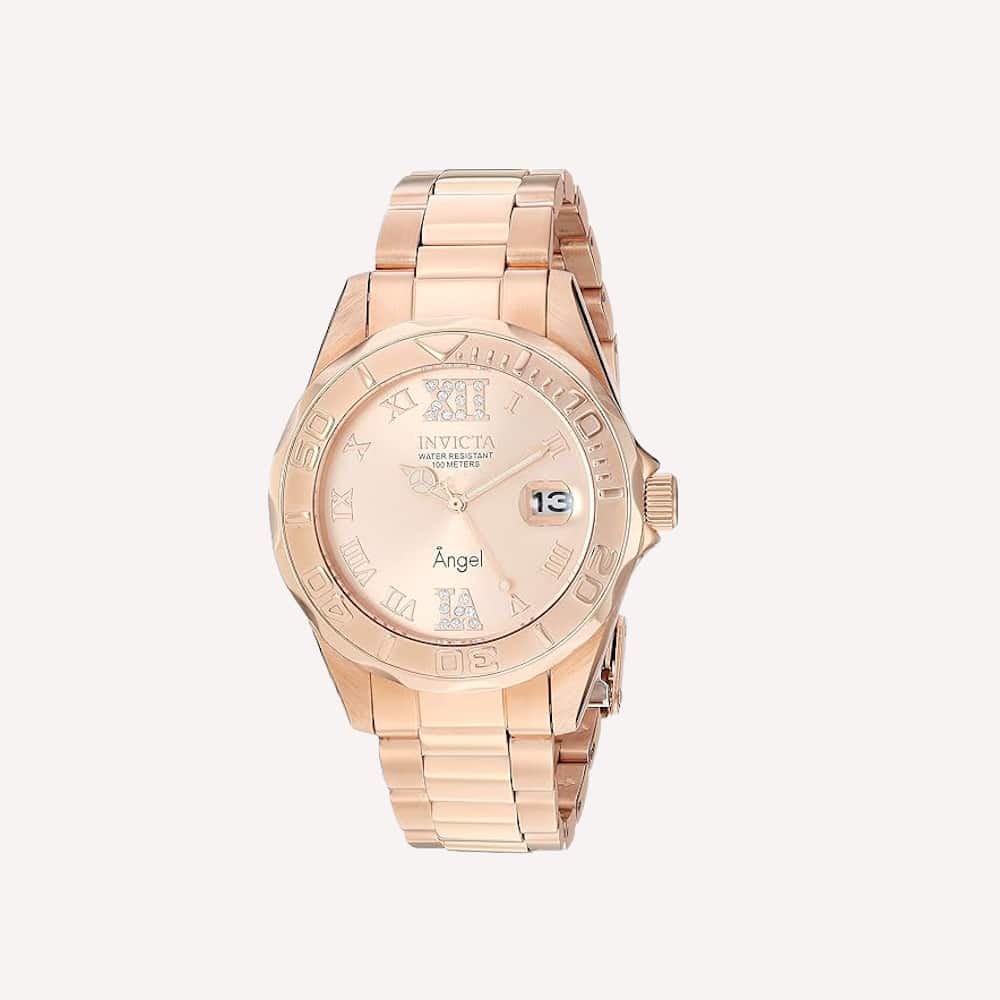 Although their name conjures thoughts of subtle beauty and daintiness, Invicta Angel watches are powerful and bold with robust case designs that certainly get noticed on the wrist.
Invicta Aviator
Utilized by pilots for measuring speed and duration, the main attraction of models like the Invicta Aviator watch is the crisp Arabic numerals upon a legible display.
Differing from the Pro Diver watches, Aviator models are equipped with 100-meter water resistance (instead of 200). They also have a large display thanks to their imposing case sizes measuring 48mm.
They do, however, sit nicely on the wrist with a slim case depth afforded by a quartz movement.
These models often feature a sapphire crystal glass front to mitigate the risk of damage.
(Below image: Invicta Aviator 40504)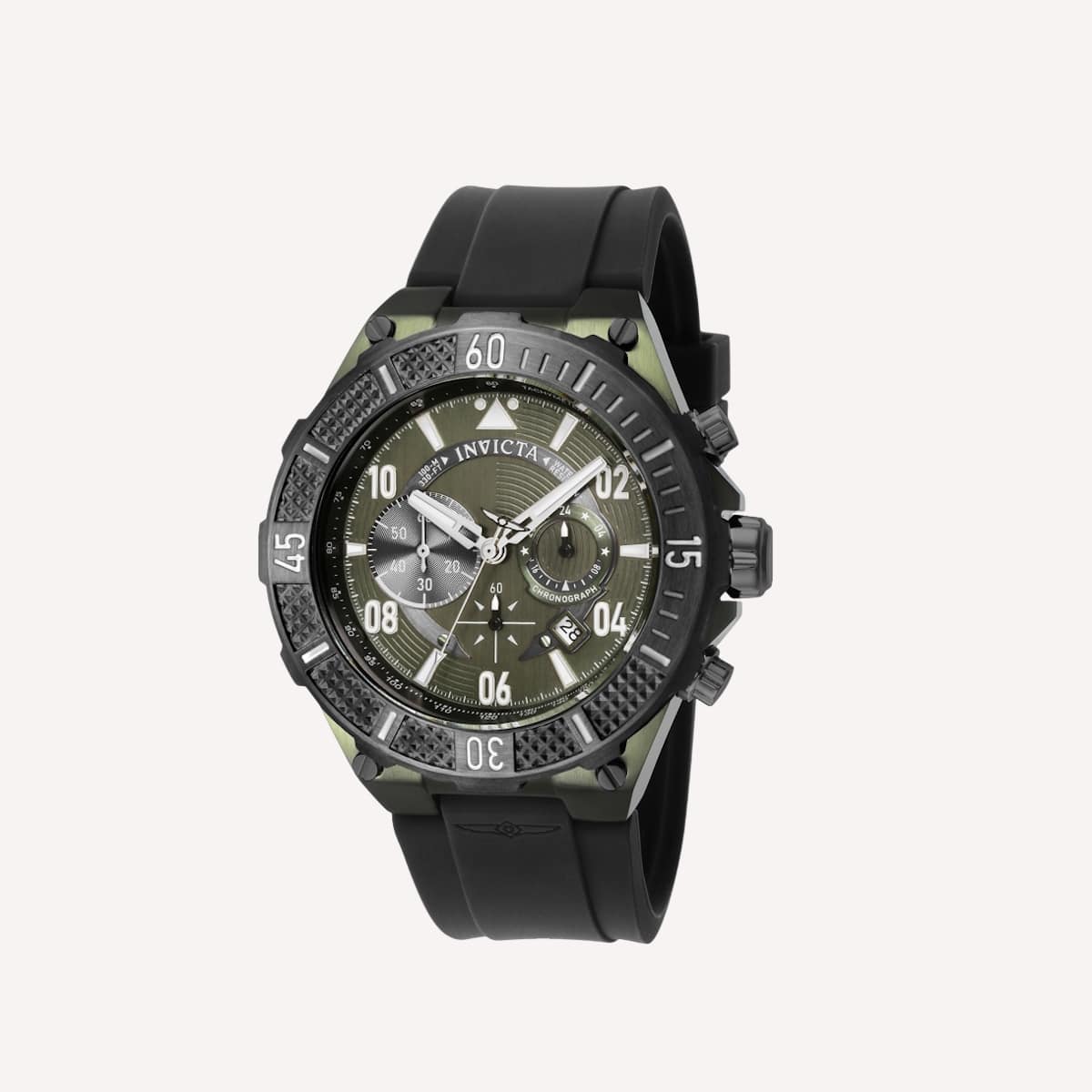 Whether high in the sky or with feet firmly on solid ground, the Aviator watch is a watch for adventure-seekers.
FAQs
Here are some common questions about Invicta:
Is Invicta considered a luxury brand?
Many believe that Invicta is a fashion brand, mainly due to its low prices. Still, the manufacturer maintains a strong commitment to quality despite luxury watch brands pricing their watches much higher.
Why are Invicta watches so cheap?
Invicta watches are so affordably priced because the brand focuses on keeping its manufacturing costs low.
It does this by sourcing many of its parts from China and outsourcing materials and parts to other countries. It also produces its watches in large numbers, cutting down on costs with economies of scale.
The Bottom Line
Having outlined the history of Invicta watches in this article, it's clear that the brand's success story is not solely due to its watch designs.
More so, it is down to the stamina and the endurance of the brand and its unwavering approach to innovation.
Invicta watches promise affordable prices and reliable designs. What's more, up until the quartz era hit, the brand specialized in everything from elegant pocket watches to complicated timepieces like calendars and chronographs.
You can't do much better than an Invicta watch within its price bracket. Not only does the brand offer a stylish alternative to the Rolex Submariner, but these watches are built well.
Go ahead, see for yourself, and don't forget to let me know what you think in the comments!