Invicta is known for its brash designs, but there is more to its story than meets the eye.
Invicta watches are known for their extravagant and bold designs. Despite mixed opinions among watch fans and collectors, the brand has a huge presence worldwide.
One of the reasons for this is its history, which spans back to the 19th century. If Invicta watches have never appealed to you before, you may want to give them a chance after reading this article on my pick of the best Invicta watches.
Before we begin, let's take a look at the brand's story and what Invicta is most renowned for.
About Invicta Watches
Invicta was founded back in the year 1837 when Raphael Picard set up the company in La Chaux-de-Fonds, Switzerland.
Some of the brand's history is unknown, but we do know that the brand was sold to Ondix S.A. in 1983 before it went bankrupt. In 1991, however, the brand was revived thanks to an American company that breathed new life into its designs.
Although it is still considered an American company today, much of its watchmaking takes place in Switzerland, particularly those powered by Swiss quartz movements.
Looking back through its archives, earlier Invicta watches looked resolutely classic, having followed Swiss trends during this time. Since then, however, the face of the brand has forged a new reputation with innovative designs that stretch far and wide.
Many love the daring and bold nature of Invicta's approach to watchmaking, while others dislike its brash designs.
The Best Looking Invicta Watches
The majority of Invicta watches can be described as stylish and sporty. Some of the brand's favored designs are those from its wide range of dive watches, namely the Pro Diver, as well as its more classic chronograph watches.
Here are a few popular Invicta watches chosen for their style and their universal appeal:
Invicta Speedway Quartz Watch Reference 9211
Bridging the gap between trendy and classic, the Invicta Speedway watch will appeal to the masses with its sporty tri-complex chronograph dial design.
The stainless steel Invicta model measures 39mm in diameter and presents the time clearly via a set of baton indexes and luminous hands.
These features are set against a white dial, with black trimmed chronograph counters for effortless stopwatch measurements.
For its appealing price tag, you get the reassurance of a reliable Japanese movement, a date window at 4:30, and a 200-meter water-resistant case.
Invicta achieves the archetypal chronograph design with this Speedway watch. Its sporty personality is further elevated by the brushed and polished finishes on its steel link bracelet.
Invicta Pro Diver Watch Reference 8392
If you can't resist the unmistakable aesthetics of a dive watch, the Invicta Pro Diver watch is for you.
Primed for underwater exploration, the model comes equipped with a 200-meter water-resistant case.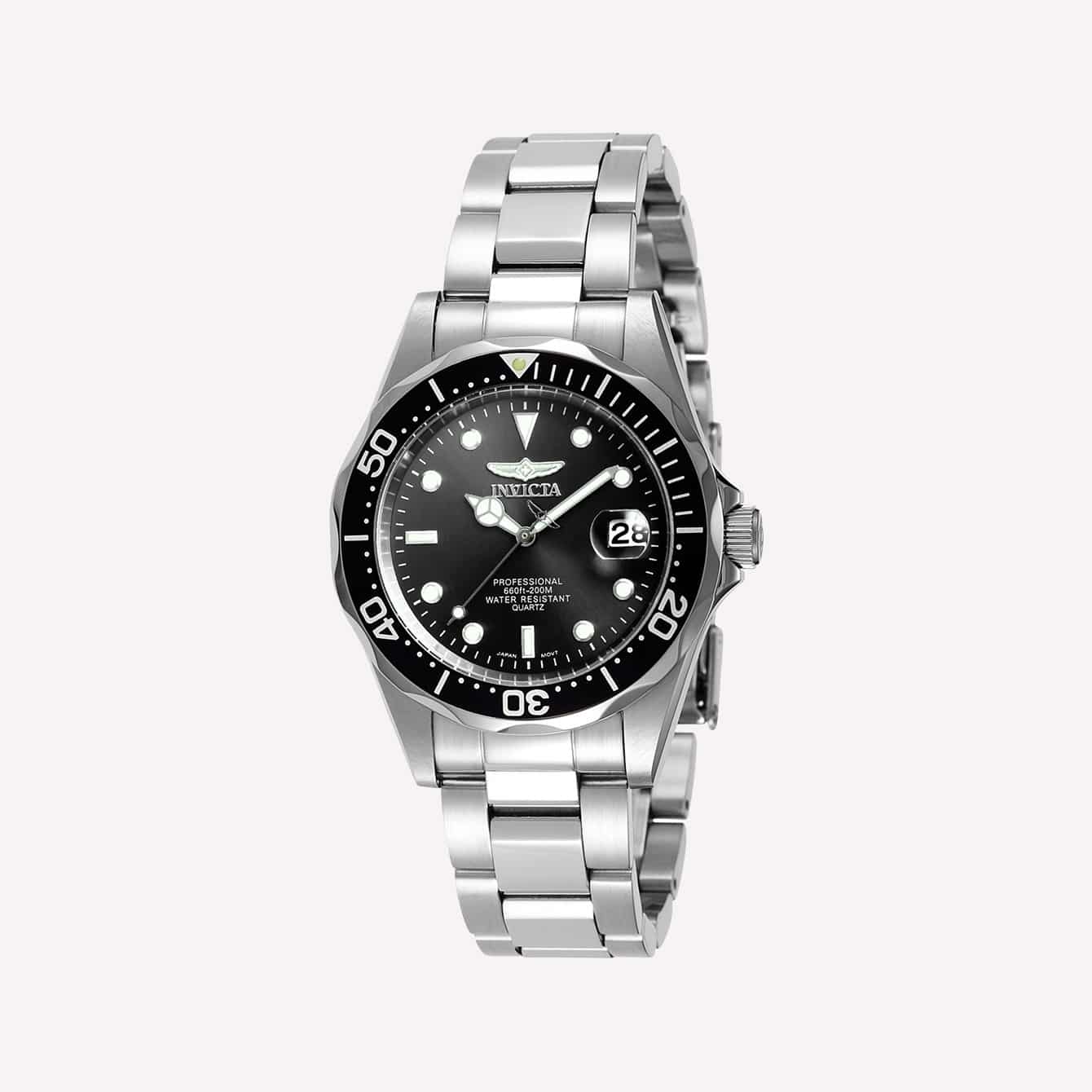 This stainless steel housing is also the home for accurate quartz movement and is topped with a unidirectional rotating bezel.
The bezel, marked with a clear 60-minute scale, is cleverly designed to rotate only in the counterclockwise direction. This ensures that dive time is never accidentally extended.
You also get a set of luminous hands hour markers and a date window under a magnified window. The feature evokes the Cyclops date functions seen in the likes of the Rolex Submariner.
It may not measure up to the quality and reputation of the famed industry giant, but the Invicta Pro Diver is definitely a budget-friendly watch that you won't find fault with.
Invicta Specialty 45mm Chronograph Watch Reference 6621
The feature-packed Invicta Speciality Chronograph packs a punch on the wrist with its broad 45mm diameter. A 60-minute unidirectional rotating bezel surrounds a vibrant blue dial color.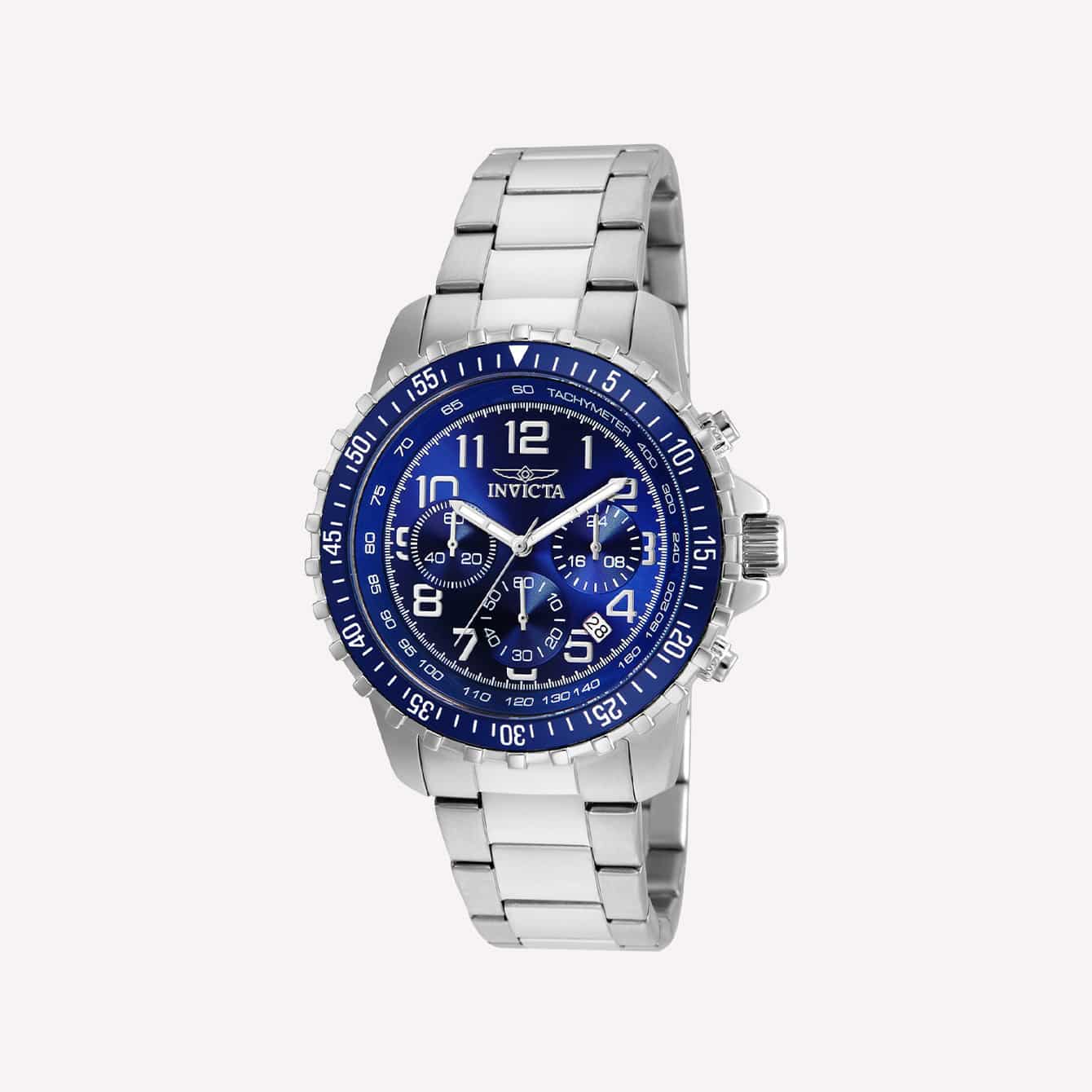 Certain to get noticed and capable of creating a huge wrist presence when paired with casual or smart attire, this model is sporty and classic all rolled into one.
Arabic numerals fill the hour track, combined with chunky, visible central hour and minute hands. The watch also features central chronograph seconds, a 12-hour function, and a 30-minute function.
A white date wheel reveals itself at 4:30, framed by a handy tachymeter scale on the flange. It makes the quartz chronograph watch not only perfect for daily timekeeping but also for measuring speed based on time.
If you're looking for a mid-range chronograph, you can't go wrong with the Invicta Speciality watch.
Invicta Python Watch Reference 6410
One of the appealing features of the Invicta Python 6410 model is its textured stainless steel bracelet. It has been treated with a stealthy gunmetal PVD coating.
The chronograph watch has been ergonomically designed to fit comfortably against the wrist with its folding clasp for extra security.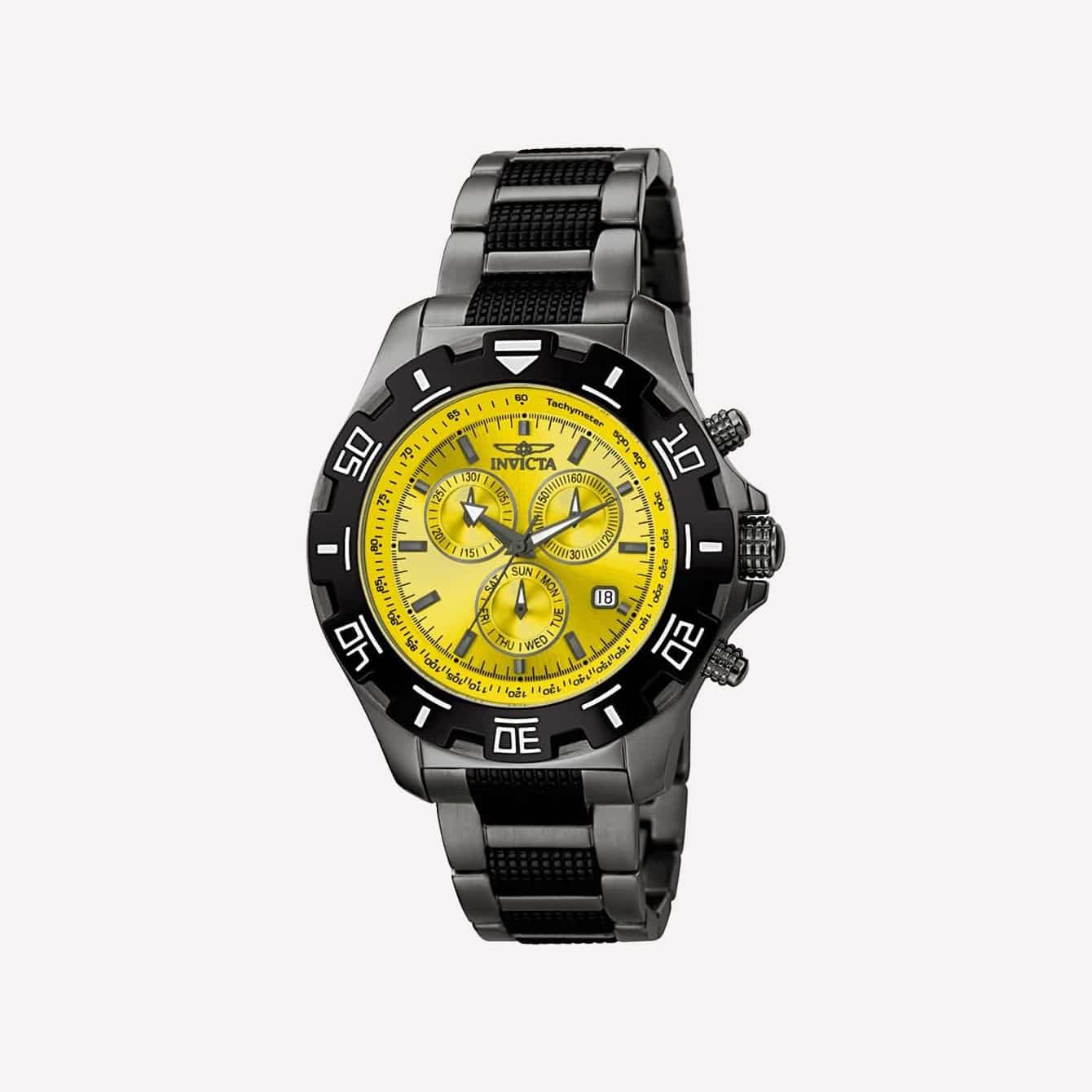 The watch also features flame fusion crystal that is extra scratch-resistant and an attention-demanding 46mm diameter. You can easily track elapsed time with the model's unidirectionally rotating bezel, as well as a trio of chronograph counters and 3, 6, and 9 o'clock.
Sleek and modern, the Invicta Python is as stealthy as the serpent it takes its name from. It teleports itself ahead of time with its futuristic and eye-catching design.
The Best Deals on Invicta Watches
Invicta watches sit in the affordable fashion watch category, and this is one of the reasons why they appeal on such a vast level across the globe. Here are some of my top picks for the most value-for-money Invicta models:
Invicta Pro Diver Watch Reference 8926
The 8926 Pro Diver watch from Invicta is an all-around great daily beater.
For its appealing price, you get a classic design that will pair equally as well with a suit as it will with something more casual at the weekend.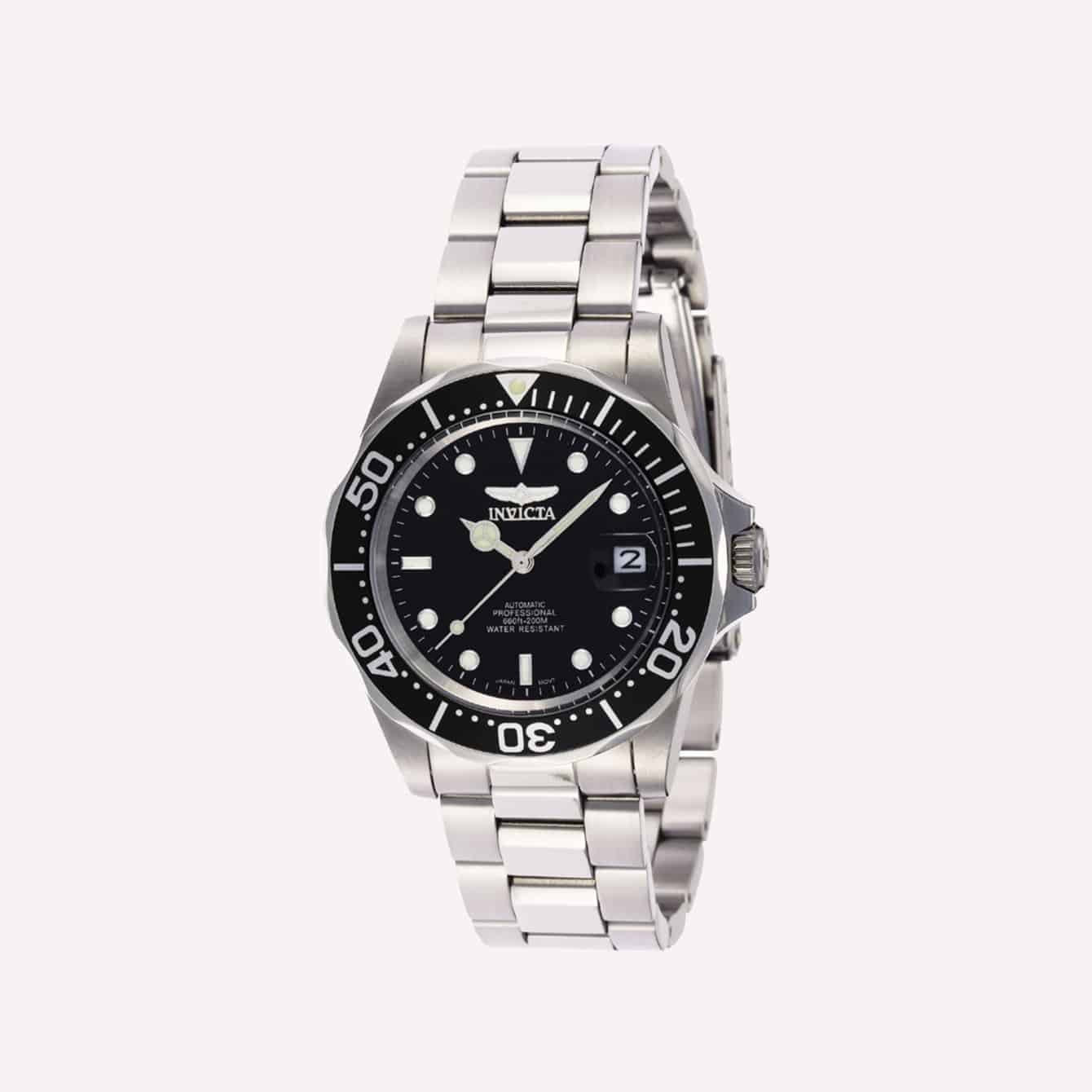 This is, in many ways, thanks to its robust stainless steel bracelet, designed to match the case with its brushed and polished finishes.
Its compact 40mm diameter is also worth mentioning since it makes for a great fit for those with slender wrists. Packed with a Japanese automatic movement and integrated with 200-meter water resistance, the Invicta Pro Diver promises great value for money.
This watch presents itself in a conventional black and steel design.
Invicta Sea Spider Chronograph Watch Reference 0140
The spec list for the Invicta Sea Spider Chronograph watch is particularly impressive.
Its muscular design intrigues with a masterful 50mm diameter and a yellow-gold-colored case. The design exudes a look of complete indulgence.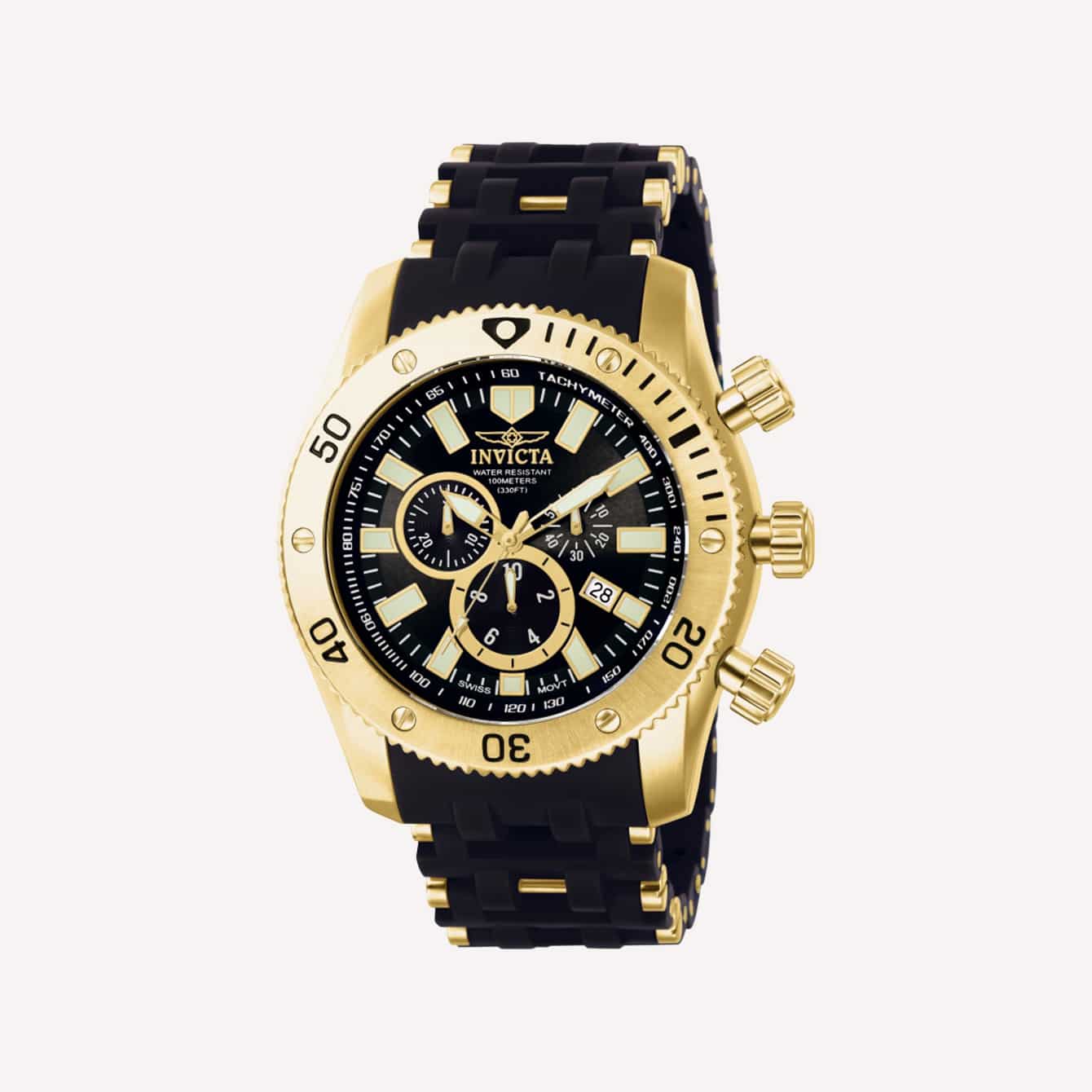 A black dial with luminous-filled elements offers you the main hour and minute hands framed by a tachymeter scale.
In addition, the 1/10th of a second function and 30-minute sub-dial have been trimmed with a matching golden color.
It is this finish that enables them to stand out against the richness of the black dial. You also get a very visible rectangular-shaped date window at 4 o'clock.
Even more interesting, this quartz-powered Invicta Sea Spider watch is fitted on a black-coated stainless steel bracelet that could almost be a rubber band at first glance.
Invicta Speedway Chronograph Watch Reference 9224
The Invicta Speedway chronograph is a harmonious blend of black gold and steel elements.
Perfect for wearing every day but just as elegant when paired with evening attire, the versatile chronograph watch can pull off a classic look no matter what the occasion.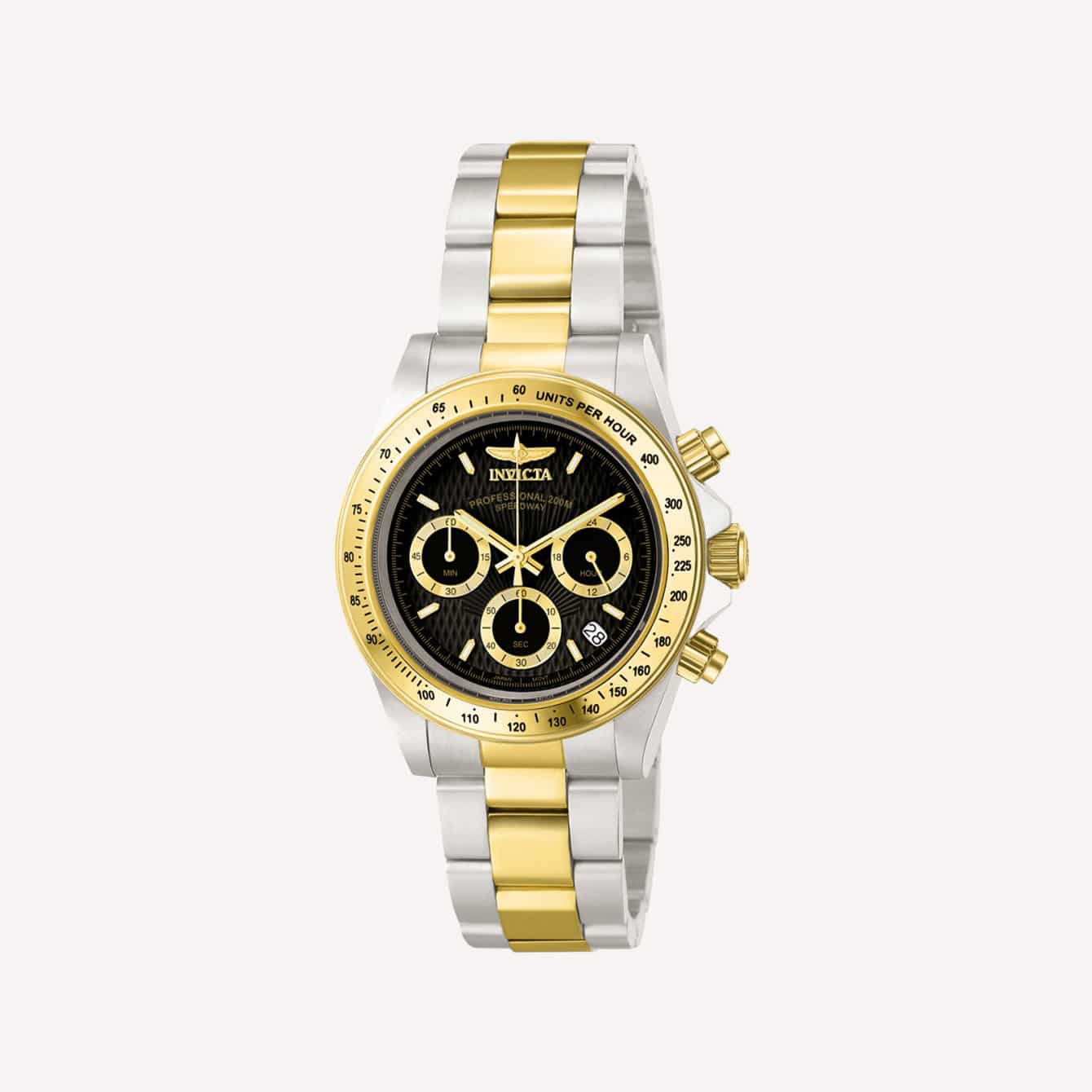 For its reasonable price, you get plenty of value for your money.
Take the stainless steel and yellow gold coated links of the bracelet, for example. They look refined and elegant, creating a sporty chic look on the wrist.
The tachymeter bezel is also finished in a golden color, framing a black dial adorned with some unusual patterned detailing. The decorative finish on the dial adds another layer of depth to the design, as do the Tritnite hands and hour markers.
If you do love the look of the Omega Speedmaster, but it's out of your budget, the Invicta Speedway Chronograph could be a cheap and cheerful alternative.
Invicta Specialty Men's Quartz Watch Reference 12843
Naturally, if you have a wrist that can take on this Invicta watch's broad 45mm size, the Speciality Chronograph reference 12843 is going to look good on you.
Its black trimmed chronograph counters are set against a contrasting white background to enhance legibility, with hands powered by a Japanese quartz movement.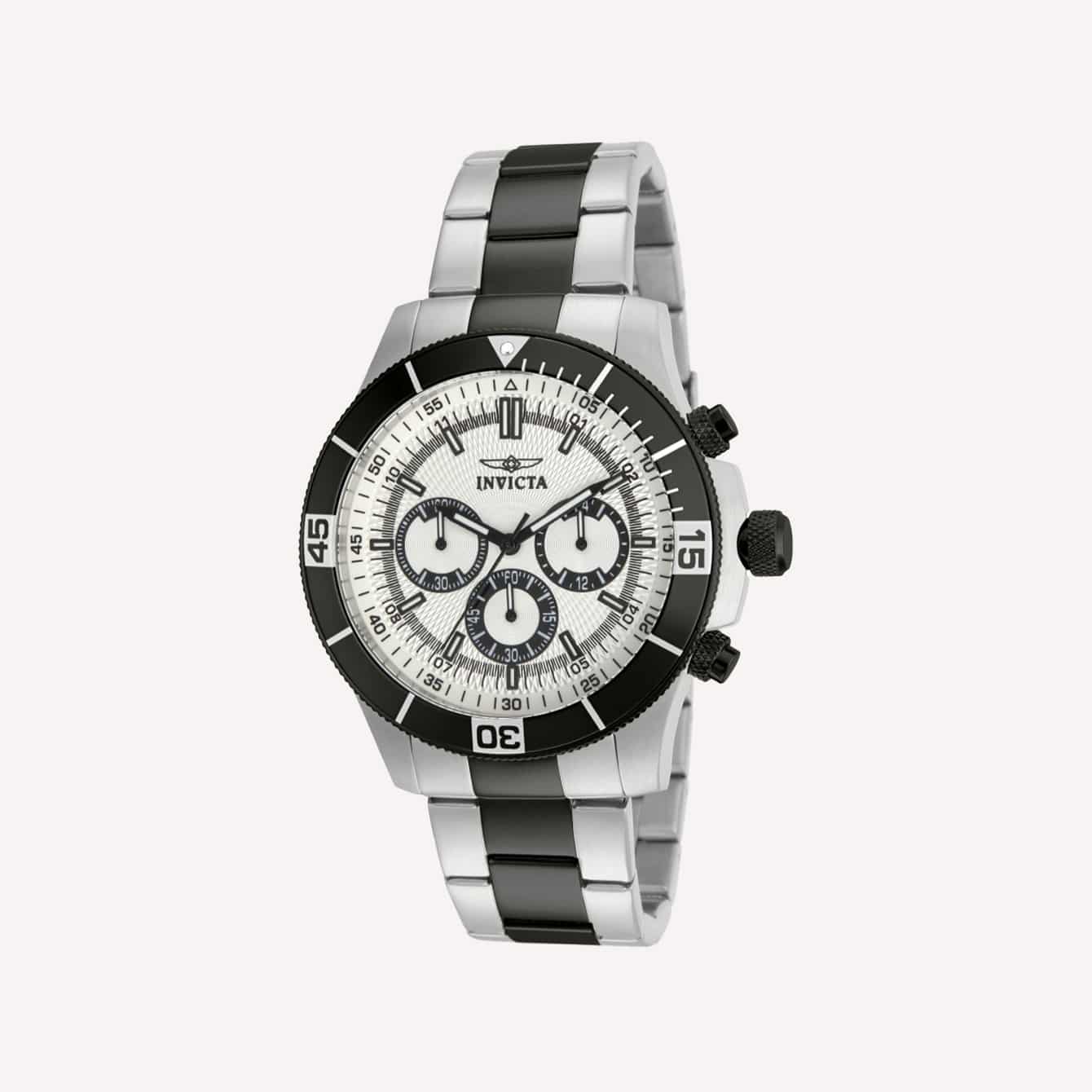 The 100-meter water-resistant model is sporty, confident, and bold. It features a black 60-minute bezel and a protective piece of flame fusion crystal that shields the dial from factors like dust, denting, debris, light, moisture, and heat damage. T
he black-coated push-pieces on this model look particularly dynamic, as does the black-coated center strip running down the links of the bracelet. With a stainless steel bracelet that secures comfortably to the wrist, the Invicta Speciality watch can be worn every day.
Best Invicta Automatic Watches
It's hard to reduce automatic Invicta watches down to just one model, so we've rounded up four of my favorites:
Invicta Subaqua Noma IV Watch Reference 43910
This Subaqua automatic watch from Invicta is presented in a striking, skeletonized version that exposes some of the most beautiful elements of the movement in motion.
If you're a fan of the automatic watch, this Invicta Subaqua could be a great option. It is primed for underwater exploration, too, thanks to its beefy black-coated stainless steel case measuring 50mm.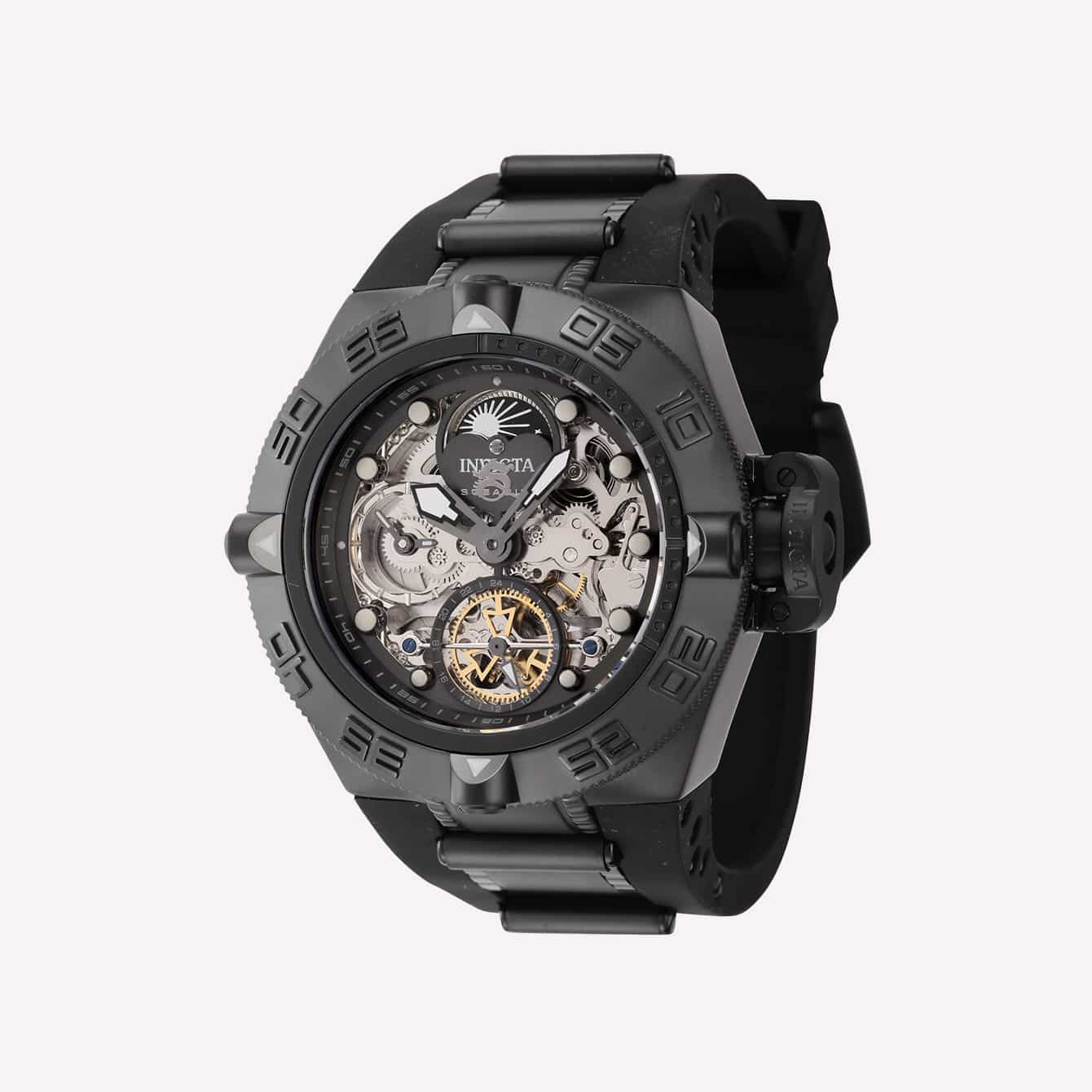 It also features a muscular bezel that rotates unidirectionally and a set of luminous central hands.
A 300-meter water-resistant capability makes the Invicta Subaqua watch perfect for days on the beach, as well as serious missions underwater.
The Calibre Z2031 performs flawlessly underneath a mineral glass front, enhanced further by its gunmetal finishes and gold-colored elements.
The watch fits around the wrist with a black-coated stainless steel and silicone bracelet, perfect for everyday challenges.
Invicta Grand Diver Watch Reference 3048
Bold and unforgettable are two qualities that you can attribute to pretty much every Invicta watch. The dial of this Invicta Grand Diver watch is what steals the show.
The yellow display is a near-on color match for some of Bretling's most popular models and is framed by a sleek black bezel. As with all legit diver's watches, the bezel is unidirectional.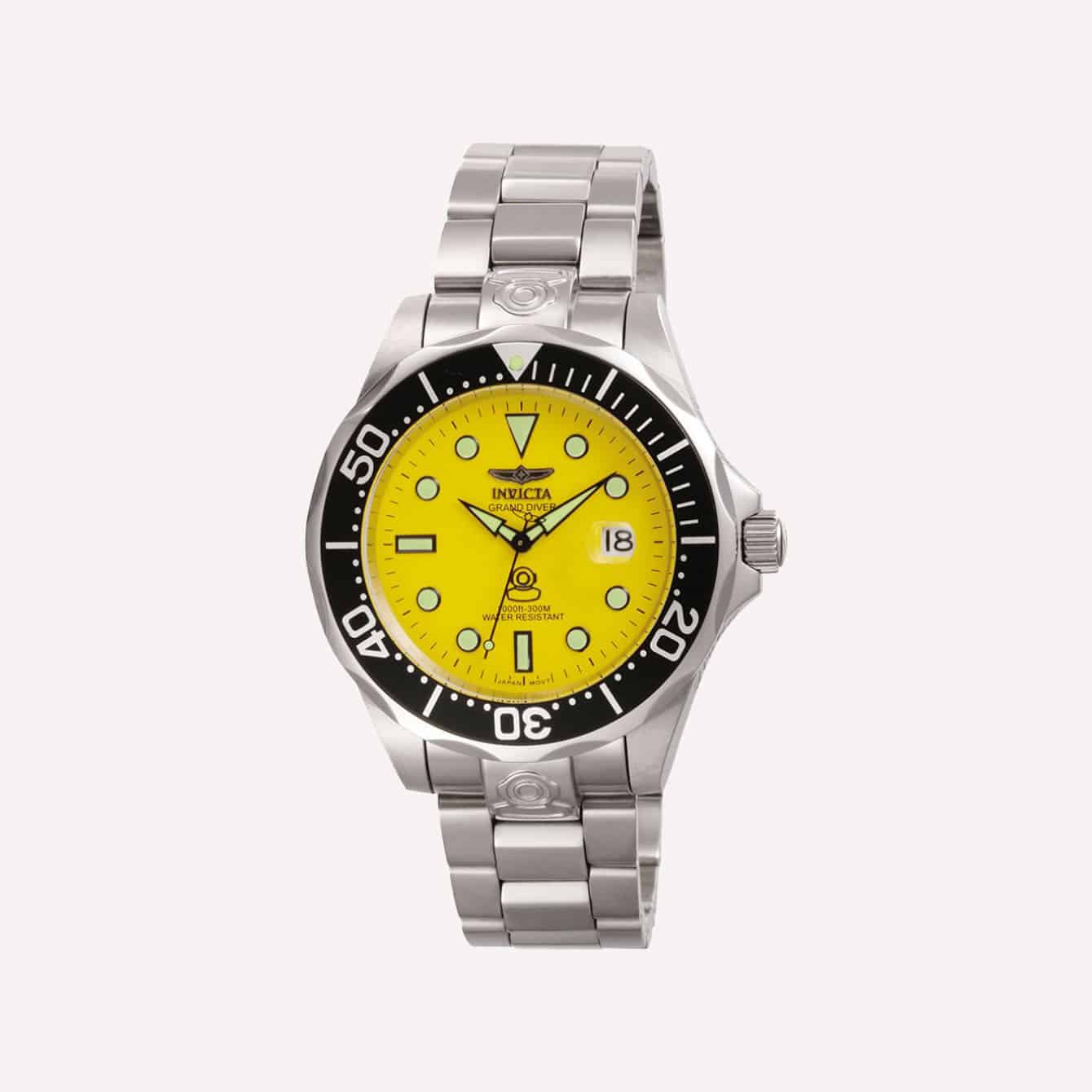 The safety feature is designed to eradicate the wrist of accidentally extending dive time when underwater.
Simply align the zero mark on the bezel with the central minute hand on the dial to begin timing.
A water-resistant rating of 300 meters gives you all the scope and flexibility needed for plenty of underwater exploration. Plus, you get the added benefit of illuminating arrow-shaped hands and hour markers for effortless timekeeping in the dark.
Considering the watch's pleasing price tag, the Invicta Grand Diver watch is powered by automatic movement. Its stainless steel case attaches to a matching steel bracelet, making it ideal for the beach or the boardroom.
Invicta Bolt Automatic Watch Reference 37189
Blue and gold make for an extravagant color scheme in this daring Invicta Bolt watch. The automatic model features partially skeletonized hands filled with luminous material at the tip. There are also a set of rectangular-shaped markers around the hour track.
The latter is set against a gold-colored flange that matches the prominent, beaded crown at 3 o'clock and the bolted screws positioned around the case for decorative purposes.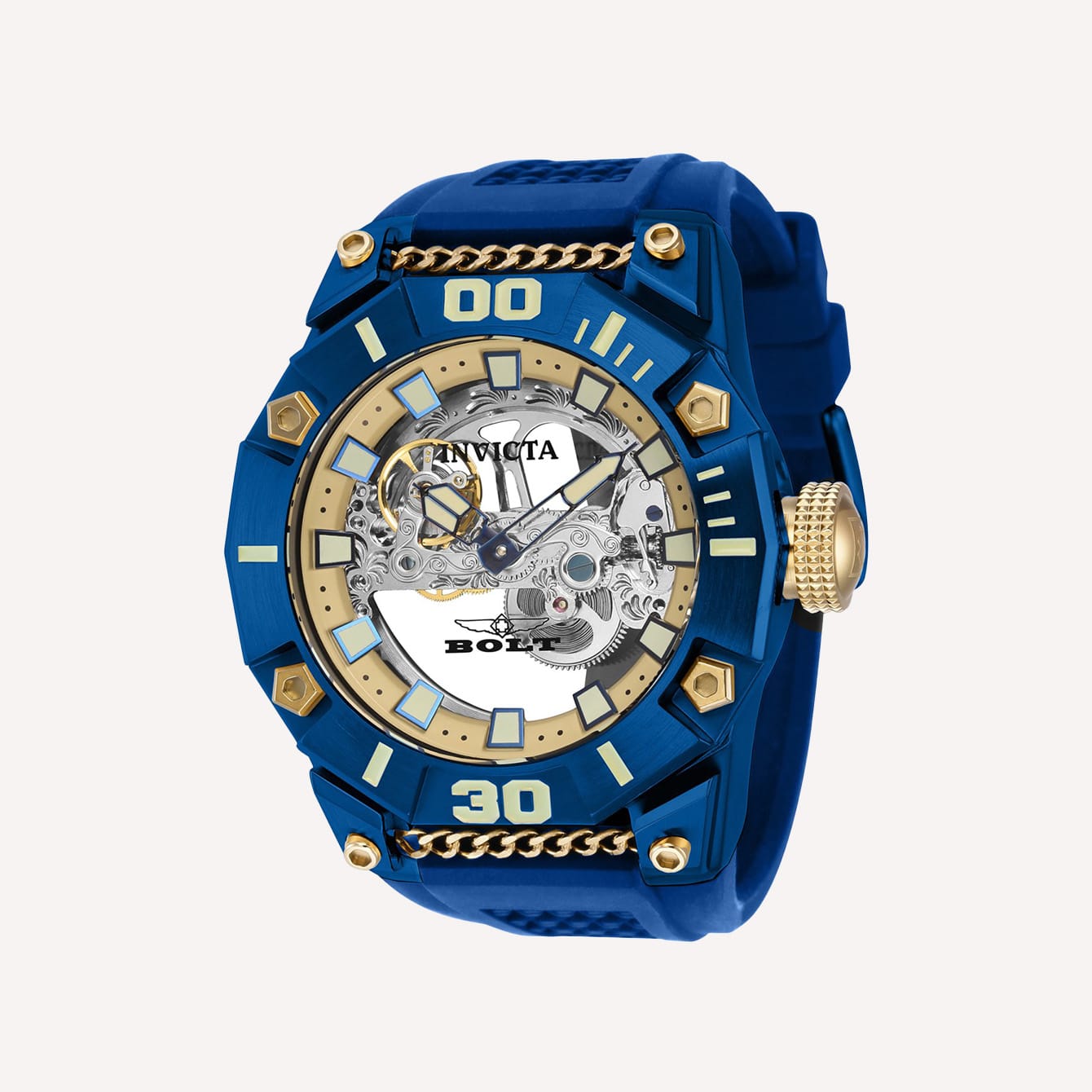 There is no denying that the Invicta Bolt watch is certainly made for those fans who like their watch to become a talking point to their attire.
Its blue-coated case is 100-meter water resistant, protecting the automatic Calibre LG0801B within its 50mm dimensions. For many, the allure of owning an automatic watch is just as much about admiring its inner mechanical movement as it is about keeping track of time.
This Invicta Bolt watch, fitted on a blue silicone strap, is a great choice if you happen to agree.
Invicta S1 Rally Automatic Watch Reference 39028
Sometimes, you just can't beat a classic watch. The Invicta Rally S1 automatic watch comes fitted on a brown perforated leather strap that perfectly compliments the iridescent tones of the mother-of-pearl dial.
This elegant dress watch for men measures a diameter of 38mm and features large Arabic numeral hour markers and a detailed second track around the edge.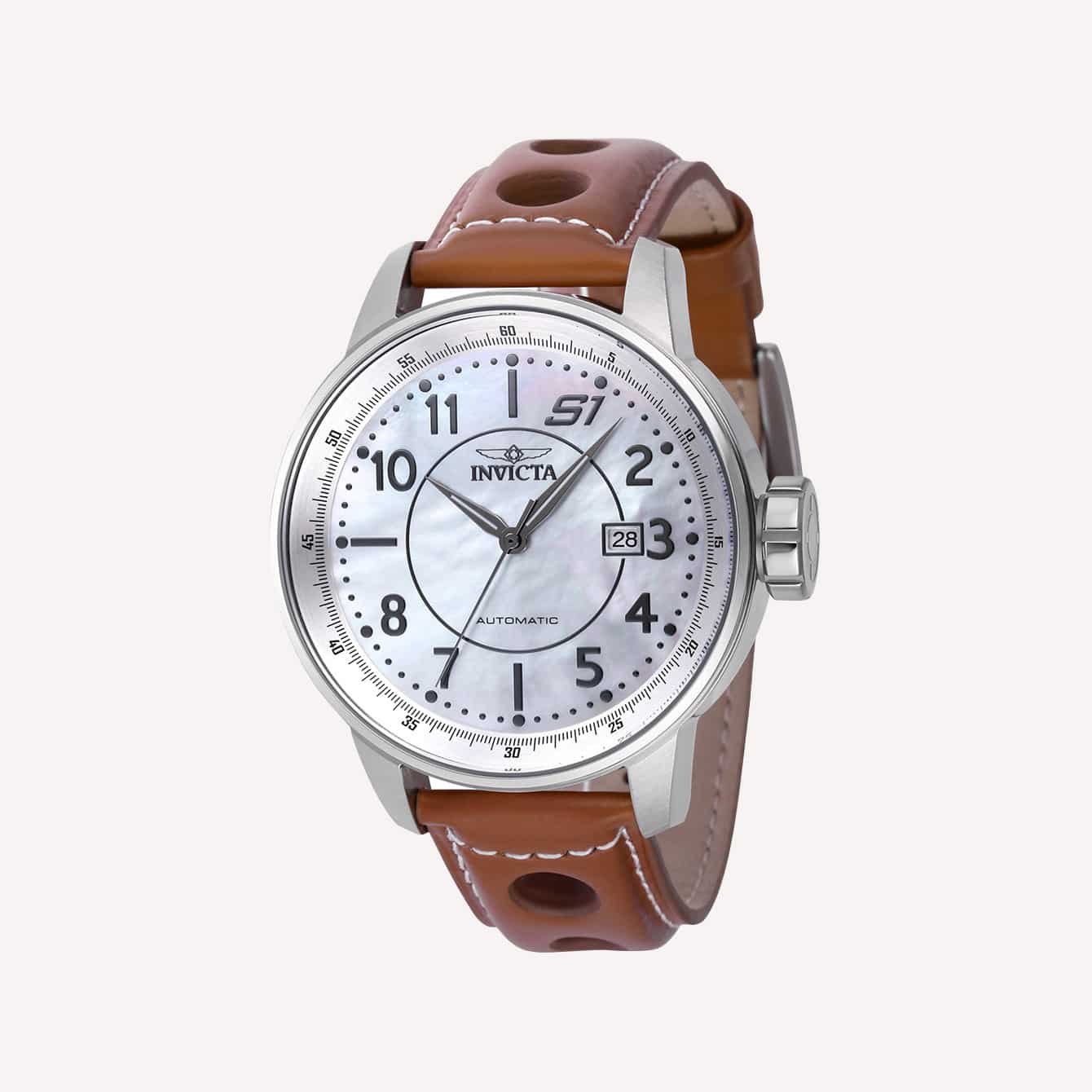 The date feature at 3 o'clock also gives you a legible reference point for keeping track of the passing days.
This Invicta men's dress watch is powered by the automatic Calibre NH35A, comprising 24 jewels. It sits inside a 100-meter water-resistant stainless steel case and is powered by the movement of your wrist.
If you're a fan of classic watches, you won't find a more traditional Invicta watch than this Rally S1 iteration.
FAQS
Here are answers top a few common questions about Invicta:
What are the best-looking Invicta watches?
Perhaps the best-looking Invicta watch has to be the Pro Diver. Its 40mm design resonates with male and female collectors alike thanks to its universal appeal.
It combines automatic movement with a 200-meter water-resistant case and a mineral crystal glass front to keep costs down.
Is Invicta a good brand of watch?
Although Invicta is not considered a high-end luxury watch brand, there are many advantages to its affordable approach to watchmaking.
Invicta maintains a commitment to quality in all its designs whilst keeping costs accessible to the average watch enthusiast.
Are Invicta watches as good as Rolex?
There is no skating around this question. Rolex watches are far superior to Invicta watches. The brand's heritage in crafting quality timepieces from superior materials secures it a position amongst some of the most elite watchmakers.
Invicta, however, strives to keep watches with mass style and appeal within an affordable price bracket.
Why are Invicta watches so cheap?
A large proportion of Invicta watches are manufactured in China, which significantly brings the brand's price range down. Others are developed in Switzerland and bear a higher price tag to reflect this.
The Takeaway
Today, Invicta can be described as a fashion brand that is growing in recognition and popularity. Its vast catalog offers many styles and variations of sporty models, each one a little different from the last.
Although many high-end watch brands stick to the safety of their bestsellers, recreating the same model in many dial colors and case materials, Invicta is different. The brand continues to evolve by exploring new designs.
Some of its bolder watches appeal to the younger generation, yet the more classic-looking Invicta watches are still enjoyed today.
Don't forget, to keep up to date with all the latest luxury watches, subscribe to our newsletter.