If you're looking for info about Watchbox, you've come to the right place. Here's everything you need to know about this secondhand watch site.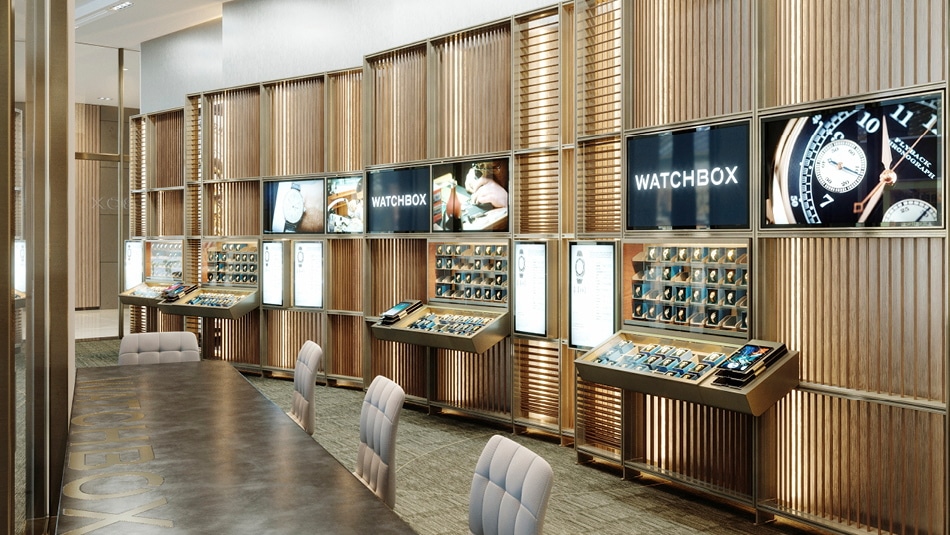 If you've been watching, you might've noticed that the prices of luxury watches skyrocketed recently. Issues with supply and demand, as well as the pandemic changing the way people are spending their money, have driven the price tags on luxury watches through the roof.
This jump in pricing leads many watch shoppers to resellers, one of the biggest being Watchbox. In this Watchbox review, we'll take a look at this pre-owned watch giant.
What Is Watchbox?
If you aren't familiar with Watchbox, you will be soon. This luxury watch reseller buys, trades, and sells watches, and it's had quite a bit of success in recent years.
The Watchbox brand got its start in 2017, when Danny Govberg, a Philadelphia-based jeweler, started the company.
With his family's company, Govberg Jewelers, dating back to the 1910s, Govberg felt it was time to take advantage of the fast-growing pre-owned watch market.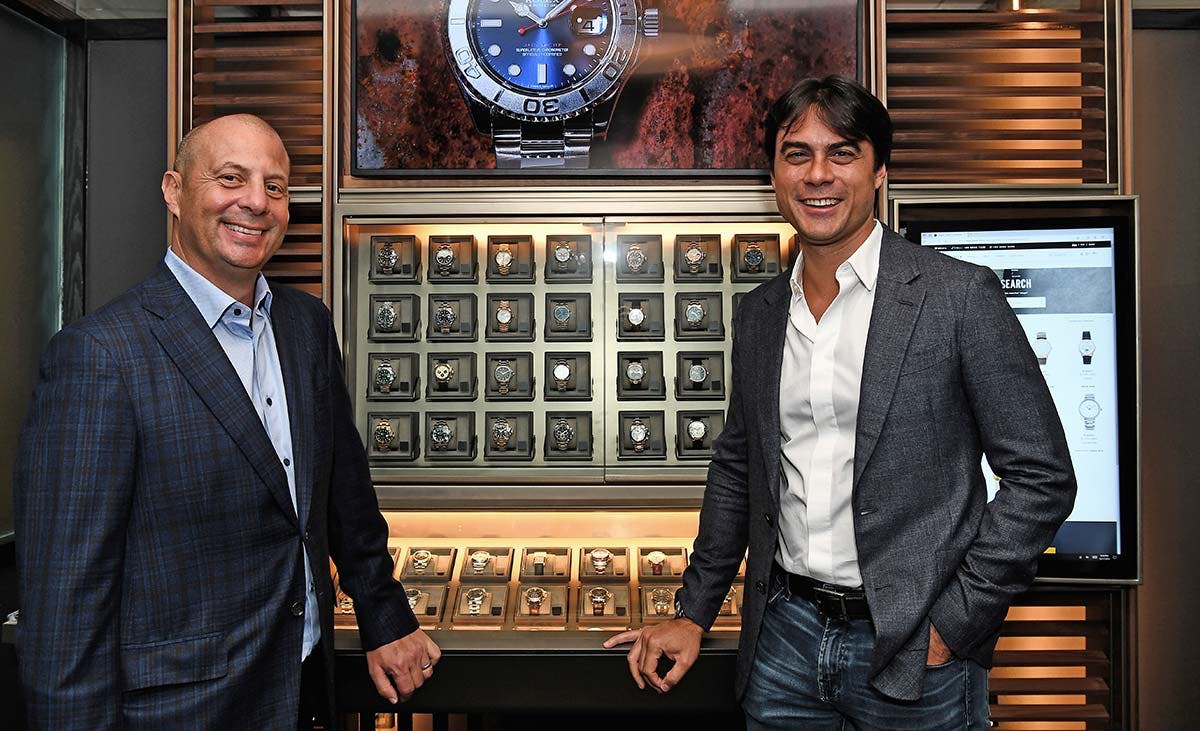 He partnered with Justin Reis and Tay Laim Wee, and the trio set out to create a trustworthy pre-owned luxury watch business.
Watchbox has some big-time investors, too. Athletes like Michael Jordan, Giannis Antetokounmpo, Chris Paul, and Devin Booker are recent investors who signed on during Watchbox's most recent round of financing.
During that round, the company raised $165 million, including money from other non-dunking investors.
Locations
The majority of Watchbox's business comes through its online platform, but it does have several brick-and-mortar locations.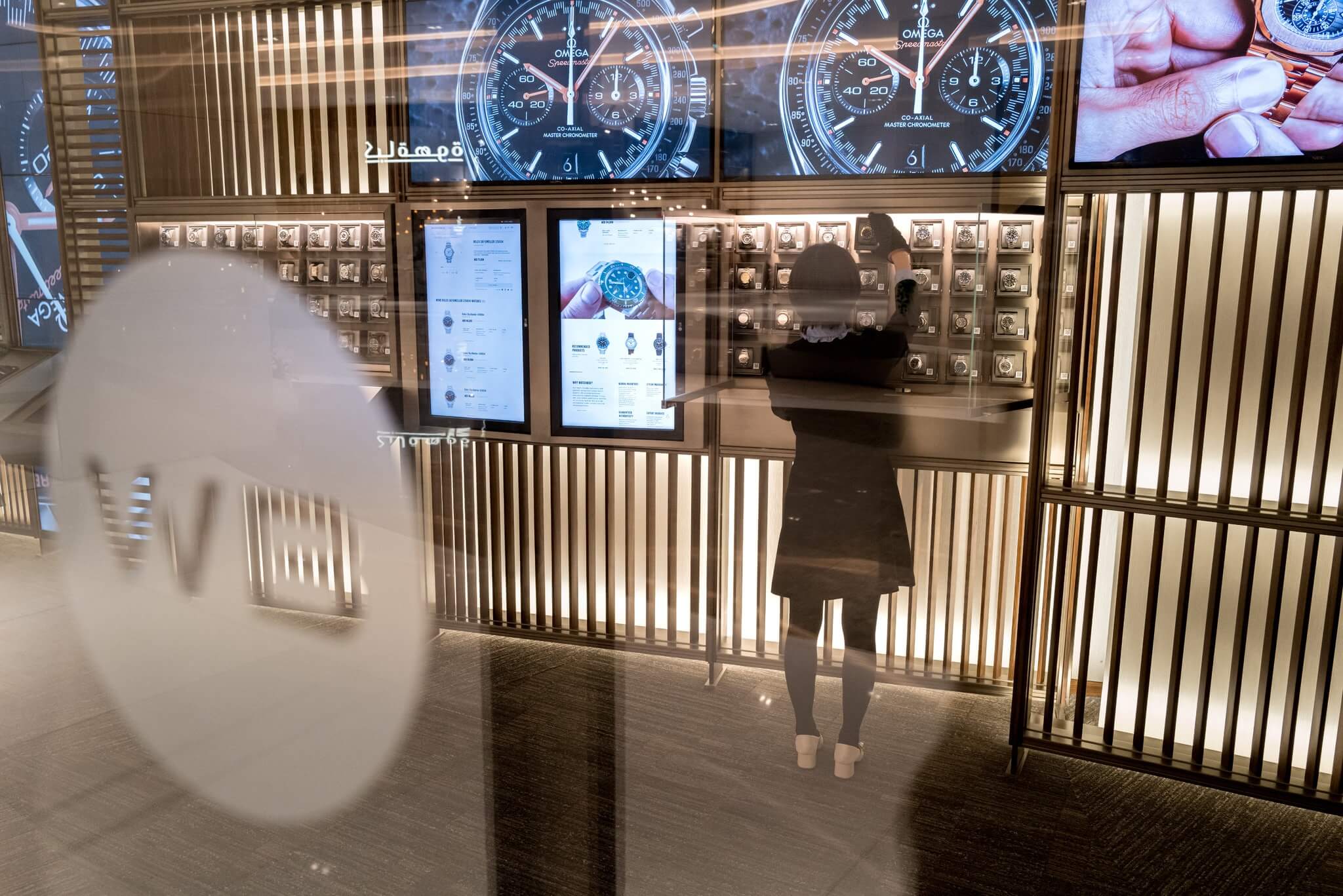 These include a storefront in Dubai, Switzerland, Singapore, Hong Kong, and the company's headquarters just outside of Philadelphia.
There are two new locations coming soon as well; NYC and Miami.
How Watchbox Works
Watchbox isn't the only preowned watch dealer out there, but the company's platform is fairly unique.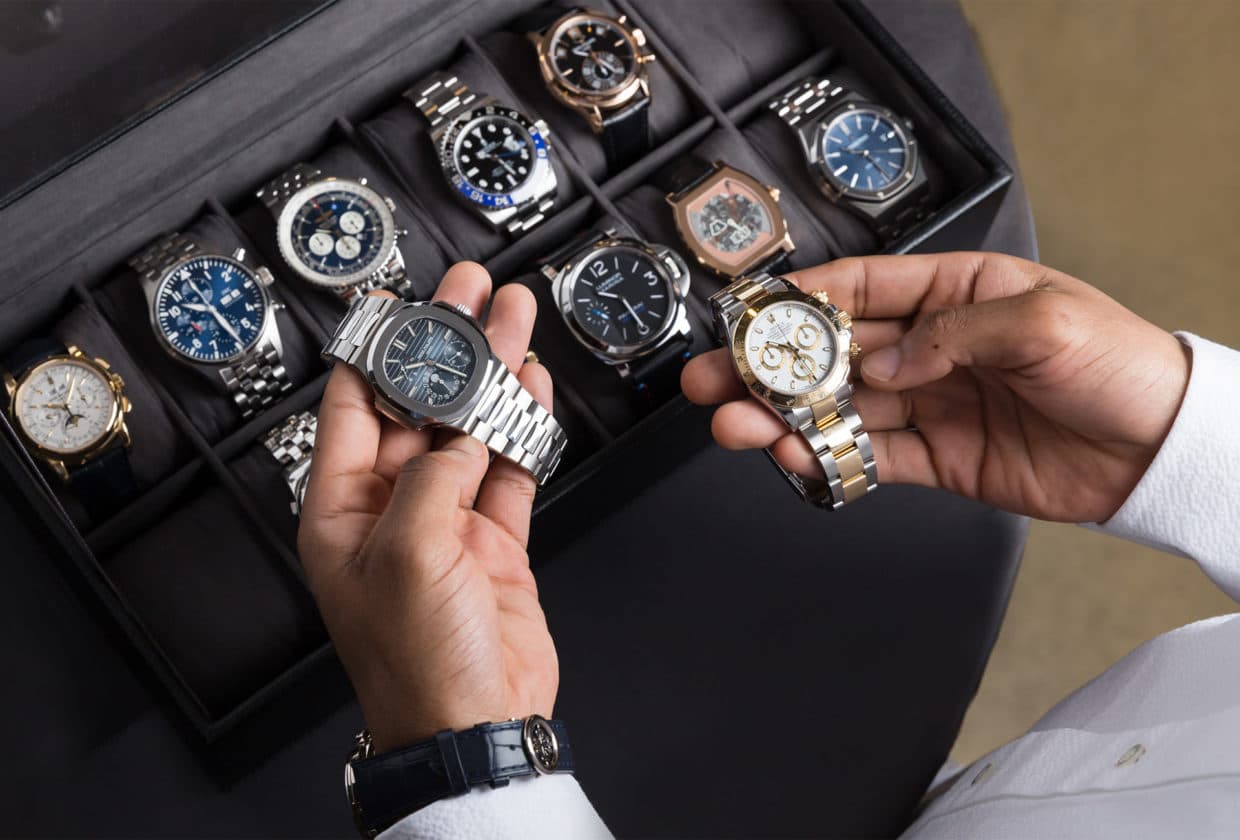 Luxury watch enthusiasts can use the company's services to trade, sell, or buy watches. They can also use the company's resources to value their own collection, as well as take out a collateral loan.
Buying
All of the watches in Watchbox's inventory are company-owned, so they have them in hand.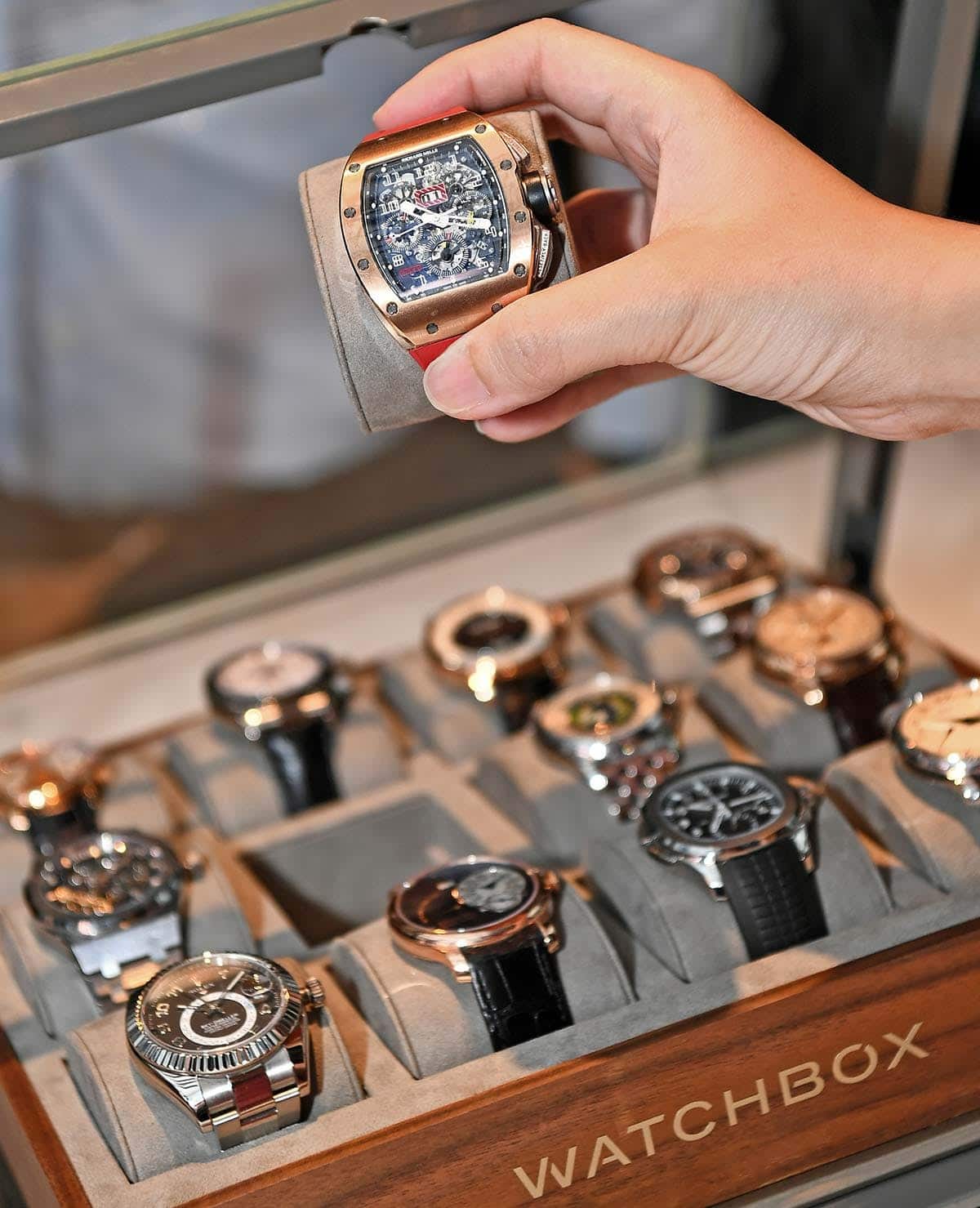 They perform an inspection, authentication, and service before listing the watch on the site.
Currently, the inventory consists of approximately 1,800 watches, including everything from a $500 Seiko to a slew of FP Journes and A. Lange & Sohnes with prices so high you have to call to find out what they are.
Buying one of these watches is similar to shopping anywhere. Simply click the "Buy Now" button, and the watch heads to your shopping cart.
At that point, you can add a care plan (an extended warranty) that covers the movement, case or bezel damage, water damage, and even bracelet refurbishment.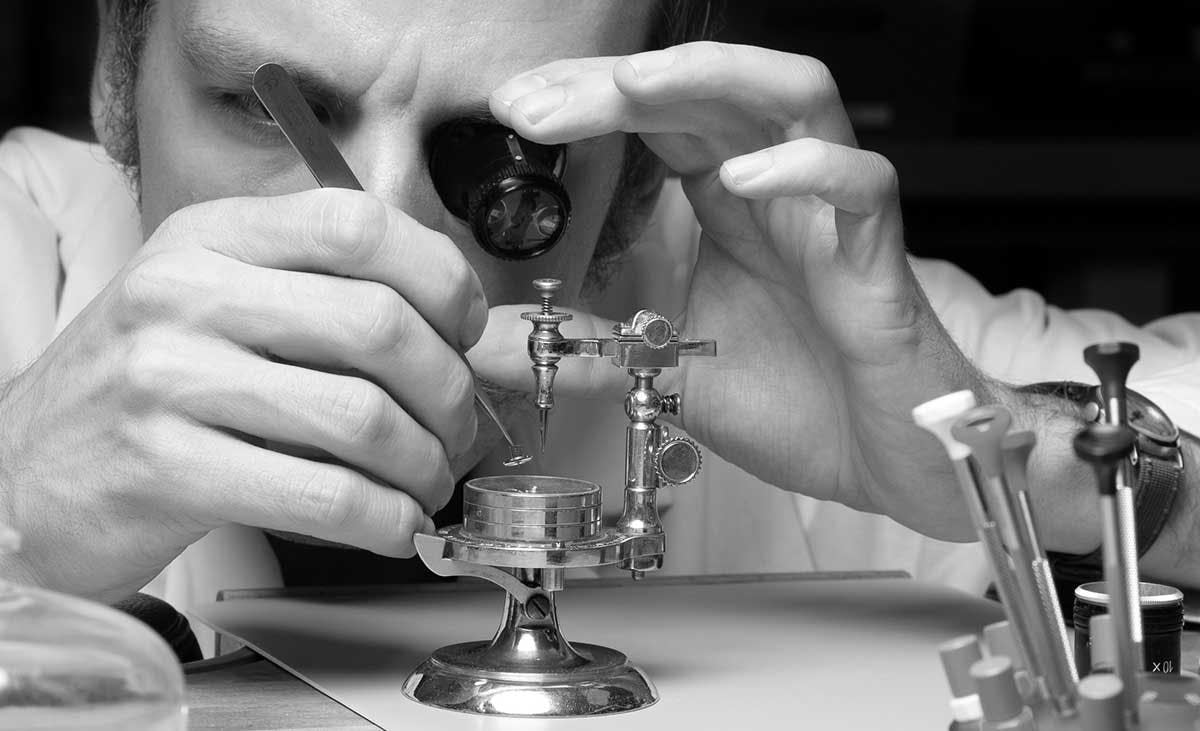 You'll also have the option to make an offer on a watch to save a few hundred dollars. The form even includes an offer strength rating that updates automatically with the following grades: rejected, not likely, possible, and strong offer.
It's interesting to note that you can offer more than the listed price, and since Watchbox does post watches that are still in transit, things could get competitive.
Selling and Trading
The process of selling a watch is simple. First, you fill out a form with all of your contact information and all of the identifying information for your watch. Next, you'll receive a quote for the value of your watch within 24 hours.
If you agree with the quote, you can send the watch into Watchbox via a pre-paid and insured label, or schedule a face-to-face collection.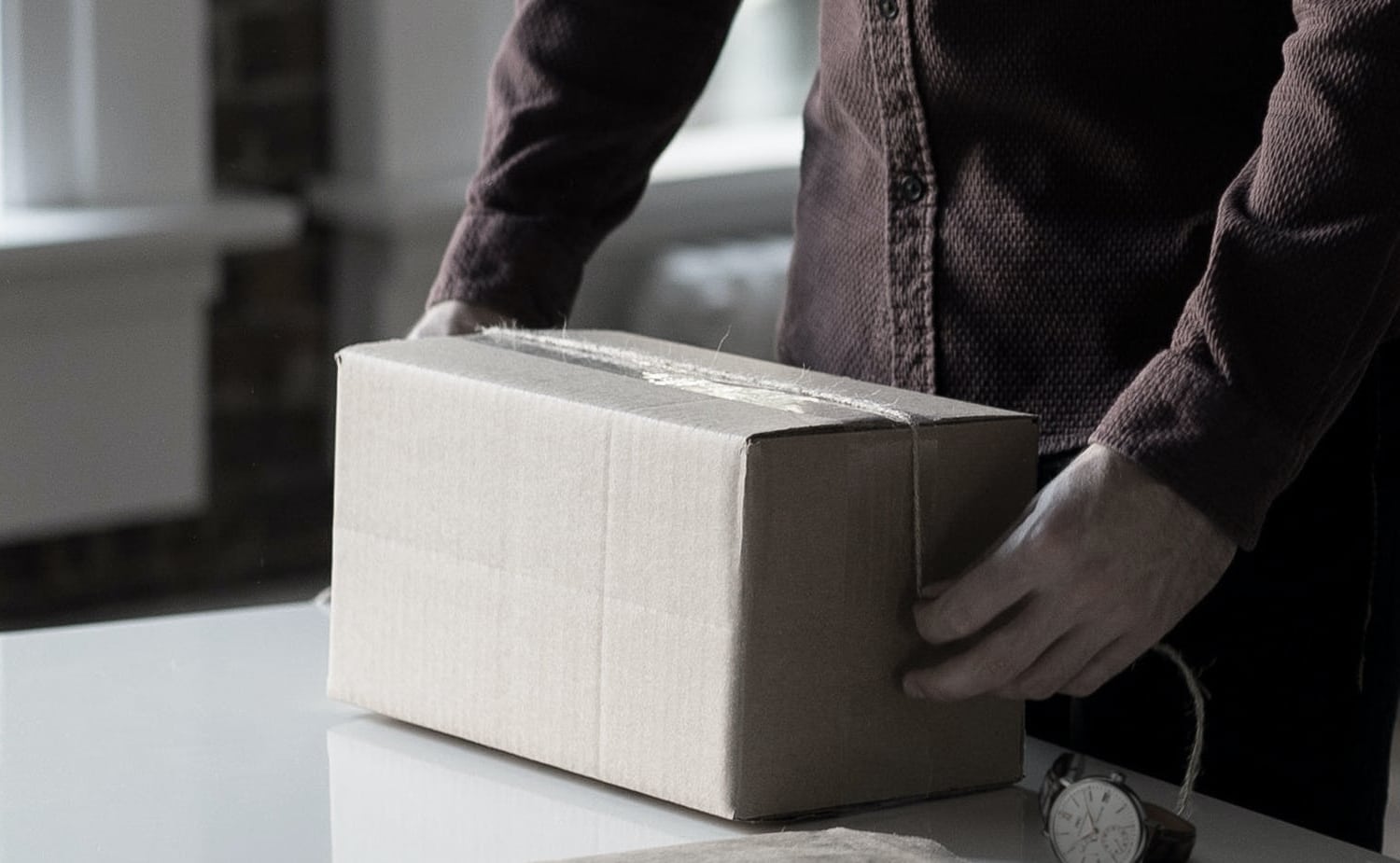 At this point, Watchbox does a full inspection on the watch. Once the inspection is complete, you receive cash via check or wire payment.
The trade process is similar. If you're shopping through the Watchbox inventory and see something you like, you have the opportunity to offer a trade.
You'll fill out a form, speak with a client advisor, and send in your watch. If everything checks out, your new watch ships in 48 hours.
Valuation
Watchbox has a unique feature that allows you to track your watch collection's value in real-time, as well.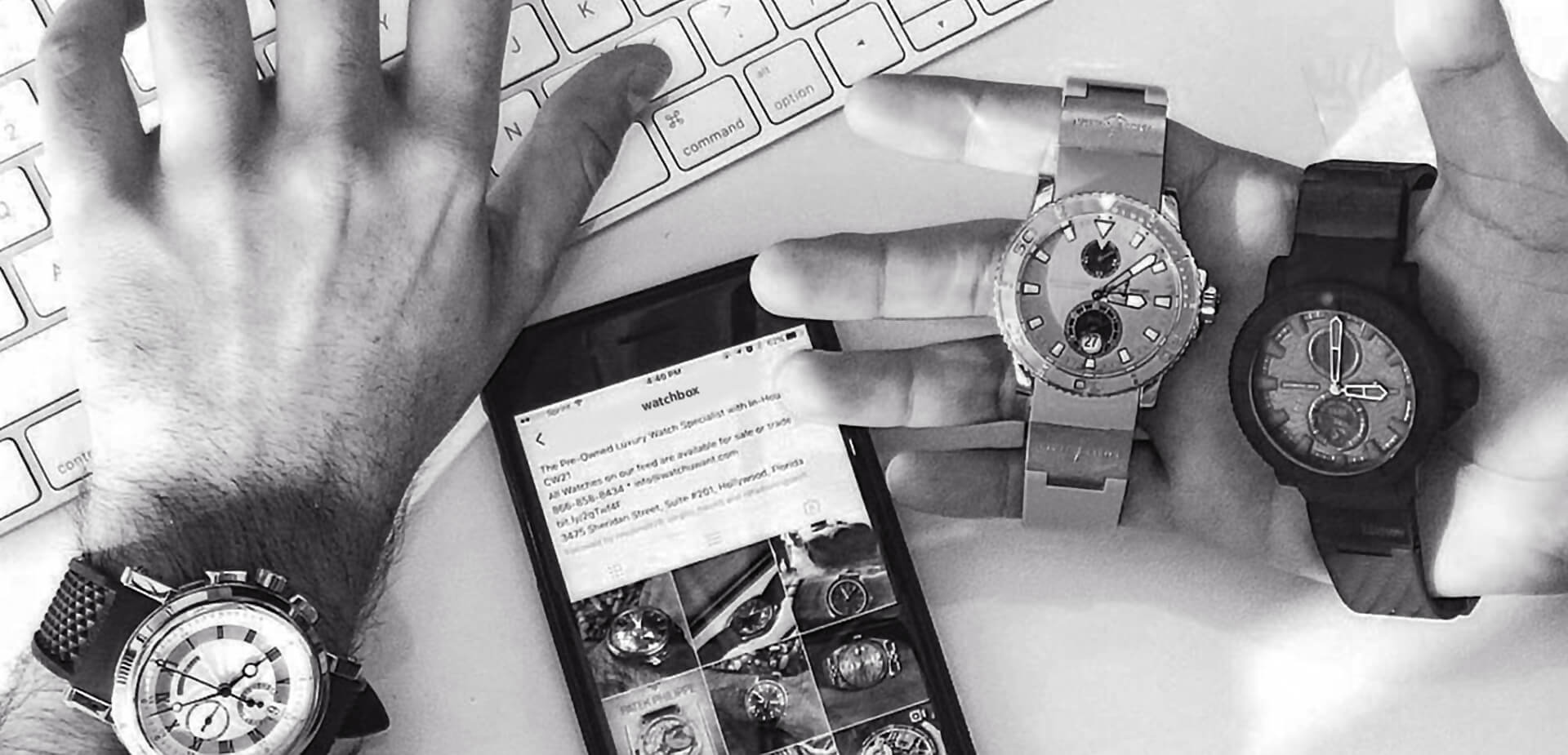 All you need to do is create an account and upload the data of all your watches. Within a few days, your watches will receive a value, and you can track how well they're doing, similar to the stock market.
Not only is this fun, but it can also give you an idea of what Watchbox might offer on your pieces.
Loans
Things happen, and there could be a point where you're in a pinch and you need a loan. Watchbox will actually loan you money, with your watches as collateral. You'll fill out the loan paperwork and send your watches in.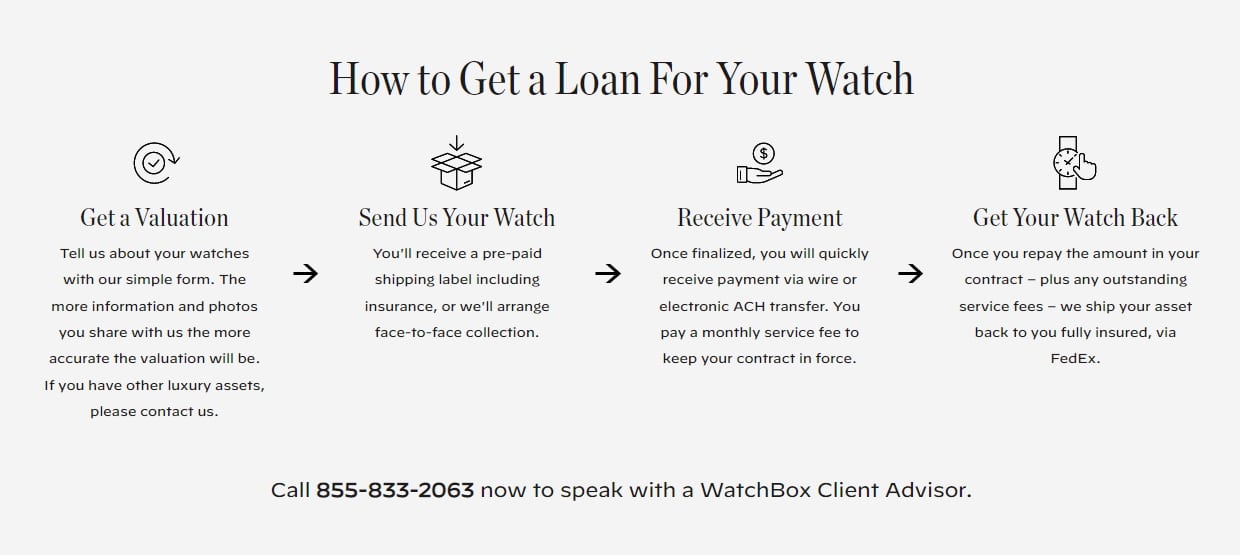 If they meet the criteria, Watchbox will send the money and hold the watches until you're able to pay the loan off. While it might seem like the darker side of watch dealing, it's safer than sending your Royal Oak to a pawn shop.
Which Brands Does Watchbox Carry?
The answer to this question is relative because it's dependent on the company's stock at the time. But if you're looking for a luxury watch from a particular brand, chances are Watchbox has it.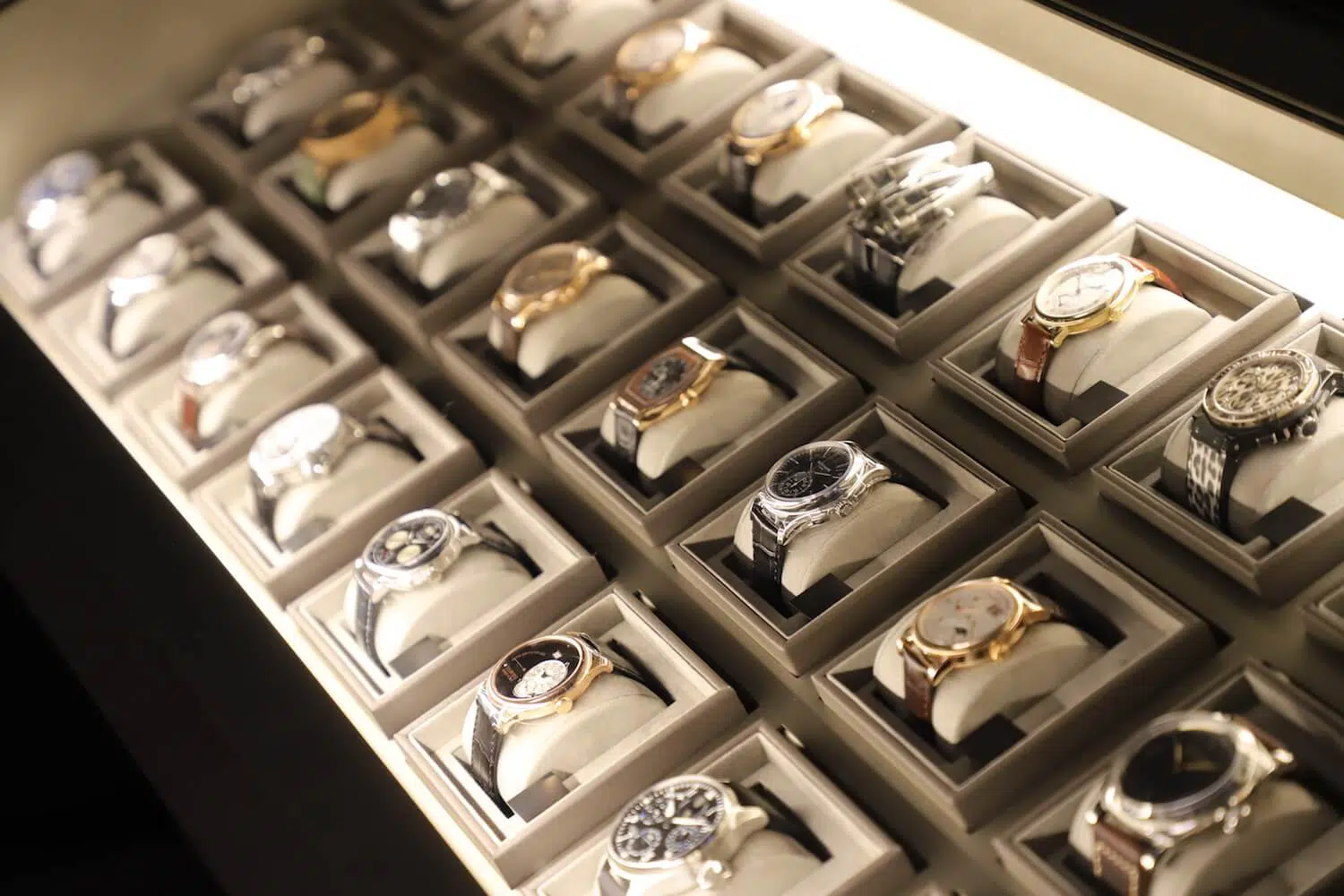 Watches from brands like Rolex, Omega, Grand Seiko, Tag Heuer, Tudor, and Breitling are plentiful, but there is also an excellent selection from F.P. Journe, A. Langhe & Sohne, Audemars Piguet, Patek Philippe, Vacheron Constantin, and JLC.
You can even find watches from affordable, entry-level brands like Seiko and Movado from time to time. 
Is Watchbox Safe?
The used and gray watch markets can be dangerous places.
Between stolen property, fakes so good they fool authorized dealers, and other concerns, it can be hard to fork cash over for something you can't even touch first. For that reason, Watchbox might feel a bit sketchy.
The truth is that Watchbox is a legitimate business, and it owns all of its inventory. Every time Watchbox purchases a watch, a trained watchmaker takes it apart and authenticates it.
This means that whenever you purchase a watch from Watchbox, you're guaranteed to get the real thing.
Also, every watch that Watchbox sells comes with a warranty. The included warranty covers the watch for two years, but there's an extended warranty available as well.
You will have to send your watch to Watchbox for service, but at least the warranty provides some peace of mind.
Watchbox Pros and Cons
Watchbox is likely to become the authority on pre-owned luxury watches, and it often has the best inventory. And, since the company makes shopping, selling, and trading so easy, it's a convenient way to find or sell your next timepiece.
Is it worth it? Let's look at some of the pros and cons.
The big advantages you'll see when dealing with Watchbox is the inventory, the security, and the fact that you'll deal with real people.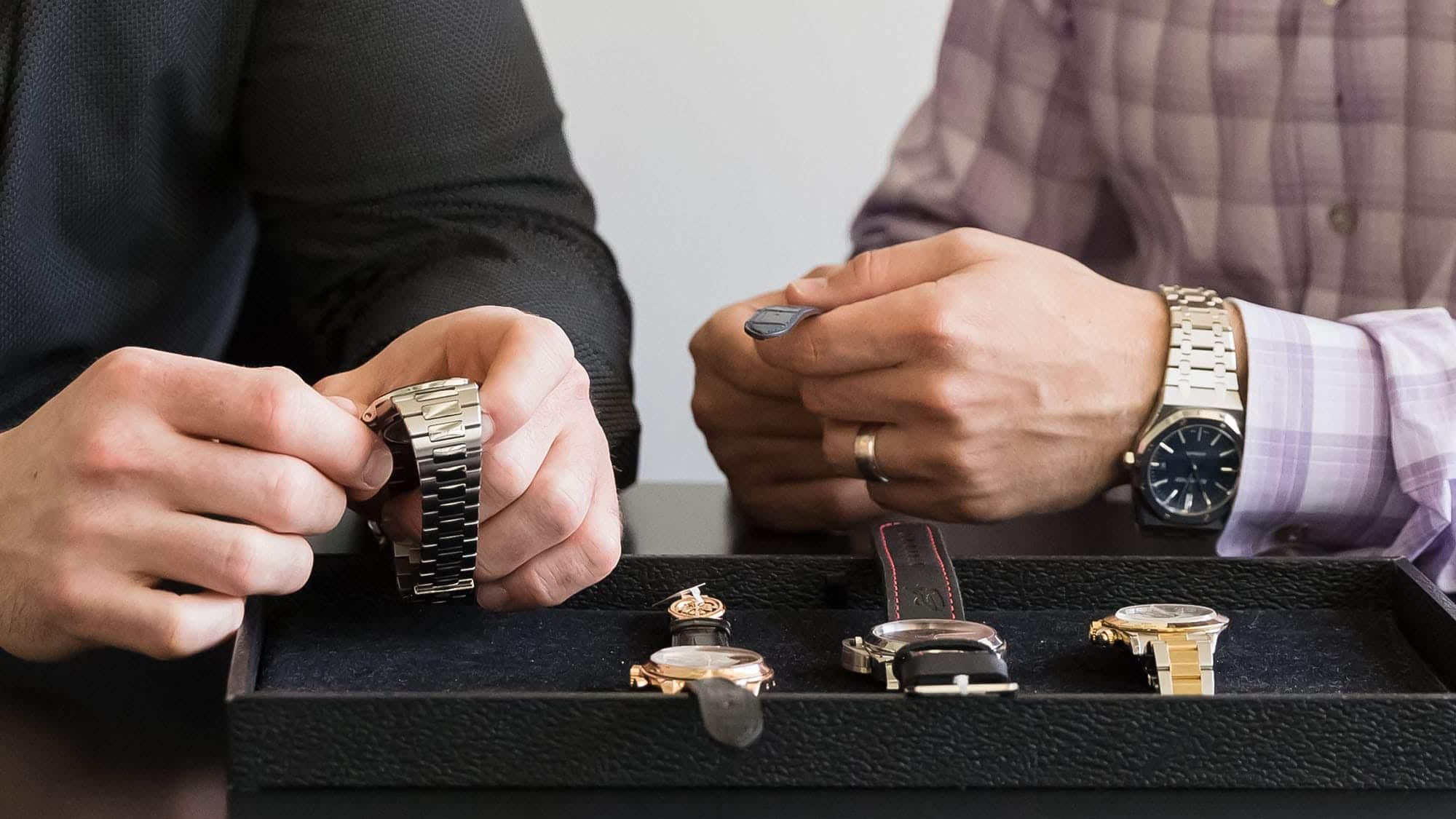 Watchbox will have watches other dealers aren't able to get their hands on, and they authenticate each watch.
But, throughout your shopping process, you'll get to deal with the Watchbox team of client advisors, and it's a team of real people to help you and answer your questions.
Yes, you will likely pay more for a watch from Watchbox than you might if you were able to make the sale privately.
But, you have to find the watch, settle on a price, and trust that the person isn't trying to get over on you with a fake watch. That's a risk you have to consider.
Final Thoughts
Ultimately, Watchbox is probably the future of pre-owned watch sales, and you should feel confident using its services.
Between the warranties, authenticity, and client advisors that are there to help, you'll probably be able to find your dream or grail watch and cut out a lot of the hassle and risk. Who doesn't want that?
Questions? Comments? Leave them below!