If you're looking for info on the Traska Summiteer 2023, you've come to the right place! Here's our review.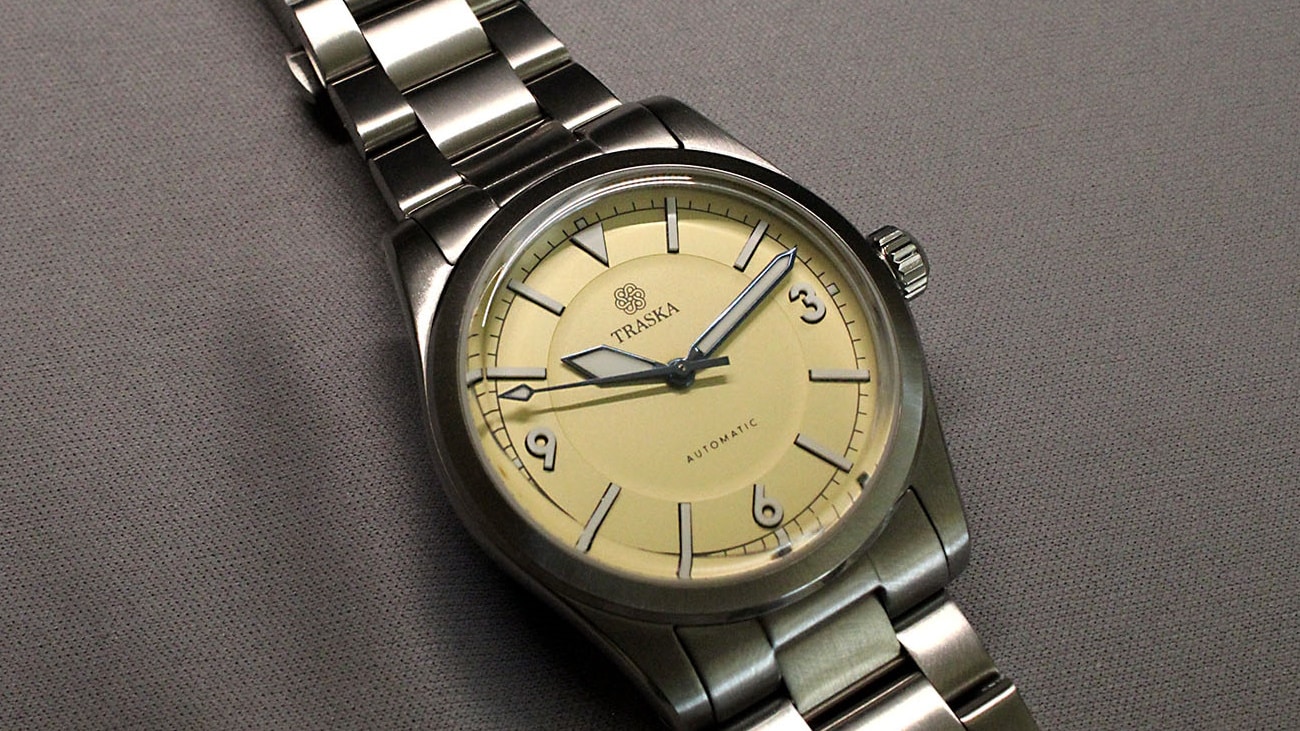 Traska is a Florida-based watch company founded in 2018. It has carved a niche in the micro brand space with modestly sized pieces that embrace vintage design cues. Their watches claim to have the robust versatility to "go anywhere and do anything."
The Summiteer is Traska's take on a field watch design. The company has updated the Summiteer four times since introducing it in 2019. As part of a collection-wide update launched this summer, they call this latest version the watch's "most realized form."
Traska Summiteer Packaging
The Summiteer is packaged in a compact, rectangular box, and it comes with a leathery watch-sized travel case branded with Traska's spiral logo.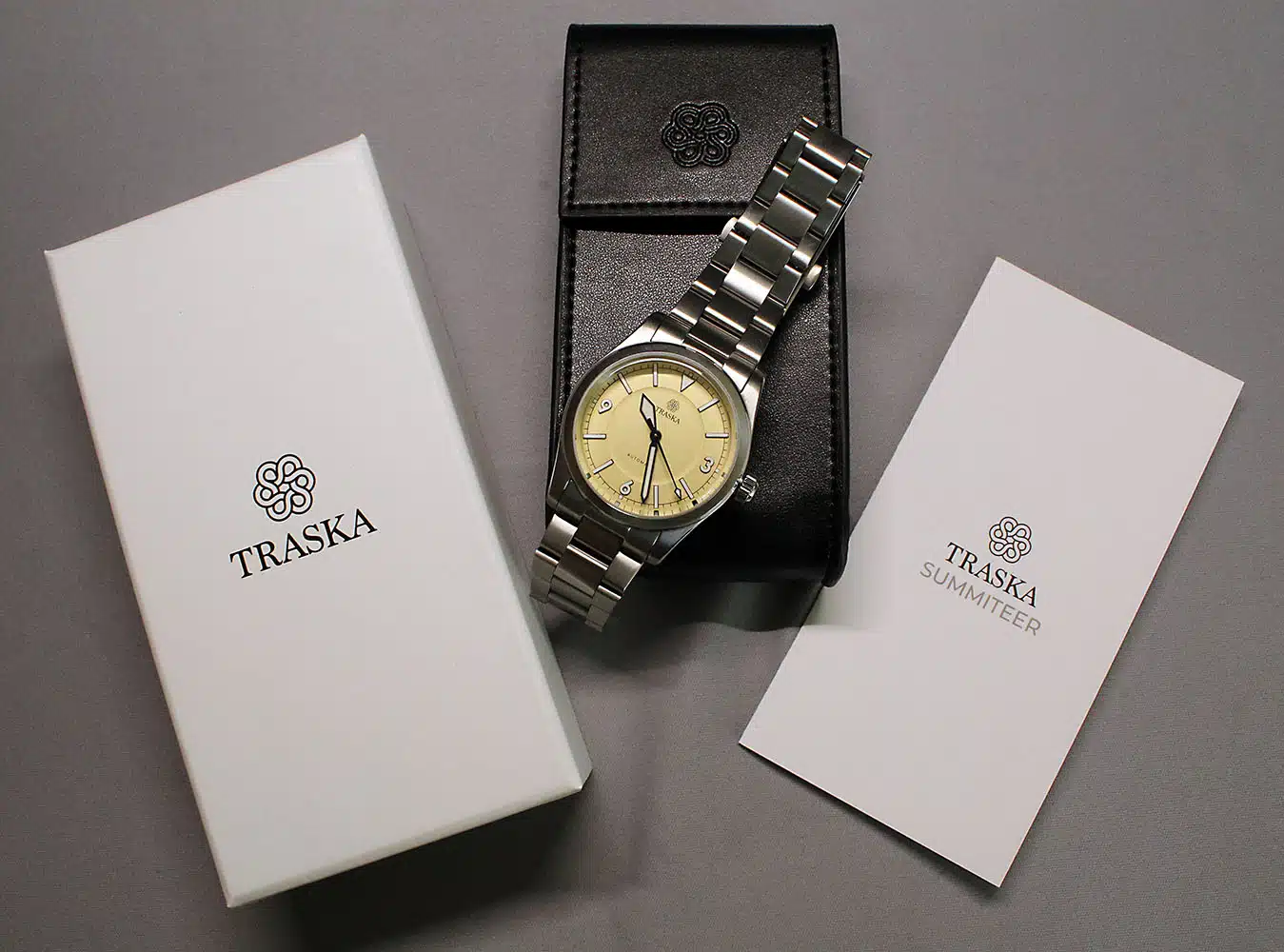 I appreciated the useful bonus item, and it feels of decent quality.
Traska Summiteer Case and Crystal
The Summiteer comes in two sizes. It was originally released with a 38 mm diameter. However, last year Traska offered a limited run in 36.5 mm — a traditional field watch size — which sold out within minutes.
This time, both options are available from the get-go. I opted for the 36.5 mm diameter model, which has a distance from lug tip to lug tip of 44 mm.
The case's proportions feel essentially perfect. This is an unobtrusive watch that won't be tiring to wear or interfere with clothing. The case and bracelet together are also noticeably light at 3.9 ounces.
Traska's latest watches all utilize a new type of boxed sapphire crystal that shaves 0.65 mm off their watches' heights. They've slimmed down the already-thin Summiteer down to 10.55 mm thick.
The company also credits the new crystal with giving off "a certain mellow subtlety". I can't vouch for that, but it does give a clear view of the dial and distorts pleasingly around the edges.
The Summiteer's case sides are now polished to a mirror sheen. Steel elsewhere on the case is mostly brushed, with a polished ring around the bezel and polished chamfers outlining the lugs. It's all attractive and well done, if somewhat unsurprising.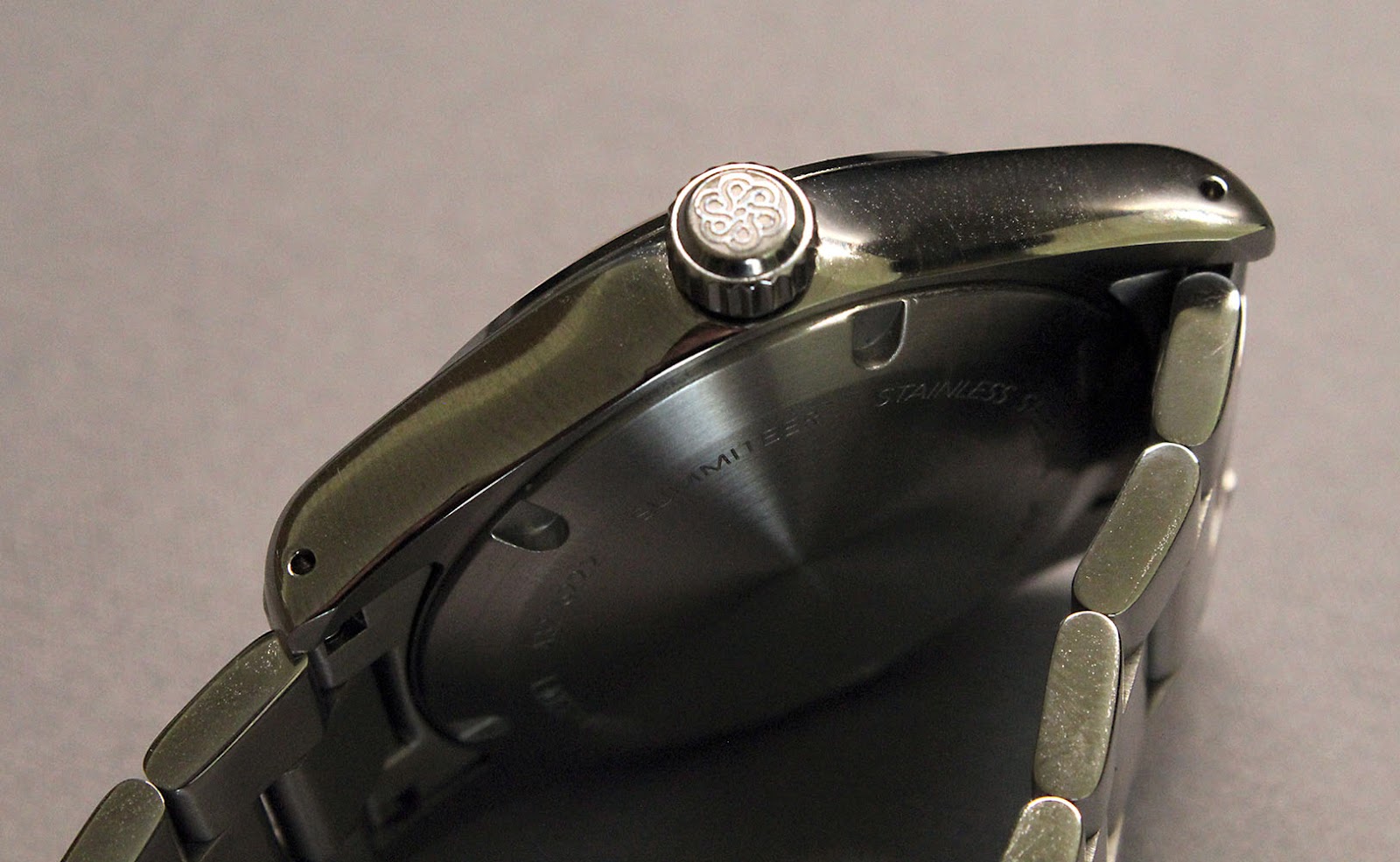 The case is rated for 100 meters of water resistance, so it's as adventure-ready as it appears. Traska says all their watches get a "proprietary hardening treatment" to their 316L stainless steel, protecting against everyday dings and scratches.
This is hard to test, but I can confirm my watch still looks brand new after two weeks of consistent wear.
Traska Summiteer Dial and Hands
The dial of the Summiteer is laid out with a classy restraint, stamped with only the company's branding and the word "Automatic". Beneath the indices, a raised circle encompasses the design and ties it together.
The Summiteer first calls to mind the Rolex Explorer, but its broad, almost cartoonish hands and sci-fi-looking numerals create a distinctive blend.
This edition of the Summiteer is available in four colors: black, blue, green, and — for the first time on any Traska watch — an option called "sandstone yellow."
To my eye, sandstone yellow is warmer in the product photos than it generally is in real life. I found that the dial often takes on a cold, steely tone, and the yellow washes out and becomes pale under direct light.
But it's not your conventional, everyday yellow, and, somehow, it matched just about everything I wore during a weeklong vacation.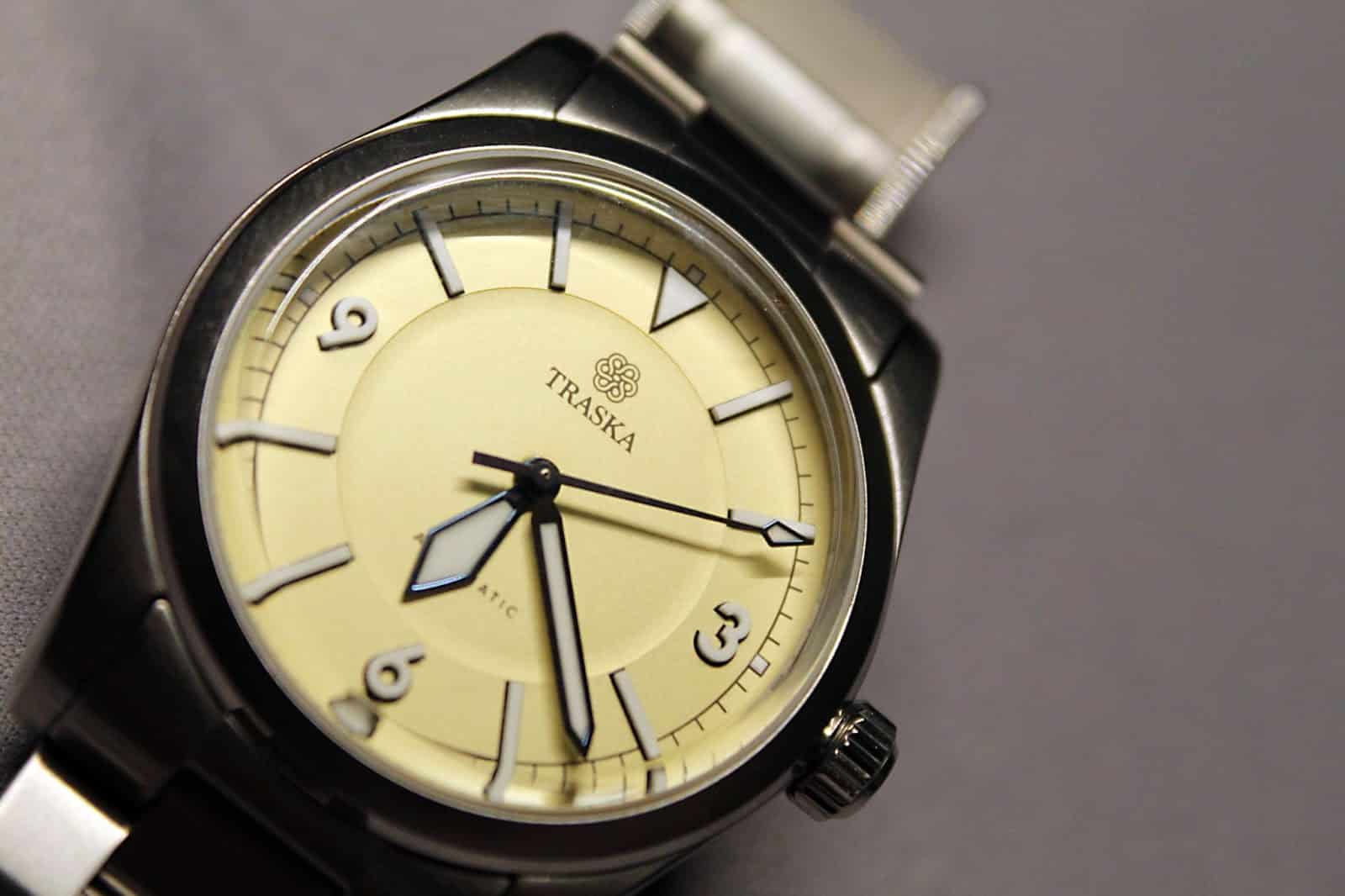 Yellow, blue-toned hands pile on another dash of color to the dial. (Hands like these are only on the Summiteer). The big, blue hands make for quick time-telling. That's because they're the darkest thing on the yellow dial.
That said, they can seem somewhat distracting compared with the indices, which have relatively little contrast.
This is the first generation of Summiteers to feature applied indices rather than printed ones. It's a higher-end touch that elevates the field watch aesthetics. This feature is also on Traska's Commuter and Venturer models.
However, applied indices come with a greater risk of quality control issues. At the time of writing, some indices appear to have imprecise, blobby silhouettes in Traska's product photos.
On my Summiteer, the 8 o'clock index was applied crookedly. This defect is just barely visible without magnification.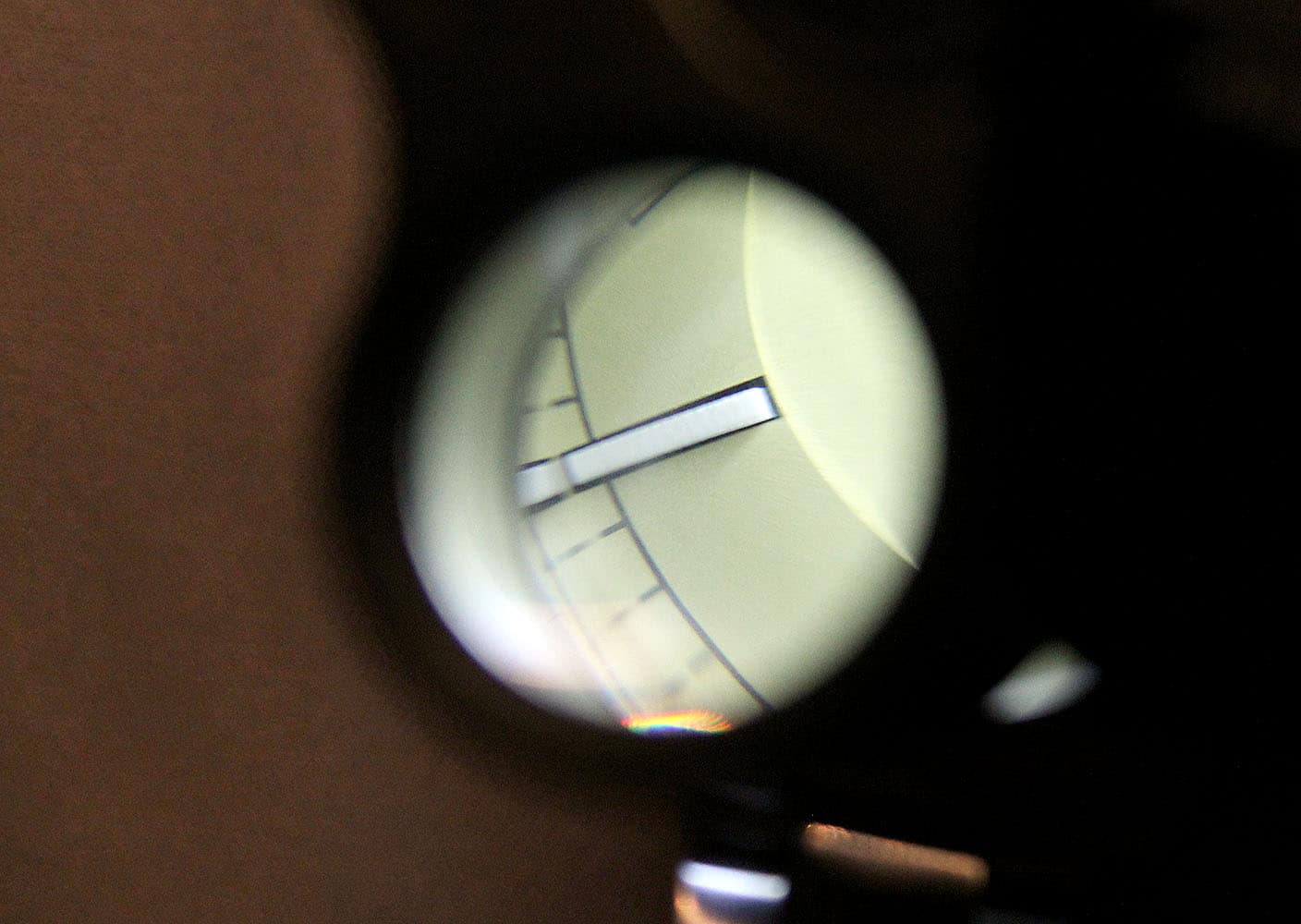 My research suggests that Traska has been personable and responsive to similar issues on previous models.
I've had a helpful interaction with their customer service, so I would expect a productive response if I raised a significant issue with them.
Traska Summiteer Movement
The Summiteer runs on a Japanese-made Miyota 9039 movement, featuring 24 jewels and a 42-hour power reserve. Traska says they regulate each of these movements between -10 and +20 seconds per day.
I clocked my Summiteer, gaining 9 seconds per day on a timegrapher, with a perfect beat error of 0.0.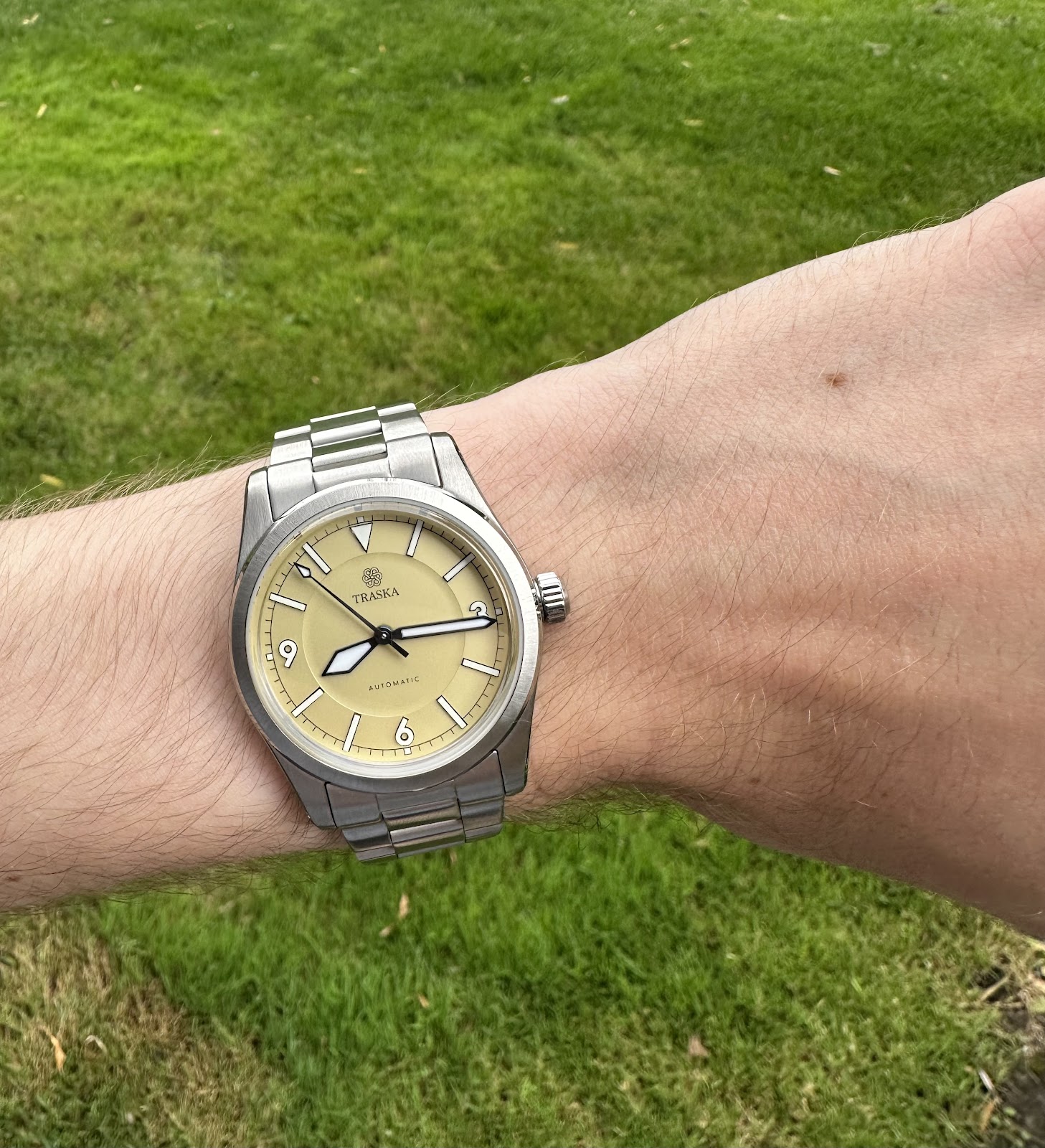 The Miyota 9039's rotor is easy to hear spinning in a quiet room if you move your arm just the right way.
If I flick my wrist hard enough, I can even see the watch shake slightly as the rotor spins. But the sound is still pretty quiet, and I had no trouble getting used to it.
Traska Summiteer Bracelet
Traska's bracelets are a consistent high point, and their latest iteration is no exception. This is a great execution of the classic three-link-style bracelet, with fully articulating links that can fold up like an accordion and a clasp that feels secure.
The width tapers from 20 mm to 16 mm at the clasp, scoring points for comfort and good looks.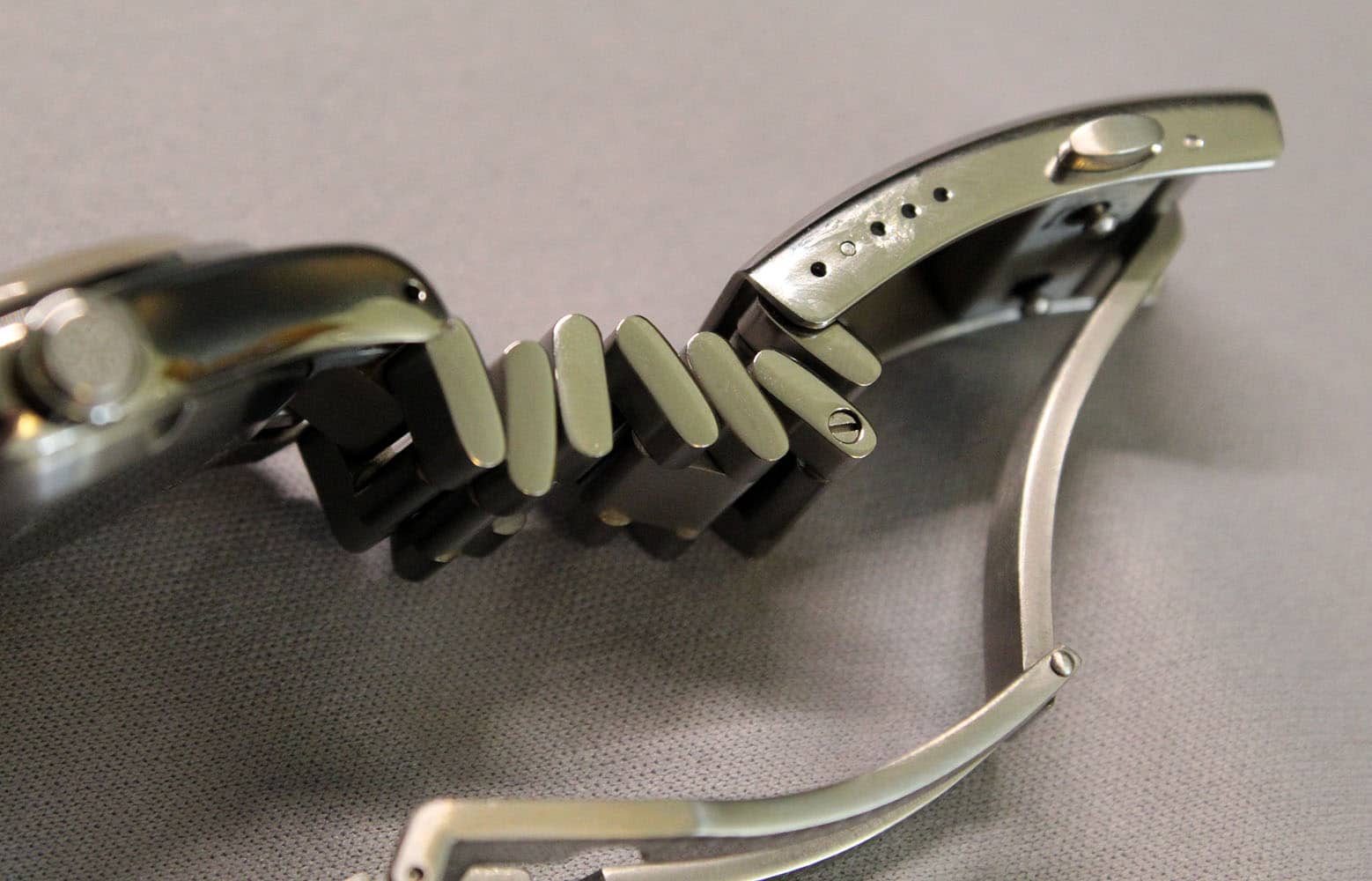 The bracelet's finishing matches its precise construction. The sides of links are now polished, in the spirit of Traska's other moves to heighten the watch's production value.
The result is an easy-to-wear bracelet that is among the highest quality in the price range.
The bracelet's main downfall is that you'll need steady hands and a small, pointy object if you want to resize it. The clasp offers five holes for micro-adjustment but features no quick-adjust mechanism for toolless resizing.
The Verdict
The Traska Summiteer is a small and sturdy package that's comfortable around the clock, with the capability and good looks to go along with you just about anywhere.
At $600, I think the Summiteer stands toe-to-toe with other field watches you might consider in its price range. It can rival Hamilton's Khaki Field collection and Seiko's Alpinist line.
Now sprinkled with higher-end details, the Traska Summiteer is a well-rendered vision of a field watch about which there is remarkably little to complain.
What's your favorite field watch? Let me know in the comment section!