Are you thinking about adding a thin automatic watch to your collection? Here are some great choices.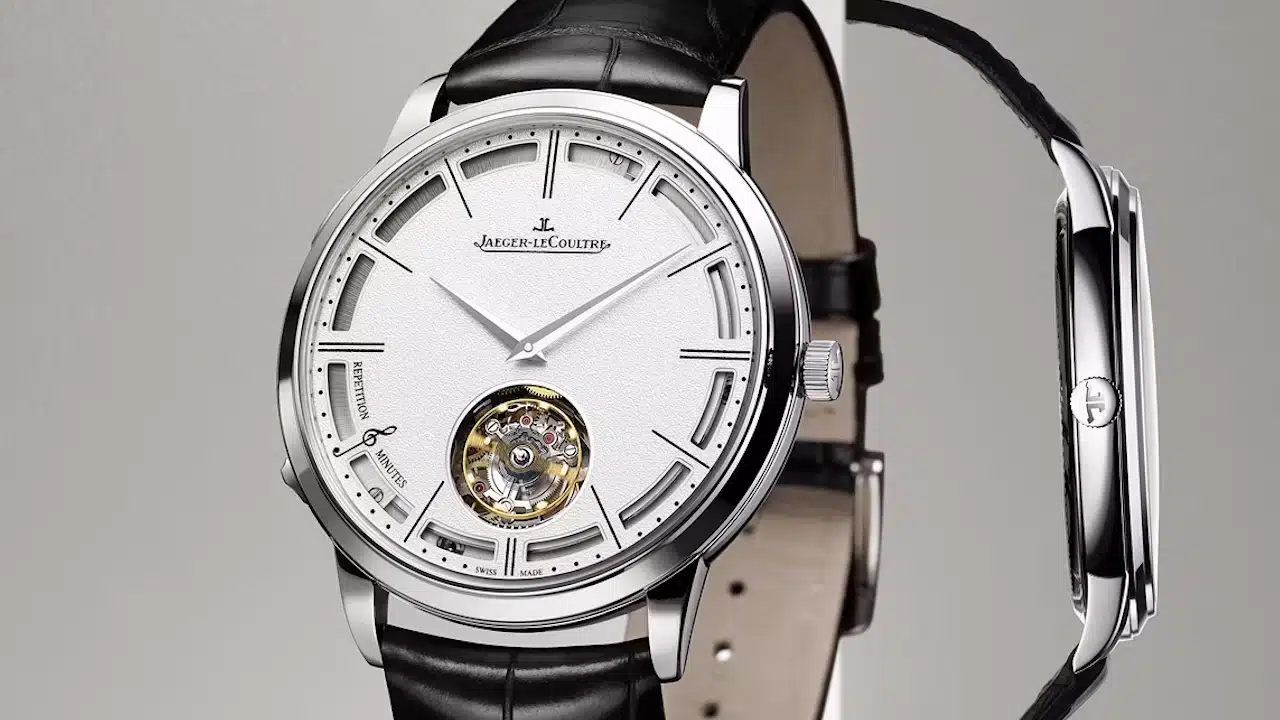 On the one hand, the term "less is more" doesn't always apply in the world of luxury watchmaking.
In fact, many leading brands compete with one another to cram as many complications into one watch as possible. Those who fine-tune this art are considered horological masters within their field of expertise.
On the other hand, watch brands also compete to create incredibly slim, automatic watches. A few manufacturers, in particular, are taking the craft of the ultra-thin watch seriously and setting benchmarks in the industry.
We're going to look at some of these in this article. To really appreciate the complexity behind manufacturing a thin automatic watch, however, I'm going to provide a bit of background on this watch style and why it's so popular.
The History of the Thin Automatic Watch
Making thin watches is no easy task. It takes time and effort. In the same way that a larger watch is often downsized into a smaller and more compact version, manufacturing a thin automatic watch means recalculating an entire design.
This includes the case width and sometimes the dial itself.
Above all, it often means manufacturing a special movement with the right proportions to sit inside the case without compromising on performance.
When timepieces first became portable, the mechanism and components within the watch, such as the fusee (a cone attached to the mainspring that would help improve accuracy), necessitated a large and bulky size. It wasn't to everyone's taste.
Eventually, the fusee was phased out, not only due to its tendency to break but also because of its hefty size. This changed the rules around case designs for the better.
Thin watches really emerged onto the scene during the 18th century. A guy named Jean-Antoine Lepine got the ball rolling when he made some attempts to create smaller pocket watches. Ultimately, he created what we now recognize as the modern mechanical movement.
By the year 1903 Edmond Jaeger. created a new movement. The Caliber 145 measured a mere depth of 1.38mm.
Jaeger-LeCoultre became the first watch brand to make waves in the industry by creating slim watches, using the movement in its Kingsman Master Ultra-Thin watches.
It was only a matter of time before major competing brands within the industry would try their luck at developing an even slimmer watch.
Audemars Piguet was the next to take on the challenge, developing a movement that measured a 1.32mm thickness in 1921.
Then would come a very long wait. A wait of 36 years, to be exact. That's the year that Piaget released the impressive 9P movement in 1957, enabling the manufacturer to produce much slimmer cases than it had been used to.
When the quartz crisis swept in, the demand for a slimmer automatic watch died down. Thick cases were not so much an issue for the quartz watch.
The rise of the battery meant fewer moving parts under the hood. But, by 1986, Audemars Piguet had been persisting with its vision.
Piguet survived the crisis and made history again with another thin automatic watch combined with the first tourbillon. Its design saw the rotor swapped out for a hammer.
Thin Automatics Today
When Bulgari released the world's thinnest chronograph in 2019, it hadn't been without its challenges.
For example, when crafting a thin automatic watch, many brands choose a micro-rotor. It offers the advantage of being set inside the body of the movement.
While this reduces the thickness in the case, a lot of weight is lost from the rotor, compromising its swinging action.
As such, the brand made lots of adjustments to achieve the thinness of the Bulgari chronograph, featuring a peripheral rotor made from platinum instead.
On top of the technical challenges related to manufacturing a thin watch, they also need to be comfortable.
Many watch experts in the industry have spent many years trying to reach the pinnacle of watch thinness without jeopardizing style or comfort.
Today, watches that measure a mere 2mm in depth are now a reality. It poses the question, "Where could we be in another decade?".
5 of the Best Thin Automatic Watches
If you want to try out a thin automatic watch for yourself, here are some great options I've found for you:
Audemars Piguet Royal Oak Self-Winding Perpetual Calendar Ultra Thin Watch Reference 26586IP.OO.1240IP.01.
The Audemars Piguet Royal Oak Self-Winding Perpetual Calendar Ultra Thin watch is the world's thinnest perpetual calendar. It carries the iconic shape of the 1972 luxury sports watch and features automatic winding combined with a perpetual calendar function.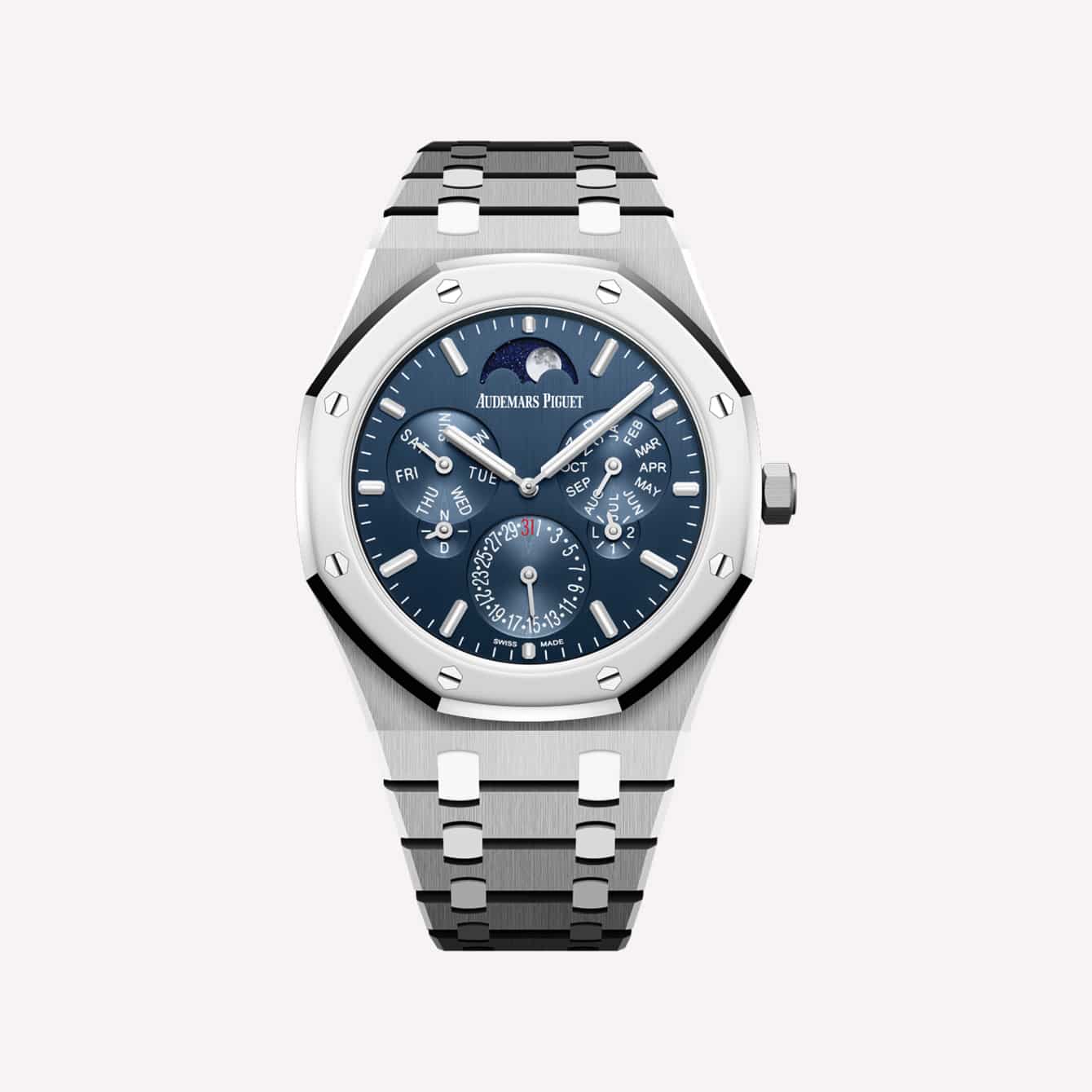 The watch measures a slim 6.2mm depth and is crafted from grade 5 titanium and platinum. It has an integrated lightweight titanium bracelet. The bracelet keeps in line with the model's iconic sports watch look and its famous octagonal-shaped bezel.
The Caliber 5133 is a supremely thin movement that offers up a power reserve of 40 hours and comprises 256 components.
It beats away inside the slim 41mm case, offering a date ring against a blue dial at 6H, and a month ring at 3H combined with a leap year indicator.
Also, it has a moon phase function at 12H, and a day and night indicator combined with the days of the week at 9H.
This Royal Oak proves that a slim watch doesn't always have to be classic. Its bold, sporty design works perfectly with a slim case depth to maximize practicality and comfort.
Bulgari Octo Finissimo Tourbillon Chronograph Skeleton Watch Reference 103295
The Octo Finissimo Tourbillon Chronograph Skeleton exposes its ultra-thin movement through a sandblasted titanium case measuring a width of 43mm and a height of just 7.4mm.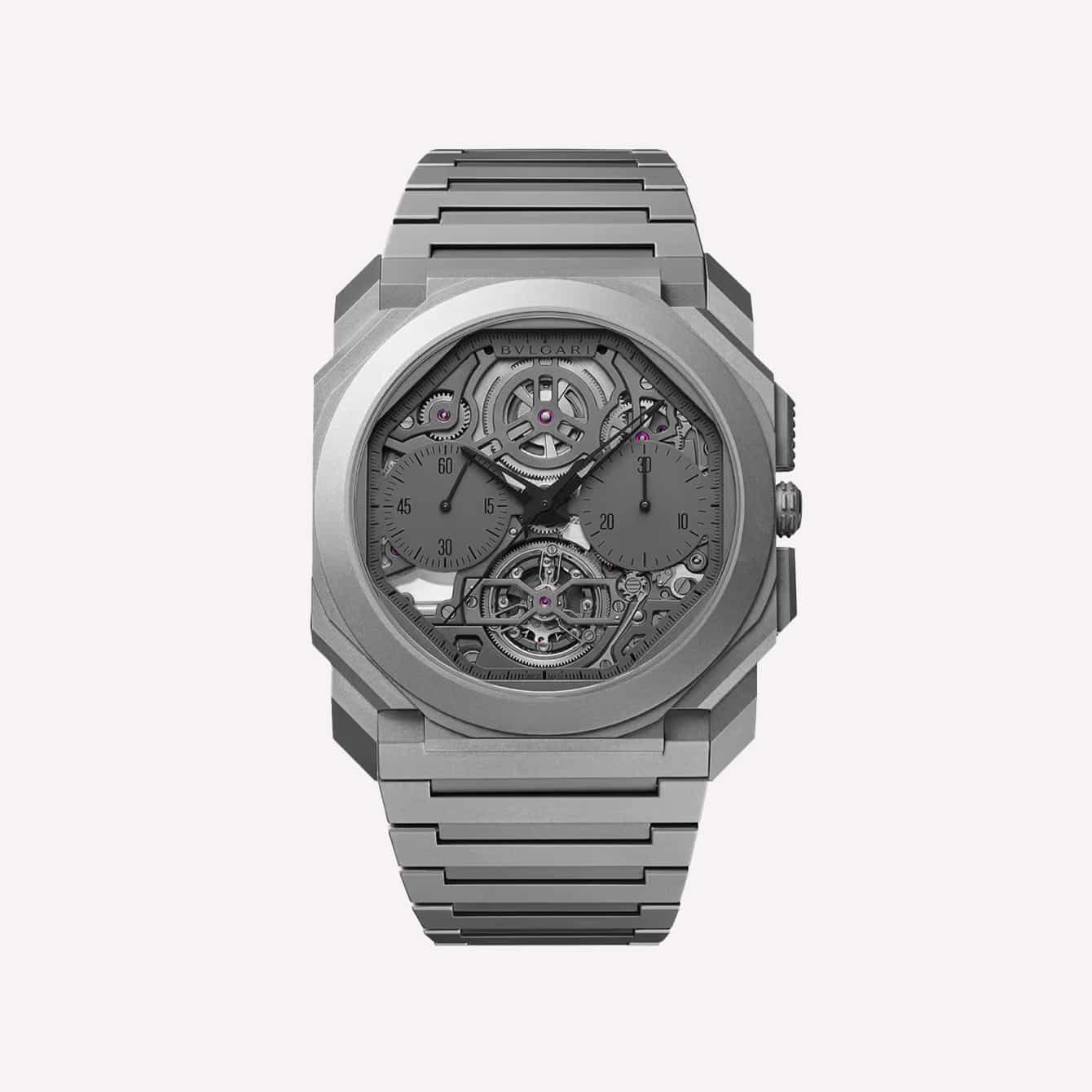 Its skeletonized movement shows through the front and back of the case, offering a power reserve of 53 hours. The movement is positioned behind chronograph counters at 3 and 6 o'clock.
Its matte grey dial, combined with the lightweight qualities of a titanium case, creates a wholly modern look on the wrist.
If you're looking for a thin automatic watch that still looks masculine and bold, the Octo Finissimo Tourbillon Chronograph Skeleton watch is a great choice.
The Nomos Tangente 35 Watch Reference 139
The Nomos Tangente 35 watch sits in the parameters of modern and traditional.
The German manufacturer has scooped up several awards for its designs, particularly those with a distinct Bauhaus-inspired style like this clean and sleek model.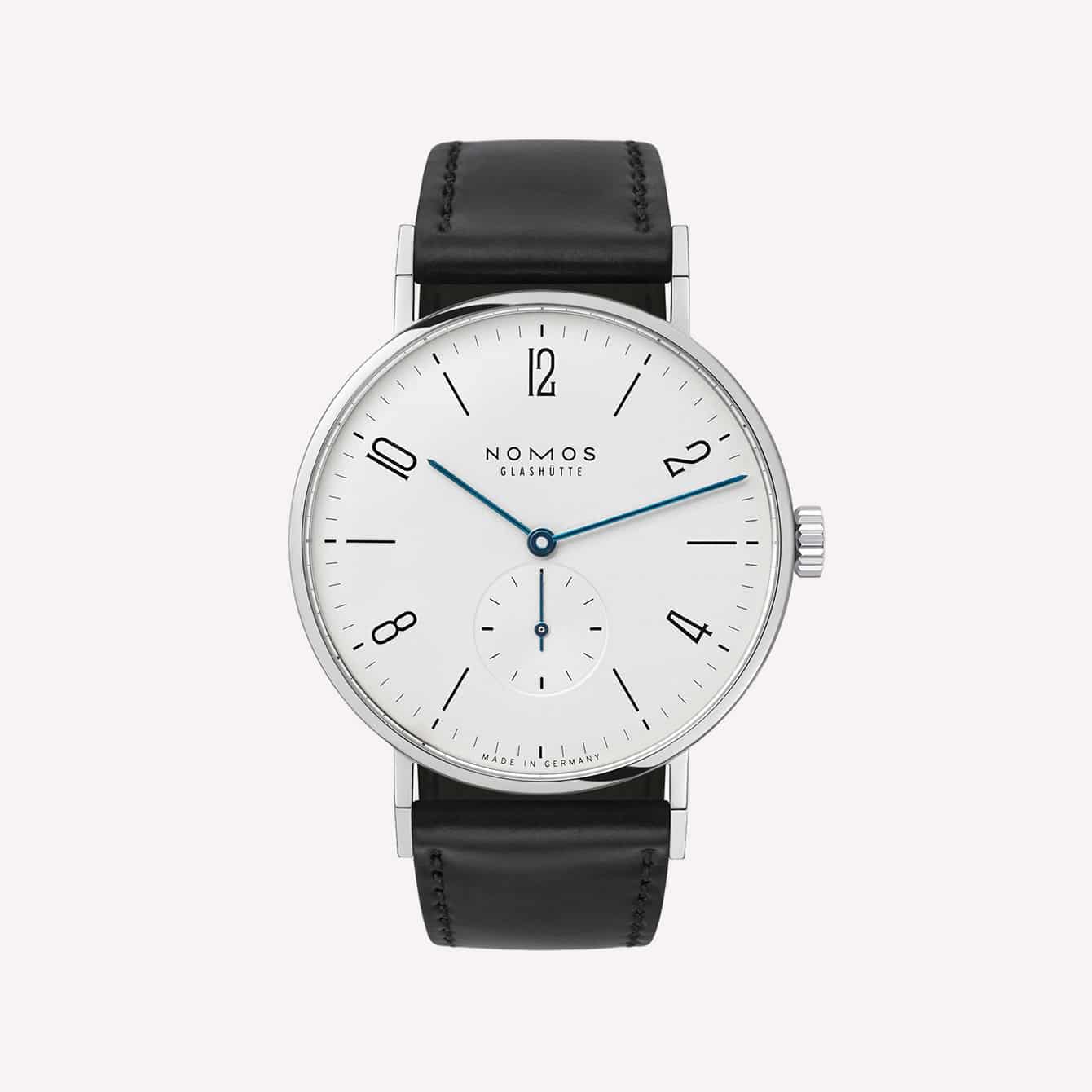 Its stainless steel case measures 35mm in diameter and sits at a depth of 6.6mm on the wrist. The typeface on the dial is typical of the 1930s era, with a simple, minimalist display and two slender, blued steel hands.
These features marry well with a small seconds sub-dial at 6 o'clock with a matching blued hand. This thin automatic watch is perfect for sitting underneath a shirt cuff and is powered by the Caliber Alpha.
This movement powers the hands around a white galvanized dial, complete with a 43-hour power reserve.
Nomos experts have also chosen a black Horween Genuine Shell strap to mold comfortably to the wrist.
Jaeger-LeCoultre Hybris Mechanica 11 Watch
Continuing Jaeger-LeCoultre's reputation in crafting ultra-thin watches, the Hybris Mechanica 11 measures a slim 7.9mm depth.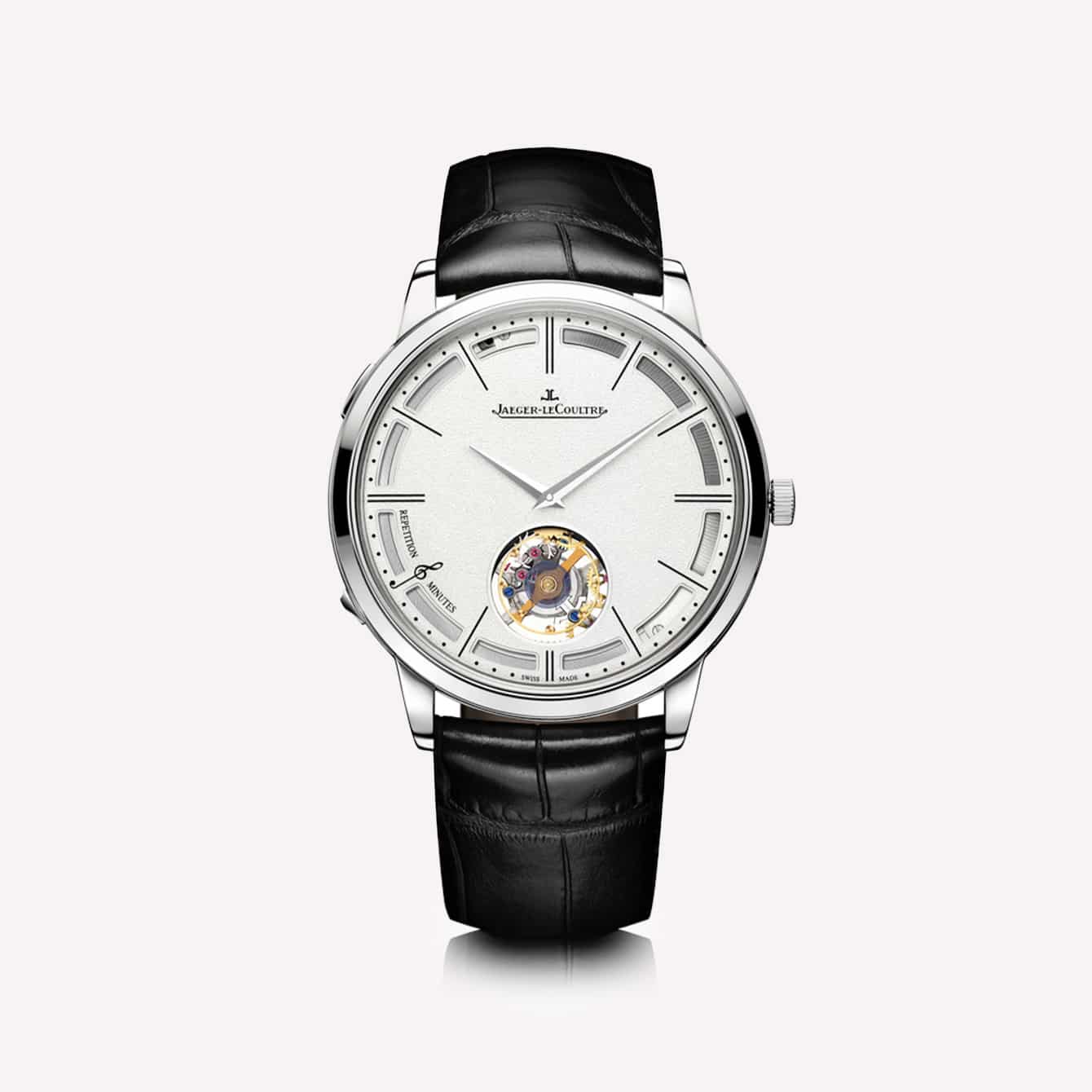 It features a stunning open heart feature at 6 o'clock, showcasing a slice of the automatic movement through its dial side. The model once held the record for the slimmest repeater watch after it was released in 2014.
It includes a flying tourbillon thanks to its peripheral rotor. The movement itself, as complex as it is, gets away with a thickness of 4.8mm inside its 41mm case.
Other innovative features include a push button to activate the repeater mechanism and a locking system at 8 o'clock, securing the push button during times when not in use.
The watch's flying balance wheel shows through the dial side too, while a silent time-lapse reduction system eliminates the pauses between chimes.
Piaget Altiplano Ultimate Concept Watch
I've saved the best until the last. Why? Because Piaget is the manufacturer of the thinnest mechanical watch ever created.
The model sums up the brand's 60-year-long quest for achieving thinness in the most undiluted and purest form. If you fancied a thin watch with an interesting backstory, the Altiplano Ultimate Concept is the one for you.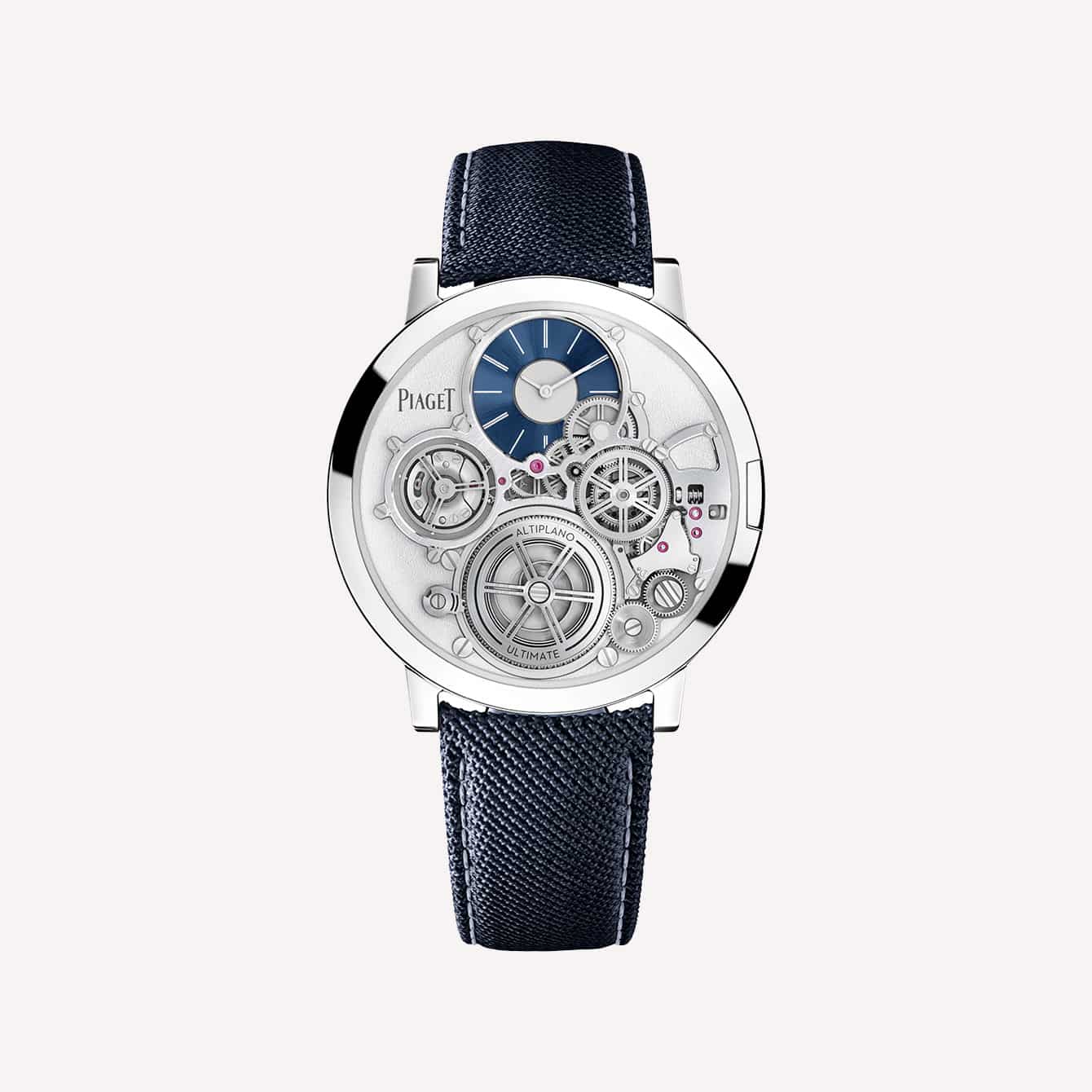 First of all, its case measures a staggering 2mm thickness. To achieve the thinness of the watch, its entire case had to be redesigned, along with a brand-new movement.
No longer just an ambitious experiment, the Altiplano Ultimate Concept watch has now been gracing wrists since 2020.
In this design, the case forms part of the movement itself, while a newly constructed barrel and energy regulation feature improve the watch's mechanical performance.
Its ultra-thin movement also provides a boundary-breaking 40-hour power reserve (an industry first for its size).
Final Thoughts on Thin Automatic Watches
Today, any watch measuring under 8mm is considered thin, it just depends on how thin you want to go.
While the thinnest timepieces in history reflect a higher price tag, there are still many reasonably priced slimline watches on the market to choose from.
Ultimately, the manufacturer you choose will depend on how much you need to spend, but in general, there is no real way to go wrong when buying a thin automatic watch.
How thin do you go? What's your thinnest watch? Let me know in the comments!