Looking for a Citizen watch? Good idea! Here are some good ones to choose from.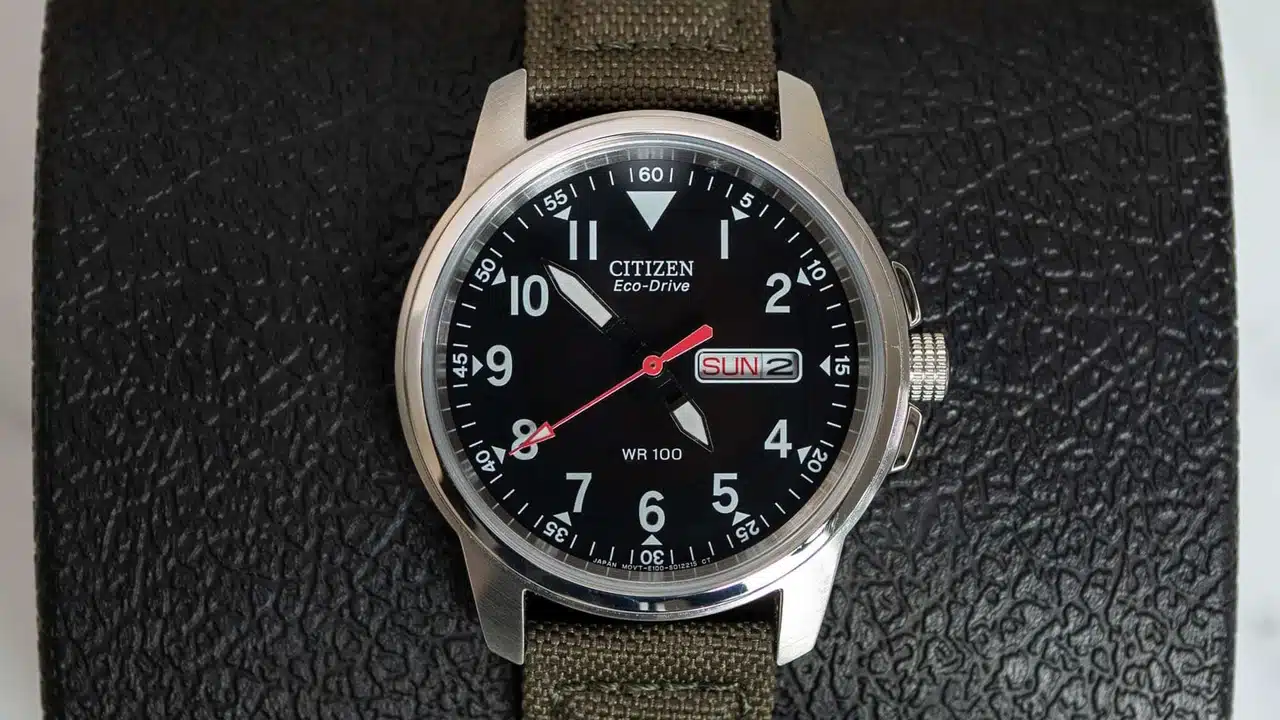 Citizen is 100% one of the most worthwhile catalogs to dig through, particularly if you're a practicalist or love a gear-forward timepiece a la Victorinox.
Citizen isn't actually known for reasonably-sized timepieces, several of their models being at the 45-millimeter, and up, category. However, Citizen is known for their impressive electronic innovations.
Incidentally, their focus on strong function results in some great styles — inextricably related to pro-level, no-nonsense specs, of course.
15 Best Citizen Watches
Here are 15 excellent Citizen watches, offering a range of functions and styles!
Citizen NJ0100-71L
Being a classic dress sport watch, the NJ0100-71L is special in that it's actually unlike most Citizens. Still, it is Citizen-like in that there's a ton of design and build in there, especially for its price point.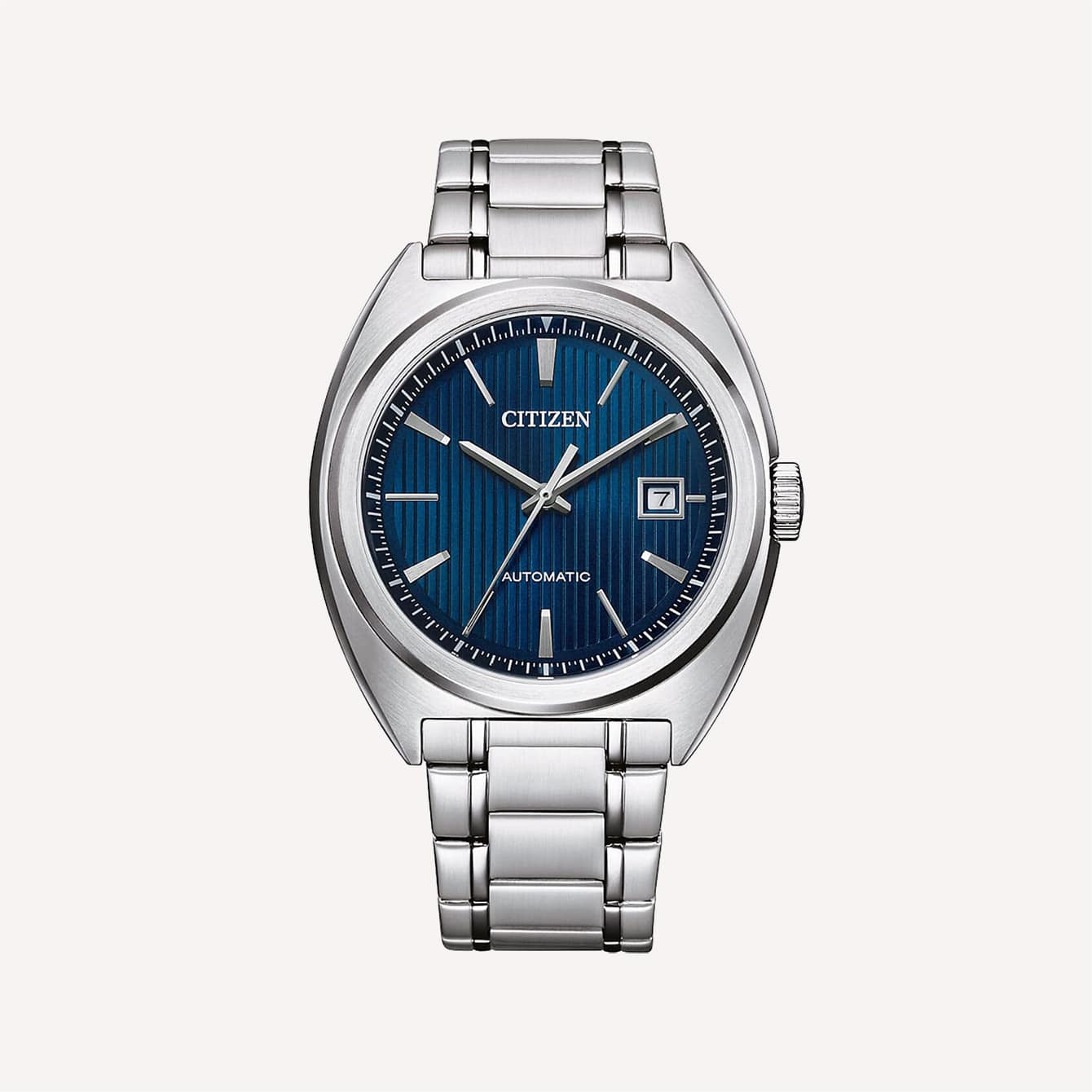 From its 100 meters of water resistance and moderate 40mm case size to its impeccable applications and finishing, this quintessential everyday timepiece is perfect for a one-watch collection.
Citizen usually outfits their pieces with topnotch quartz movements, but the NJ0100-71L is an automatic, checking all of the boxes for the horologically curious.
Again, the design itself is classic but has some subtle departures that give it its own personality while maintaining its versatility. The cushion case is unique, but tempered by the close-to-body crown and clean bezel.
Dimensions: 40mm diameter, 11mm thickness
Case material: Stainless steel
Water resistance: 100m
Meanwhile, the ridges of the dial panels compliment the rose gold marks. It's a very "Citizen" take on a template they rarely use, which makes it truly fascinating.
Citizen Promaster Air Nighthawk BJ7000-52E
This Promaster Air comes from Citizen's Nighthawk subline of spec-forward and often dynamic-looking aviator watches.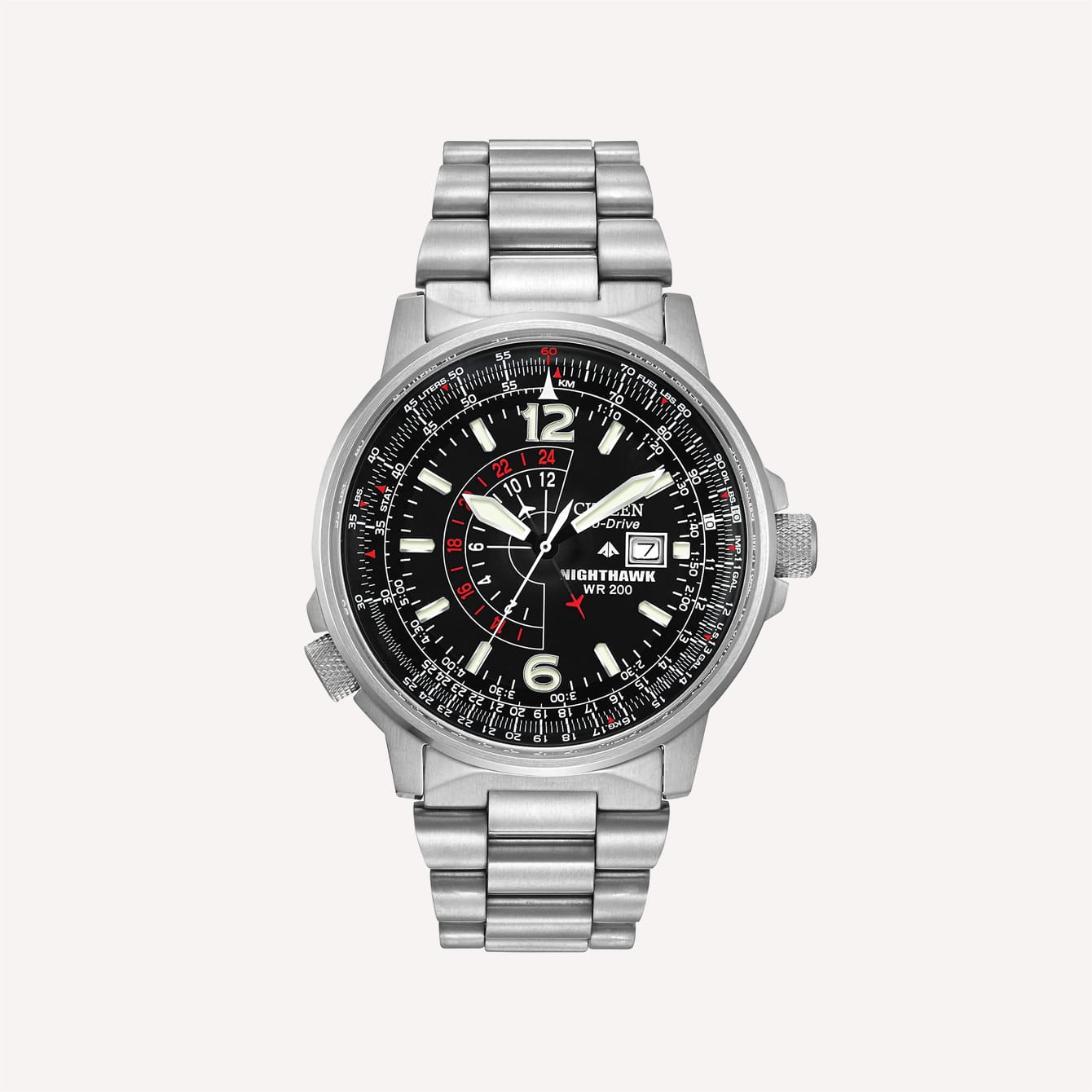 Pedigree aside, this particular model boasts a face that's as maximalist as an aerial shot of a busy city.
Even the bezel is slim to give more real estate to the function-forward dial. It also has a pilot's slide rule, giving it a full-on science gadget aesthetic. The red accents throughout help with navigating the dial, while also giving it a style factor.
Dimensions: 42mm diameter, 13mm thickness
Case material: Stainless steel
Water resistance: 200m
Like many of Citizen's professional watches, this Promaster runs on their Eco-Drive quartz movement, meaning it's accurate and stores energy via natural or synthetic light which, as we learned, creates no need for new batteries.
Citizen Weekender Black IP AW1147-52L
The Citizen Weekender Black IP combines sleekness with industrial sensibilities. Features like its hard-edged case shape and grill-like texturing on the center dial have a mechanical aesthetic.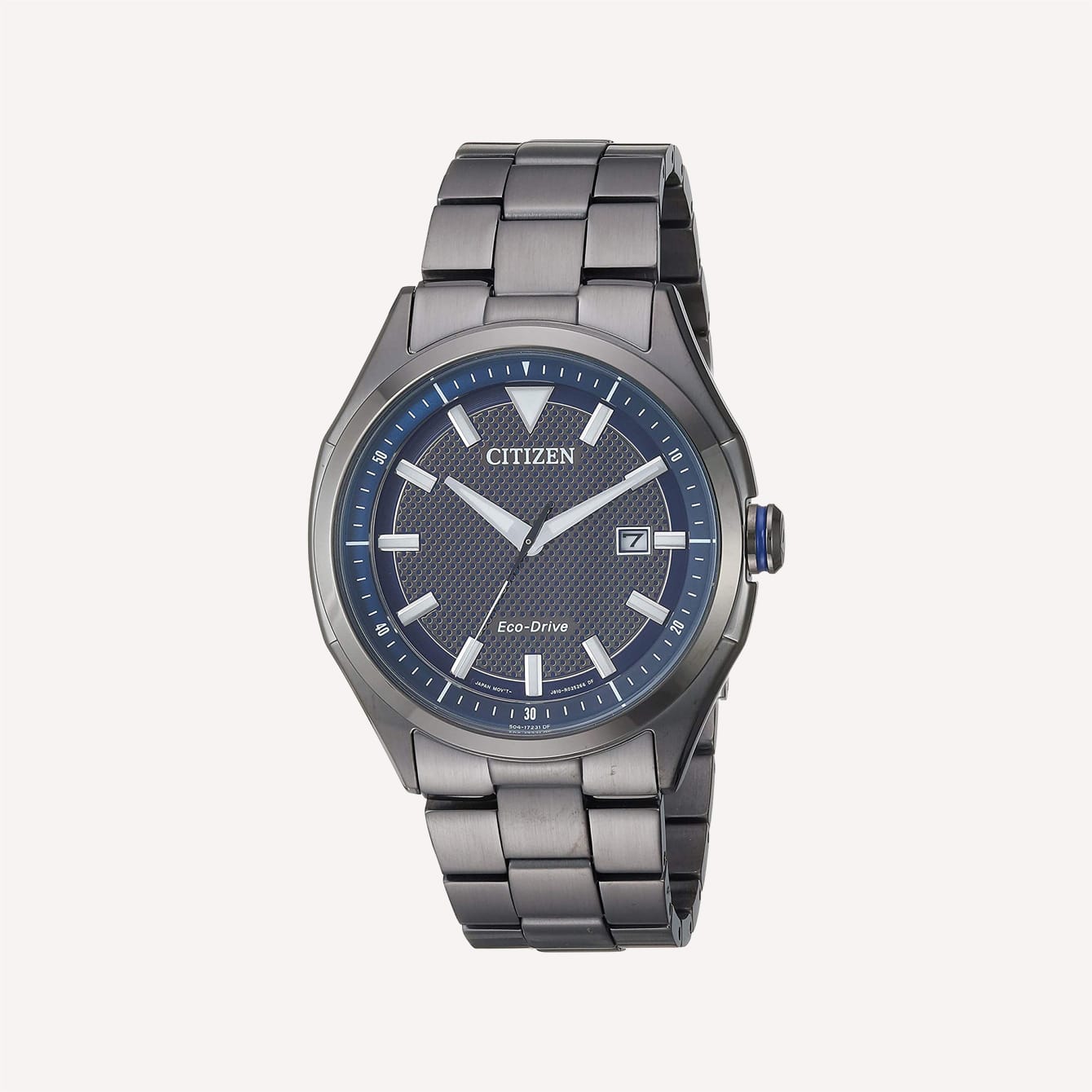 The dial's indices hang over the edge of the center, as if they were holding it in place, giving the entire dial layers and dimensionality. The multi-strata crown adds to this as well, while also being excellently grippy.
I think the watch's ion-plated body looks cool and authoritative, but it's mainly there to provide a harder, more scratch-resistant surface (it's five times stronger than non-treated steel without adding any bulk or weight).
As Citizen does, the style is never just aesthetic, but rooted in practicality.
Dimensions: 41mm diameter, 11mm thickness
Case material: Stainless steel
Water resistance: 100m
The light-powered J810 movement is a highly accurate quartz, with a day-date calendar complication that you can just set and forget — odd months like February, aside.
Citizen Brycen BL5551-06L Titanium
The Brycen BL5551-06L is as brawny as it looks, though surprisingly light, thanks to its titanium construction. The bezel is thick, almost like the swing window of a submarine porthole.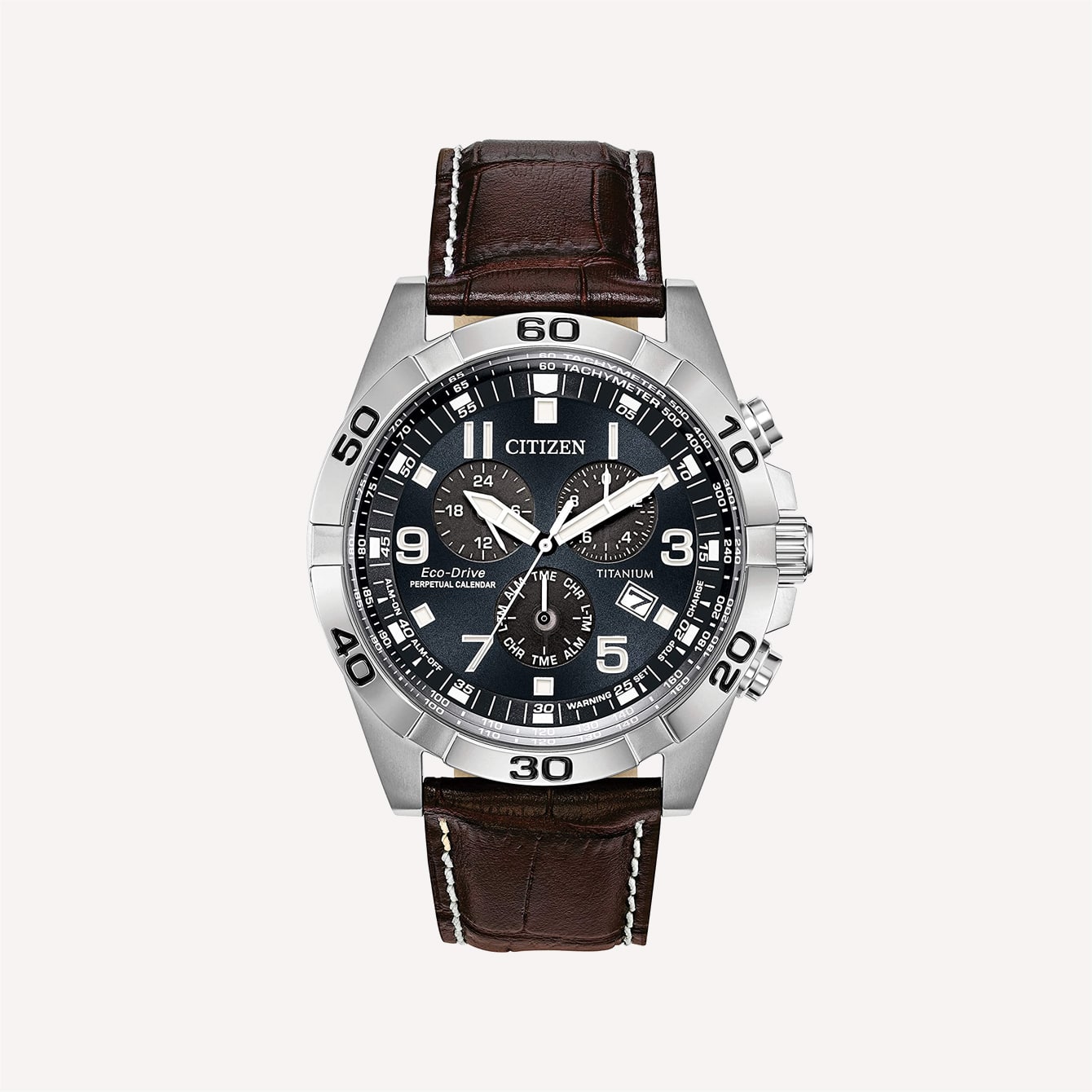 The deep indents give it a multi-tiered, multi-sectioned, and strong topographical look. Under certain lights, the edges of each section look slightly greyer than the shiny middle, which looks almost like patination.
Add the shimmery center dial, which also helps with the legibility-improving sectioning of the watch face, and you've got a nice combination of rugged and polished.
Dimensions: 43mm diameter, 12mm thickness
Case material: Stainless steel, ceramics
Water resistance: 100m
And since this is Citizen, this watch has exemplary functions. It's a perpetual calendar watch that doesn't forget about leap years, for one thing, and even has an overcharge prevention feature and an insufficient charge warning.
Citizen Garrison BM8180-03E
At a perfect and inspiration-accurate 37 millimeters, this military-style Citizen Garrison is a handsome, "Citizen-ified" take on the classic field watch.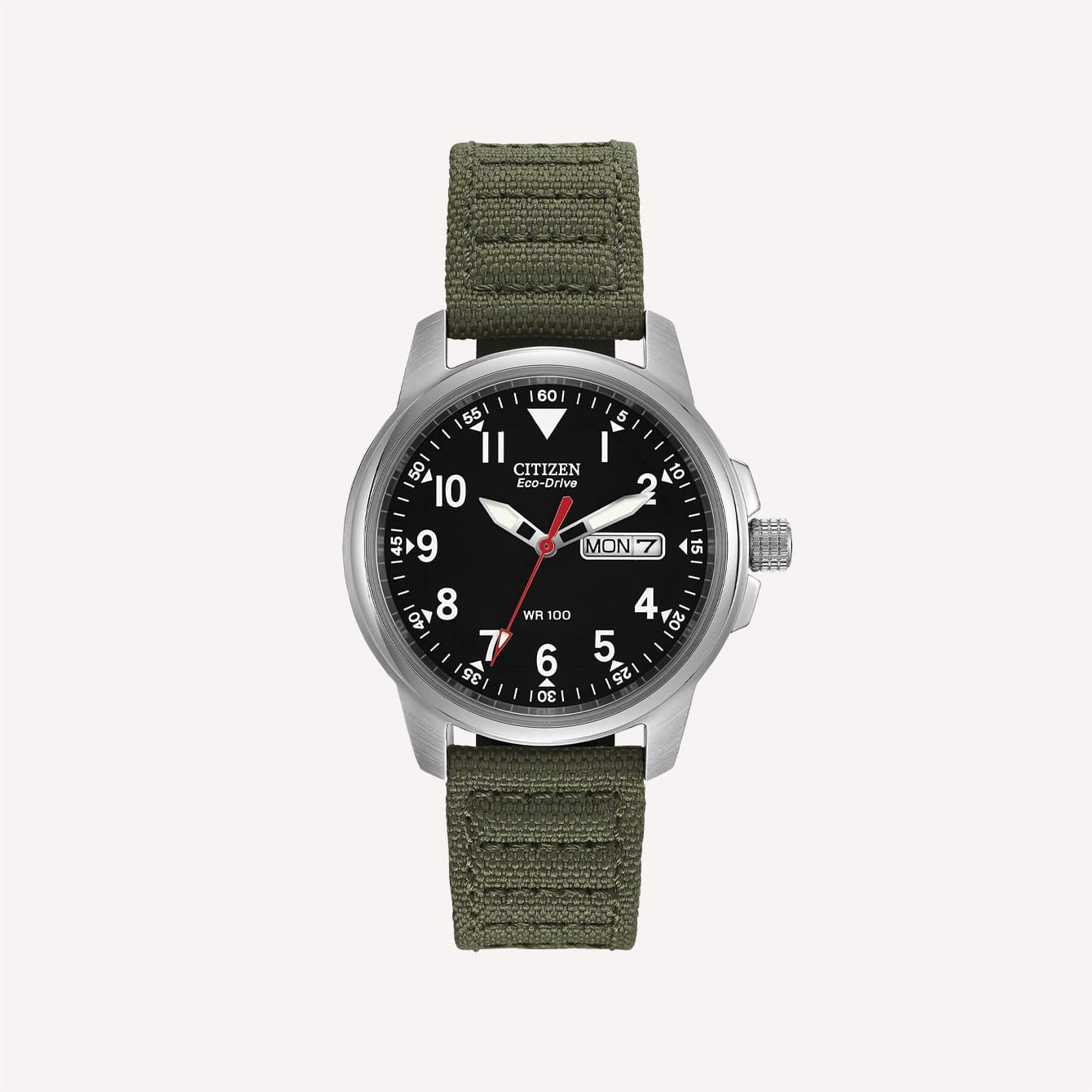 The hard turns on the lugs and crown guards literally sharpen its silhouette for a more machine-like modernity. With its knurled texturing, the crown helps with this too (while also being easier to grip and operate).
I love how the beautiful brushing on the lugs goes in the same direction as the round case, like an interrupted whirlpool.
Style aside, this is still a practicalist's timepiece. It's stark and legible, at a comfortably thin 9.5-millimeter height, with great everyday water resistance.
Dimensions: 37mm diameter, 9.5mm thickness
Case material: Stainless steel
Water resistance: 100m
It has that effortlessly cool way about it that you'd find in a Timex watch, but with more specs than a core line Timex often has.
Citizen Corso AW0090-11Z
If you took a regular, everyday Citizen, with its pragmatic build and functions, but dressed it up a bit, you'd get the AW0090-11Z Corso. It's like an elegant version of certain Chandler or Garrison models. This also makes it effectively unisex.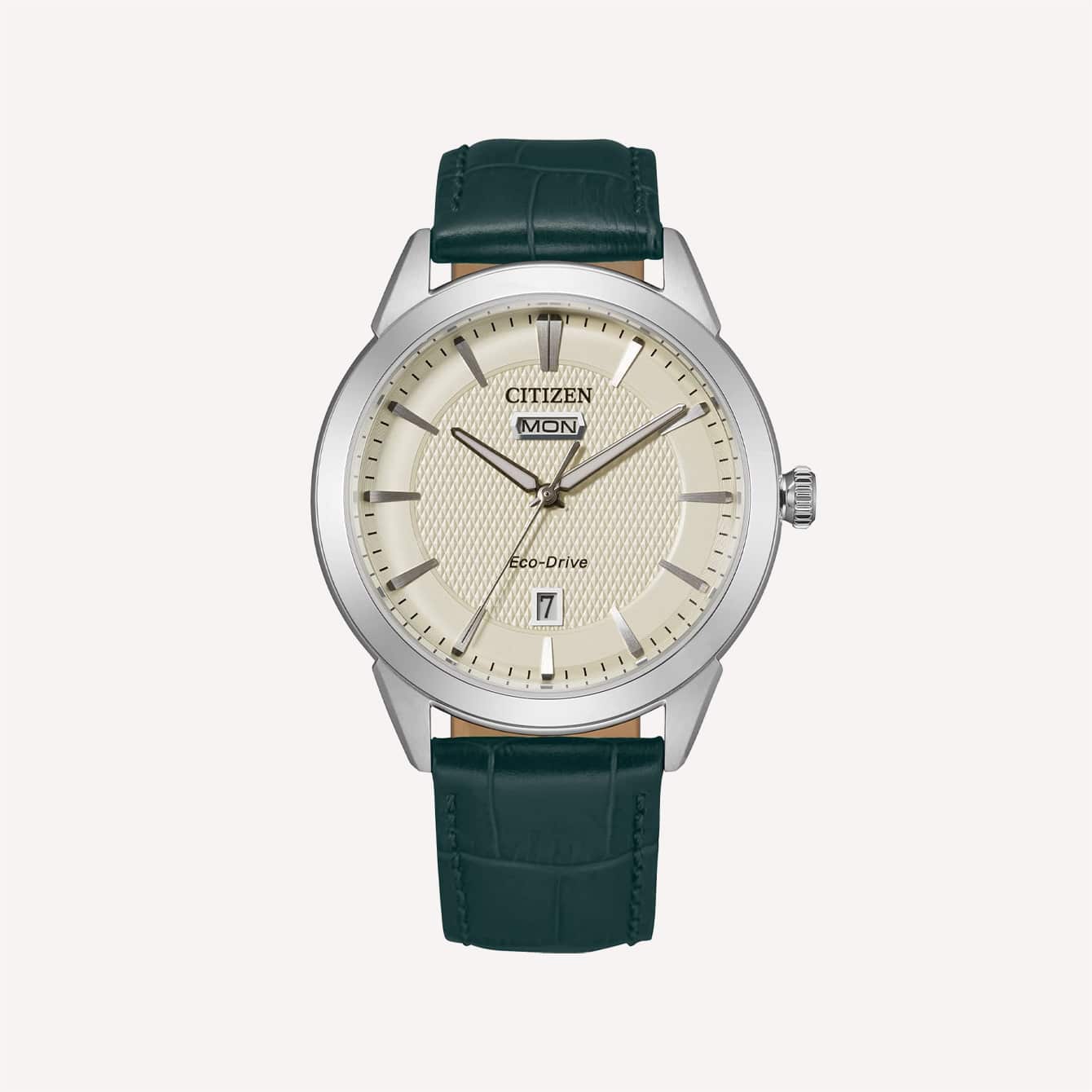 Its lugs are still sharp, but angle inward, matching the style of the sword hands and polished baton indices.
Meanwhile, the center dial is adorned with an almost quilt-like texture, though with much keener edges, resulting in a touch of aesthetic softness that's still in line with the watch's overall look.
Dimensions: 40mm diameter, 11mm thickness
Case material: Stainless steel
Water resistance: 100m
Also worth noting is its scratch-resistant sapphire crystal and its regal onion crown. Basically, if you want a more sophisticated-leaning everyday watch, this is a perfect option.
Citizen Corso AO9020-84E
This Corso AO9020-84E is a cleaner take on the typical chronograph look with some fun quirks that make it a great conversation piece.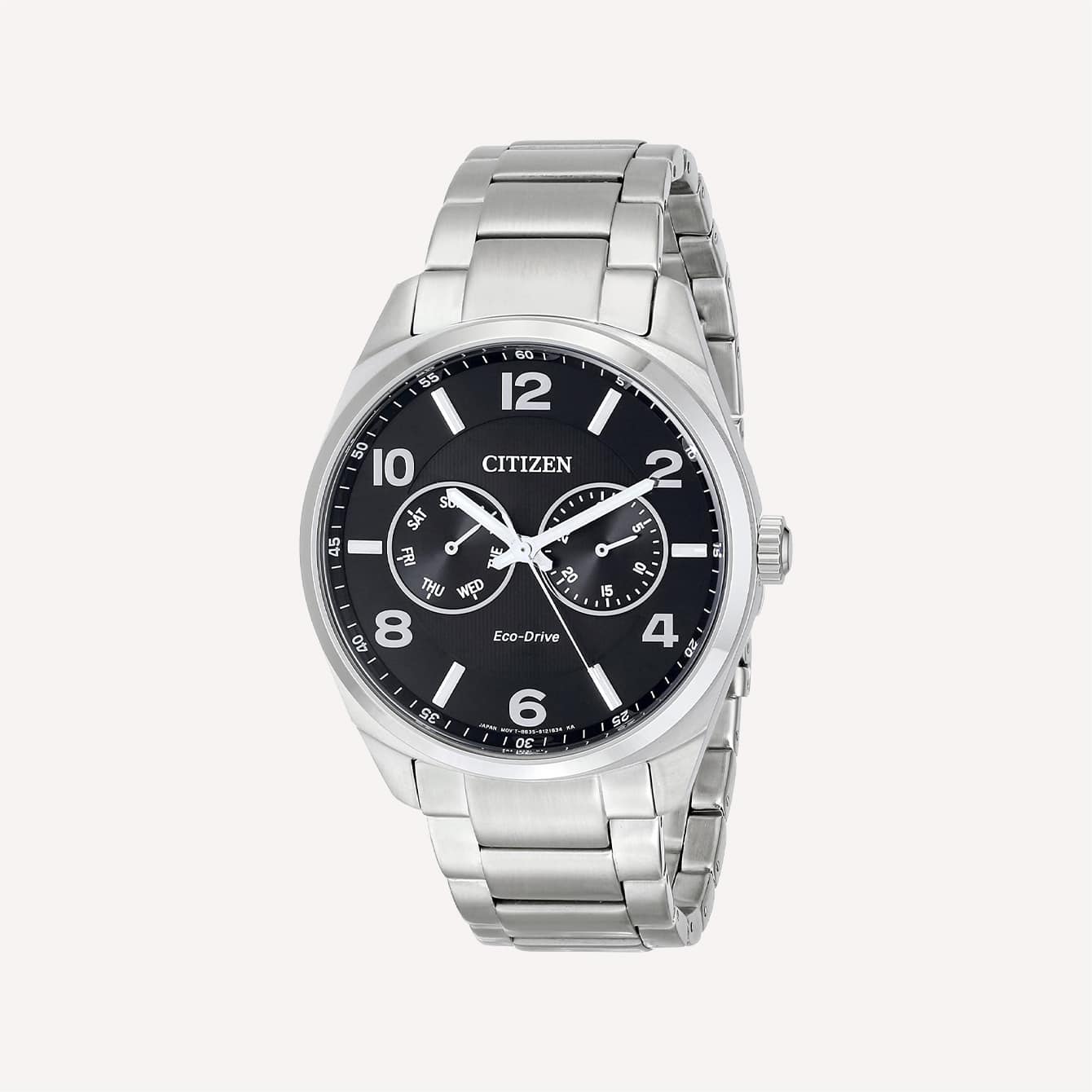 The details are almost dressy, which is why it's more versatile than the average super sporty chrono.
Look at how silky the subdials are regardless of where light hits them, or the textured center dial beneath said subdials. Even more, this subtle differentiation ups the readability of the dial.
Dimensions: 42mm diameter, 11.5mm thickness
Case material: Stainless steel
Water resistance: 100m
Uniquely, the subdials aren't set up for stopwatch timekeeping, so the Chrono look is a bit of a trick. Instead, they display the day and the date, which adds some whimsy to the dial while still maintaining the watch's ability to be worn in a range of environments.
Citizen Brycen AW0078-08L
It's not like Citizen to deliver something so focused on visual intrigue, but that's what makes the Brycen AW0078-08L so special.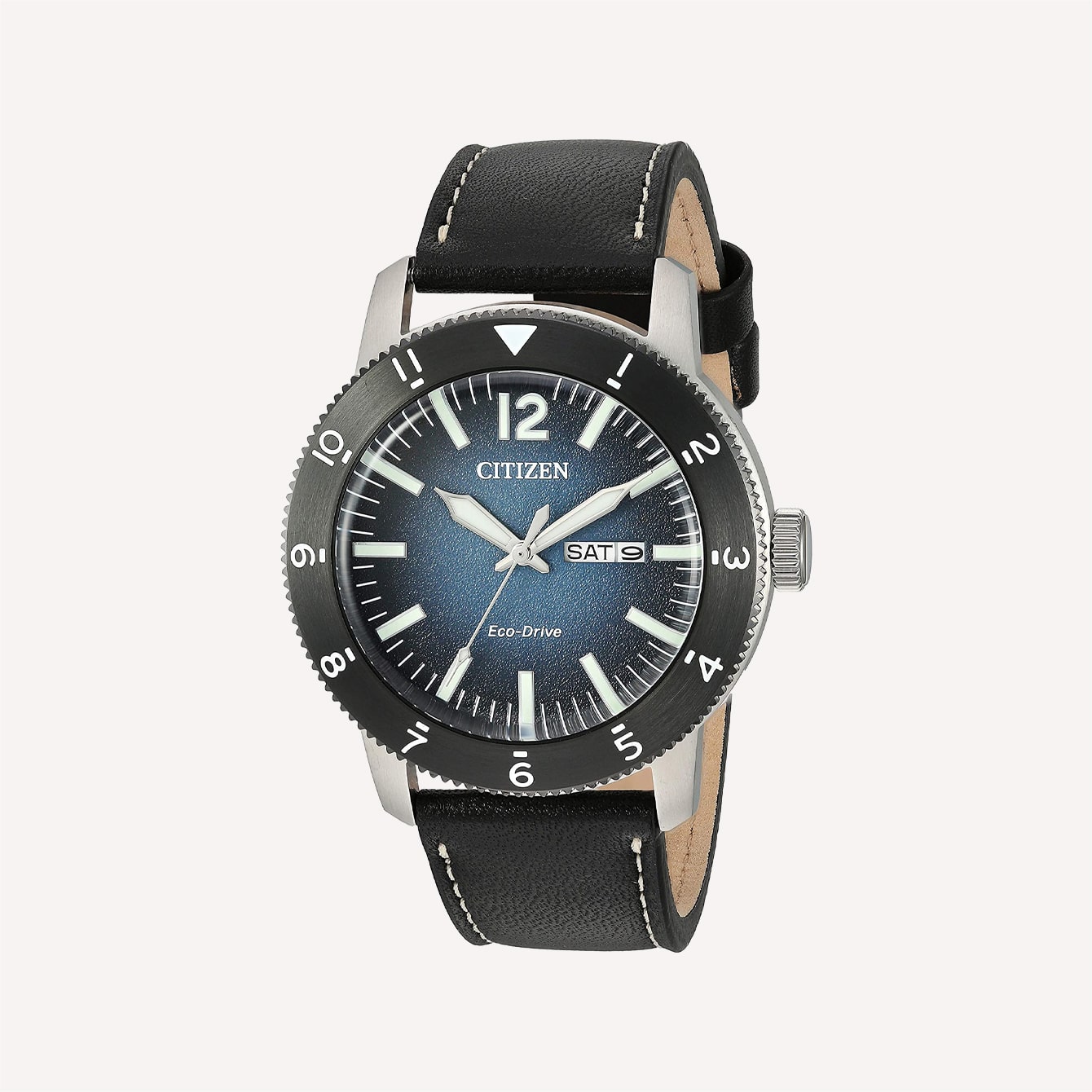 The thin, long, and flush indices are distorted by the domed mineral crystal, which gives it a retro-cool vibe on top of the sporty radar-like aesthetic that you get from vintage Explorer IIs.
Reminiscent of the depths of the ocean, the murky edges make way to a vivid blue center dial, all of this made even more organic and interesting looking thanks to the speckled surface.
This, along with its 44-millimeter case, are spot-on vintage deep-diver visual cues.
And while it isn't a true deep diver, you get the look of one for much less, and decent sport watch specs as well.
Dimensions: 44mm diameter, 12mm thickness
Case material: Stainless steel
Water resistance: 100m
You can't exactly take it 300 meters into the ocean, but it can technically handle snorkeling trips and the shower (though it's best to avoid either), and it keeps time as reliably as any Citizen watch.
Citizen Men's Promaster Diver Watch BN0151-09L
This Promaster Diver is a classic dive in every sense of the word, Citizen's answer to the Seiko SKX models and Prospex divers, or the Orient Makos and Rays. As standard issue as it is, it doesn't lack brand-specific character.
First off, it has a super robust look that comes more from visuals than the size itself (though 43 millimeters is definitely substantial).
The slick aluminum bezel is simply the third floor of the watch face, with a visible steel second floor that alternates between smooth edging and coin edging, then another layer behind that — the broad arrow dial itself is the mezzanine, if you will.
Dimensions: 43mm diameter, 12mm thickness
Case material: Stainless steel
Water resistance: 200m
Yes, it has a bigger-is-better aesthetic, but the layers give it dynamism, making the watch more than just some big hulk of a tool. The billowed rubber strap that it often comes with is perfect for it since it achieves this same balance. It's super comfortable too!
Citizen Chandler AT0200-05E
Can't decide between a field watch or a racing watch? Also, have a penchant for pilot watches? Then allow me to direct you to the AT0200-05E version of the Chandler. This timepiece is the visual manifestation of a good time and a real gadget of a model.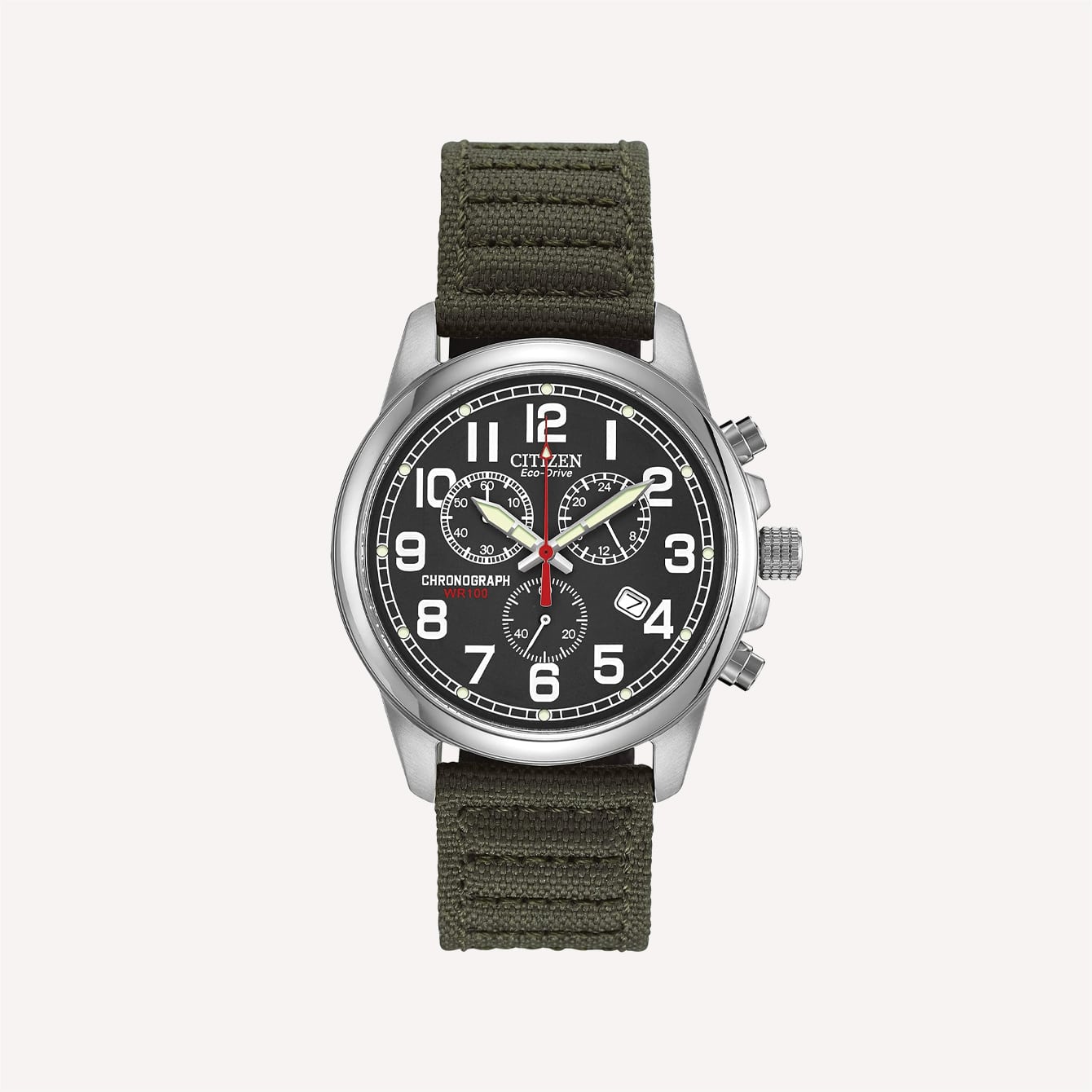 Each subdial flaunts a slightly different style, the 10 and two markers of the all-Arabic indices tucking slightly under two of them.
Between that, the railroad outerdial, and the super-hero-esque sword hands, Citizen achieves a lot of dimension for a watch that's mostly marking and less applications.
Dimensions: 39mm diameter, 11mm thickness
Case material: Stainless steel
Water resistance: 100m
Aside from being an affordable chronograph, it's one of those aesthetically and functionally engaging watches that I like to describe as "a toy for a grown-up." And I'm a sucker for those.
Citizen Millenium Falcon CA4281-00W
This watch is huge. There's no denying that. So if you feel you can't pull off a 50-millimeter situation, feel free to move on (honestly, few people can pull it off, in my opinion).
However, far be it for me not to showcase at least one of Citizen's rare brand partner models, that partner being Disney of course. This Star Wars-themed Millenium Falcon watch is truly cool-looking and has a brilliant design.
It's creative and compelling, more than just a standard core Citizen with a logo slapped on it. The layers are impeccable, while the shape of the case and pushers are dimensional and futuristic.
Dimensions: 50mm diameter, 12mm thickness
Case material: Stainless steel
Water resistance: 100m
Of course, the finishing is exquisite, and the working chronograph functions add tactile interactivity. Not to sound like a marketing exec, but this watch is science-chic.
Citizen BM7483-15X
I write this with no exaggeration, this BM7483-15X is a treasure of a watch, an overall unique piece, and even more unique coming out of Citizen.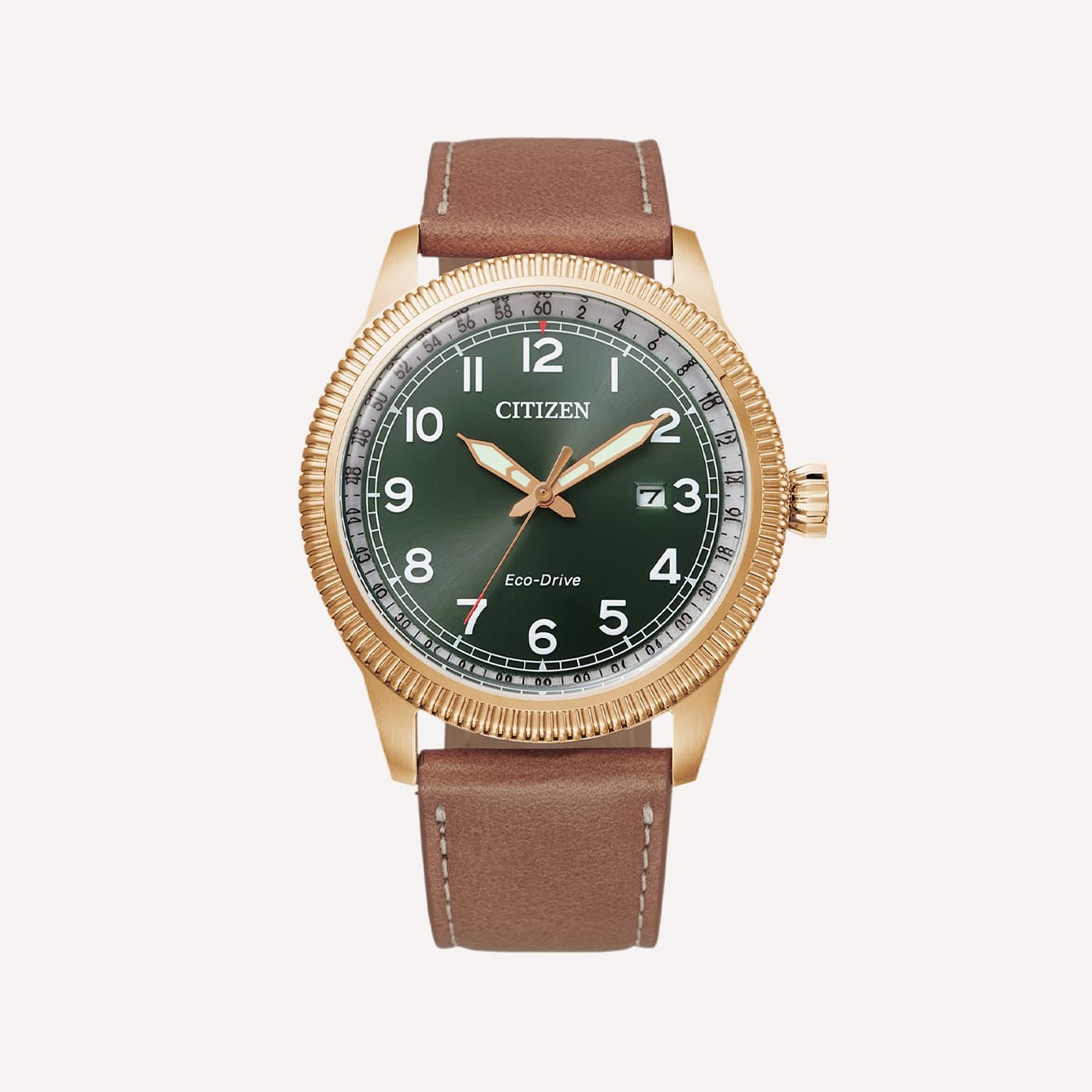 The onion crown and fluted rose gold bezel seem opulent for the brand, but the All-Arabic indices and practical-looking outer seconds dial to ensure you know this is still Citizen.
The distorted edges from the domed crystal and the lustrous dial, the color of which sits somewhere between a ritzy emerald and a sporty racing green, are pure class.
Dimensions: 43mm diameter, 11mm thickness
Case material: Stainless steel
Water resistance: 100m
This watch isn't easy to find, but tends to be in the sub-200 price point bracket on the occasions it pops up in the Chrono24s and eBays of the world.
Citizen CZ Smart JX1008-01E
Thank Citizen that you don't need to pay Apple prices for a smart watch. The Citizen CZ Smart Watch is pretty basic but has everything you need for fitness tracking, including heart-rate monitoring.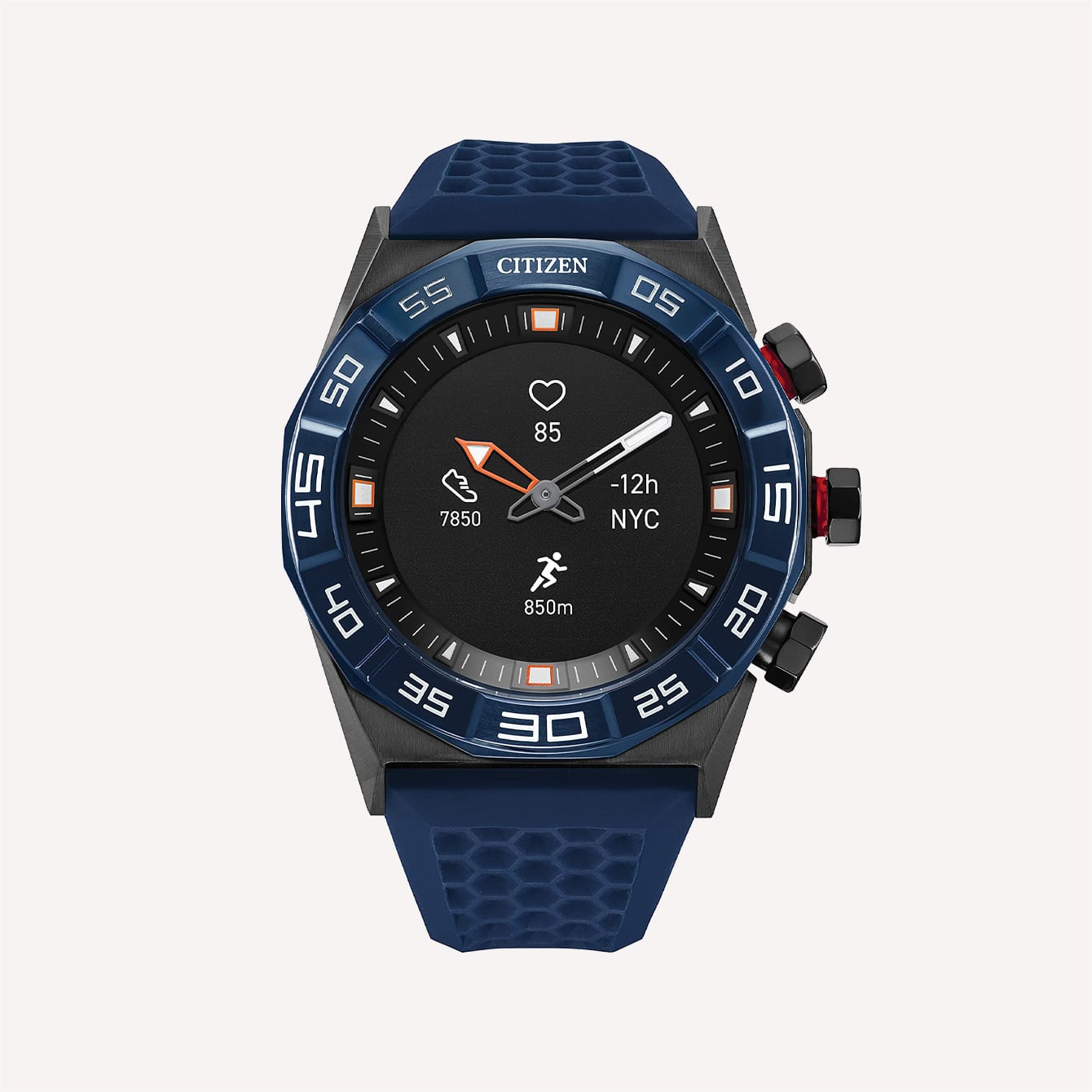 It connects to Bluetooth, of course, and has reliable notifications. Relatedly, you can even use the Citizen app to connect with friends for some friendly competition.
Dimensions: 44mm diameter, 13mm thickness
Case material: Stainless steel
Water resistance: 30m
I also like that it has a tool watch silhouette, though it's certainly bolder with the hooded lugs. The CZ just has more character to it than the typically sterile smart watches on the market.
Citizen Super Titanium BM7431-51L
The Citizen Super Titanium BM7431-51L is a veritable feast of textures, both soft and hard, but combined in a way that isn't loud and that's easy to wear. It's another great candidate for a one-watch collection. Citizen does that well.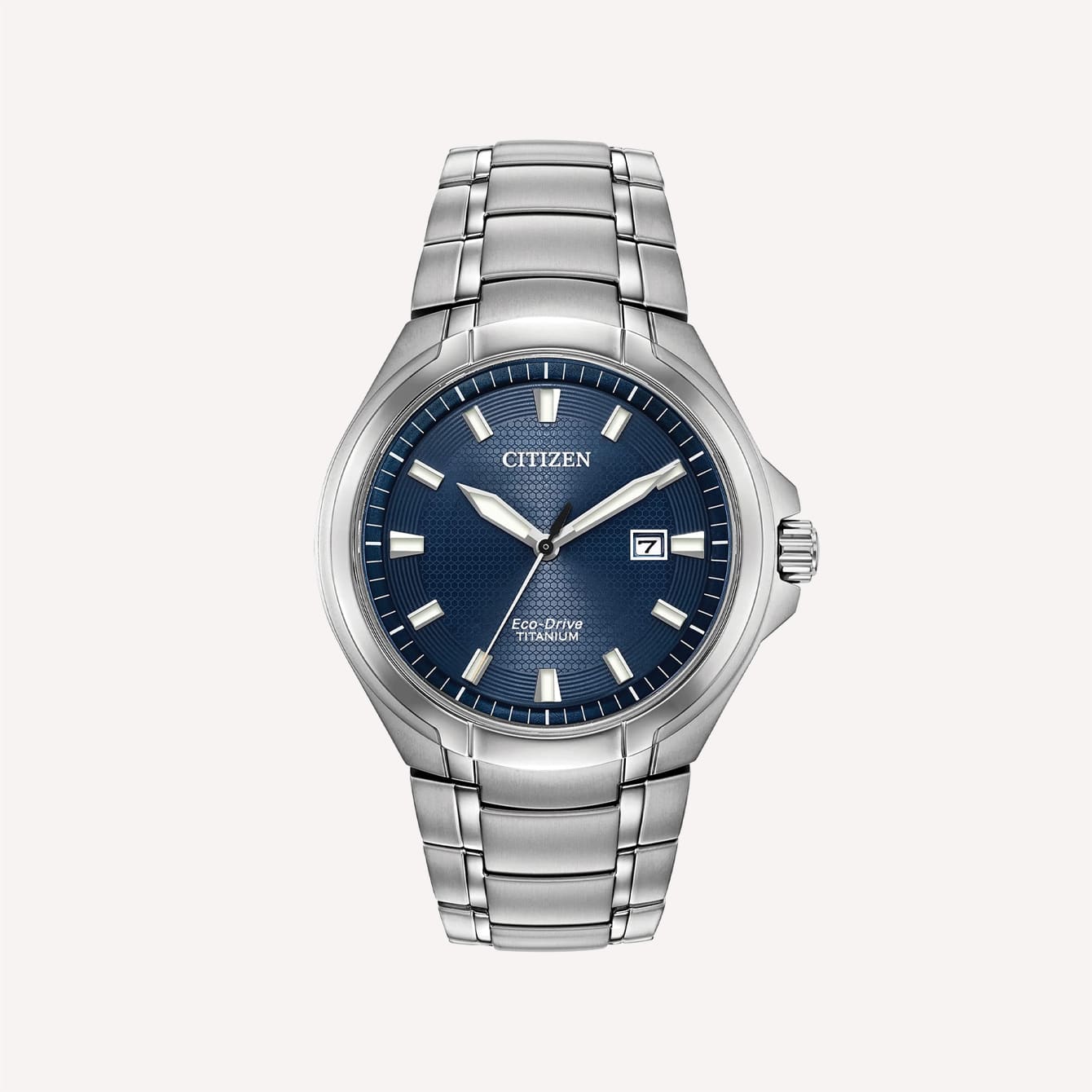 It's sporty enough for everyday use, especially since its titanium construction makes it feel light and easy on your wrist, whether you're at the office or running around on the weekends.
Plus, I love how titanium looks just a bit more gunmetal compared to stainless steel if you look really close.
Dimensions: 43mm diameter, 10mm thickness
Case material: Titanium
Water resistance: 100m
The dial itself, with the gem-like indices and elegant center textures, is sophisticated-looking. By contemporary standards, you can definitely wear this watch in a wide range of dress codes, short of formal.
Citizen RAF Chronograph CA0080-71E
The Citizen RAF Chronograph is busy and distinct, with so many fun details, you can probably spend hours looking at it.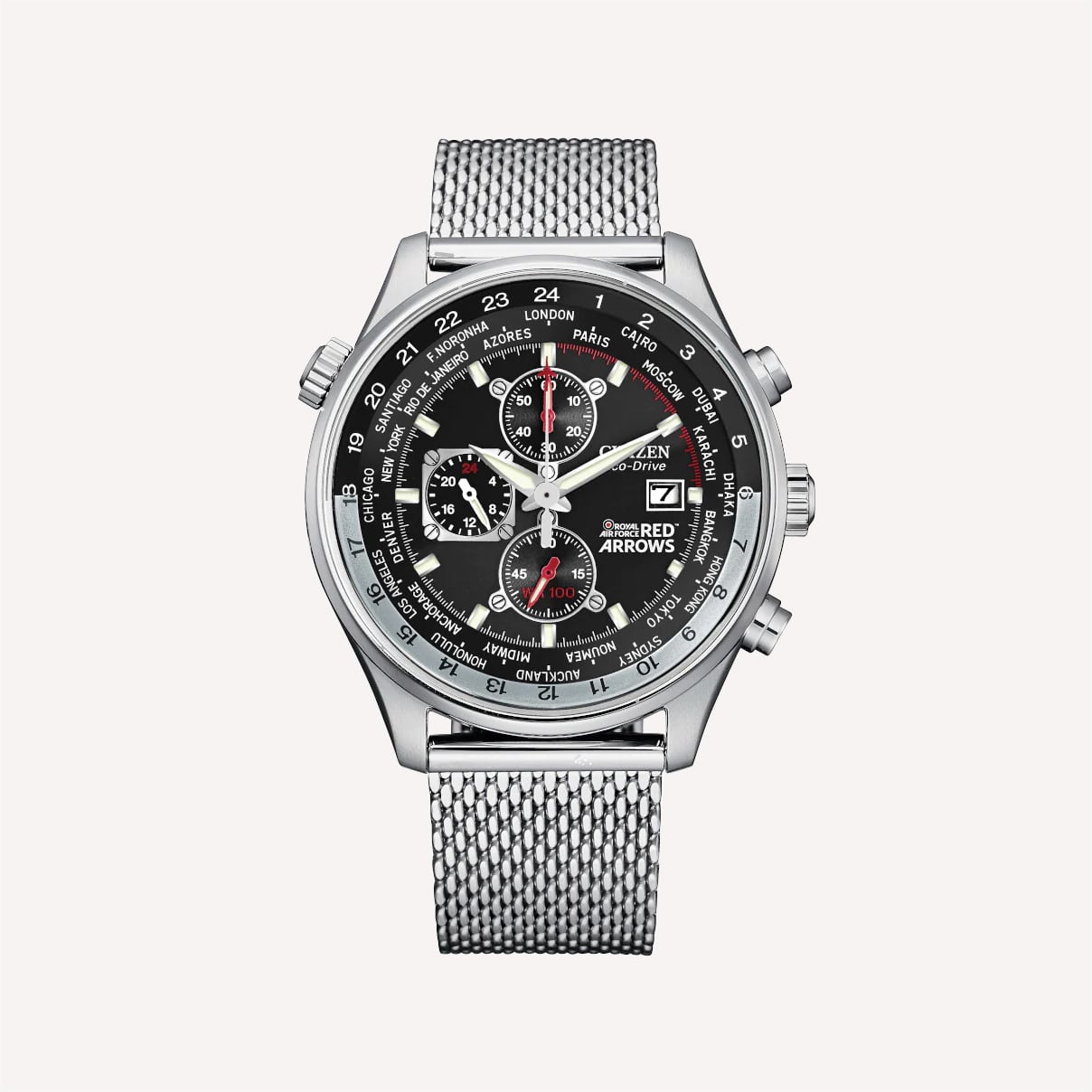 The Royal Air Force association also gives it an air of legitimacy, showcased through the use of the official insignia of the Red Arrows, which are the RAF's elite aerobatic display team. Think Blue Angels, but British.
The maximalist dial includes different-shaped subdials and several outerdials, including two for world time, which contribute to the watch's high-energy look.
It also looks great with the slight contrast of the borderline ritziness of the dagger hands and beads-of-rice bracelet.
Dimensions: 42mm diameter, 11mm thickness
Case material: Stainless steel
Water resistance: 100m
I think its pushers are as entertaining as any chronograph's, but not nearly as amusing as the rotating inner ring.
A Brief History of Citizen Watches
Like many heritage timekeepers, Citizen started out making clocks, then pocket watches, then eventually wristwatches.
The company started making clocks in Tokyo in 1918, though the first pocket watch was released under their hausarbeit schreiben lassen kosten Shokosha Watch Research Institute initiative in the '20s. 
Currently, Citizen Watch Co. still leans hard into their horological legacy but has become a global electronics company as well, similar to Casio. So, it makes sense that when looking at Citizen's contributions to the watch industry, it's a lot of electronic-based innovations.
Citizen's Innovations
In 1933, they introduced multi-band timekeeping, and are still associated with atomic timekeeping today. In 1987, they built a voice-recognizing wristwatch.
Citizen's main flex today is their Eco-Drive technology, which cuts out the need for a traditional battery.
This tech uses light energy for power and stores it in a secondary battery that continuously runs bachelorarbeit ghostwriter kosten. It can also last up to 20 years uninterrupted thanks to a special lubricant that takes decades to harden or evaporate.
Citizen as a Brand
The biggest complaint people have about Citizen is that they're very much more of a heads-down timekeeping company ghostwriting preise, which explains their discipline and horological chops, but they're also definitely less of a "collectors' favorite" brand.
They partnered with Disney in 2018, but until then, didn't really do the whole pop culture thing. They have, however, purchased other brands, like Bulova, who pick up this slack. Plus, they've won several awards for sustainability.
FAQs
If you have more questions regarding Citizen, here are some common ones!
Are Citizen watches considered high-end?
They aren't luxury pieces, though they offer a lot of advanced horology, which some might consider high-end.
Do Citizen watches need to be serviced?
Most quartz and mechanicals watches will eventually need servicing, though it's worth noting the rechargeable cells from the Eco-Drive tech can last more than 10 years, and up to 20 ghostwriter günstig. Digital watches don't need servicing at all, aside from any unexpected glitches.
How long should a Citizen watch last?
Citizen quartz watches can last up to 20 to 30 years, while mechanicals can last, technically forever, though sometimes parts need to be replaced.
Conclusion
Hopefully, this round-up has cinched how spec-forward Citizen watches are, and that, if you do some digging, you can find some out-of-character models.
I do have one more note regarding Citizen though, and that is while they are excellent at disciplined design and function, they're quite bad at labeling their watches.
You can find three Citizen Corsos that have zero discernible similarities. I even hesitate to call these sublines because of that. That being the case, there's an easy fix here, and that's sticking to the reference numbers.
Questions about this brand? Leave them below!