Looking for a watch roll to use for storing or traveling with your watches? Here are some awesome options to choose from.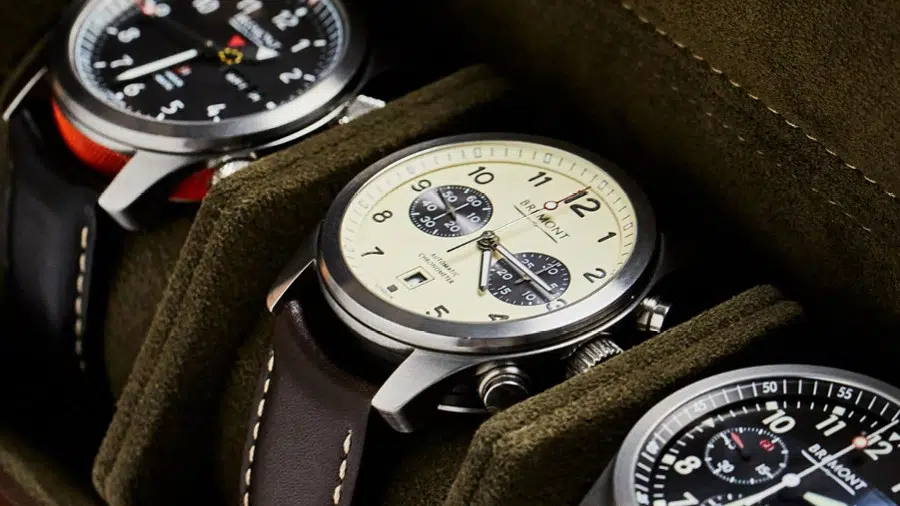 Watch rolls are one of the most convenient storage solutions for your timepieces. They allow you to safely carry your watches with ease. If you're on the lookout for one, we've rounded up the 15 best watch rolls right here!
Out of all the different ways to keep your watches, rolls are an excellent choice when considering efficiency.
They don't take up much room, whether they're sitting in your closet or in your suitcase. In fact, if you travel often, you should keep your wristwatches in a watch roll when they aren't on your wrist.
That being the case, many out there will tell you not to skimp out when it comes to protecting your investments. While that's true, watch rolls come at all price points, many of the cheaper ones are just as protective as their luxury counterparts.
We're not here to try and convince you to spend thousands, or even hundreds, of dollars on a roll. While our choice 15 watch rolls come in at different price points, all are perfectly effective.
Whether you want to invest in a designer unit or are looking for a no-frills watch roll, all styles and budgets are represented on our list!
15 Best Watch Rolls
From canvas to leather, two-watch capacity or more, the following rolls are presented in no particular order.
Crown and Buckle Hilmar Roll
Crown and Buckle's Hilmar Roll is made of durable yet supple leather and lined with luxe suede, so your timepieces don't get scratched up.
On the style front, the Hillmar is a beautiful mix of textures: The granular exterior, the leather wrap-around cord topped with a polished wood toggle, and the brass eyelet. This American-made artisanal watch roll comes as a four-capacity or six-capacity unit.
One downside is that it's often out of stock and sells out pretty quickly when it does get restocked, so you'll have to keep tabs on its availability.
Bennett Winch Watch Roll
The craftsmen at London-based Bennett Winch take a hands-on approach in every stage of the creative process, including hand-picking the cowhides.
One of the reasons their watch rolls are so pricey is the manpower and time required to craft each one.
If it's in your budget though, these are really cool units, not just because of the high-grade raw material, but the smart hexagonal design.
That added complexity gives it a fancy look and provides structure and protection, ensuring it won't roll away if you drop it.
It even opens up "ceremoniously," with a flat-bed preparation area, a "suede carpet" roll-out for your watches.
If you love the structured design, but don't need it in hand-picked Tuscan leather or built by master craftsmen, our next entry from Amazon is built from a similar template.
QWATCHBRANDS Watch Roll
At a fraction of the price of the Bennet Winch Watch Roll, the QWATCHBRANDS roll from Amazon offers a similar hexagonal shape.
It's made of full-grain Napa leather, with a napped velvet interior and snap buttons.
Honestly, if you weren't comparing it to the previous entry, it would impress in style, design, and protective qualities.
Barton Canvas Watch Roll
Thanks to their great prices and quality watch accessories, Austin-based Barton is a fan-favorite among the watch community.
Their canvas watch roll is built practically, focusing on protection and function, but that's what makes the style so attractive.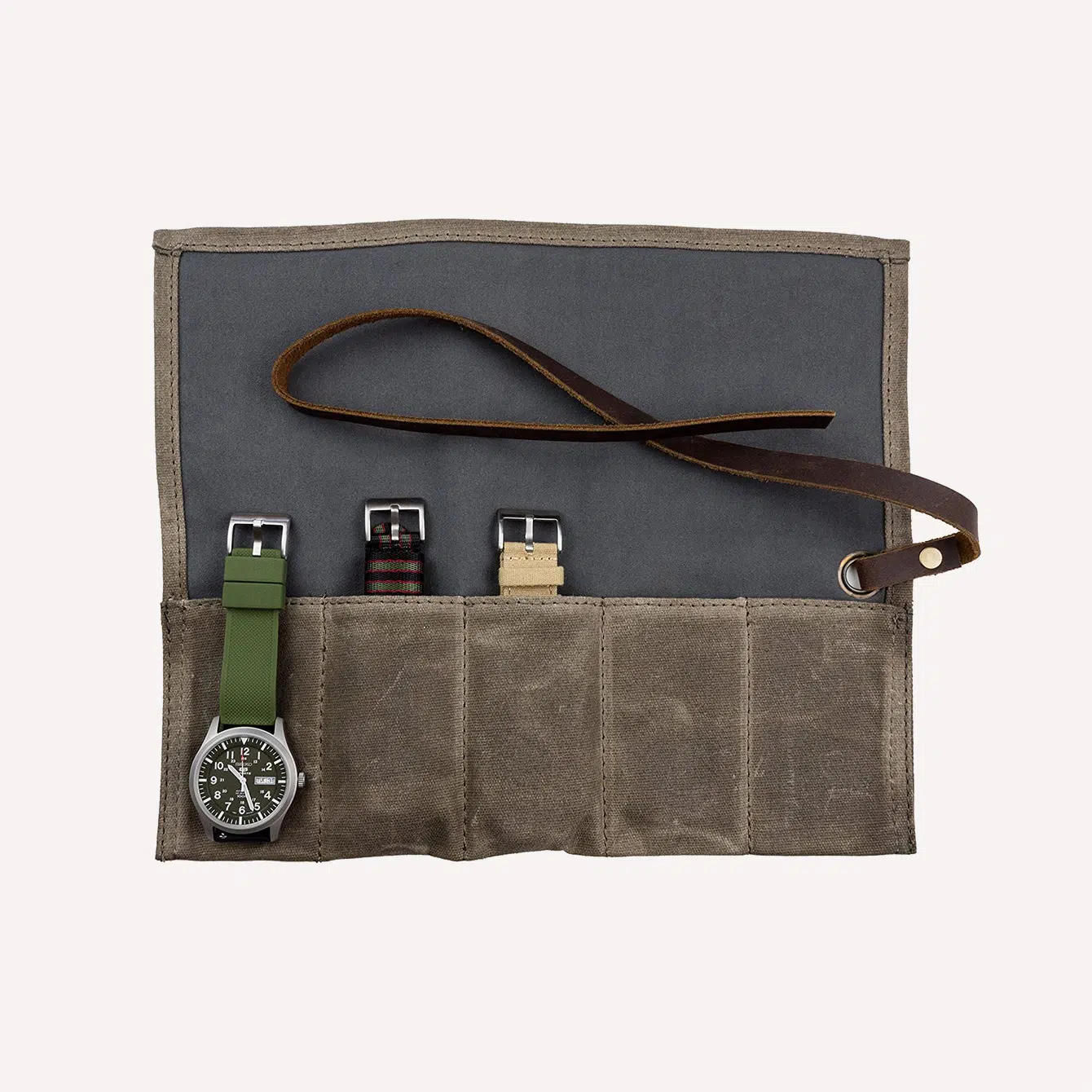 Like a waxed jacket, it's impressively waterproof, sports a rugged texture, and even comes with a flat leather wrap-around cord to round out its outdoorsy aesthetic.
It fits up to five 46mm watches. You can easily find this roll in the $40 range.
Bamford Aluminum Watch Roll
Bamford London is a luxury accessories company with a number of super slick and well-designed rolls that you should check out if you're looking to really invest in protecting your watches.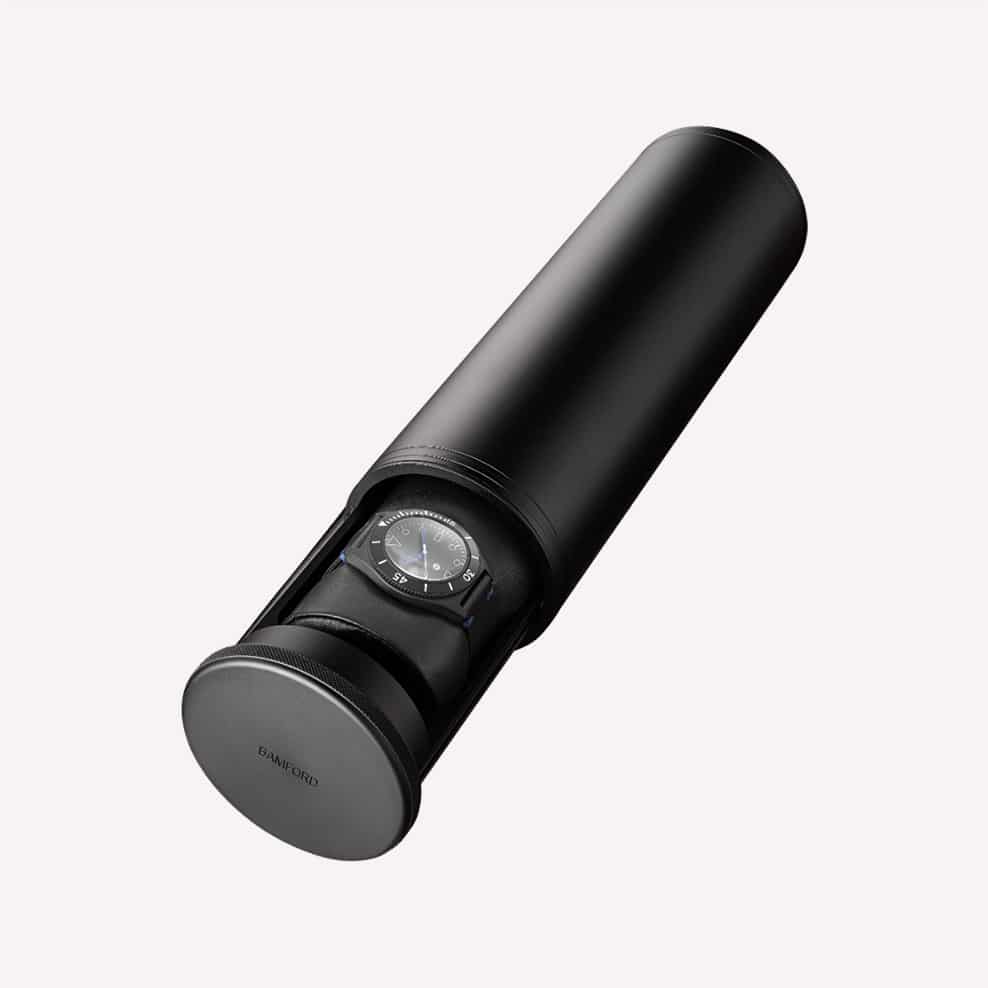 We're highlighting the aluminum roll because of its uniqueness, excellent protective qualities, and ease of use. It sports a clean and contemporary look, like a modern business accessory.
With a bike pump-inspired design, opening and closing this tank of a watch roll is easy — you simply slide the outer shell in and out.
Rapport Soho Denim Roll
Many of high-end brand Rappaport's watch rolls can actually be found on Amazon, but their Soho Roll is especially distinct, sure to catch the eye of you denim lovers out there.
The outside is a light wash canvas, and the inside is soft Italian suede.
My favorite part about this unit is that it's modular. Altogether, it's a three-watch unit, but you can remove the middle seat to use it as a one-watch holder or transform the mother ship into a two-watch roll.
Mirage Faux Leather Roll
The Mirage Faux Leather Roll is another bang-for-your-buck option, especially for those of you opposed to buying real leather.
The interior separators are sturdy and ensure all three watches don't bang around. Meanwhile, the functional flat-base design keeps it from rolling off surfaces and almost makes it look like a fancy sunglasses case.
It also offers a level of personalization since it comes in so many different colors, including three shades of black, royal green, and a classy "espresso" shade.
Hodinkee Travel Tube
The Hodinkee Travel Tube is a hand-made leather watch roll with a soft suede interior. Unlike most watch rolls, it doesn't have individual seats for your timepieces.
This provides a bit of flexibility regarding how many watches you can fit in this roll.
It will all depend on the sizes of the "passengers." And while leather chords look cool, this holder features a buckle in either steel or brass for extra security.
I also think it makes it look pretty upscale, especially since it's paired with such good leather.
Like the Crown and Caliber Hilmar, you may have to put yourself on a waitlist for this popular accessory.
Wolf British Racing Green Watch Roll
Like Rappaport, Wolf is a high-end watch accessories brand with watch rolls easily found on Amazon.
Collectors especially covet the British Racing Green Watch Roll because of its high-end emerald hue. It's like the iconic Tiffany blue for gearheads. Whether it's on a car, leather or something else, you gotta love British green.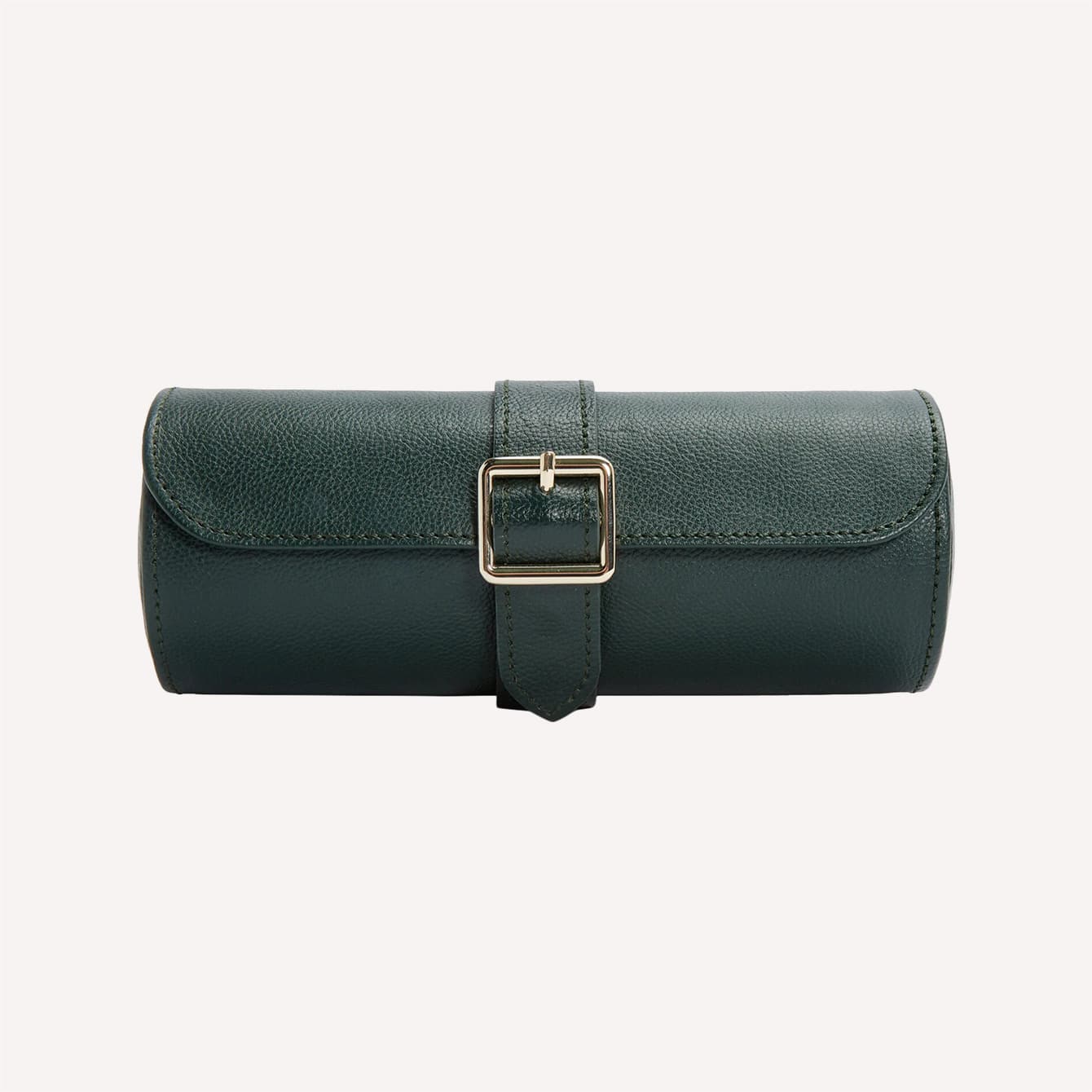 The leather is beautifully pebbled, with hand-pressed gold foil lines and gold hardware throughout.
You can actually remove the roll that you wrap your watches around comes with separators, so you can choose to give your timepieces separate seats or not — one of its most unique and handy features.
IFL EPI Leather Watch Rolls
This elegant and fashion-forward IFL watch roll is constructed from epi-leather, a textured leather originally created by Louis Vuitton (and still highly associated with the brand).
It's adorned with a clean, almost woodgrain-like pattern, which is practical because it keeps the leather from cracking over time, even with minimal maintenance.
The inside has an Alcantra lining, a suede-like material usually used in automotive applications.
IFL Camo Roll
One more entry from IFL, this Camo Roll is definitely for a gent with specific tastes.
The aesthetic has a sort of 90s brand grooviness about it since the camo is orange, and the pattern shapes are more akin to a lava lamp than camo.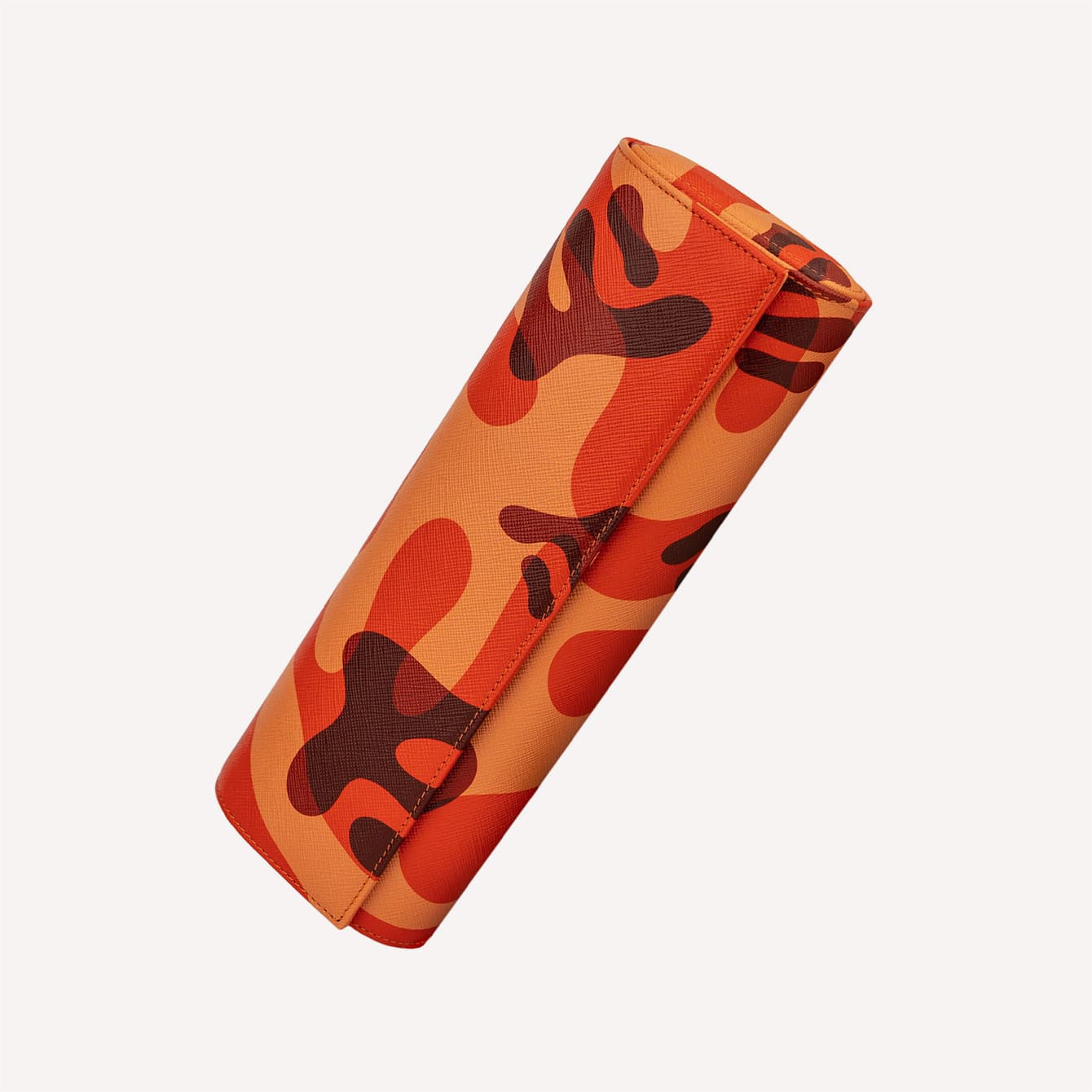 If this is your style though, know that it's no cheap fashion product. It's handmade in Tuscany and built with Saffiano leather, a full-grain hide with a cross-hatch and wax finish that makes it highly scratch-resistant and easy to keep clean.
W&S Leather Watch Roll
The W&S Leather Watch Roll is built with the same convenient and easy soft-structure architecture as the Barton.
It has an uncommon inside-out look since the exterior is made of a softer material, while the inside and outer edges are leather.
The Scottish wool variation is unique and soft, though both the wool and canvas variations will effectively safeguard your watches from dust and scratches.
Aukura Fabric Sponge Watch Roll
Looking for a no-frills but competently protective watch roll at a low price?
The Aukura Fabric Sponge Watch Roll holds up to five watches, keeps them safe with its hard shell, and carries them securely with its sponge pillow interiors.
Typically less than $40, this guy is waterproof, shock-proof, and even has a side handle.
Lucrin Jewelry Pouches
If you're looking for a seriously bespoke watch roll, Lucrin can build you a high-quality, personalized, and downright chic storage solution. Keep in mind that this is 100% a luxury option.
You can choose from a one-capacity unit all the way up to an eight-capacity, from smooth leather, granular leather, or vegetable tanned leather, and depending on the material, up to 21 color options.
You can even add a monogram and choose the stitch color.
Kukiworks Watch Rolls
Kuki is an independent watch accessories designer that's been low-key popular in watch forums all over the internet for a few years now.
They've attracted a fanbase of watch collectors disenchanted by the fact that watch rolls are often overpriced.
Their six-pocket units are well-sewn at a reasonable cost per material. Whether you choose leather, denim, or even velvet variation, these hand-made pieces are chock-full of indie-cool-factor charm.
Their website hasn't been up for some time, but they're operating out of Etsy and Instagram.
Which Watch Roll Suits Your Needs?
Unless you're literally a one-watch man, you might want to consider trying out a watch roll — especially if you're a traveler.
Again, the entry-level options we've highlighted on our list are efficient and low-priced.
Who knows, if it ends up being beneficial to your lifestyle, you just might end up upgrading to a higher-end one (which may be unnecessary, but then again, a lot of fun hobbies are!).
Questions? Comments? Leave them below!