Fashion watches for men presented on this list are guaranteed to elevate your horological LIFE. From the sporty to the formal, we cover all the bases!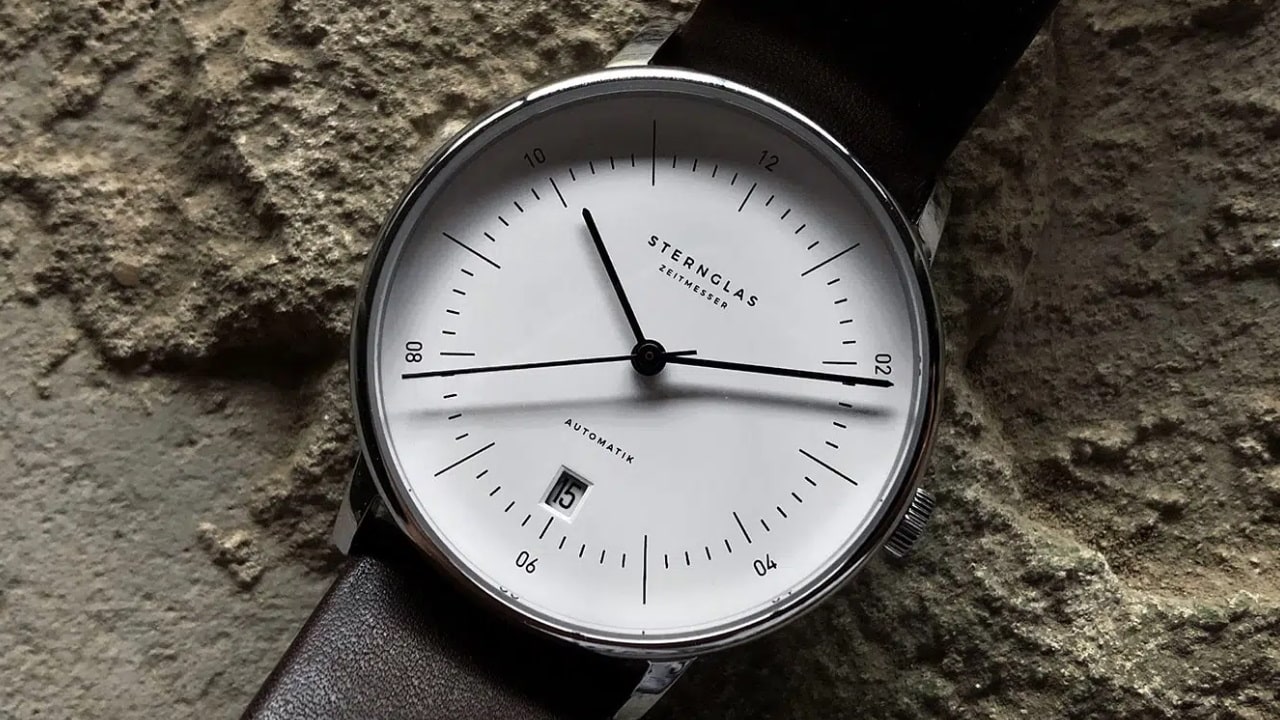 Men with an elevated sense of style know that finding just the right watch to complement their look requires an investment. It takes time and due diligence to research the dizzying amount of options available today on the market.
From classic designs to those featuring the latest technological advancements, we have curated a list of fashion watches for men that offer the utmost sophistication, precision, and excellence from the world of horology.
Not only do these styles not suck, but the following men's fashion watches have been crafted to perfection and offer the touch of elegance you deserve.
Rolex Yacht-Master 42
As expected, Rolex makes a list of this nature, given their penchant for stellar design and exceptional aesthetics. The latest version of the Yacht-Master is now available in titanium and comes with all the bells and whistles fans of the company have come to love.
Previously available only in white or yellow gold, adding a titanium option gives watch aficionados more options for a style that boasts exceptional features, including water depth of up to 330 feet (100m).
Rolex wisely kept the best features associated with the Yacht-Master intact, including its bidirectional bezel with a 60-minute Cerachrom insert, and went one step further by adding a matte look and beveled lugs.
Features
Material: RLX Titanium
Diameter: 42mm
Water resistance: 100m
These features are exclusive to this version, a component true watch enthusiasts will appreciate. The classic dial remains, however, and coming at about 35% lighter than their steel models, Rolex has released a workhorse of a watch that gets the job done in style.
Breitling Navitimer B01 Chronograph 43 Boeing 747
One of the latest releases from Breitling's capsule collections, the Navitimer B01 Chronograph 43 Boeing 747 celebrates a legendary aerospace achievement and idolizes it for men's wrists in singular form.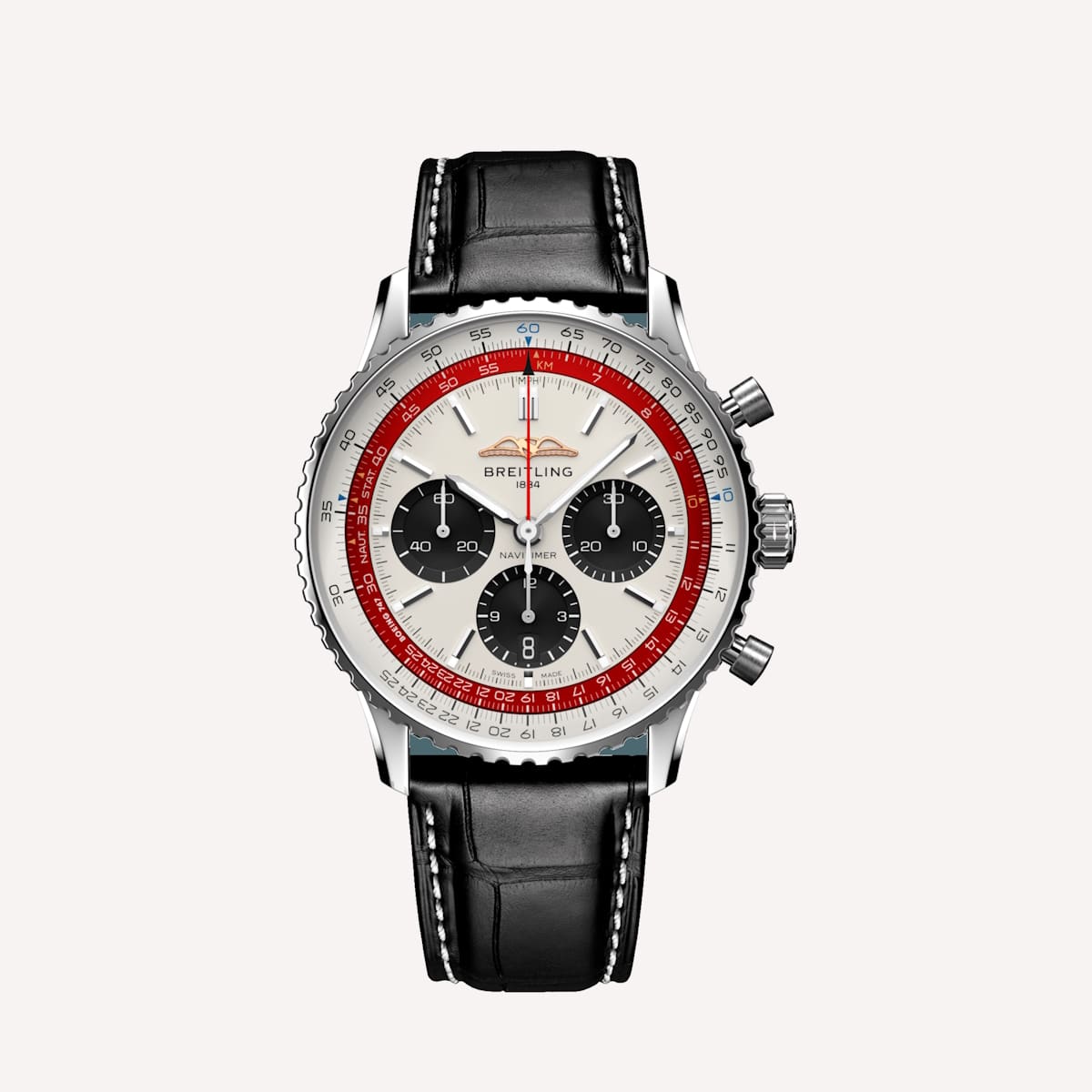 The watch is just as bold and regal as one would assume, with a classic look that is brimming with a sense of purpose across each feature. They include a cream dial with black sub-dials, a red inner scale accented in gold design, and a cream slide-rule bezel with blue accents.
This latest iteration of the Navitimer B01 Chronograph 43 Boeing 747 – as a wink and a nod to the famed airplanes – is limited to 747 pieces, an exclusivity that directly ranks it as a collector's must-have.
 Features
Material: Stainless steel
Diameter: 43mm
Water resistance: 30m
The overall verdict is Breitling has yet again crafted a gorgeous men's fashion watch that has definitely stuck the landing.
Norqain Independence Skeleton 42mm Blue Steel
As a boutique brand completely devoted to mechanical watches, Norquain leans hard into the highly regarded Swiss aesthetic and spirit of adventure with the release of its Independence 22 Skeleton watch.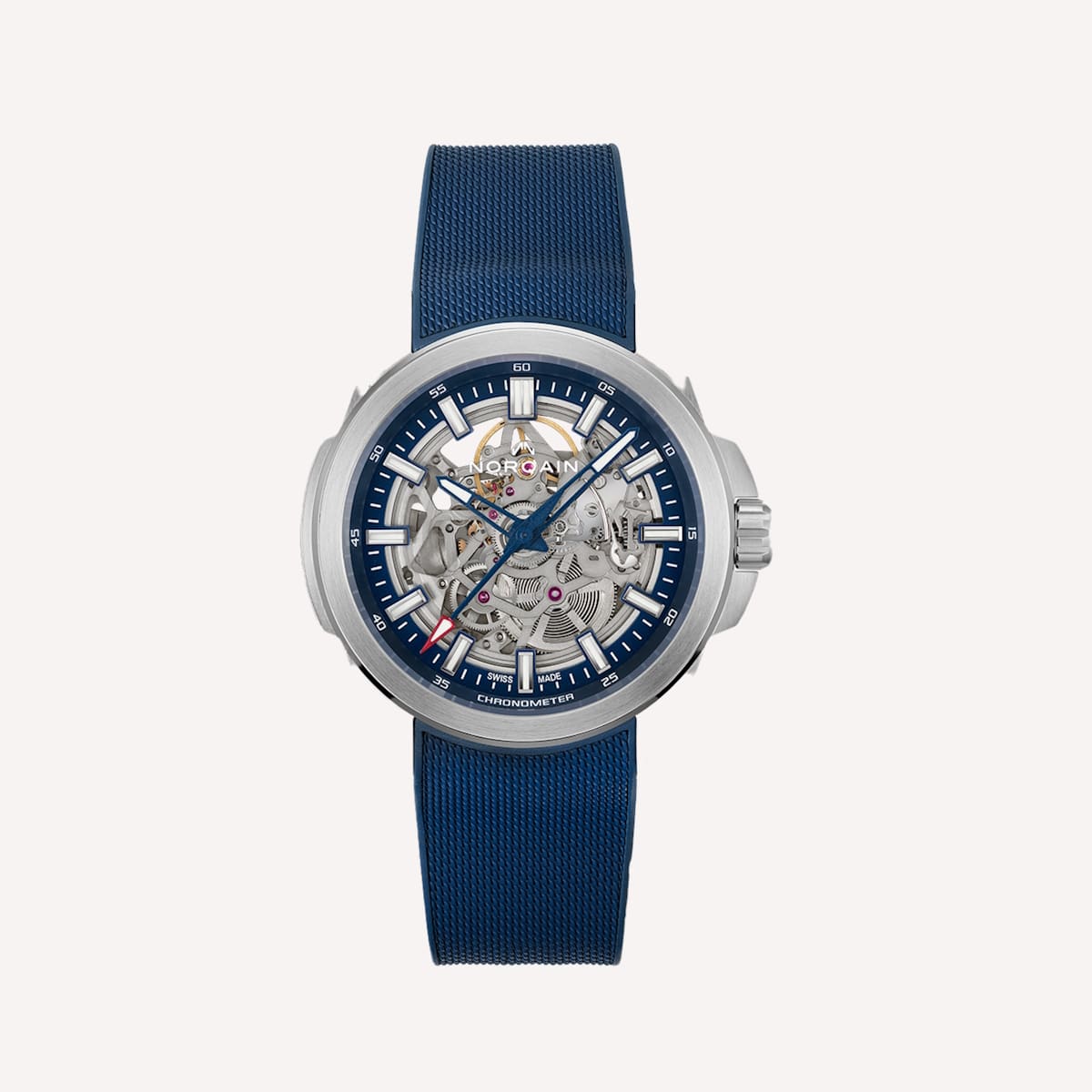 In only a few years, Norquain has carved out a niche market for themselves, releasing limited edition watches featuring the latest technological achievements and rare movements.
Engineered from stainless steel and featuring a gorgeous mix of brushed, polished, and sand-blasted surfaces, the Independence 22 Skeleton is bold.
Men will appreciate a watch with a subdued aesthetic that has been specifically crafted for the great outdoors.
The precision and inner workings of the Norquain are clearly visible and centered beneath impressive hardware, denoting every tick of action down to the second.
Features
Material: Stainless steel
Diameter: 42mm
Water resistance: 100m
It's completed by a sleek three-row link bracelet made of stainless steel and a folding buckle that defines its regal look. This special edition is limited to only 300 pieces, and its immense style assures its status as a collector's item.
Ming 29.01 Worldtimer
The latest edition from their acclaimed series, the Ming World 29.01, continues on its singular path with a look and craftsmanship that sets it apart from the field.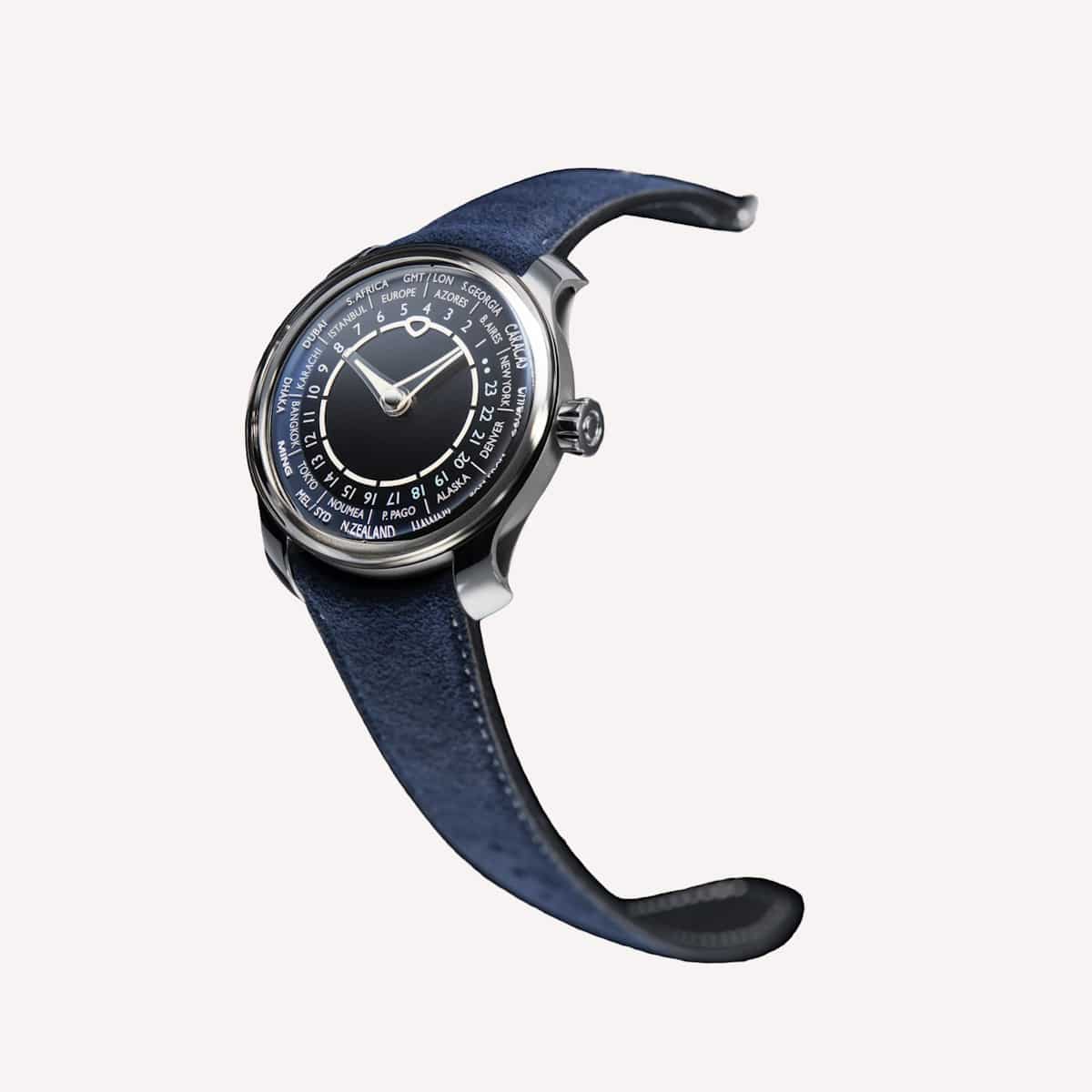 The latest version has no bezel but boasts lume all around and a three-dimensional aspect that makes it visually appealing to even the casual observer.
The movement still comes courtesy of Schwarz-Etienne as well as a tungsten micro-rotor as a power source ensuring hours of power reserve.
Still, other parts have been redesigned for this version, including an updated bridge design, fully skeletonized plates, DLC-coated bridges, and contrast due to its diamond-cut angle.
Underneath the crystal lies the sapphire hands and sapphire upper dial, both of which hover over the 24-hour metallic disc and a subtle dark blue/black gradient signifying day and night.
Features
Material: Grade 5 Titanium
Diameter: 40mm
Water resistance: 50m
With limited availability and a huge fan base, the Ming 29.01 Worldtimer is destined for greatness just like its predecessors and makes for an excellent men's fashion watch.
Zodiac Super Sea Wolf Skeleton 6-15
The Zodiac Super Sea Wolf celebrates 70 years of excellence this year, and the brand proves once again its commitment to crafting exemplary watches.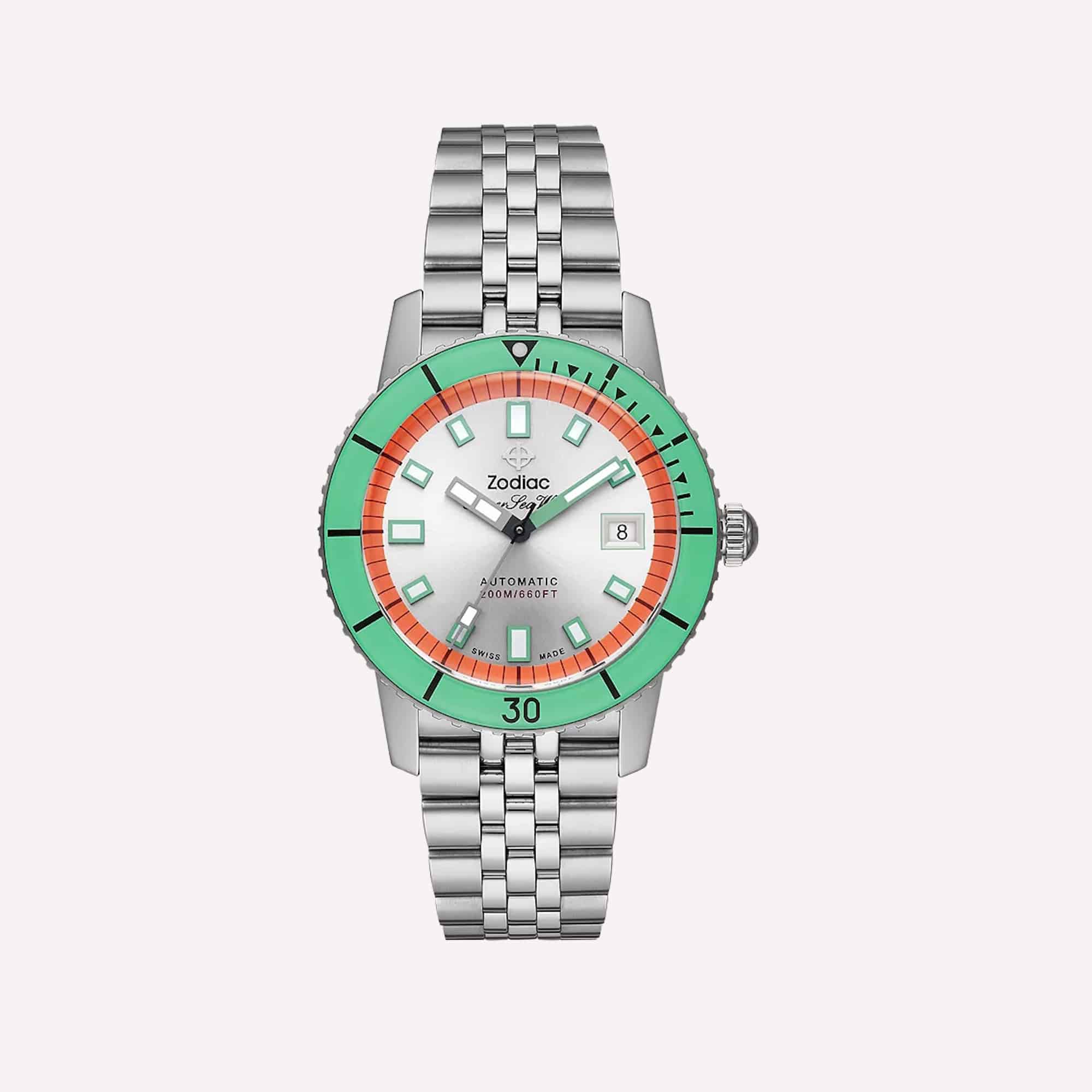 They brilliantly highlight color while employing the latest technological advancements in horology. The Super Sea Wolf is showy, unconventional, and not intended for general audiences – by design.
As it features a distinctive aesthetic crafted for a particular audience, the Zodiac Super Sea Wolf goes the extra mile to ensure wearers get the full effect of such a singular style. The bezel comes with a gradient-style rainbow, rounded hands, and rectangular hands, which add to its intense design.
Features
Material: Polished and brushed steel
Diameter: 40mm
Water resistance: 200m
The skeletonized movement allows its actions to be readily visible from a distance, and its color scheme makes it an eye-catching addition to any man's watch collection.
Cartier Tank Américaine
The latest iteration of the Cartier Tank Américaine has gone the sleeker, slimmer route that has elevated an already winning classic design.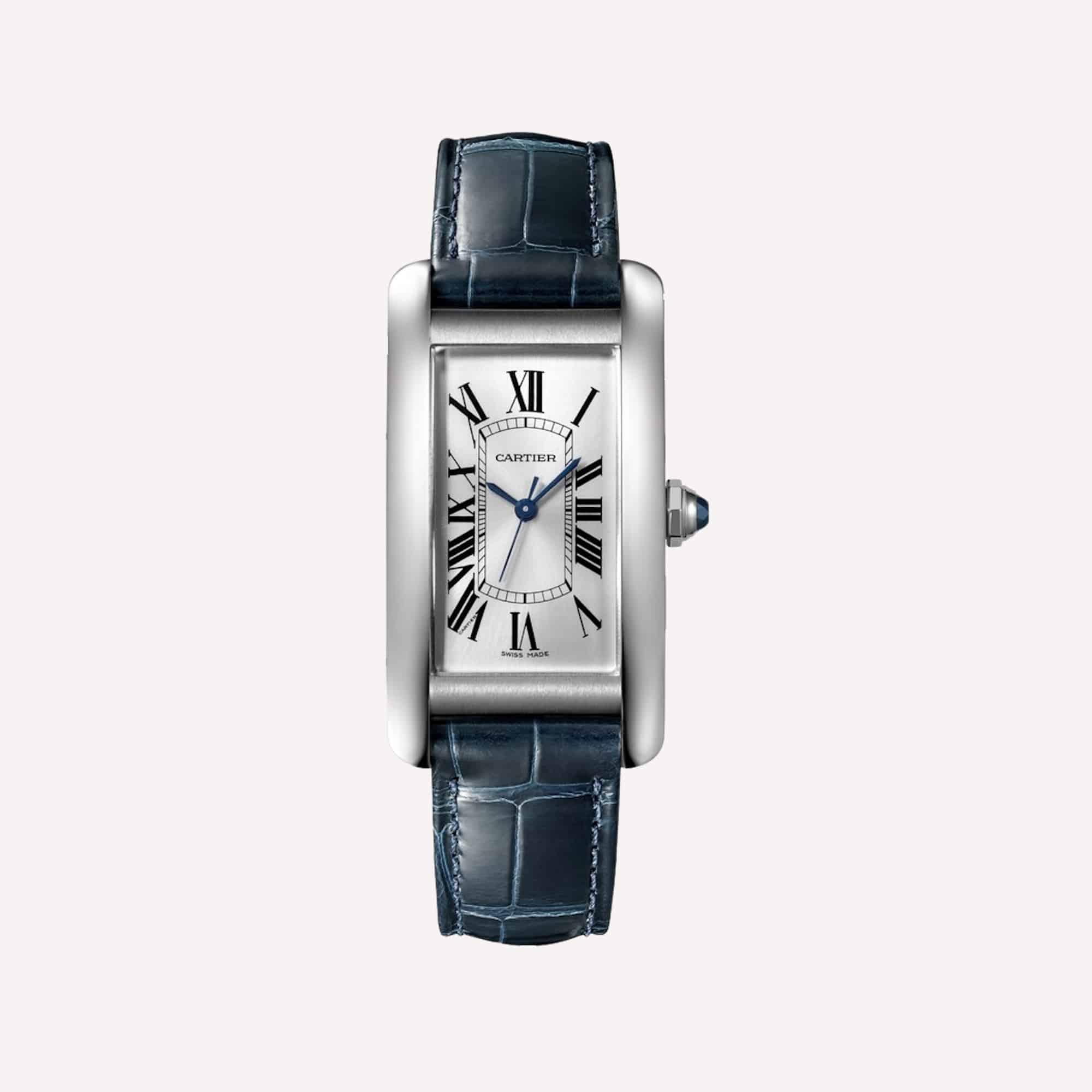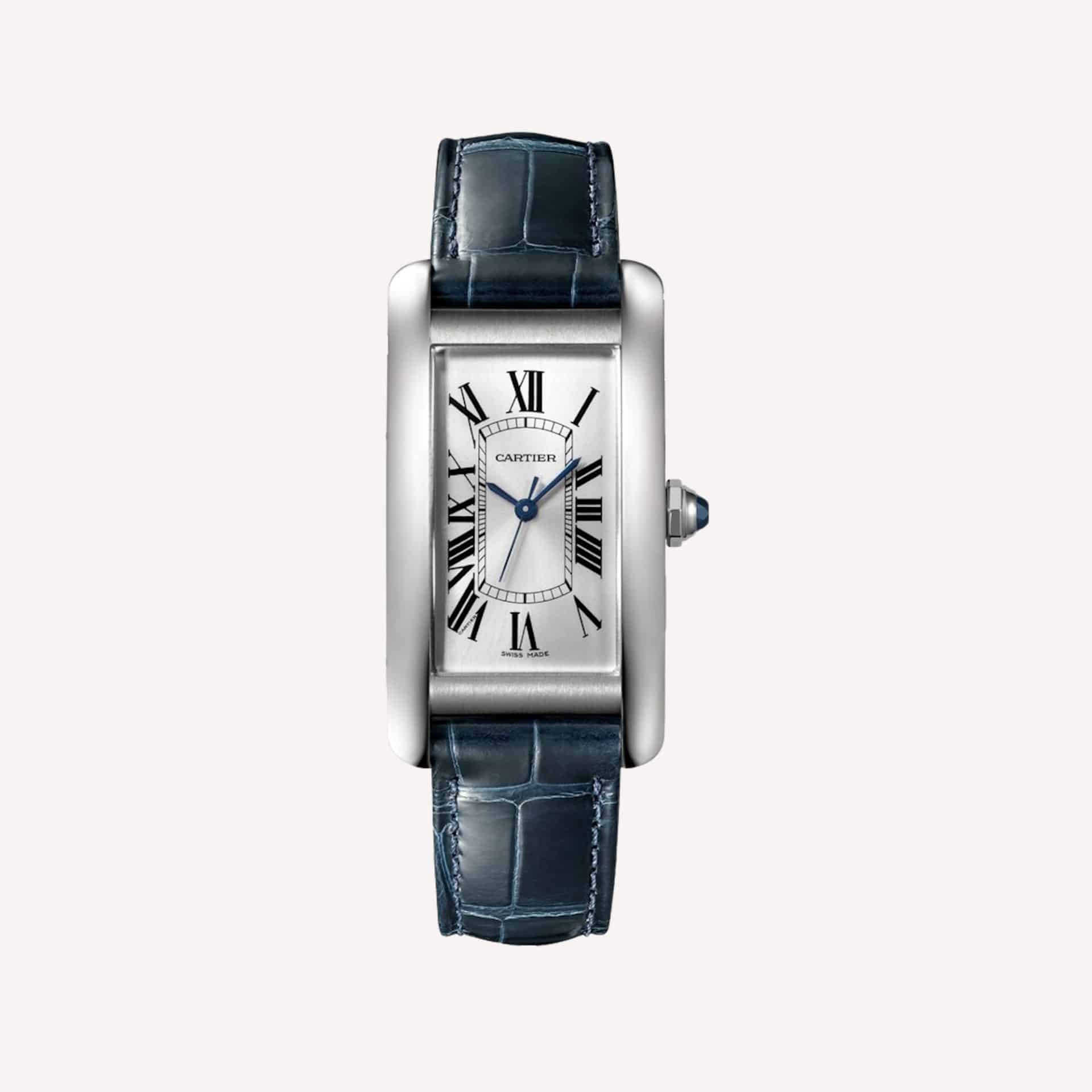 However, the updates go one step further with this version, with the date function now a thing of the past, leaving it as a time-only piece.
Another M.I.A. feature is the seconds hand, which leaves two pointers that retain Cartier's traditional blue hue and a dial finished with vertical satin brushing.
This recent release significantly ups the ante by coming in three sizes (mini, small, and large) and two metals, pink gold and steel. Also, diamonds and a bracelet are added per request for a more personalized look.
Features
Material: Stainless Steel and rose gold
Dimensions: 28 x 15.2mm (mini); 35.4 x 19.4mm (small); 44.4 x 24.4mm (large)
Water resistance: 30m
The attention to detail on the Tank Américaine assures aficionados of fashion watches for men that every consideration is made to suit current tastes in modernity.
Audemars Piguet Code 11.59 Ultra-Complication Universelle RD#4
Where other brands dare to go, Audemars Piguet valiantly veers and always to grand success. Proof of this lies in the Audemars Piguet Code 11.59 Ultra-Complication Universelle RD#4, which solidifies the brand's dominance in technicality and design.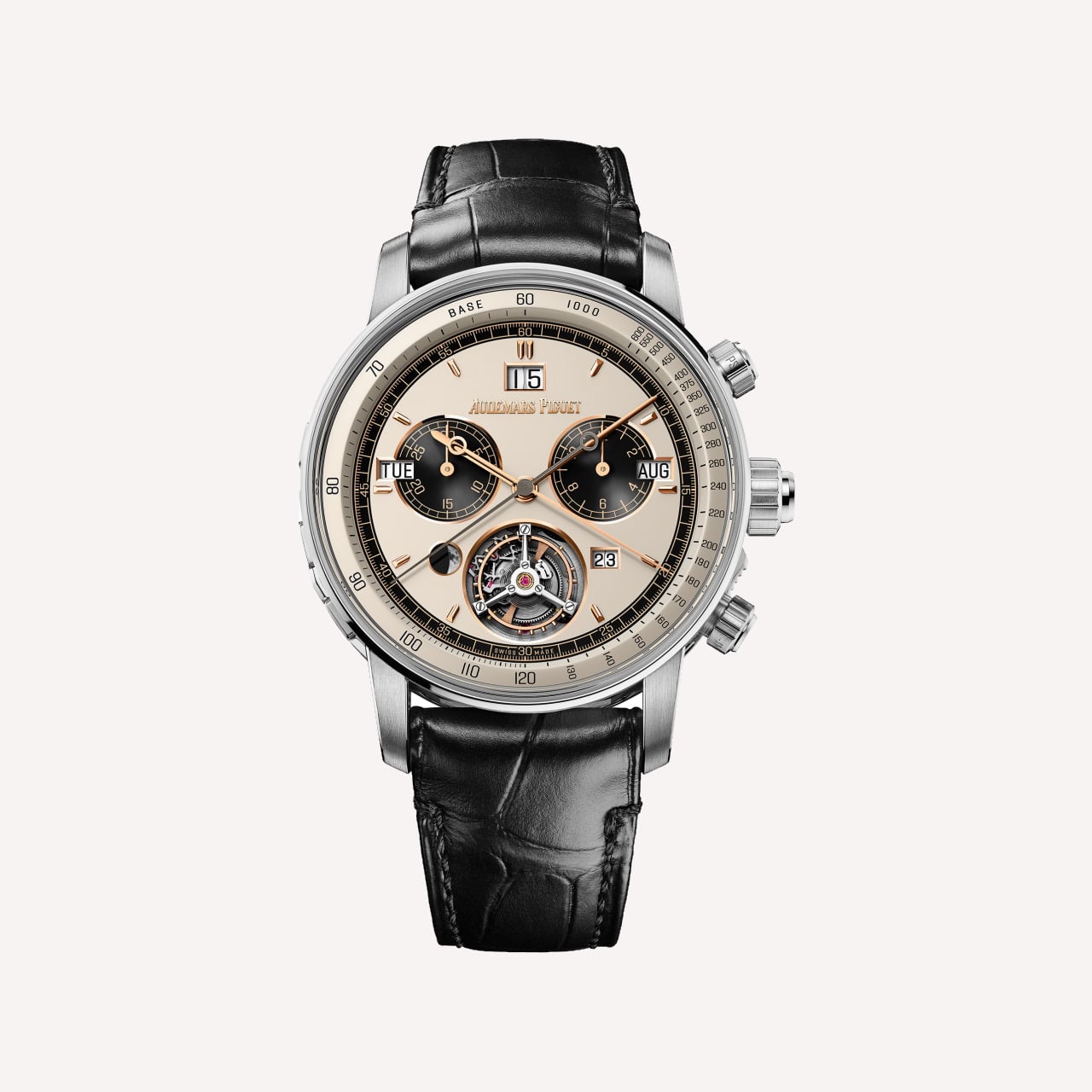 This edition has an impressive 23 complications, including a minute repeater, split seconds chronograph with flyback function, tourbillon, automatic winding, perpetual calendar, and grande sonnerie, just to name a few.
Even visually, the RD#4 is on size and scope all its own and on an entirely different playing field when it comes to precision craftsmanship. Flawless crowns and seamlessly integrated pushers make this watch an exemplary model that hits the mark when it comes to combining goals and disciplines in watchmaking.
Features
Material: White gold or pink gold
Diameter: 42mm
Water resistance: 20m
This watch is the epitome of technological achievement from start to finish, worthy of the triple-takes it will inevitably demand when worn.
Garmin Fenix 7
Even though watches are no longer a necessity, that doesn't mean they are without purpose, and the Garmin Fenix 7 makes the case that they still matter when it comes down to making a definitive style statement.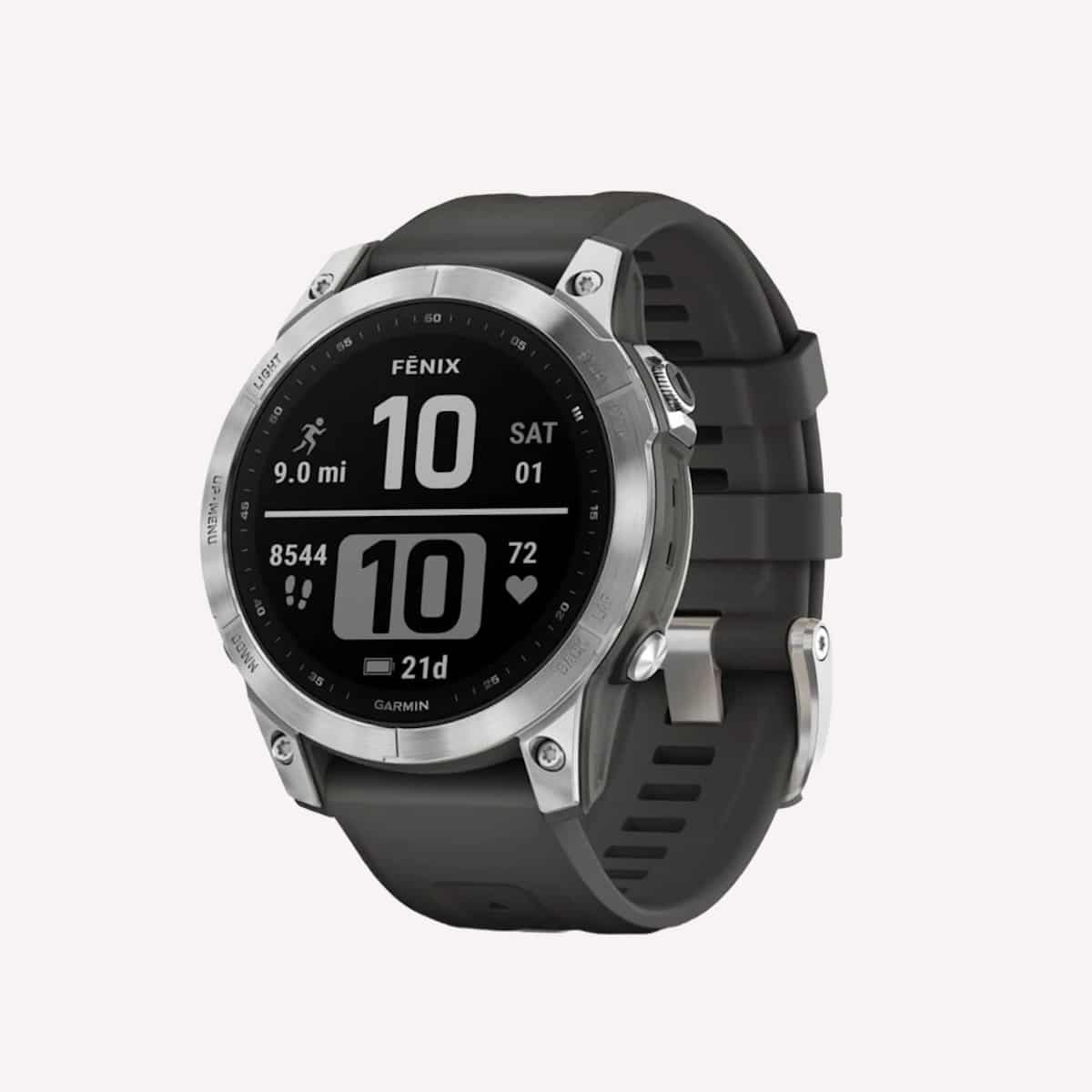 Garmin has created a smartwatch jam-packed with all the features serious athletes could hope for and more, including health metrics, all-day tracking, temperature sensors, and exceptional battery life.
The design is specifically geared towards wearers that require increased durability. They include a bezel, a back made from bezel to withstand tough terrains, removable watch straps, and superb navigation apps encoded for added functionality.
Features
Material: Stainless steel
Diameter: 42mm, 47mm, and 51mm
Water resistance: 100m
Available in three sizes, the Garmin Fenix 7 has crafted a top-tier watch recalibrated to complement the lives of wearers with athletic pursuits.
Tissot Seastar 660/1000 Stainless Steel Watch
The Seastar 660/1000 offers a smart, sophisticated entry point for watch lovers interested in adding an upscale piece to their collection.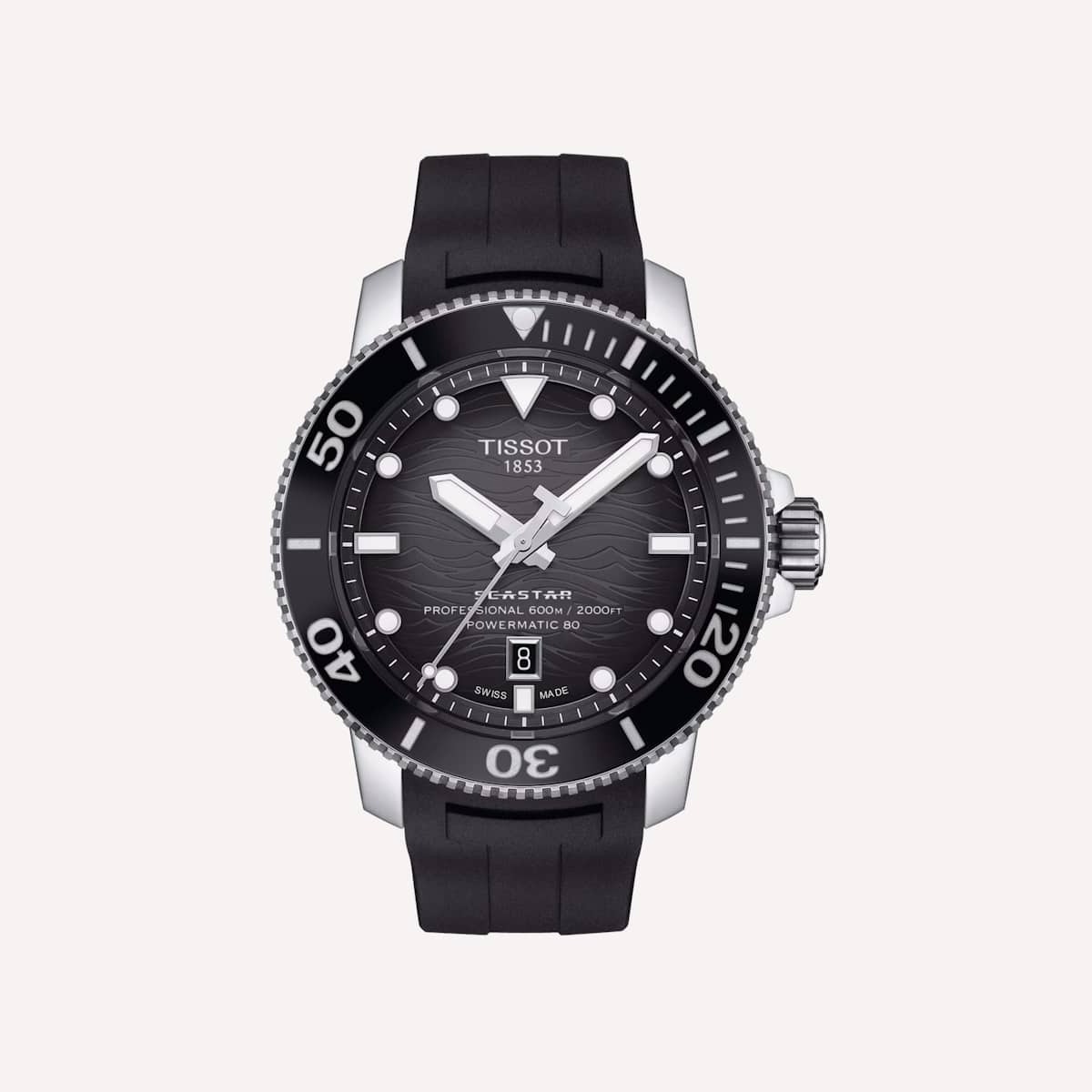 As an excellent option for divers, Tissot has delivered on all fronts to ensure it exceeds expectations while employing an aesthetic that makes it visually appealing and ideal for formal occasions.
Tissot understands the most important components necessary for a dive watch and crafted the Seastar 660/1000 with crown guards adorned with ribbed sides so that divers can grip and easily adjust the crowns while underwater. Even the dial color options have been carefully considered, with Tissot offering five gradients.
Color variations (black, blue, green, turquoise, red) have been considered for men to complement their outfits.
The model is available in stainless steel or a black rubber strap, with the indices and applied hands coated with luminescent material; divers can read the face of the watch even in extreme water depths.
Features
Material: Stainless steel
Diameter: 43mm to 46mm
Water resistance: 100m
The Tissot Seastar 660/1000 outperforms similar models with premium water resistance capacities and a low-key yet luxurious design for serious divers or those harboring aspirations.
Seiko 5 Sports SRPE80K1 Men's Vintage Automatic Watch
If there's one brand that understands how to construct a beautiful, fully functional watch, it is Seiko.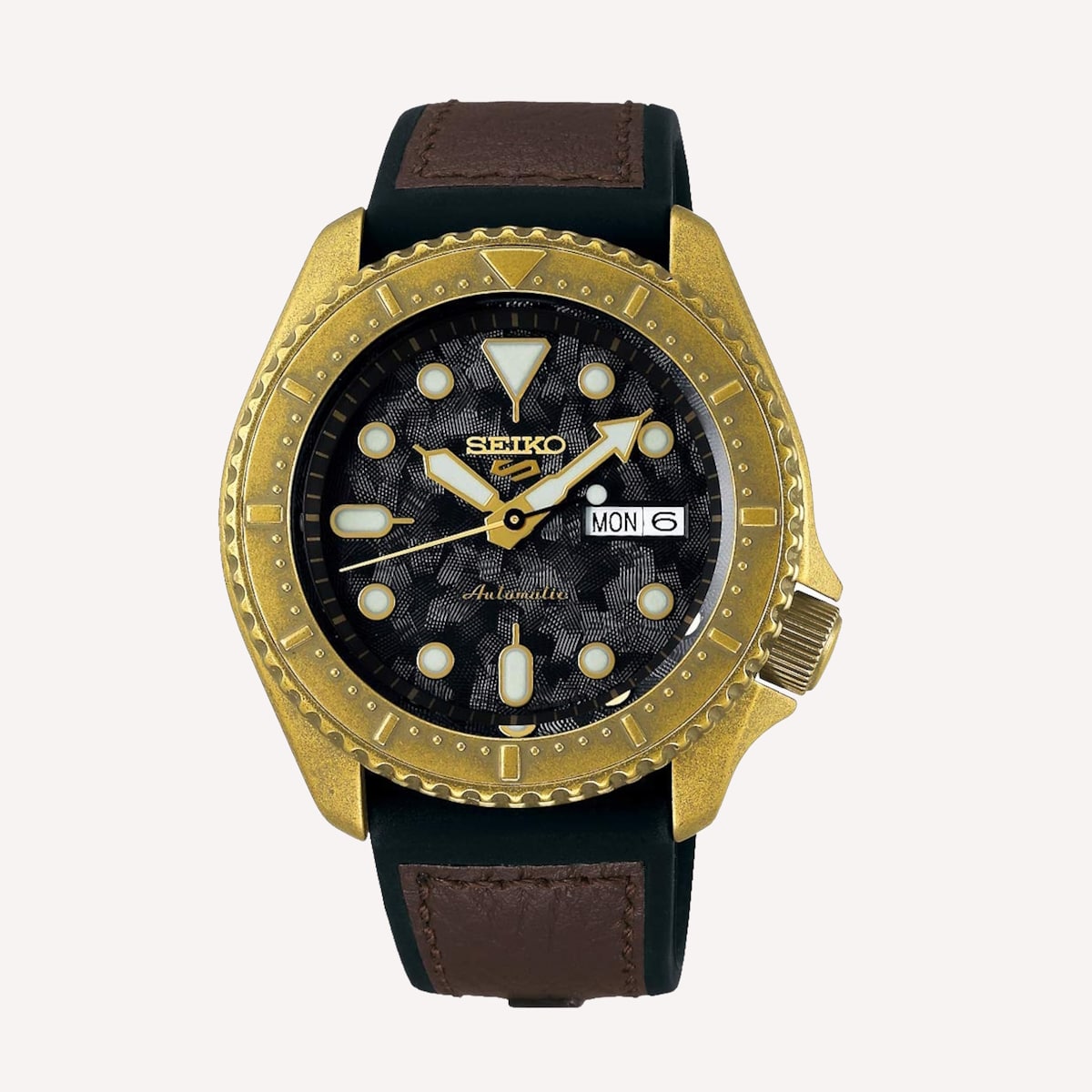 The brand has made a name in the industry by offering pieces that fit every lifestyle and every budget, and the Seiko 5 Sports SRPE80K1 is an automatic watch that serves up a vintage look that is classic and the perfect accessory for sports lovers.
Its chic aesthetic is partly due to the aged bronzed finish that gives it a rugged appearance, but functionality-wise, it comes through with a unidirectional rotating bezel, raised minute markers, and crowd guards extended from the case.
What truly makes this edition stand out, however, is the black and grey dial with its special finish that is able to reflect light optimally. It comes equipped with a brown leather strap with silicone lining that adds to its sporty appeal and elegance.
Features
Material: Stainless steel
Diameter: 42.5mm
Water resistance: 100m
The Seiko 5 Sports SRPE80K1 has successfully carved its own lane and is a great piece versatile enough for everyday wear or more formal outings.
Garmin Vivoactive 4
Garmin has given its admirers the best of both worlds with the Garmin Vivoactive 4, a fitness tracker/smartwatch hybrid that skillfully balances both form and function to perfection.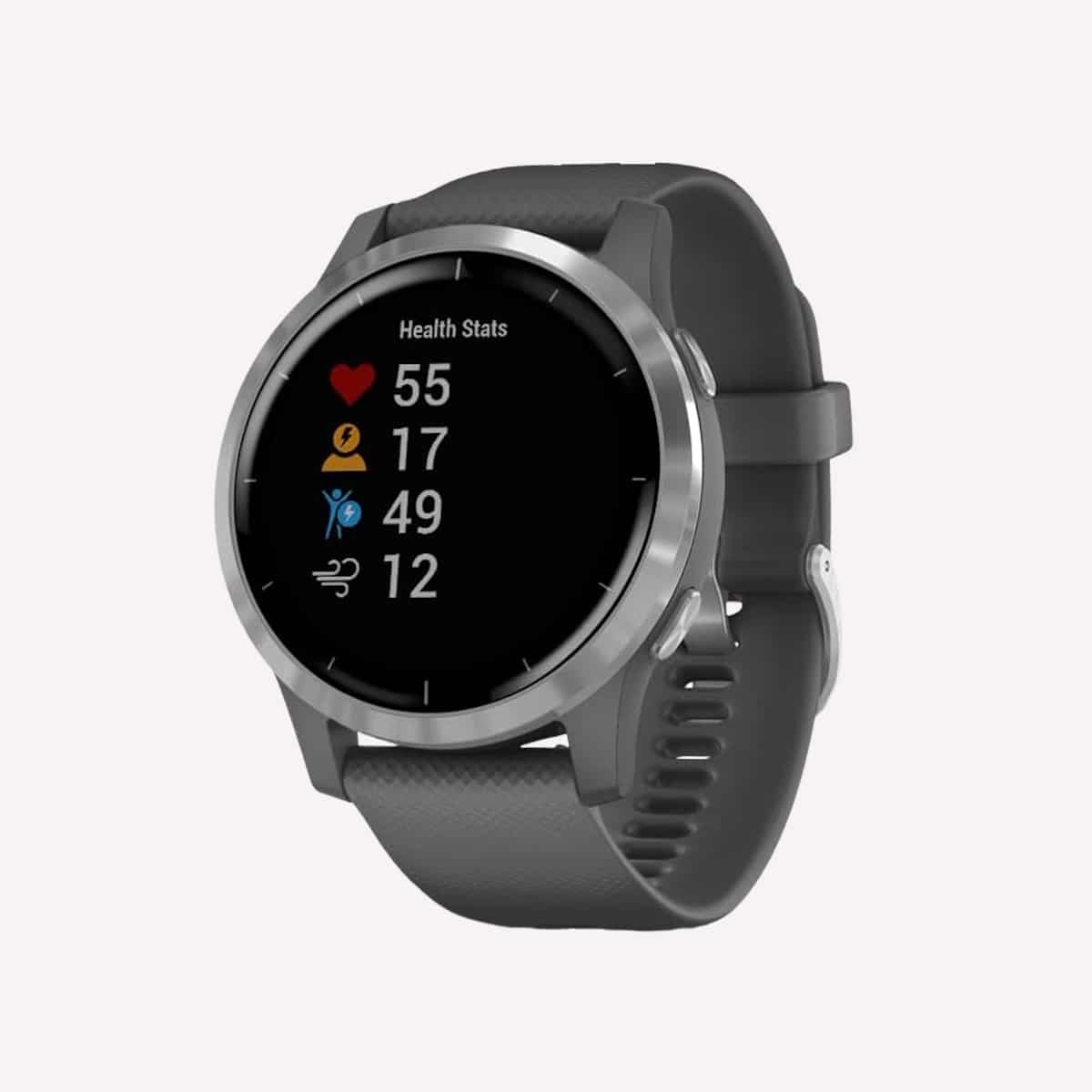 What is readily apparent with the Vivoactive 4 is that the brand has taken great strides in delivering exactly what sports enthusiasts want in such a watch and gone to the next level in a grandiose way.
Prominent features on this edition include a laundry list of goodies, including over 20 pre-loaded sports apps, enhanced yoga metrics, underwater heart rate monitoring, onboard music storage, on-screen workout animations, respiration tracking, Spotify music streaming, and much more.
Features
Material: Stainless steel
Diameter: 40mm or 45mm
Water resistance: 100m
For the fitness minded who want a watch that seamlessly balances form and function, the Garmin Vivoactive 4 is worthy of your wrist and available at an attractive price.
Practical Tips for Buying Men's Watches
The first question men should ask themselves is what purpose the watch will truly serve in their lives. Will it be for business or for adventure? There are different watches for different occasions, which is the first consideration before purchasing.
Secondly, watches can range from very affordable to expensive and exclusive, so have a budget in mind before narrowing down the list of potential pieces to add to your collection. Once you've made that decision, know that several excellent options for any price range will serve you well.
Are you interested in staying up to date on the latest watch releases and seasonal trends? Stay in the loop through our newsletter and receive expert advice, curated watch collections, and exclusive discounts on watches designed specifically for you. Join our community of wristwatch aficionados and never compromise on style or comfort again!