Skagen is a brand that offers clean, modern Scandinavian designs, but which are the best?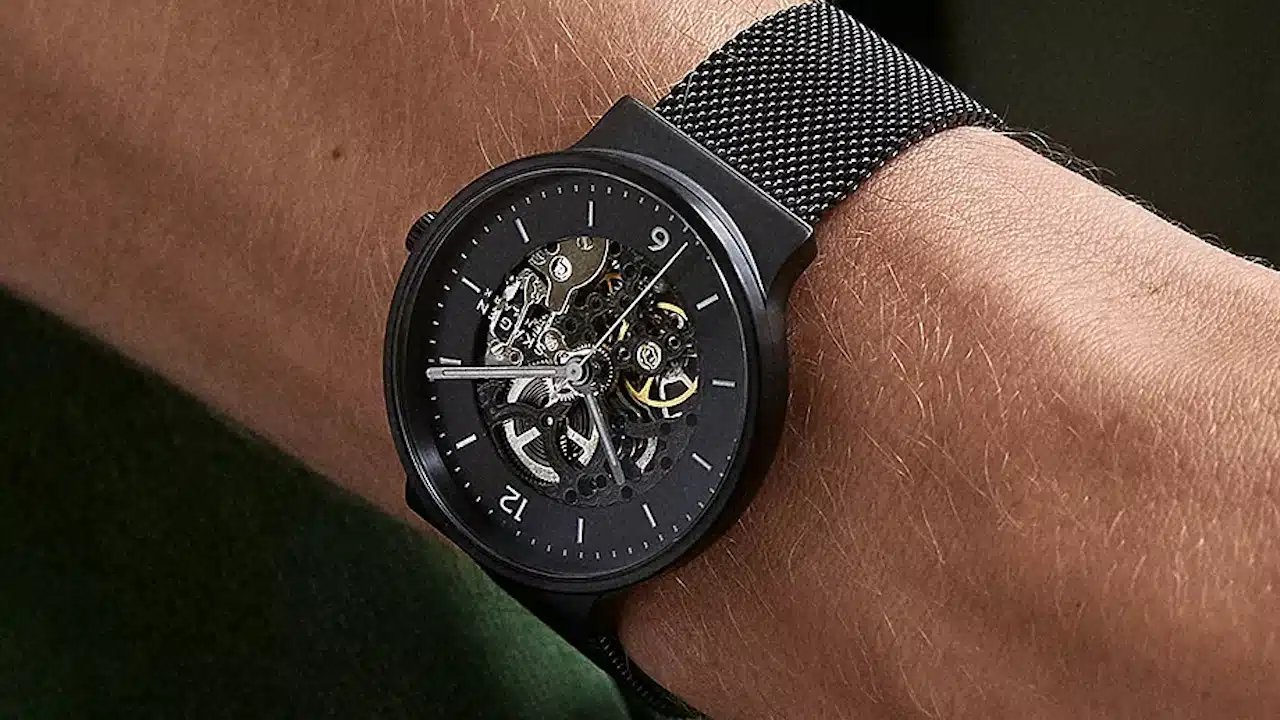 Skagen watches is a Danish watch brand known for its minimalistic, affordable watches.
The brand firmly believes that less is more, and despite offering the majority of its watches under the $200 mark, they don't look cheap.
Strangely, contemporary watches like those from Skagen are not all that modern. They follow classic designs that have been around for years.
If you'd like to learn a little more about this brand and examine some of the best Skagen watches then you've come to the right place.
Let's begin with a brief history of the brand.
A Brief History of Skagen Watches
Skagen is a designer watch brand discovered by Danish co-founders back in 1989.
Three years before the brand became established, however, one of the two co-founders became a sales manager for Carlsberg. Consequently, the two moved to the US.
There, Henrik Jorst and his wife decided to establish their own business selling gift watches. After a while, they got more serious about sourcing individual parts from reputable suppliers to create their designs.
The search began outside of the US, enabling the brand to keep costs low with parts sourced from Hong Kong. Their supplier was a company known as Comtech Watches.
In 1991, Skagen showcased some of its first watch designs at a trade fair and received instant success.
The brand grew rapidly, topping $30 million in sales within the first six years.
In 2012, the company was taken over by Fossil Group and is now a wholly-owned subsidiary of the company.
It surprises many consumers to learn that Skagen watches are not manufactured in Denmark, despite the brand's strong Danish roots. .
The name "Skagen" comes from a popular fishing village situated in Denmark. Also, Skagen's owners, who are Danish.
The minimalist watches are produced in Hong Kong with movements sourced from Japan via a manufacturer called Miyota. Some movements are even sourced from Switzerland.
Either way, Skagen watches are affordably priced and are most notably liked for their contemporary designs.
Ten of the Best Skagen Watches
Now you know where Skagen watches are from, we're going to take a look at some of the best Skagen watches to buy.
Skagen Signatur Three Hand Watch Reference SKW6577
If you love Scandinavian design and like clean lines, the Skagen Signatur watch is a great option.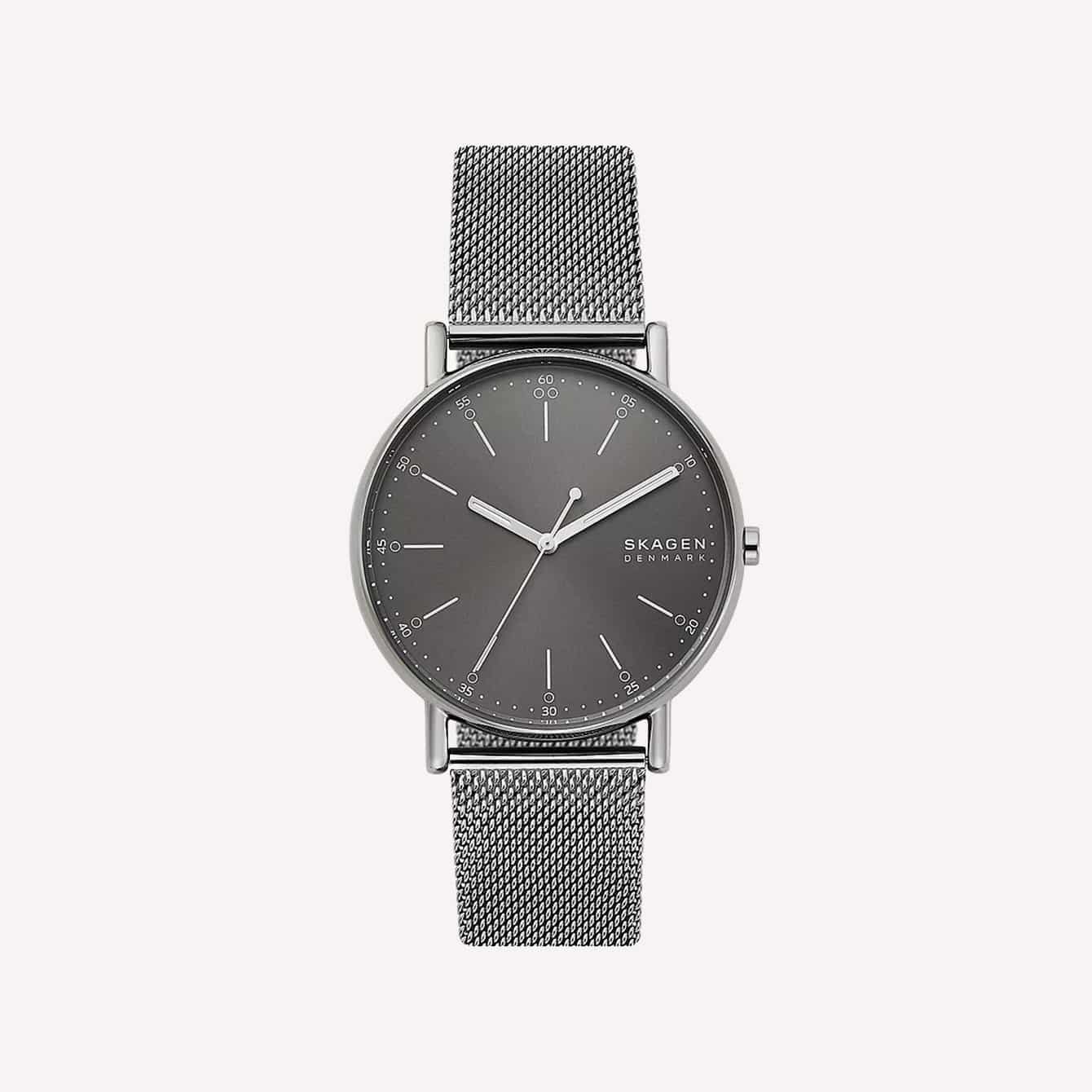 This model, measuring a 40mm diameter, has a perfectly round case made from steel and a very palatable grey dial that will compliment pretty much any attire.
The added design feature of a mesh bracelet bridges the gap nicely between casual and dressy, enabling you to enjoy a sleek look that sits snug to the wrist.
Skagen Sol Solar Powered Watch Reference SKW6794
The modern look and feel of this model combines Danish design with modern technology.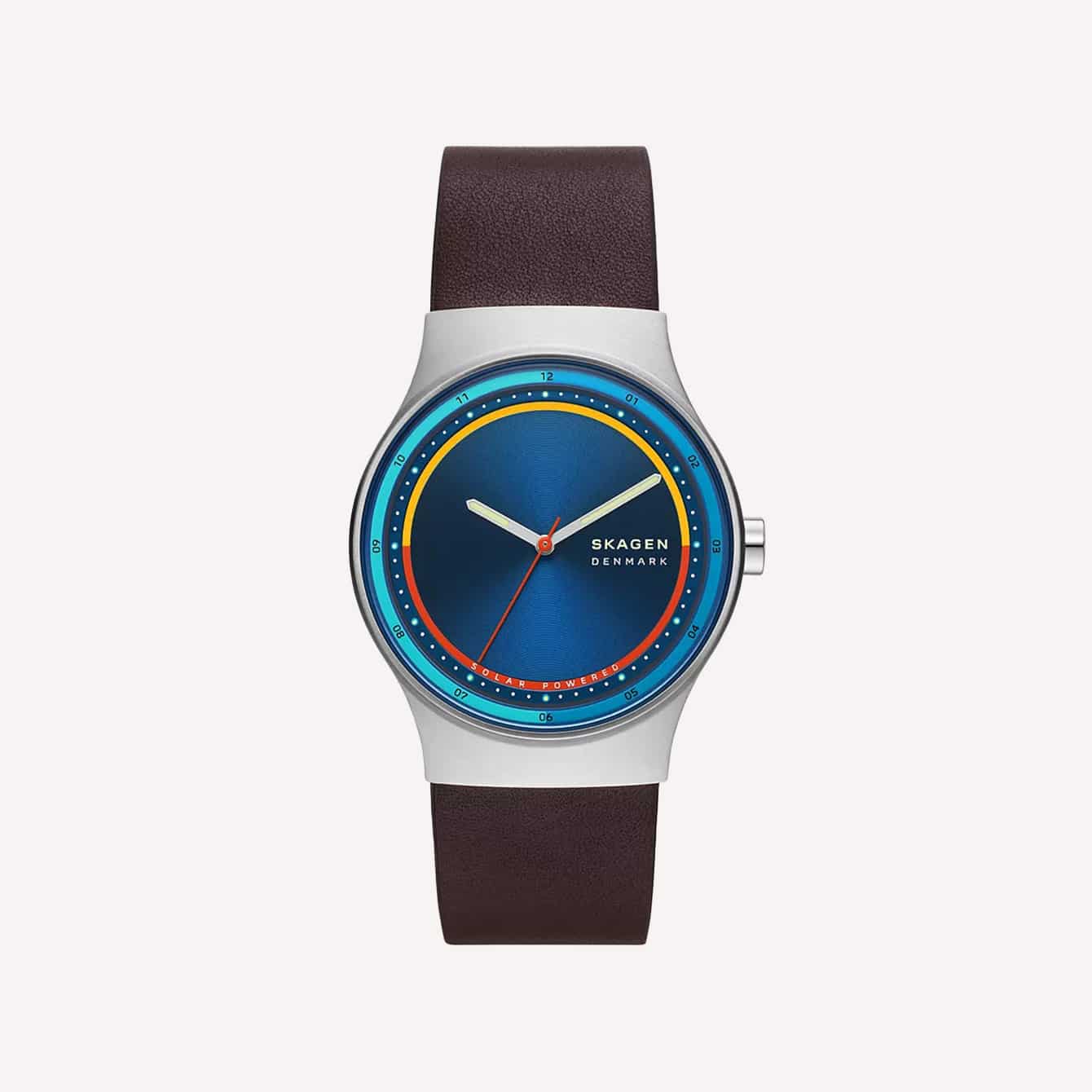 Its brightly-colored dial features hues of red and yellow around the hour track that add a pop of color to the wrist.
In addition, the minute track around the outer edge of the dial features one half in pale blue and the other half in dark blue.
Inside the watch is a solar-powered quartz movement with a four-month battery charge once fully charged under daylight.
It comes complete on an espresso brown-colored strap.
Skagen Samsø Three Hand Watch Reference SKW6881
This Skagen Samsø watch packs a whole lot of color into its compact 37mm design.
Perfect as a unisex design or for those with slender wrists, its innovative case design has been crafted from ocean-bound plastic from Tide Ocean SA.
The watch's unique green case color is a perfect fit for the three-handed model and its rich blue and green Arabic dial.
This environmentally friendly watch allows you to put a little something positive back into the environment and features a material strap crafted 100% from rPET.
Skagen Aaren Three Hand Ocean Blue Watch Reference SKW6770
The Skagen Aaren Ocean Blue watch is another planet-friendly watch that makes a splash.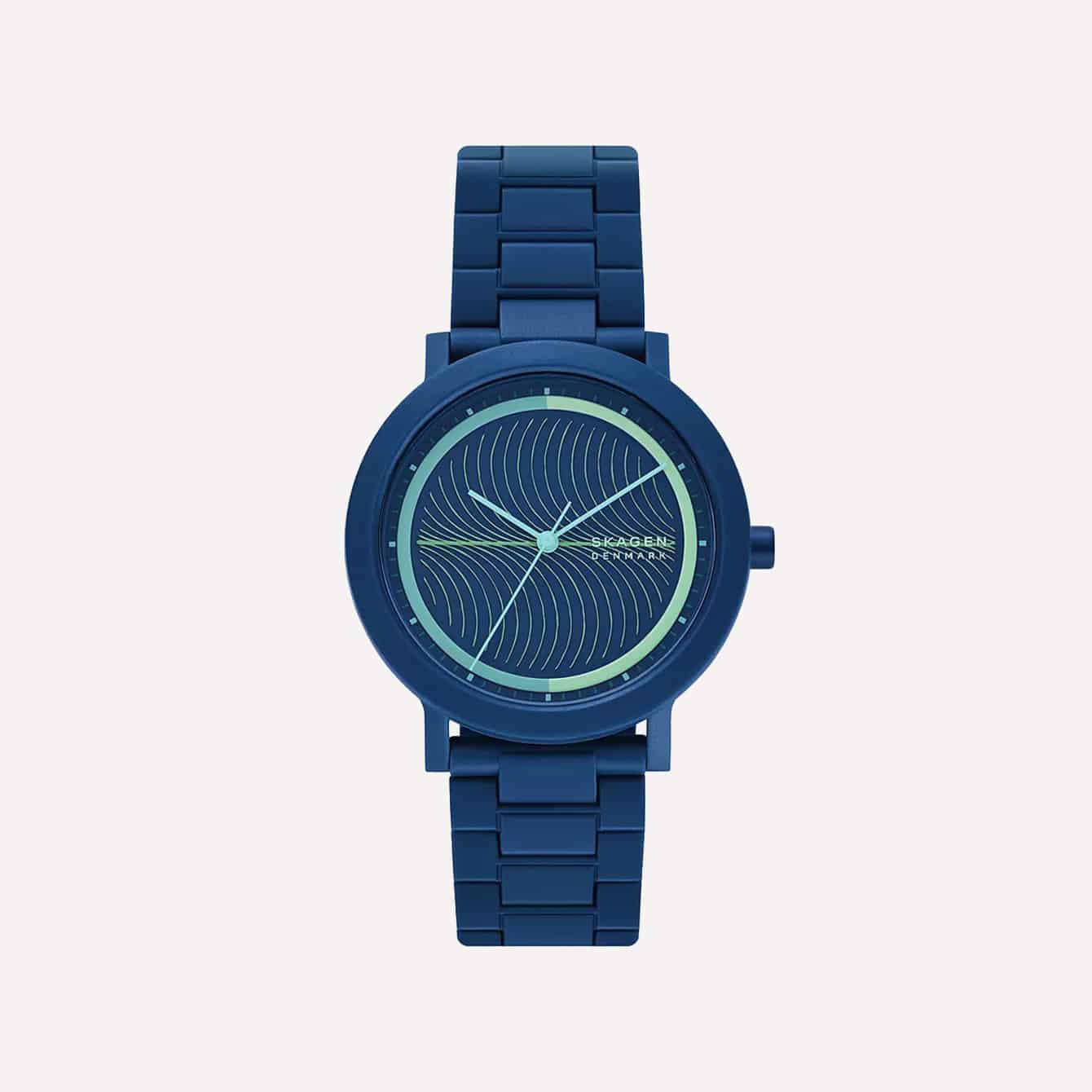 Its vivid blue case is yet another Tide Ocean SA collaboration featuring the company's upcycled ocean-bound plastic waste material. What's more, it features plenty of lume on the dial elements to ensure timekeeping is as effortless as possible.
Its mint-grey and turquoise colors on a wave-effect dial pattern transform this watch into a playful yet bold design for younger enthusiasts.
Skagen Ancher Chronograph Watch Reference SKW6764
The key characteristics of the Ancher Chronograph watch from Skagen are its hooded lugs and slim case depth.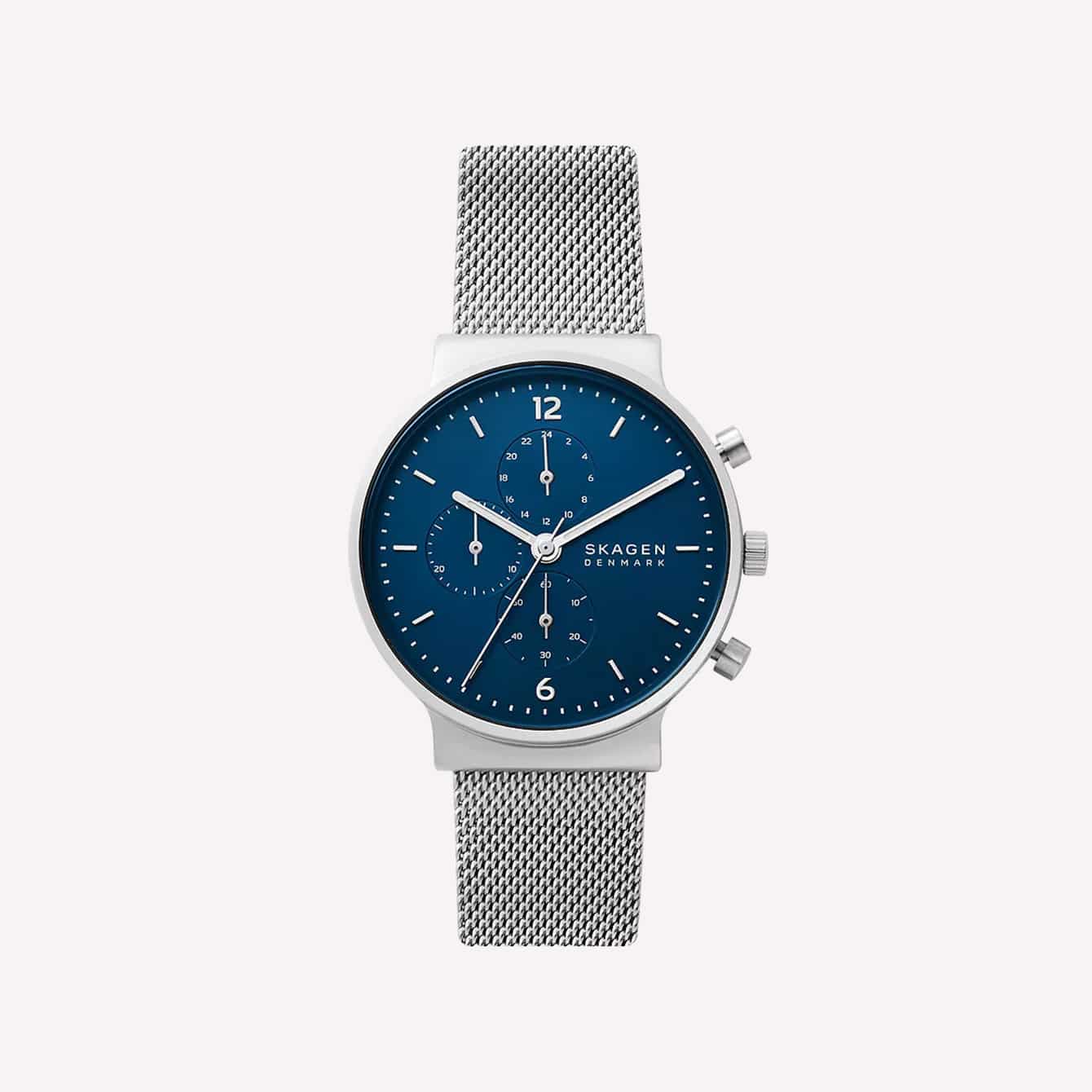 Perfect for slipping underneath the sleeve of a suit, this Classic chronograph design has a dress watch look, albeit with a sporty twist.
The very essence of the watch conveys sleekness with its stainless steel case measuring 40mm, and its quartz-powered chronograph functions upon a rich blue dial, complete with a 24-hour function.
The watch is also available with a black-coated stainless steel case with a sandblasted black dial.
Skagen Smartwatch Falster Gen 6
The Falster Gen 6 watch by Skagen demonstrates some of the brand's most advanced smartwatch technology.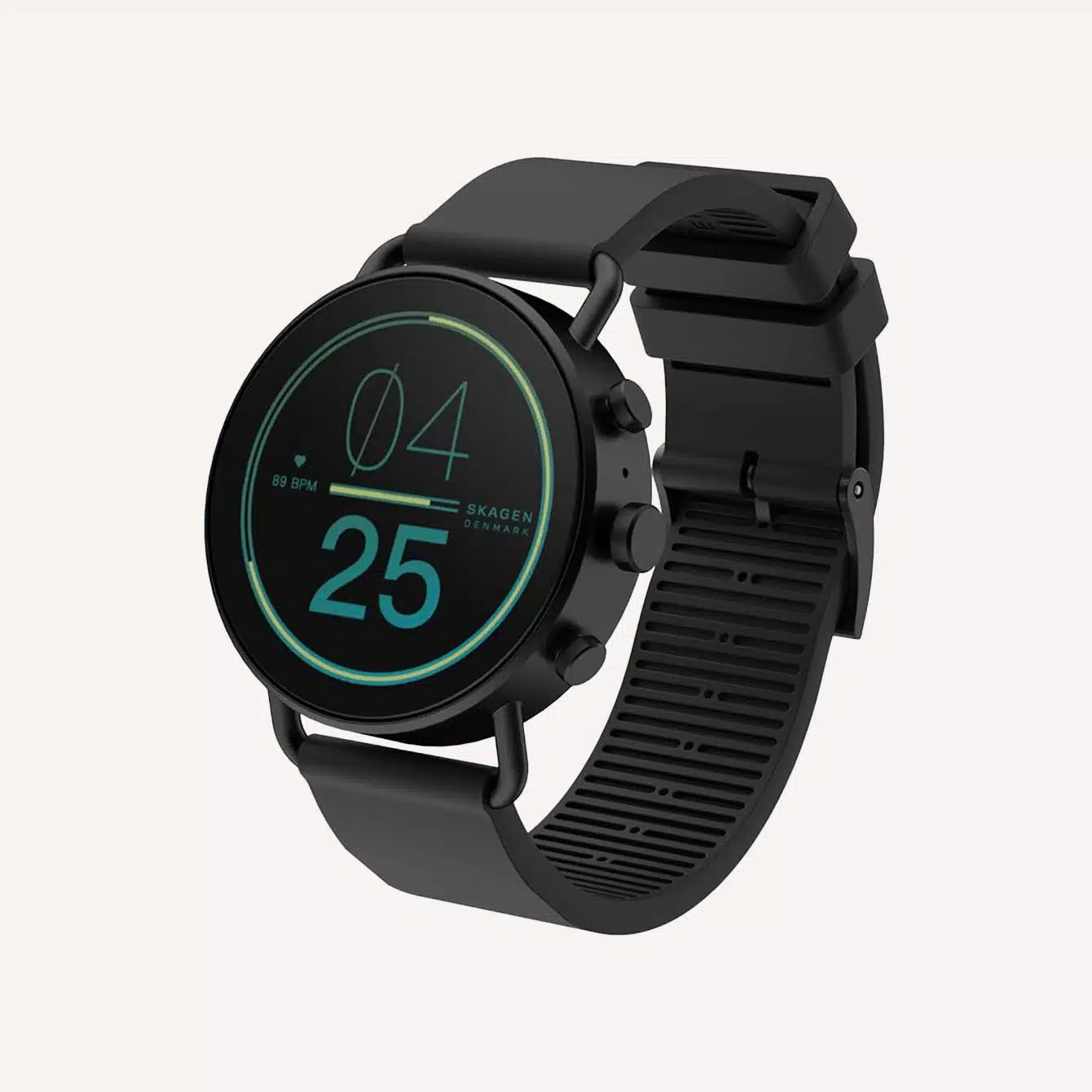 The latest edition features an Ocean Tide case and material bracelet.
It comes with smartwatch features that include heart rate tracking, Sp02 tracking, and a built-in voice-enabled function.
You can also opt for the smartwatch in a black-coated metal bracelet.
Skagen Ancher Automatic Midnight Skeleton Watch Reference SKW6784
To me, seeing the intricate parts of a mechanical movement is by far the most appealing feature of an automatic watch.
This Skagen Ancher watch is another planet-friendly watch, boasting a black-coated case crafted from at least 50% recycled steel.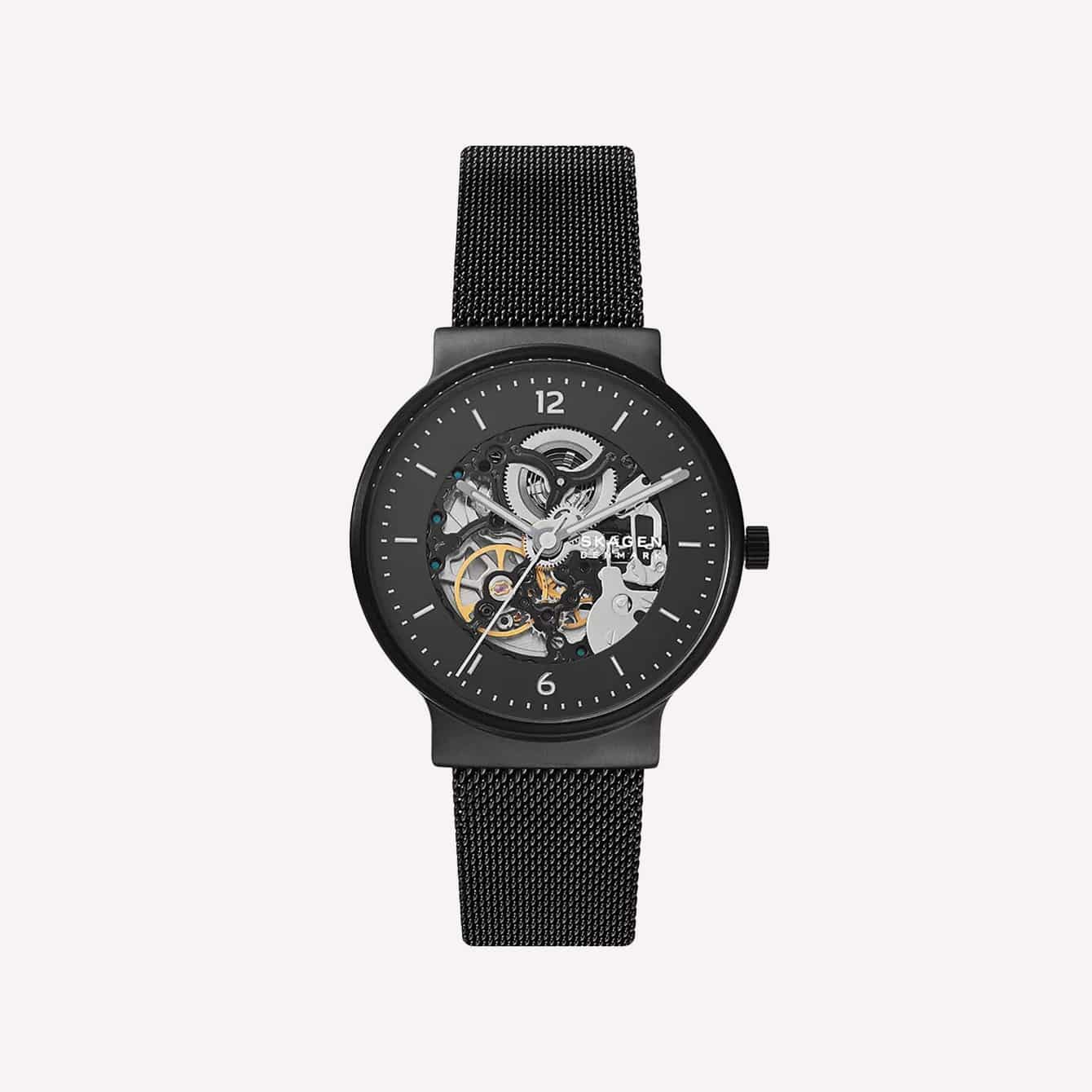 Its hooded lugs are another distinct feature of the collection, creating a futuristic finish on the wrist.
These lugs lead to a stainless steel mesh bracelet in a black-coated finish to complement the black sandblasted effect of the dial and its exposed movement through the surface.
Skagen Henriksen Solar-Powered Watch Reference SKW6739
Nothing looks more beautifully balanced than a blue dial on a brown leather strap.
Skagen clearly thinks so, too, with this minimalist dot index hour track accompanied by hands that are driven by a solar-powered Miyota movement.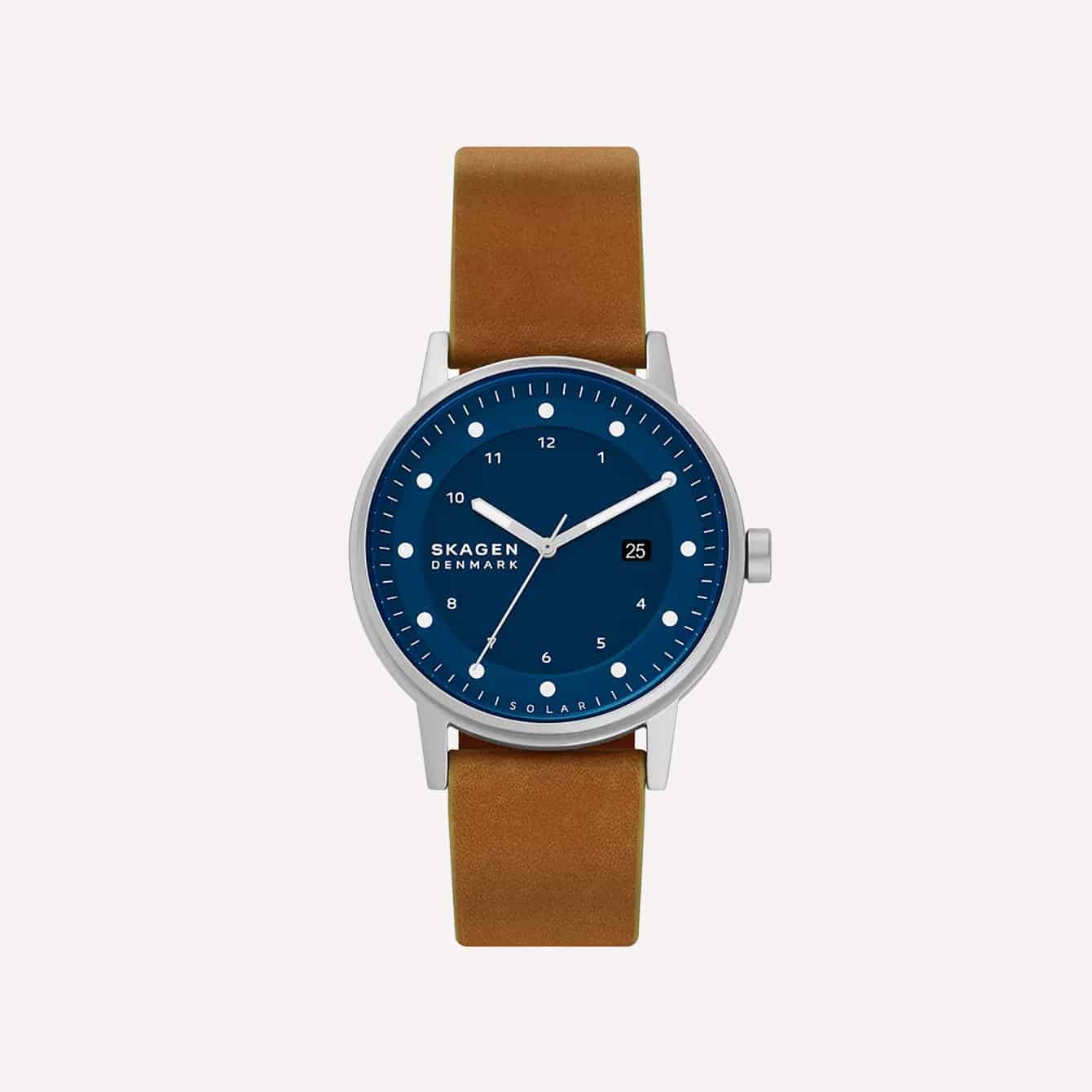 The dress watch measures 40mm and features a simple minute track, circular luminous hour markers, a date window at 3 o'clock, and lume-coated central hands.
A Litehide leather strap completes the look of this stylish three-handed time and date model.
This is a slim and highly wearable timepiece for enjoying every single day.
Skagen Melbye Titanium and Charcoal Reference SKW6007
If you need a comfortable and lightweight watch, you'll find it in the Melbye range by Skagen.
The manufacturer offers a line of titanium-crafted timepieces, each one offering a slightly different style.
Take this Melbye watch reference SKW6007, for example.
Its charcoal grey dial features an inner ring of orange denoting the minutes, along with a day-date function at 3 o'clock.
It also features a mix of Arabic numerals and stick indexes, an automatic movement, and a mesh-style bracelet crafted from matching titanium.
Skagen Grenan Watch Reference SKW6829
The Skagen Grenan is the brand's slimmest watch profile so far. This thin watch measures just 4.85mm in depth.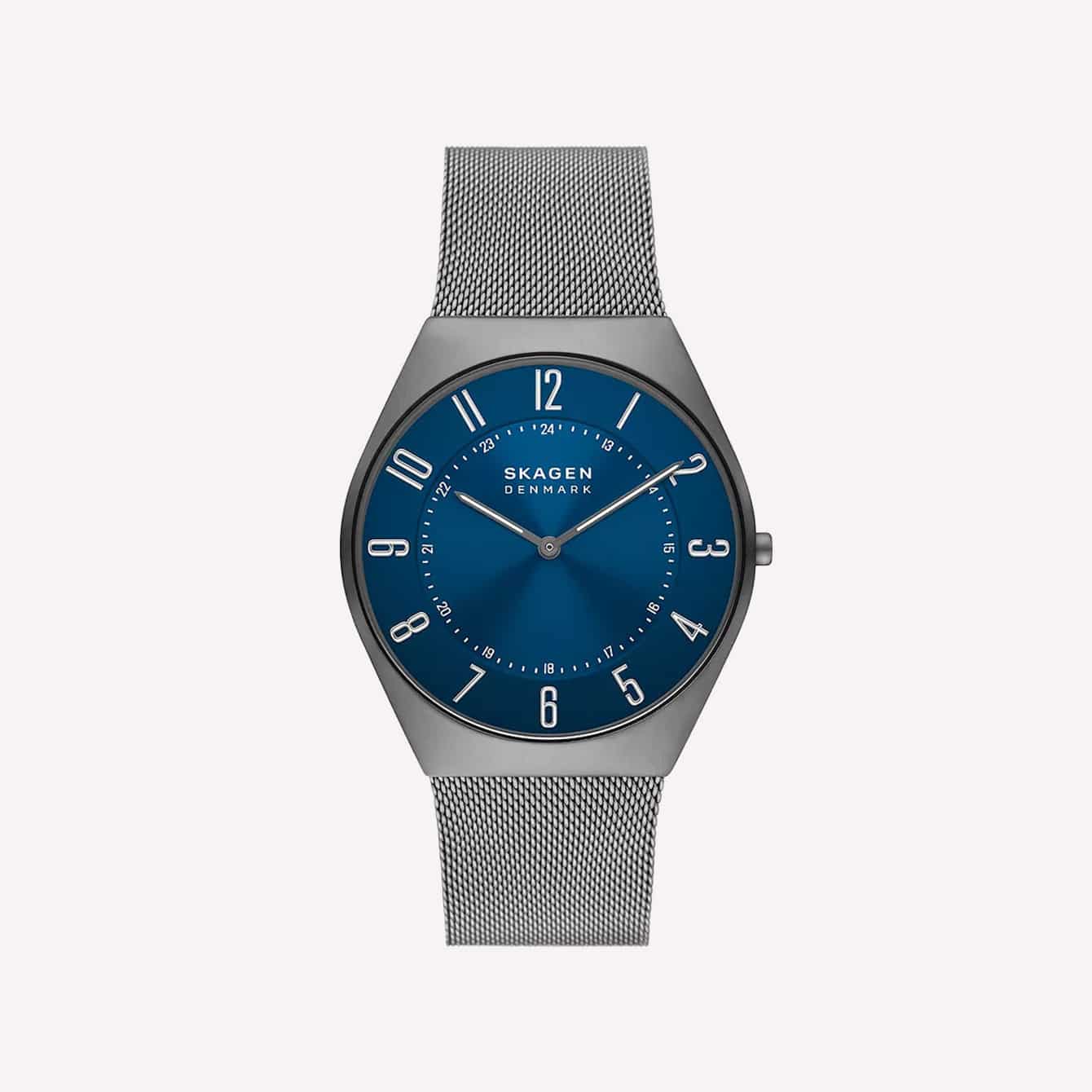 Iits design is elegant, modern, and highly functional. Its deep blue dial is a home for 12 Arabic numeral markers around the hour track, not to mention an inner 24-hour scale.
The combination of black-coated hands against the richness of an ocean-blue dial color is perfect.
The 30-meter water-resistant case is completed on a mesh-style bracelet that, once again, achieves an assertive, contemporary look once wrapped around the wrist.
FAQs
Here are common questions about this brand:
Where are Skagen watches from?
Skagen is a Danish brand although the watches are not made in Denmark.
Is Skagen watch a good brand?
Generally speaking, Skagen watches are built well using materials that are of a high quality. They're also reasonably priced.
The brand's name is further enhanced by the solid reputation of Fossil Group, which now owns Skagen, along with DKNY, Diesel, Michael Kors, and Fossil.
What is special about Skagen watches?
Skagen watches are more affordable than Swiss timepieces since they use alternative materials and components sourced from Hong Kong and Japan.
They also forgo the more complex and technically sophisticated complications found in high-end Swiss watches. Instead, the brand offers simple, minimalistic designs that are also wholly modern.
The Takeaway: Affordable Modern-Looking Watches
Skagen offers a broad selection of automatic and quartz watches. They do all come under the ultra-modern umbrella, however. Even so, if you like modern watches and haven't yet tried a Scandi watch design, certainly try one on and see for yourself.
For more guides and news on the latest releases from the watch world, you can sign up for The Slender Wrist newsletter today.