Need a strong outdoorsy watch? Good idea. Here are the 15 best watches for the outdoors!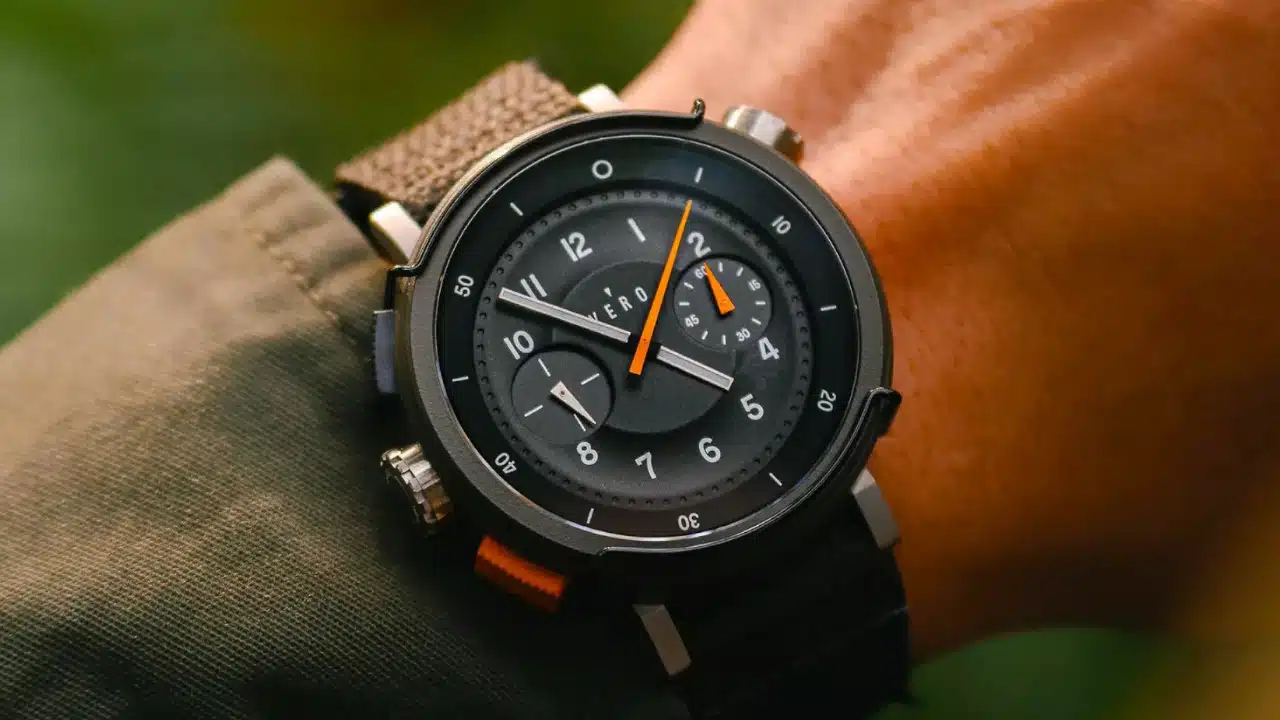 Whether you're a camper or a grouse hunter (I happen to be both), you know that there are specific necessities when it comes to nature-ready timepieces. For one thing, think about the fact we don't need wristwatches for timekeeping in the civilized world.
If you're out in the woods, your watch needs to tell real, accurate time as insurance against a dead phone.
Of course, it needs to be durable, water-resistant, and possibly have specific features like GPS. (Although the specific features you need will depend on what you're doing so far in the middle of nowhere).
You'll need to consider the toughest watches for outdoor use.
Also, one of the reasons that watches have stood the test of time as a menswear essential, despite us not really needing them anymore, is their association with adventure.
After all, the Speedmaster's lore is based on space exploration, while the Explorer's is mountaineering.
Even if you're not particularly woodsy, you may have an interest in a tough outdoor watch.
15 Best Outdoor Watches
Bolow are some of the best affordable outdoor watches, the best high-end outdoor watches, and everything in between. Most of these are slender-wrist friendly, a few big models made it into the list since large sizes are common with outdoor watches.
Casio A168WA-1
Nicknamed The Illuminator because of the bold red moniker above the digital screen, the Casio A168WA-1 has always been an icon.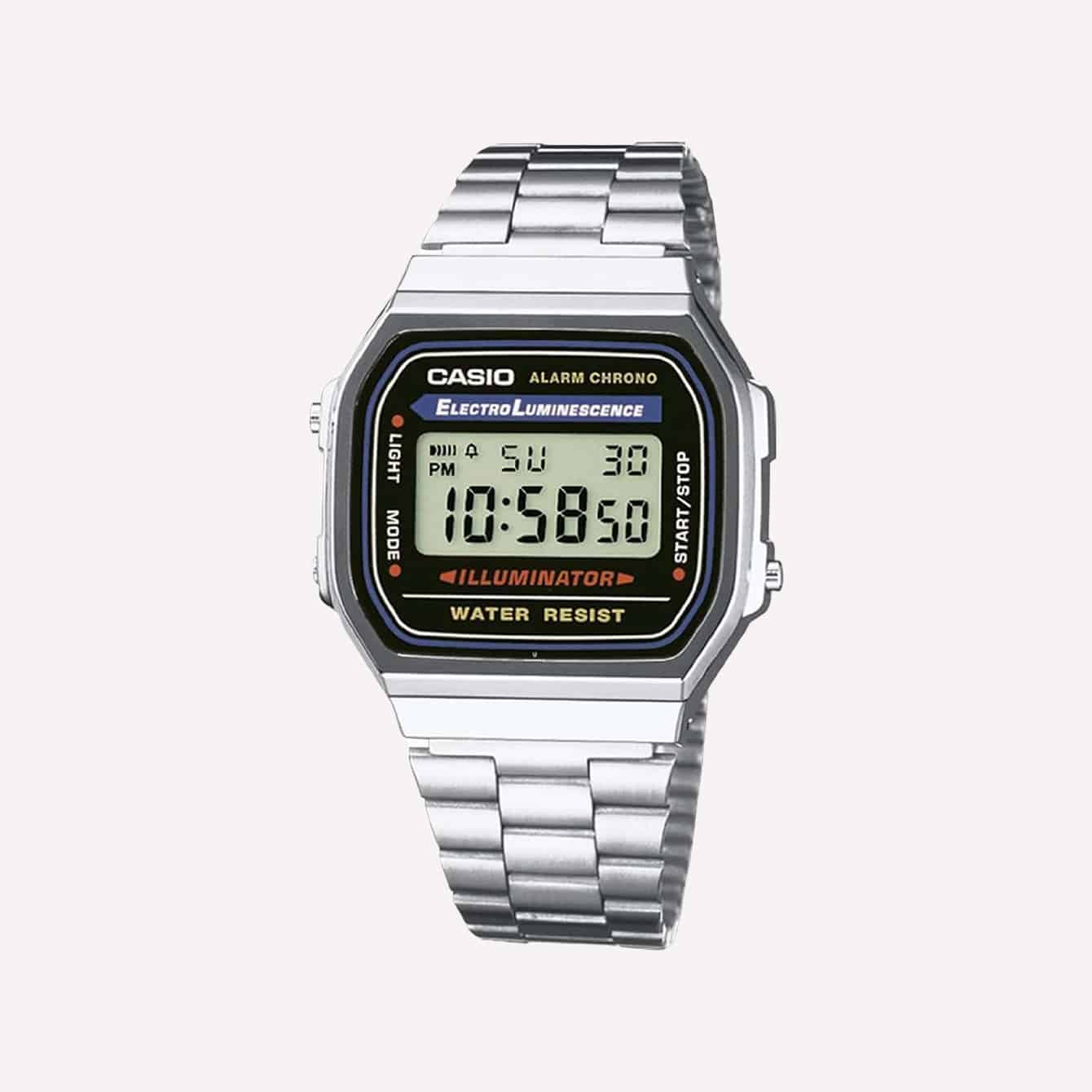 As a fan of the red, blue, and gray Nintendo Game Boy aesthetic, I'm okay with this.
It's an affordable and straightforward digital watch that has an impressive ±30 seconds per month accuracy.
Between that and the bright EL backlight it gets its nickname from, you have more than enough when it comes to outdoor-necessary functions. Did I mention the auto-calendar and stopwatch?
Small but mighty, the A168WA is still a touch bigger than its A15 cousin. That and the concealed lugs lean harder into the athletic look without taking away from its retro-cool charm.
Dimensions: 35mm diameter, 9.8mm thickness
Case Material: Plastic
Water resistance: 30m
By the way, I've written an in-depth, hands-on review on this one!
Vero Workhorse Backcountry
With the Workhorse Backcountry, Oregon-based Vero takes the classic chronograph off of the racetracks and down from space and into the woods, mountains, and rivers.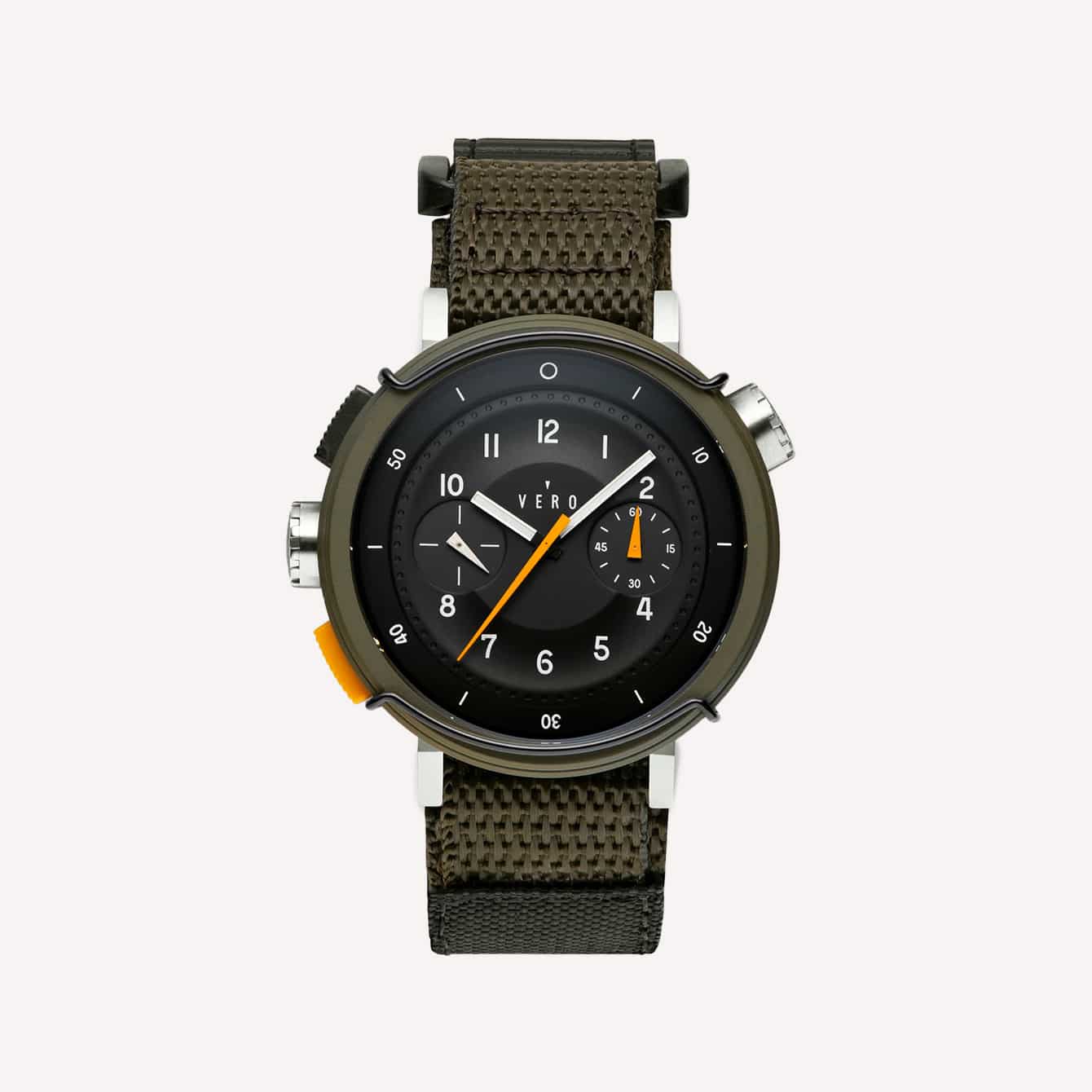 Style-wise, it mixes sleek elements with tank-like brawn. The former is seen on the highly legible watch face made up of contemporary-looking triangles and rectangles, while the latter is seen on the heavy and extremely fortified army-green case.
It's stainless steel but coated in ceramic, which ups its hardness, durability, corrosion resistance, chemical resistance, and scratch resistance.
Dimensions: 44.5mm diameter, 13mm thickness
Case Material: Stainless steel
Water resistance: 120m
Basically, this guy is a tank. Even the rotating bezel is secured within the case instead of at the very edge.
Victorinox Swiss Army 241894 INOX
The Victorinox Swiss Army 241894 INOX is all about strength and function, but boy, do I love its look. The multi-surfaced case and bezel look undeniably muscular, though the series of lines and brushing also give it sophistication.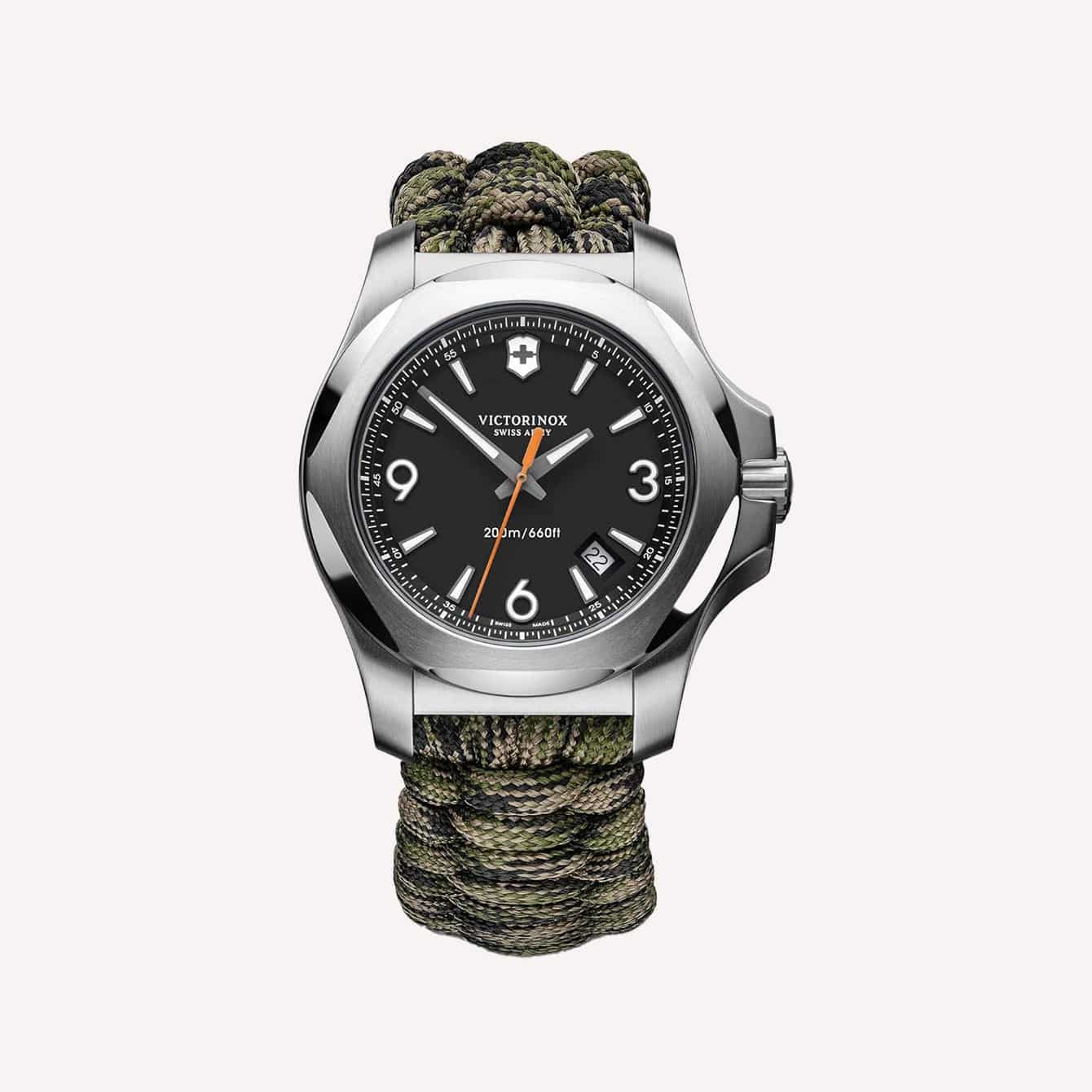 Expecting nothing more from the makers of the legendary Swiss Army knife, that blocky case is a result of over 130 endurance tests. It's been frozen, heated, and even run over by a 64-ton tank.
If you're looking for an accurate timekeeper that isn't phased by weather or temperature conditions, look to the INOX.
Dimensions: 43mm diameter, 11mm thickness
Case Material: Stainless steel
Water resistance: 200m
That braided paracord strap can also be unraveled and used for emergency solutions, like making a splint or repairing a tent. Emergencies aside, it also adds to the adventurous look.
Casio G-Shock GWM5610-1 Solar
Definitely one of G-Shock's smaller solar atomic watches, the GWM5610-1 is a self-sustaining piece of gear. I'd say it's basically a survivalist piece, even if entry-level, because of how low-maintenance and worry-free it is.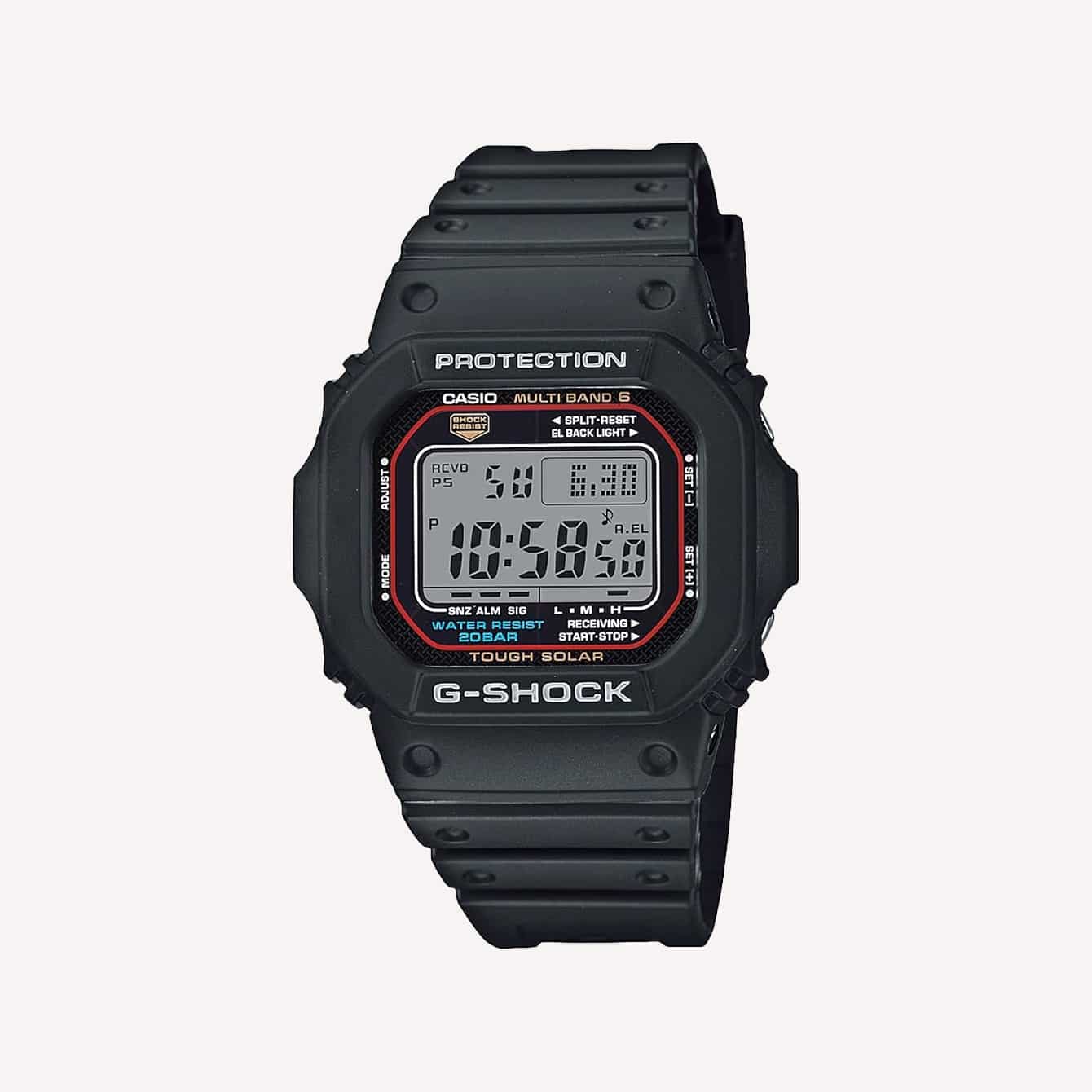 As a solar atomic watch, it syncs and receives radio signals, calibrating to the universal time for precise timekeeping. It self-charges, so it doesn't need constant battery replacement.
If you're in a situation where food and water are your main concerns, you'll be thankful that batteries are low on the maintenance list.
Dimensions: 43mm height, 12.7 mm thickness
Case Material: Resin
Water resistance: 200m
It has the look of a classic G-shock, a resin body, and a square watch face, and equipped with every related function. You've got a stopwatch, timer, world time with 48 cities, five alarms, and an electric backlight.
Polar Grit X Pro Multisport Watch
The Polar Grit X Pro Multisport Watch combines muscles and brains, offering a level of specificity and durability beyond most health trackers.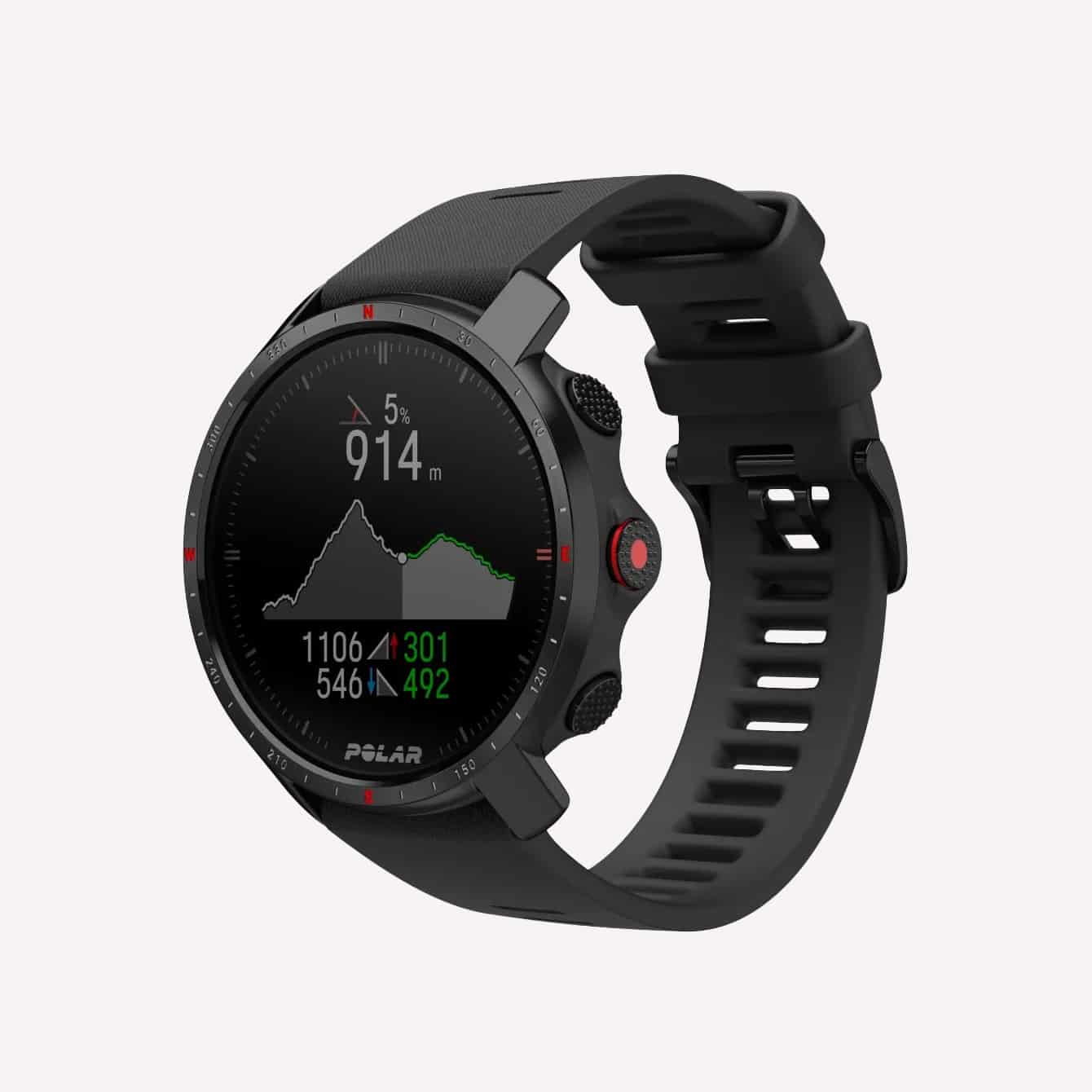 Its stainless steel case is coated with diamond-like carbon, giving it military-level strength. So whether you're heading to the local gym or scaling Mount Everest, this watch will likely make it out alive.
The scratch-resistant sapphire glass protects the digital screen, which you can use to access recovery tests, coordinates, the altimeter, and all sorts of navigators.
On top of having GPS, it has GLONASS (the Russian counterpart to GPS), Galileo (Europe's), and QZSS (Japan's satellites).
Dimensions: 47mm diameter, 13mm thickness
Case Material: Stainless steel
Water resistance: 100m
This way, no matter where you're backpacking, you can choose whichever satellite is giving you the strongest signal.
Seiko Prospex Speedtimer Chrono SSC815
The solar-powered Speedtimer Chrono comes right out of Seiko's Prospex line of processional sport watches. It's another one of those timepieces that you don't have to think about, thanks to its no-maintenance solar movement.
This watch will run forever. Okay, not forever, but it may very well outlast you. It derives power from any kind of light, not just the sun, so it essentially "hunts for its food."
And on top of being durable and reliable, it's got tons of style. The layers of thin circles starting from the outer bezel all the way into the second track give it a scientific look, which is perfectly in line with the Chrono aesthetic.
Dimensions: 43mm diameter, 13mm thickness
Case Material: Stainless steel
Water resistance: 100m
Meanwhile, the speckling on the dial looks a bit like a starry night. This is one charming timepiece.
Sinn T50 Titanium Dive Watch
Sinn's T50 Dive Watch is a high-level, spec-forward tank that also boasts great pedigree for you story lovers out there.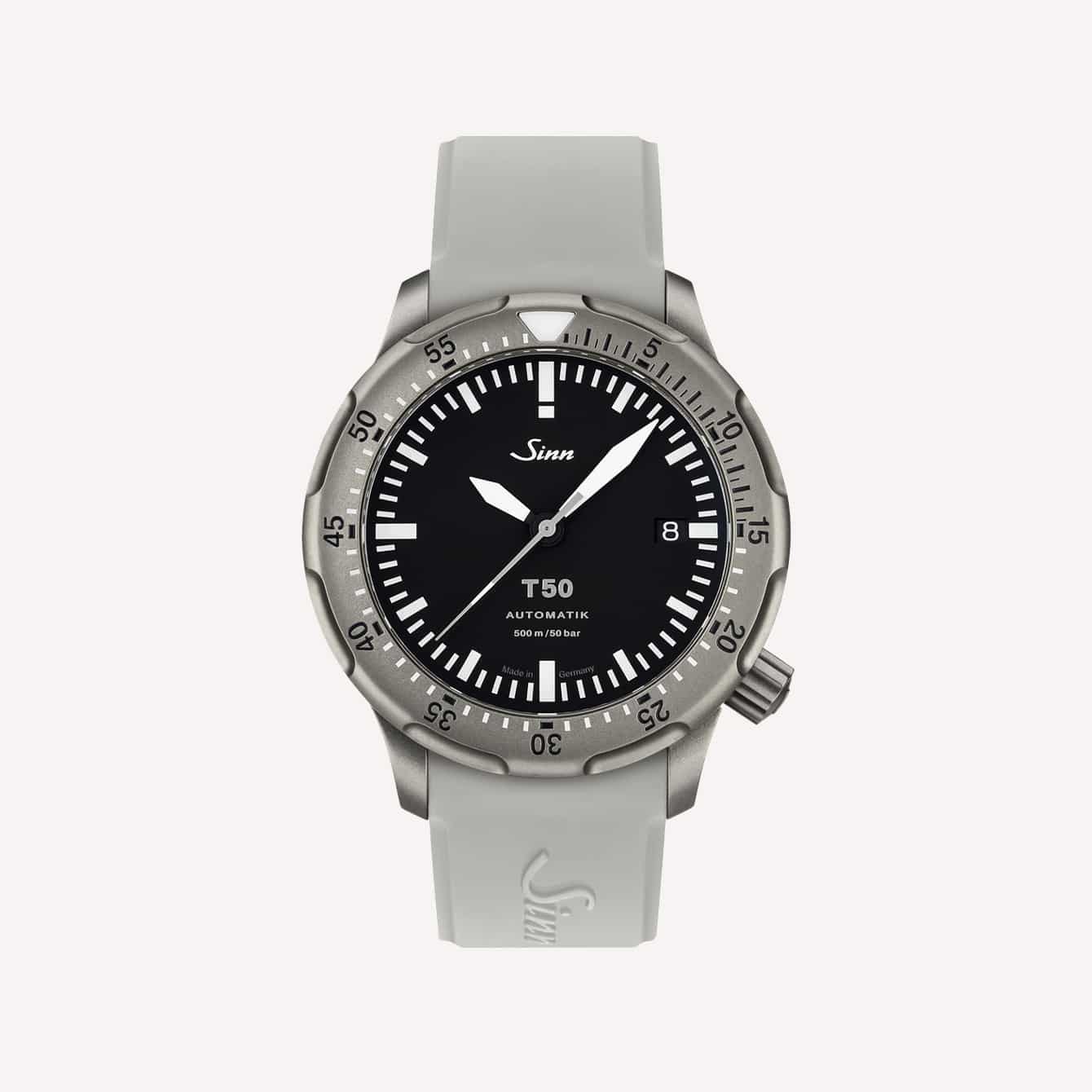 It's derived from the Sinn T1 and T2 divers, which descend from the IWC Ocean 2000. How? Well, before buying Sinn, Lothar Schmidt was the head of case design at IWC.
Inside the bead-blasted titanium case, which is half the weight of stainless steel but just as strong, is the Sellita SW300-1. I've always described this movement as "ballerina-light but lineman-strong."
Even more, this watch boasts a whole 500 meters of water resistance. That's more than pro-divers need, so I think you'll be fine in any water scenario in the wild.
Dimensions: 41mm diameter, 12.3mm thickness
Case material: titanium
Water resistance: 500m
Plus, there's an air-dehumidifying capsule. Another level of security is the fact you have to push down the scalloped bezel to use it.
Garmin Instinct 2S Solar
So I love Garmin's Enduro 2, and I think a lot of people would deem it one of the best Garmin outdoor watches. However, the Instinct 2S Solar is slender-wrist-friendly, the smaller version of the 2X, and is more affordable.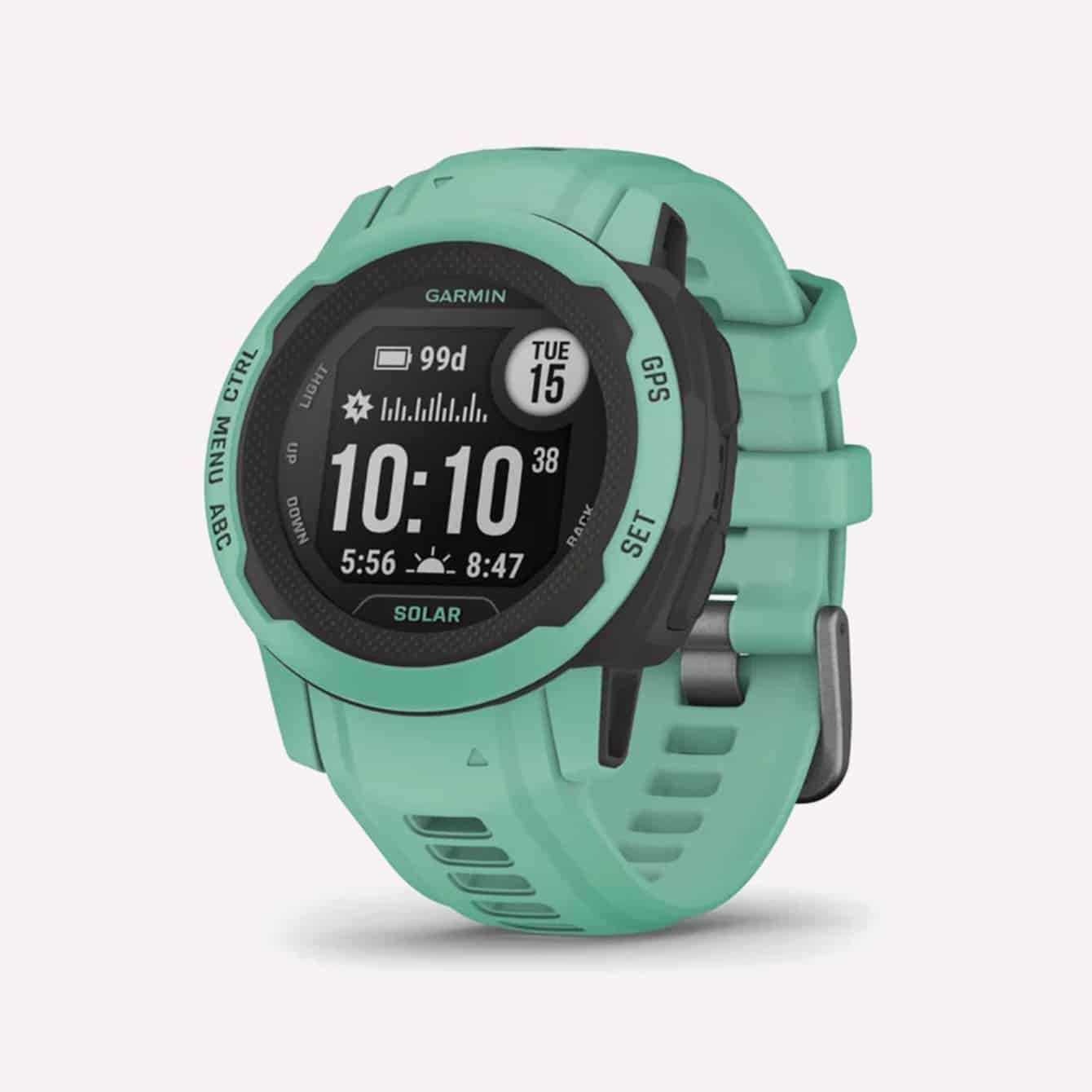 And if there's ever such a thing as a GPS heritage brand, I'm pretty sure it would be Garmin.
It's a strong, rugged GPS smartwatch, military-certified with the MIL-STD-810 standard. This means it performs even under extreme shock, heat, and other high-impact circumstances. Look for these kinds of certifications when considering an outdoor watch, by the way.
Dimensions: 40mm diameter, 13.3mm thickness
Case material: Fiber-reinforced polymer
Water resistance: 100m​
Some contingency-plan features include its flashlight and safety tracking, which sit alongside all of the other classic smartwatch functions like health trackers and activity measures.
Casio G-Shock DW5600E-1V
Think of the three Casio watches on this round-up as different iterations of live-action Batmans. The Casio A168WA is the fun Batman of the '60s, and the G-Shock GWM5610-1 is the late-'80s-into-early-'90s darker but still comic-book-like Burton Batman.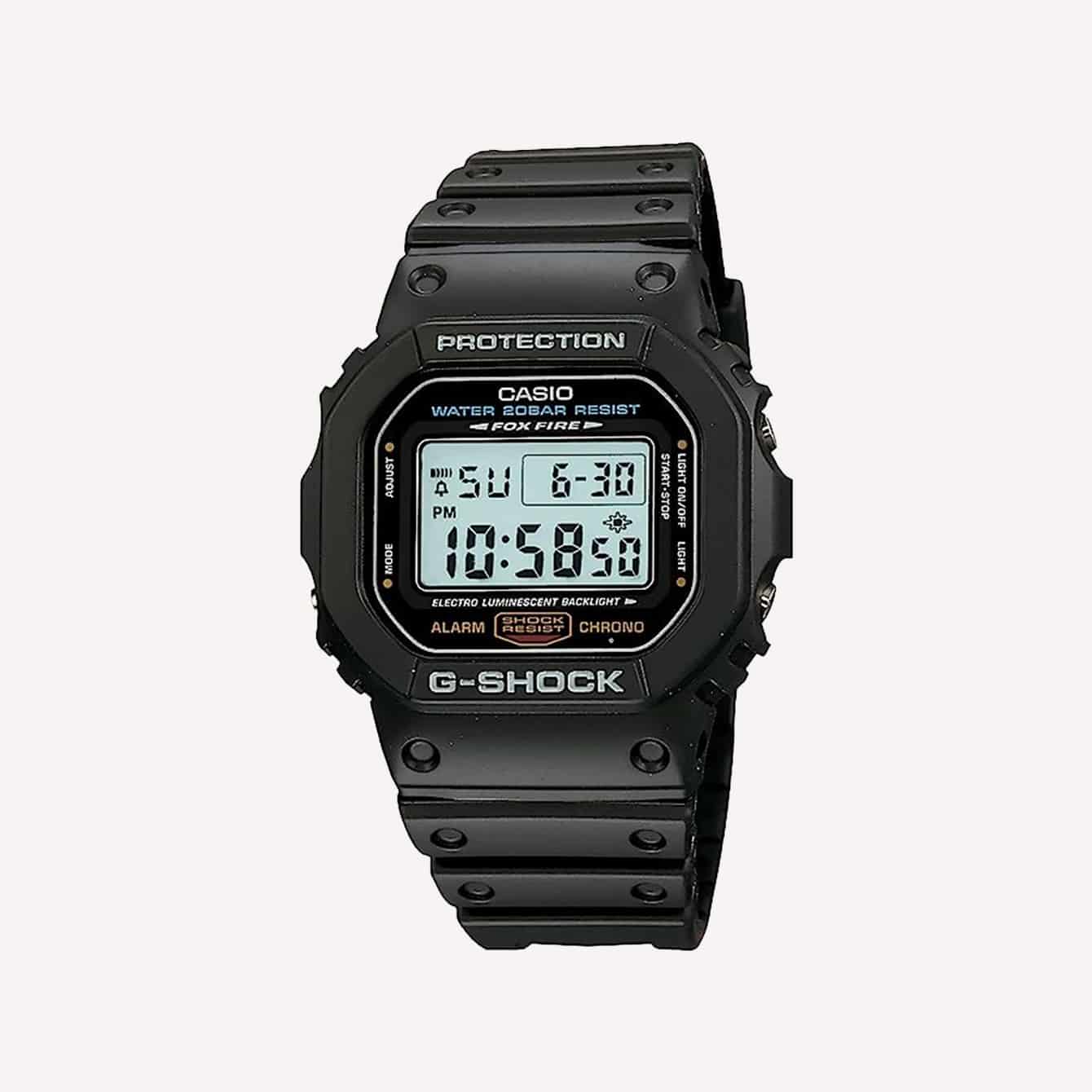 This G-Shock DW5600E-1V is the fully dark Nolan and post-Nolan Batman, with an authoritative look and no bright color accents. It's quintessential G-Shock, flaunting the highly shock-resistant resin case and the large size.
It's a tough-as-nails look, justified by its 200 meters of water resistance and incredibly strong backlight.
Dimensions: 45mm diameter, 15mm thickness
Case Material: Resin
Water resistance: 200m
As big and beefy as this watch, the thick resin bracelet is quite comfortable and feels more like rubber than anything else.
Rolex Explorer II
What is there to say about the iconic Rolex Explorer II? Its older brother, the Explorer I, came to fame because of its mountaineering history, and the II made a name for itself for its classically sporty elements that come together in a unique way.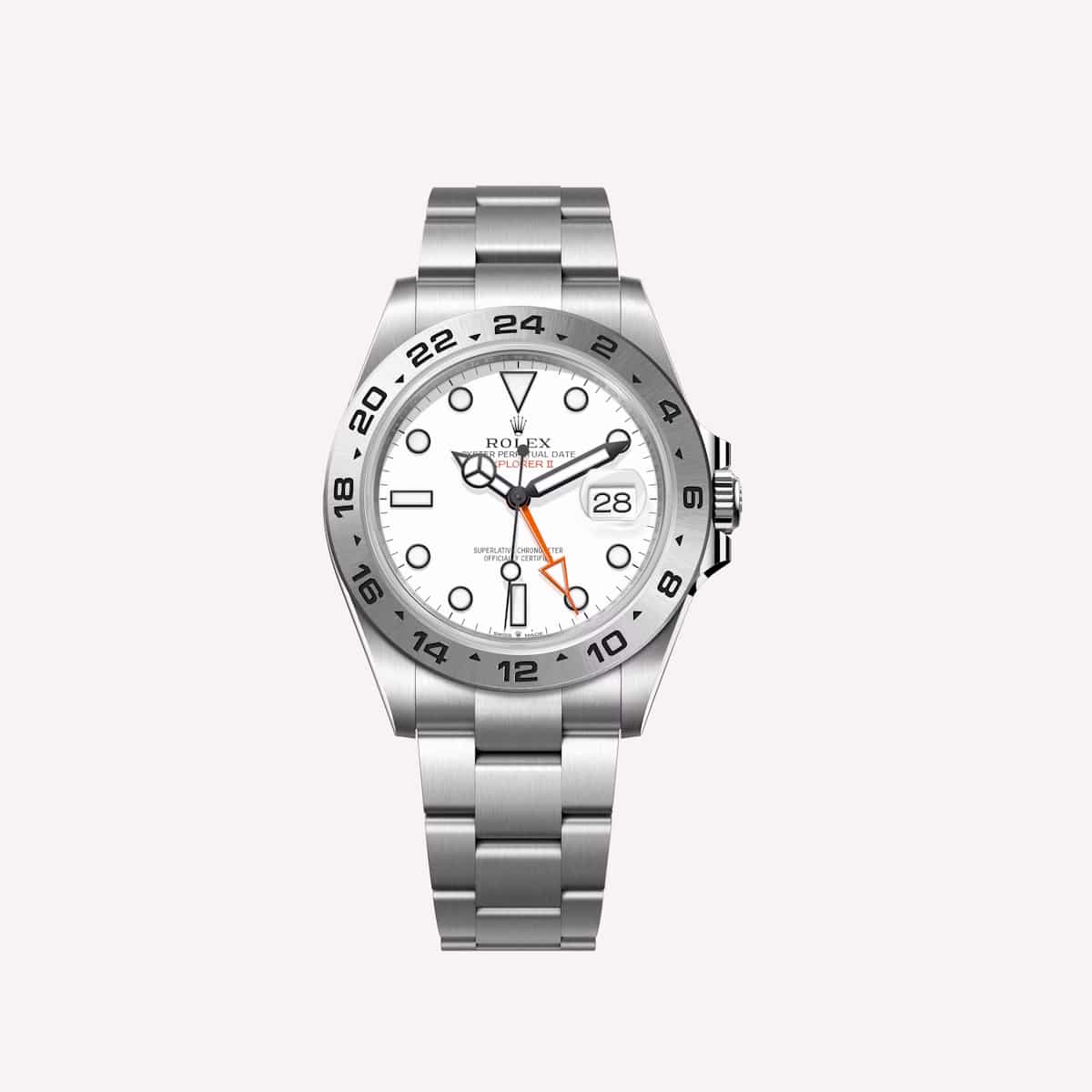 Fans love the iconic GMT hand, which can be orange or red, depending on the iteration. It's uniquely paired with a fixed bezel because, unlike a GMT Master II, it's not meant to be a jetsetter watch.
The Explorer II is meant for spelunking, and it helps you figure out whether it's AM or PM, even if you're deep in a cave.
So not only is this watch's whole look associated with adventure, but it can genuinely handle any actual adventure you subject it to.
Modern versions are equipped with all of the Rolex-specific creature comforts.
Dimensions: 40mm diameter, 12mm thickness
Case Material: Stainless steel
Water resistance: 100m
I love the blue hue of their in-house Chromalight, and the COSC-certified movements definitely check the box for the level of reliability required for an outdoor watch.
Tudor Pelagos 39
I already highlighted titanium's incredible strength for weight. The Tudor Pelagos 39 isn't just reasonably sized but light on the wrist. It's like Bruce Lee — it isn't big, but it sure does pack a punch.
The case is made specifically out of grade 2 titanium, which is considered commercially pure, boasting tons of resistance, including against corrosion and several aggressive chemicals. It has that tried-and-true diver look, just like its older cousin the Rolex Submariner, but stands on its own.
First, that titanium gives it an almost gunmetal appearance. Second, it's adorned with its signature Tudor snowflake hands. And third, it's not a millimeter bigger than necessary.
Dimensions: 39mm diameter, 11.8mm thickness
Case Material: Titanium
Water resistance: 200m
It's a great outdoor watch, as well as a piece of affordable luxury. Movement-wise, it runs on a COSC-certified automatic with a sizable 70-hour power reserve.
Suunto 9 Peak GPS Watch
I recommend the Suunto 9 Peak for two kinds of guys: Serious outdoor adventurers and athletes (or those who are looking to become serious adventurers or athletes). It's a great platform to level up.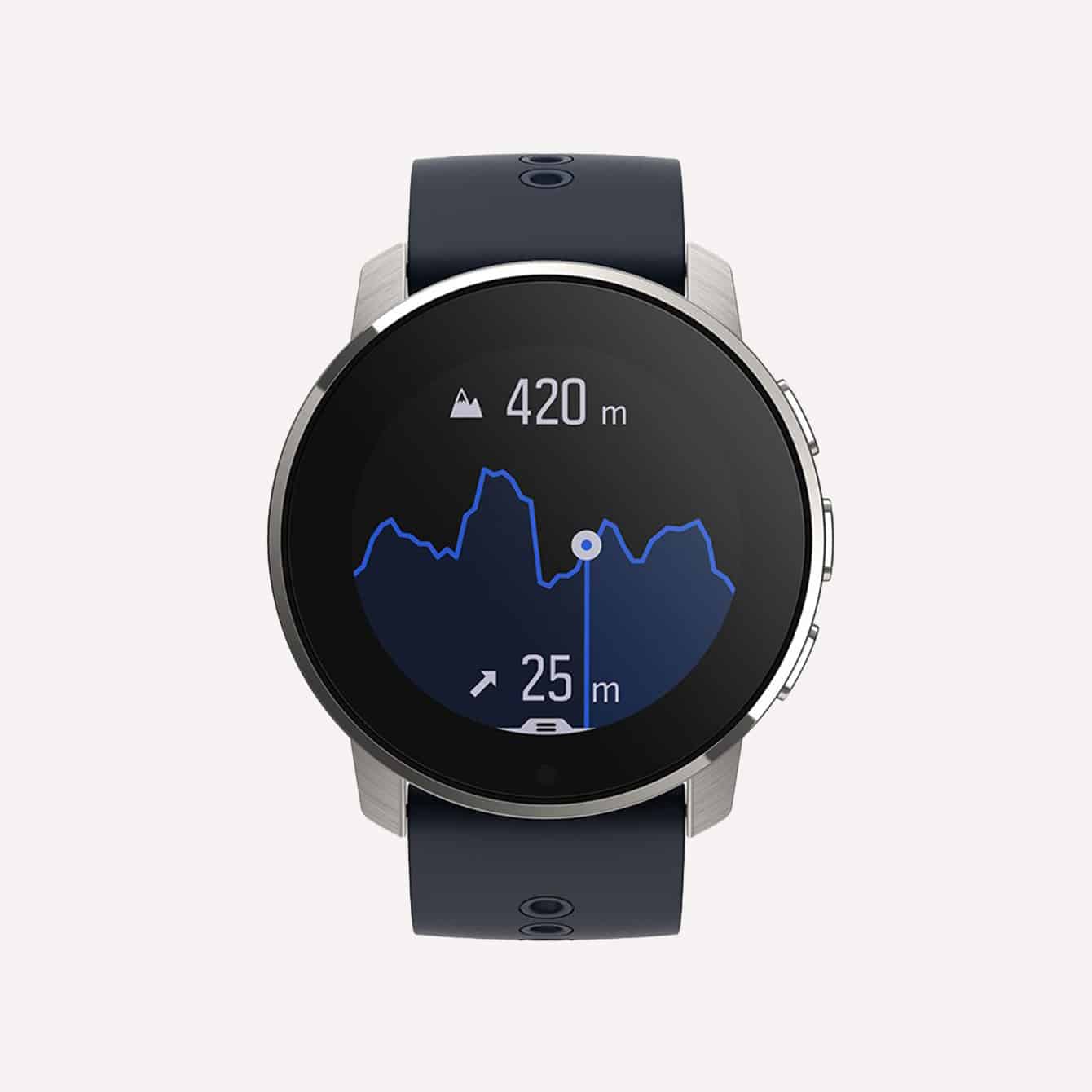 It's small for a Suunto. Though if 43 millimeters seems too big, just remember it's less than 11 millimeters high. It actually sits quite comfortably on small wrists. The titanium body and sapphire glass provide strength, lightness, and a sophisticated style.
As an advanced tracker, this GPS watch has over 80 sports modes, different navigators, and can track your sleep and activity.
It has an advanced blood oxygen measurer — maybe you're lower today than you were yesterday, and that's why you're tapping out of the trail sooner. This watch allows you to be your own body's detective.
Oh, and that storm tracker is weirdly accurate, which is always convenient when you're outdoors.
Dimensions: 43mm diameter, 10.6mm thickness
Case Material: Titanium
Water resistance: 100m
The Suunto 9 Peak's 170-hour GPS battery life is the highest capacity on the market, which is especially helpful for outdoor endurance athletes.
Seiko 5 SRPJ37
The Seiko 5 SRPJ37 isn't just a good outdoor watch. Its camo dial hints to its military-level specs.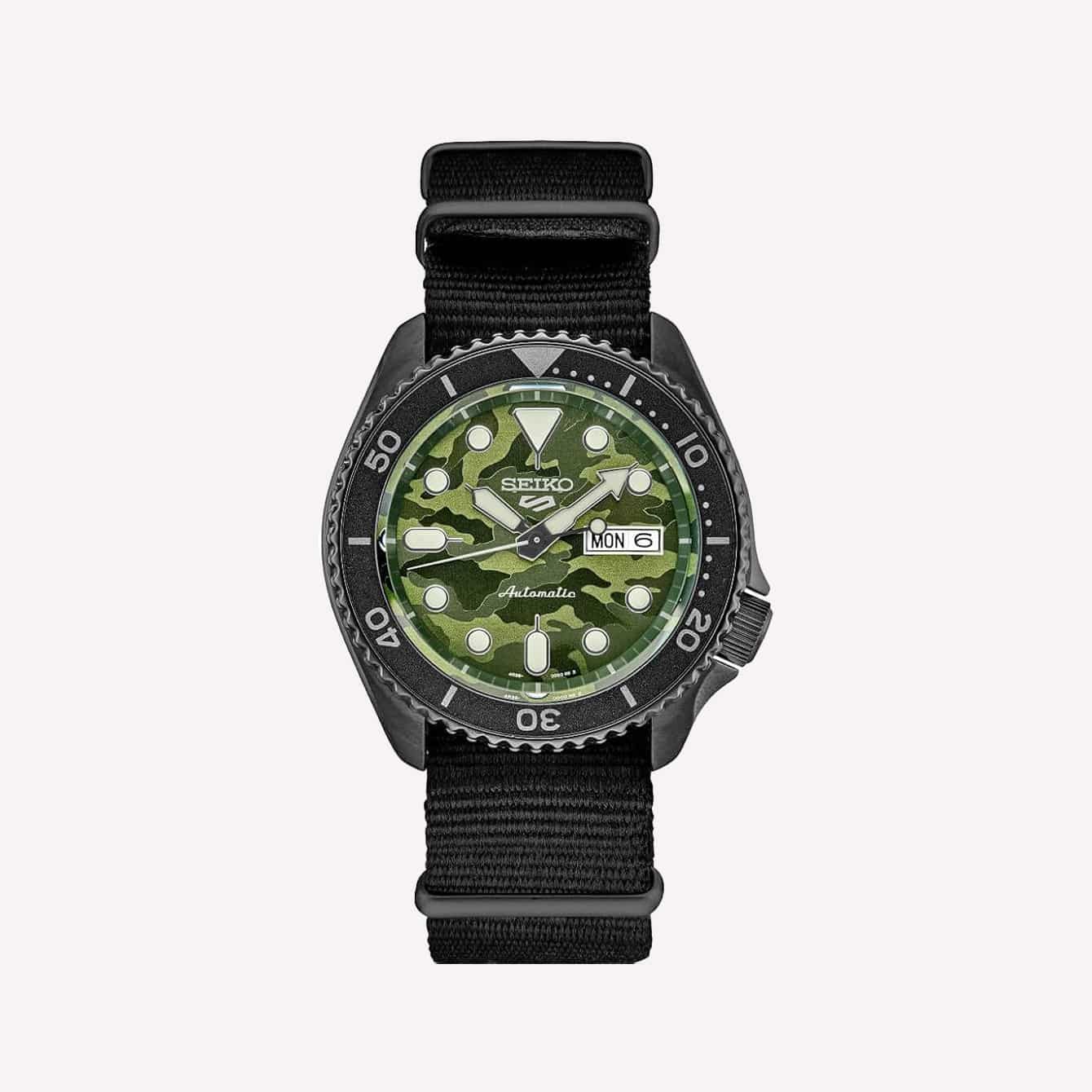 As a Seiko 5, it's strong, water resistant, and runs on a reliable movement. The 4R36 is robust and comes with hacking and manual winding.
It sticks out from other Seiko 5 standards because of its black case. It gives it a commanding look while also making it even harder than it already is.
Dimensions: 42mm diameter, 13mm thickness
Case Material: Stainless steel
Water resistance: 100m
The bezel matches this intense look by sporting an almost organic gravelly texturing.
Timex Expedition North
All Timex Expeditions are good adventure watches, particularly in the budget realm. Timex, after all, is the patron saint of the cool guy.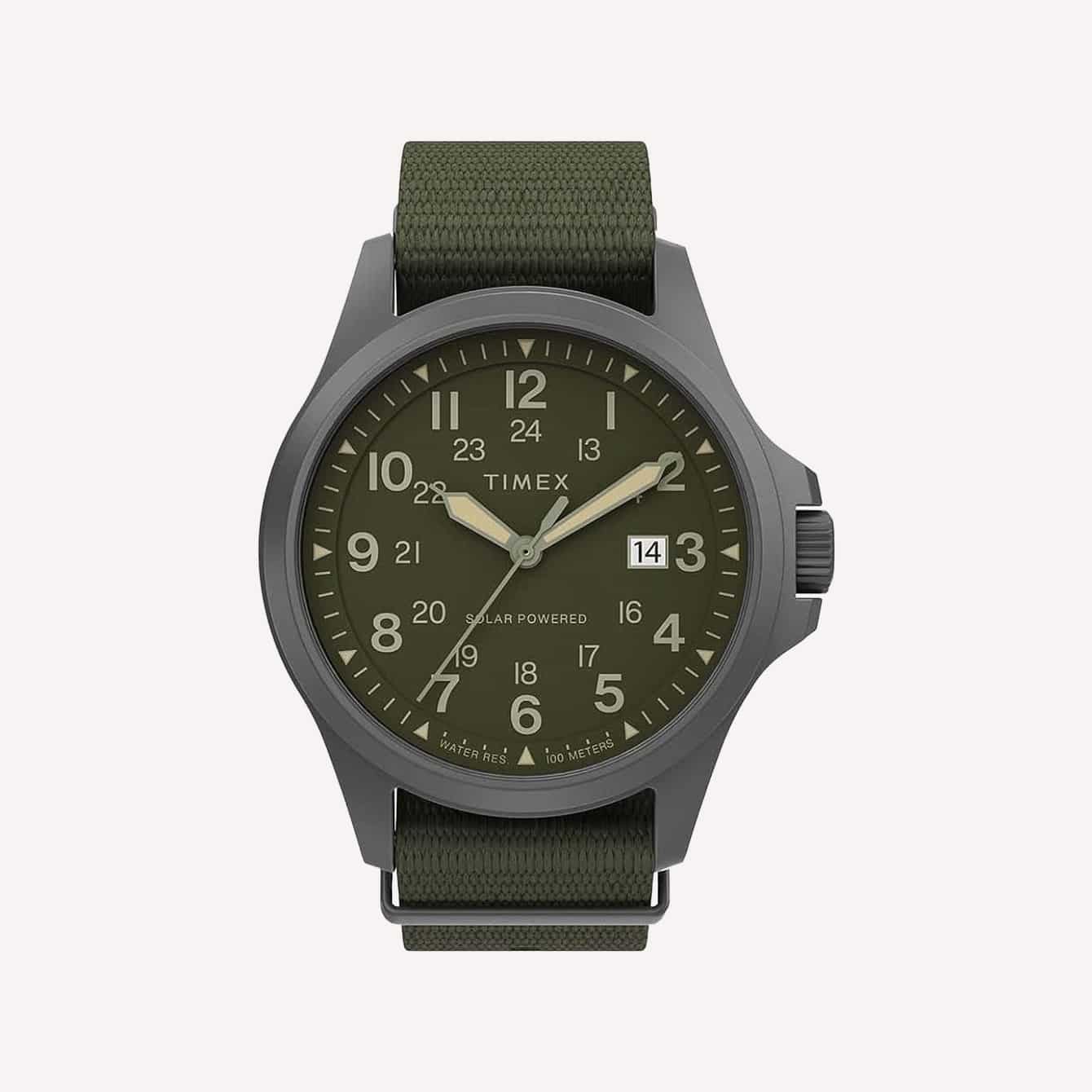 This specific Expedition North is a wildly compelling value proposition. It has a sapphire crystal (which even budget brands like Seiko tend not to do in the ~$200 realm), a matte gunmetal case that adds to its confident character, and well-lumped markings.
Dimensions: 41mm diameter, 12mm thickness
Case Material: Stainless steel
Water resistance: 100m
Still, this isn't a bells-and-whistles timepiece. I'd call it a handsomely basic field watch plus. It's also solar-powered, which is ideal for those day hikers.
Doxa Sub 600T
If you want to talk about looks meeting specs, this orange watch is hardly inconspicuous. However, it certainly has a layer of self-assured swank on top of its classic tool-watch template.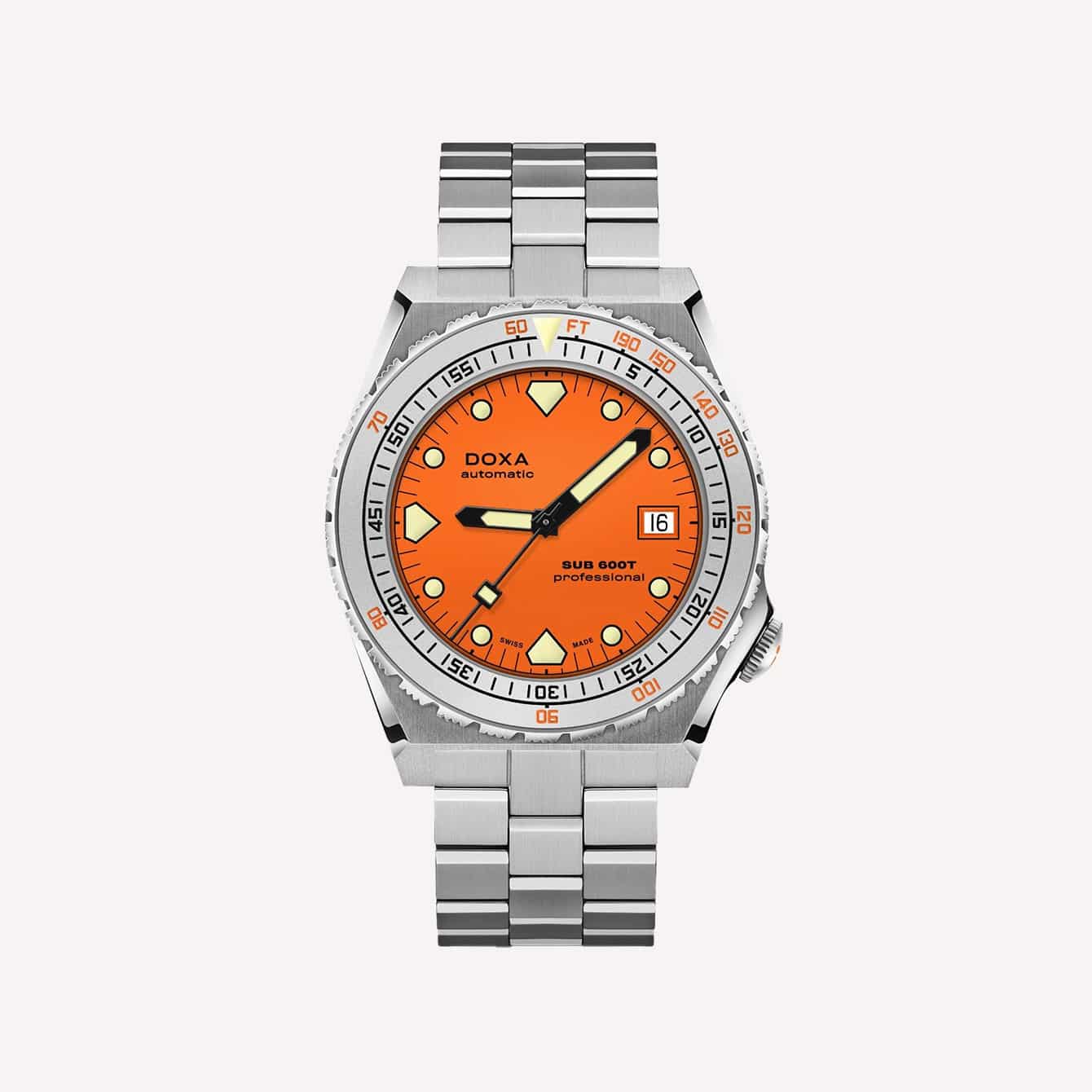 The Doxa Sub 600T is a truly extra dive watch with a whopping 600 meters of water resistance. I'm going to assume few of us will ever need to go that deep, but it's good to know it can handle any moist weather situation.
It has a high-frequency movement, meaning in the event of impact, it'll go right back to its fixed frequency.
Moving on to style, the hooded lugs give it a more sturdy look that balances out its look-at-me factor, while the whole aesthetic has a vintage '80s diver quality about it.
Dimensions: 40mm diameter, 14mm thickness
Case Material: Stainless steel
Water resistance: 600m
This makes sense since this watch is a tribute to a famous model that came out in 1981.
FAQs
Here are some commonly asked questions about adventure watches (and their respective answers, of course):
What is the best adventure watch?
These days, most would suggest GPS smartwatches that are built for endurance. I also recommend strong and water-resistant sports watches with high accuracy and specific features for specific adventures.
Is Garmin the best outdoor watch?
Garmin is a great brand to turn to for outdoor watches because of its history with GPS products. The Enduro 2, the Instinct 2X, and its smaller brother, the Instinct 2S, are all reliable outdoor watches.
What is the most durable watch?
For durability, look for cases made out of treated stainless steel or titanium or special impact-resistant features like G-Shock watches.
Rugged Watches for Everyone
Again, consider your specific outdoor activity when buying an adventurer's watch.
Water resistance is the most important quality if you're an ocean-farer or a river rafter. Meanwhile, GPS features are paramount if you'll be in the remote woods.
As mentioned, though, some of us just like outdoor watches for their looks. Fortunately, a lot of the time, important functionalities add to the aesthetic — think rotating bezels and chronograph subdials.
What's your hardest-working outdoor watch? I'd like to know! Leave your answers in the comments!